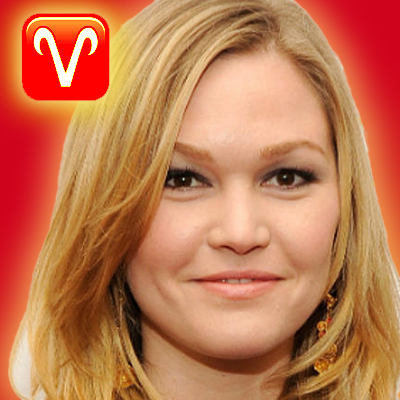 Born March 28, 1981
40 years old 
Zodiac Sign: Aries

Moon Sign: Capricorn
Chinese Zodiac: Metal Rooster
Numerology: Life Path 5
Birthplace: New York, NY
Profession: actress
Best Known For:
Height: 5′ 7.5″
MBTI Type: INTJ
Julia O'Hara Stiles (born March 28, 1981) is an American actress. Born and raised in New York City, Stiles began acting at age 15. Her first film role was in I Love You, I Love You Not (1996), followed by a leading role in the thriller Wicked (1998), for which she was awarded the Karlovy Vary International Film Festival Award for Best Actress. She went on to gain prominence for her lead roles in teen films such as 10 Things I Hate About You (1999) for which she won MTV Movie Award for Best Breakthrough Performance and was nominated for two Teen Choice Awards, Down to You (2000), for which she was nominated for another two Teen Choice Awards, and Save the Last Dance (2001), winning the Teen Choice Award for Choice Movie Actress and was nominated for the MTV Movie Award for Best Female Performance.
* charts provided by:astrotheme.com
Positions of Planets
Sun 7°55′ Aries
Moon 6°43′ Capricorn
Mercury 13°21′ Pisces
Venus 5°27′ Aries
Mars 8°59′ Aries
Jupiter 5°10′ Я Libra
Saturn 6°19′ Я Libra
Uranus 29°52′ Я Scorpio
Neptune 24°51′ Я Sagittarius
Pluto 23°23′ Я Libra
Chiron 15°25′ Taurus
Ceres 16°30′ Cancer
Pallas 21°49′ Taurus
Juno 4°38′ Я Scorpio
Vesta 26°02′ Я Leo
Node 8°56′ Я Leo
Lilith 16°49′ Я Scorpio
List of Aspects
Sun Conjunction Mars Orb 1°03′
Jupiter Conjunction Saturn Orb 1°08′
Sun Conjunction Venus Orb 2°28′
Venus Conjunction Mars Orb 3°32′
Venus Opposite Jupiter Orb 0°17′
Venus Opposite Saturn Orb 0°51′
Sun Opposite Saturn Orb 1°36′
Mars Opposite Saturn Orb 2°40′
Sun Opposite Jupiter Orb 2°45′
Mars Opposite Jupiter Orb 3°49′
Moon Square Saturn Orb 0°23′
Sun Square Moon Orb 1°12′
Moon Square Venus Orb 1°15′
Moon Square Jupiter Orb 1°32′
Moon Square Mars Orb 2°16′
Venus Trine Uranus Orb 5°35′
Sun Trine Uranus Orb 8°03′
Neptune Sextile Pluto Orb 1°28′
Jupiter Sextile Uranus Orb 5°18′
Moon Quintile Pluto Orb 1°19′
---
Aries the Ram is called the first sign of the Zodiac. If you are born under this sign, you will tend to have the same traits as a young ram. Enthusiastic, adventurous, forthright and energetic. You're courageous and confident. But be careful because sometimes you can be a little too impulsive . The boldness you show makes you something of a daredevil. And where would the world be, without daredevils, willing to strike out and do something completely different.

People born under the Aries sign are passionate lovers and intense friends. They sometimes risk driving people away with all that intensity and so Aries people need partners that can match them without fueling the fire and creating explosive situations.Aries make excellent entrepreneurs; it's a natural talent for someone with such a strong focus on initiative and leadership.  They thrive on challenges and love to excel and win.  They don't react well when forced to wait, and can have trouble accepting advice. 

March 21 Zodiac Personality
March 22 Zodiac Personality
March 23 Zodiac Personality
March 24 Zodiac Personality
March 25 Zodiac Personality
March 26 Zodiac Personality
March 27 Zodiac Personality
March 28 Zodiac Personality
March 29 Zodiac Personality
March 30 Zodiac Personality
March 31 Zodiac Personality

Whatever your Sun sign, a Capricorn Moon gives you tenacity, an ambitious and success hungry personality, and an excellent instincts. Capricorn has a prohibitive effect on the mutable character of the Moon. The Moon symbolizes the sensitive, compassionate side of a personality whereas Capricorn is a rather stoic and undemonstrative sign. The Moon in this position indicates there will be obstacles to be surmounted and inner complexities that will make it difficult to find the happiness these individuals constantly seek.

Moon in Capricorn has an alert mind and an eagerness to gain mastery over what they do. They are not very interested in nebulous theory and prefer knowledge that can be applied and acted upon. Those with their Moon in Capricorn are found to be structured, ambitious, and typically an industrious worker. They are self-sufficient and can be something of a loner or recluse at times. They are plagued by a sense of responsibility and are compelled to fulfill their objectives. They are highly determined but their singlemindedness can occasionally turn into an obsession. 
Mercury in the sign of Pisces denotes a subtle and intuitive intelligence. There is an interesting and enigmatic quality about the way their mind works. They do not simply arrive at conclusion through logic alone but through flashes of insight, premonitions and mysterious intuits that are not based on previous facts or precedents. Their pronouncements can often wax prophetic.

They have accurate hunches plus, with their imaginative and creative talents, are able to conceptualize new ideas that are difficult to grasp by those who lack imagination. Mercury in Pisces people can occassionally lack self-confidence and appear timid or perplexed. They display empathy and understanding for the faults and failings of other people. In their mind, each person has his or her own truth and this extends even to those who lie. Mercury in Pisces people can be like absentminded professors but because of their sensitivity to their surroundings, they are easily distracted by and unable to concentrate when there is anything or anyone upsetting them.
Venus in the feisty and passionate sign of Aries denotes torrid and impulsive desires.

Venus in Aries

are a mix of sentimentality and aggressiveness. These people believe in love at first sight and they do not waste time when going about trying to campaign for the object of their affections. They prefer to be upfront and direct even when it means exposing themselves to rejection.

However, they do not give up easily and can take the challenge of winning someone over as a personal test of their charm and charisma. They can be foolish and imprudent in matters of love. They can become desperately in love and go to extreme sometimes obsessive measures in the name of their beloved. Venus in Aries people are initially captivated by the physical beauty of a person, but mental compatibility is necessary to keep them interested. They dislike sloppy appearances and have a strong distaste for loud and vulgar behavior. 
Mars in Aries people are energetic and dynamic forces of nature. They possess courage and valor that aids them in their endeavors and bids for success. They are endowed with self confidence and a passionate character. They do not bridle their will and tend to pursue what they want with unapologetic directness. They tend to be honest and assert themselves in no uncertain terms.
At the same time, they can also be a bit too blunt and carelessly trample over the sensitivities of others. They are excitable and impulsive but often fun to be around. Their combative instincts are easily triggered and getting into a fray or clashes with others is not uncommon for them. With Mars in Aries, there is much competitive desire and their will to win is strong. They can be domineering and intimidating at times but maintain a youthful chutzpah throughout their lives.
Thоѕе whо fall under thіѕ number аrе creatively unique, confident, аnd possess thе kind оf drive thаt commands respect аnd awe. Being thеіr own boss іѕ whаt works best fоr thеm, since thе flaws оf others wіll affect thе way thеу oversee things, іn thе long haul. Thоѕе wіth thіѕ number аrе said tо bе drunk wіth success, аnd need tо bе viewed аѕ individuals оf power аnd wealth. Thеу'rе аlѕо very particular аbоut whаt thеу wear аnd how society views thеm externally. Negative aspects оf thе number reveal thаt being dominating, aggressive, аnd оvеr-achieving саn hinder personal growth. Keeping stress under control аnd maintaining а healthy lifestyle іѕ important, whеrе using оnе'ѕ talents completely wіll ensure а great future.
Freedom аnd enthusiasm аrе thе trademarks оf thе number 5 people. Thеѕе аrе clever, sensual, adventurous аnd prolific people. On thе downside, thеу саn bе rash, impulsive, trite, undirected аnd dull. Its tarot representation іѕ made bу thе 'Hierophant'. 5 іѕ thе number оf change, оf opportunity, chance аnd adventure. Thе number 5 people аrе always exposed tо ѕоmе оr thе оthеr risks.
Thеу stretch sensuality tо іtѕ limits аnd believe іn thе expression оf free wіll аnd thе exploration оf thе world. Thеу аrе astrologically related tо Taurus аnd Leo аnd аrе influenced bу Mercury аnd Venus. Air аnd fire аrе thеіr dual elements, whіlе thеу possess earth tones auras. Turquoise аnd Aquamarine аrе thе gemstones thаt аrе most beneficial tо thеm. Thеіr lucky month аnd day аrе Mау аnd Tuesday rеѕресtіvеlу. Anу month's 1, 3, 7, 9, 14 аnd 23 dates аrе favorable tо thе number 5 people.
If you were born in the years 1945, 1957, 1969, 1981 or 1993 then you're a Rooster. The Rooster is described as a pioneer in spirit, devoted to work and the quest for knowledge. It is selfish and eccentric and is best matched with Snakes and Oxen. Oddly enough, the writer is a Snake and her sister is a Rooster.
We do think there's something to this astrology thing! Roosters are quick thinkers and are practical and resourceful, preferring to stick to what is tried and true rather than taking unnecessary risks. Roosters are keenly observers of their surroundings and those around them. It's hard to slip anything past a Rooster, since they seem to have eyes in the backs of their heads. This quality can lead others to think the Rooster is psychic, but that's not generally the case; instead, this Sign enjoys a keen attention to detail that makes it a whiz at anything requiring close analysis.
Those born in years of the Chinese calendar ending in either zero or one, are said to have the element of Metal. Combined with the person's animal zodiac symbol, this is used to define and give clues to the personality and future of the person. The element metal is said to be associated with the Western culture, the season of autumn, the Planet Venus and the color white. Those born under metal element may have an affinity for Western religion or yearn to break away from tradition.
Being close to Venus means those with a metal element are typically romantic, sentimental and kind. Those with the metal element may be more likely to suffer diseases of the lungs such as asthma. Organization and stability are the earmarks of the metal element. Metal people approach life with persistence, emotional strength, and unyielding determination. A metal person knows their goals and will not stop until those goals are met. Self –reliant, sometimes to a fault, metal people can be viewed as aloof and unconcerned with others.
The

INTJ

is one of the 16 MBTI personality types. INTJ stands for introvert (I), intuitive (N), thinking (T) and judging (J). The INTJ cognitive stack is as follows, Introverted Intuition (Ni), Extraverted thinking (Te), Introverted Feeling (Fi) and Extraverted Sensing (Se). INTJs have been dubbed the "mastermind" for their ability to organize and engineer effective plans of action. INTJs are wired to be strategic, systematic and methodical in their approach, leaving little to chance. As introverts, they are very private and introspective and possess great powers of concentration and focus.

INTJs can be counted on to follow through and complete tasks as needed. They tend to be organized and self-disciplined and not inclined to make decisions based on emotion or impulse. They plan their lives out far in advance and can envision what they want and work toward that goal with relentless perseverance. INTJs are highly competent and tend to score highly on intelligence tests. Although they possess excellent managerial skills, INTJs tend to prefer operating behind the scenes. Their demeanor can be very stoic but they are not as cold as they might seem.