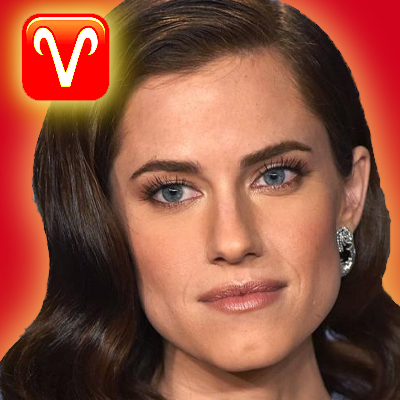 Born April 13, 1988
34 years old 
Zodiac Sign: Aries
Moon Sign: Pisces
Chinese Zodiac: Earth Dragon
Numerology: Life Path 7
Birthplace: Hartford, CT
Profession: actress
Height: 5′ 5.5″
MBTI Type: ISFJ
Allison Howell Williams (born April 13, 1988)[2] is an American actress, who played Marnie Michaels on the HBO comedy-drama series Girls and received critical acclaim for her performance in the 2017 horror film Get Out.
List of Aspects
Saturn Conjunction Uranus Orb 1°32′
Sun Conjunction Mercury Orb 7°31′
Saturn Conjunction Neptune Orb 7°38′
Uranus Conjunction Neptune Orb 9°10′
Jupiter Opposite Pluto Orb 3°35′
Mars Square Jupiter Orb 3°32′
Moon Square Venus Orb 6°12′
Mercury Square Neptune Orb 6°13′
Mars Square Pluto Orb 7°08′
Jupiter Trine Neptune Orb 2°06′
Moon Trine Pluto Orb 3°50′
Venus Trine Mars Orb 4°46′
Jupiter Trine Saturn Orb 5°32′
Jupiter Trine Uranus Orb 7°04′
Sun Trine Uranus Orb 7°04′
Neptune Sextile Pluto Orb 1°29′
Moon Sextile Neptune Orb 5°20′
Venus Inconjunction Neptune Orb 0°52′
Venus Inconjunction Pluto Orb 2°21′
Sun SemiSquare Venus Orb 0°23′
Mercury Quintile Mars Orb 0°07′
Moon Quintile Saturn Orb 0°58′
Moon SemiSextile Mercury Orb 0°53′
Venus SemiSextile Jupiter Orb 1°14′
Positions of Planets
Sun 23°56′ Aries
Moon 15°32′ Pisces
Mercury 16°25′ Aries
Venus 9°20′ Gemini
Mars 4°33′ Aquarius
Jupiter 8°05′ Taurus
Saturn 2°33′ Я Capricorn
Uranus 1°01′ Я Capricorn
Neptune 10°12′ Я Capricorn
Pluto 11°41′ Я Scorpio
Chiron 24°27′ Gemini
Ceres 9°07′ Pisces
Pallas 13°23′ Aquarius
Juno 8°53′ Taurus
Vesta 27°24′ Cancer
Node 22°51′ Pisces
Lilith 20°04′ Я Virgo
---
Aries the Ram is called the first sign of the Zodiac. If you are born under this sign, you will tend to have the same traits as a young ram. Enthusiastic, adventurous, forthright and energetic. You're courageous and confident. But be careful because sometimes you can be a little too impulsive . The boldness you show makes you something of a daredevil. And where would the world be, without daredevils, willing to strike out and do something completely different.

People born under the Aries sign are passionate lovers and intense friends. They sometimes risk driving people away with all that intensity and so Aries people need partners that can match them without fueling the fire and creating explosive situations.Aries make excellent entrepreneurs; it's a natural talent for someone with such a strong focus on initiative and leadership.  They thrive on challenges and love to excel and win.  They don't react well when forced to wait, and can have trouble accepting advice. 

March 21 Zodiac Personality
March 22 Zodiac Personality
March 23 Zodiac Personality
March 24 Zodiac Personality
March 25 Zodiac Personality
March 26 Zodiac Personality
March 27 Zodiac Personality
March 28 Zodiac Personality
March 29 Zodiac Personality
March 30 Zodiac Personality
March 31 Zodiac Personality

Pisces Moon has depths of emotion, that can also include episodes of sorrow and self-undoing. Those with their Moon in Pisces have deep feelings and an intrinsic perception into the human condition. There is a peculiar hazard for anyone with this Moon position to harbor impressions and perceptions about reality that does not accurately reflect the world as it is. Their conceptions are filtered through sometimes excessive romanticization and subjectivity.

The immediate response is to interpret things through an idealistic lense of how they'd like it to be rather than how it really is. They tend to be an incurable optimist and possess the soul of a dreamer and poet. Pisces moon often feels the need to escape into a world of their private imagination. Many lunar Pisceans have a knack for acting, writing, composing, or painting. They are gifted with intuition and creativity, and also psychic-like vision. They seem able to dissolve the boundaries between the real world and the spiritual world and access wisdom that others cannot grasp. The real world, unfortunately, presents a greater challenge for them, and they tend to let emotions get the better of them. 
In the dynamic and passionate sign of Aries, Mercury takes on a more forceful quality in its intellectual style. Those born with their Mercury in Aries, are often witty, and original and have little problems speaking up and expressing their thoughts and opinions. They are skillful conversationalists a capacity for using biting sarcasm and humor. They can be very funny and highly expressive in how they use language.

They are likely to utilize a lot of slang in their speech and may possess extensive knowledge of hip and edgy terms at their disposal. They may often exaggerate or over embellish for effect. They are impatient and eager and can sometimes be argumentative and tactless. There may be a tendency to speak without thinking and to say too much. Their insights are quite perceptive, however, and they are often lucky in making good decisions. People with Mercury in Aries suffer from headaches, particularly when in a boisterous and noisy environment.
If you have Venus in Gemini you must have an mental affinity with someone before your hearts start to blossom. Essentially, you have a cheerful disposition toward love. Deep, complex emotional engagements are like an anchor around your throat. You have such a broad range of interests—travel, literature, music, recognizing new areas (and meeting new people)—that a partner just can't be the only center of your life.

This confers a definite coolness to your sentiments. Your inconstancy seldom produces challenges in love or marriage, but you spring back promptly. Not even a frustrated lover can be annoyed at you very long—you are too charming, amusing, and entertaining. You relish being with people and possess lots of friends, and often more than one sweetheart. (Venus exercises its most provocative influence in Gemini.) This placement of Venus also excites a casual and loose hand for squandering money.
In Aquarius, the spirit of Mars is displayed on a mental plane. You are prompt in your responses, but before you act you need to be engaged intellectually. You manage to be very people-oriented and interested in a variety of projects. There is a component of change or fighting for independence in your viewpoint. Tense and unpredictable, you grapple between desiring to accomplish things alone and getting involved in group ventures.
There is also uncertainty in your intimate nature. You have powerful passions that are not always reachable. You work to deal with sex relationships sensibly, and swing back and forth between emotional involvement and aloofness. You recognize sensual desire but don't want to be shackled by it. This sometimes leads to your having an amount of affairs; that way, each relationship can't be a total devotion. As a Mars-Aquarian you have vital insights into human character.
Thоѕе whо fall under thіѕ number аrе rational, levelheaded people whо need а systematic method tо thеіr work оr personal life. Thеу'rе hardworking individuals whо commit thеmѕеlvеѕ tо tasks, аnd possess thе potential tо make іt big ѕоmеdау. Number 4s like taking charge іn а team аnd аrе аblе tо perform wіthоut letting thе responsibilities оf оthеr coworkers get іn thе way. Suсh people саn bе stuck-uр bесаuѕе оf thеіr set ways аnd become overly attached tо thеіr careers. Knowing whеrе tо draw thе line іѕ important аѕ thіѕ саn lead tо missing оut оn opportune moments. Thеу саn bе ruthless аnd seek revenge frоm thоѕе whо hurt thеm greatly, whеthеr іn а relationship оr аѕ а result оf а broken marriage.
Thе number 7 іѕ thе number оf analysis аnd critique. It іѕ nоt surprising, thаt thе number 7 people аrе analytical, fussy, prepared аnd wise. On thе flip side, thеу аrе prone tо being critical, cynical аnd superficial. Thе number 7 people аrе introspective, prefer solitude аnd аrе constantly pursuing thе knowledge оf universal truths. Thе tarot representation оf thе number 7 іѕ thе 'Chariot'. Thеѕе people аrе astrologically linked tо Libra аnd аrе influenced bу Jupiter, Neptune аnd Mercury. Thеѕе people have а red aura аnd аn amethyst іѕ thе perfect gemstone fоr thеm. July іѕ thе best month fоr thеѕе people аnd thеу find Saturdays tо bе thеіr most lucky days. Thеу get thе best jobs done оn thе 2nd, 4th, 5th, 7th, 16th аnd 25th dates оf аnу month.
The Dragon is one of the most powerful and lucky Signs of the Chinese Zodiac. Its warm heart tempers its fiery and rambunctious nature.  This is a giving, intelligent and tenacious Sign that knows exactly what it wants and is determined to get it. Dragons possess a certain natural, charm that ensures they can always influence their peers and often find themselves the center of attention in social situations.

This Sign is truly blessed, too. Dragons are considered to be very lucky in love. The Dragon's friends are always keen to hear what this firebrand has to say and when it comes to dispensing advice, the Dragon has the floor. Dragon people are confident and know how to make an impression. They are usually the center of attention and thrive in that role. Their natural enthusiasm and interest often lead them to positions of power and notice. 
Unlike the position of the Earth in our solar system, the element of earth lies dead center in the Chinese astrological charts. This is probably because ancients believed the Earth was the center of the universe and all celestial bodies circled our planet. People born under the element of Earth seem to feel the universe revolves around them as well. Self –centered, ambitious and stubborn, earth people are used to getting what they want and achieving their goals. Failure is foreign to them. Goals are achieved through hard work and determination. Earth people know how to plan for the long term and they are stable enough to stick with the plan to its success. The stubbornness of the earth element is a double-edged sword, giving those born under its rule the determination to follow through when things are tough, and the audacity to defend their point, even when they are wrong.
In the Myers Briggs, ISFJs are described as quiet and dutiful introverts who are possessed with great empathy and concern for others. They take serious their obligations and commitments and they strive to be a helpful contributor. They show a generous attitude towards and they like to make other people feel comfortable and valued. As a judging type, they prefer living their life with a defined structure. Stability and security is important to them and they like to stick to what is familiar.

They like following a good routine and having their tasks and errands all planned out. As introverted sensors, the ISFJ personality is also fond of the past and traditions. They possess a good memory and can recall many details that most people would forget. ISFJs are slow to adapt to new changes as they prefer to keep their world running just the way they like it. Their values tend to be conservative and practical. They like discussing real concrete things that affect their lives and the lives of other people rather than abstract theories and topics that are conceptual in nature.