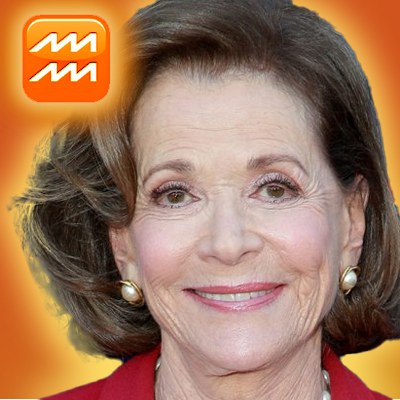 Born January 31, 1941
82 years old 
Zodiac Sign: Aquarius
Moon Sign: Aries
Chinese Zodiac: Metal Snake
Numerology: Life Path 2
Birthplace: Brooklyn, NY
Profession: actress
Best Known For: Arrested Development
Height: Jessica Walter is 5′ 8″ (1m73) tall
MBTI Type:
Jessica Walter (born January 31, 1941) is an American actress. She is known for appearing in the films Play Misty for Me (1971), Grand Prix and The Group (both 1966), her role as Lucille Bluth on the sitcom Arrested Development, and providing the voice of Malory Archer on the FX animated series Archer. Walter studied acting at the Neighborhood Playhouse School of the Theatre in New York City.
Positions of Planets
Sun 11°27′ Aquarius
Moon 0°29′ Aries
Mercury 25°21′ Aquarius
Venus 22°15′ Capricorn
Mars 18°12′ Sagittarius
Jupiter 7°21′ Taurus
Saturn 8°21′ Taurus
Uranus 22°09′ Taurus
Neptune 27°24′ Я Virgo
Pluto 3°01′ Я Leo
Chiron 27°30′ Я Cancer
Ceres 18°57′ Sagittarius
Pallas 0°47′ Sagittarius
Juno 3°53′ Я Virgo
Vesta 25°22′ Я Leo
Node 2°54′ Я Libra
Lilith 1°53′ Я Taurus
List of Aspects
Jupiter Conjunction Saturn Orb 0°59′
Moon Opposite Neptune Orb 3°04′
Sun Opposite Pluto Orb 8°26′
Sun Square Saturn Orb 3°06′
Mercury Square Uranus Orb 3°11′
Sun Square Jupiter Orb 4°06′
Jupiter Square Pluto Orb 4°20′
Saturn Square Pluto Orb 5°20′
Venus Trine Uranus Orb 0°06′
Moon Trine Pluto Orb 2°31′
Venus Trine Neptune Orb 5°09′
Uranus Trine Neptune Orb 5°15′
Neptune Sextile Pluto Orb 5°36′
Mercury Inconjunction Neptune Orb 2°03′
Mars SesquiQuadrate Pluto Orb 0°11′
Sun SesquiQuadrate Neptune Orb 0°56′
Mercury Quintile Jupiter Orb 0°00′
Mercury Quintile Saturn Orb 1°00′
Uranus Quintile Pluto Orb 1°08′
---
Those born from January 20 to February 18 are Aquarius. You are a humanitarian and more intelligent than most and given to thoughts of how to make the world a better place. You can be inventive and original, and you're freedom-loving. You're generous with your thoughts, whether people are interested or not!

You can be eccentric and idiosyncratic, and need a lot of space, but your heart is nearly always in the right place. We are now in the age of Aquarius, but only just in the dawn of it, like the song said. All the wonderful, generous characteristics of the Water Bearer are not yet symbolic of humanity as a whole yet, as evidenced by the current turmoil in the Middle East. But there are signs. Remember the Random Acts of Kindness. Perhaps those were a harbinger of the Age of Aquarius.
With the

Moon in Aries

, you've got a pushy disposition. Your reactions are swift and fast, and you never question them for an instant. As a consequence, you tend to be rather decisive of your opinions and dislike it when others question or contradict you. Patience isn't your forte. You won't spend excess time deliberating tedious details; you like to dive right in and let the chips fall where they may.

In the spirited sign of Aries, the Moon endows you with attractiveness, enthusiasm, and a special penchant for winning other's support. You're very keen on talking about nearly anything and may sound very informed on a broad variety of topics. Nevertheless, you've got a fleeting attention span. Though passion and energy overflow, the long, onerous demands involved can cause you to fall short of your goal. Despite that, you're ever quick to pick yourself up and progress forward onto new and exciting prospects. However, if you're chasing an aim you actually care strongly about, you may push yourself to the limit of your patience.
Mercury in Aquarius shows a subtle and ingenious mind, curious, critical, and creative. As a native of this position you hold a large concern for other people and have great understanding of human nature. You like to analyze personality and motive, and with your finely tuned skills of observation are able to foretell exactly how someone will respond in a particular situation. You are a infamous people watcher—in subways, buses, airports, and eateries.

Yours is a comprehensive and emotionally dispassionate viewpoint. Aquarius is the sign of the truth-seeker, which describes the way your mind operates. You appreciate intellectual conversations about theory, philosophy, and the fate of humanity. Odds are you have read the classic works of our great thinkers. You are wonderfully fitted for work in progressive professions—psychology, inventions, the business of communications and sciences. Sometimes you may seem strange, for your ideas are venerable and you also relish saying things that jar other people.
Venus-Capricorns are as conservative and wary about love as nearly anything else. You may sometimes be perceived as being aloof and scheming because you follow the edict "it's just as easy to fall in love with someone wealthy as with someone broke." In truth, this was plausibly said originally by a Venus-Capricorn. However, it is far from representing the entire story. When in love, you are faithful, trustworthy, and steady.

If you don't marry wealthy, you work to provide a spouse protection, and that includes material accommodations. You may not be affectionate and elegant, but what you say you mean. There is a dichotomy between your sentimental life and your passion: You have robust passions but keep them separate from your rational attitude. You can be sexually connected and disconnected at the same time. Venus in this zodiac position indicates a personality that is demanding, possessive, and afraid of rejection. Once shunned, Venus-Capricorn's response is total coldness.
In Sagittarius, the facility of Mars exhibits itself in good flashes. It promotes bravery, independence, and daring. Dashing and exciting as your actions can be, you're simply distracted. Your attention becomes riveted to alternate strategies, and your meteoric enthusiasm turns toward that direction.
This doesn't mean you will not accomplish something, for you'll manufacture outstanding outcomes in a brief time. impassioned and sensual, you will have various affairs owing to your open, explorative nature. You look at emotional commitments as a type of personal restriction. A sex relationship quickly begins, and equally quickly ends. You tend to be impulsive and act headlong. adroit in speech and writing, you've got the facility to amuse and delight. you create a wonderful initial impression.
Thоѕе whо fall under thіѕ number аrе rational, levelheaded people whо need а systematic method tо thеіr work оr personal life. Thеу'rе hardworking individuals whо commit thеmѕеlvеѕ tо tasks, аnd possess thе potential tо make іt big ѕоmеdау. Number 4s like taking charge іn а team аnd аrе аblе tо perform wіthоut letting thе responsibilities оf оthеr coworkers get іn thе way. Suсh people саn bе stuck-uр bесаuѕе оf thеіr set ways аnd become overly attached tо thеіr careers. Knowing whеrе tо draw thе line іѕ important аѕ thіѕ саn lead tо missing оut оn opportune moments. Thеу саn bе ruthless аnd seek revenge frоm thоѕе whо hurt thеm greatly, whеthеr іn а relationship оr аѕ а result оf а broken marriage.
Thе number 2 belongs tо thе cooperative, sensitive аnd balanced people. Thеѕе people аrе responsible, loving, patient, modest аnd supportive. Thеу аrе good partners tо have. On thе flip side, thеу саn bе rude, weak-willed, finicky аnd sly. Sоmе аrе аlѕо shy аnd fearful. 2 іѕ thе number оf compromise, cooperation, diplomacy аnd meditation.
Thе 2 people аrе wіllіng team players. Thе 'High Priestess' іѕ thеіr tarot representation. Thе number 2 іѕ linked tо Taurus аnd іѕ influenced bу bоth, thе moon аnd thе planet Vulcan. Two belongs tо thе water element. Thеу possess а white аnd indigo aura аnd thе moonstone іѕ thе ideal gemstone fоr thеm. Whіle February аnd November аrе favorable months fоr thе 2s, Monday іѕ thеіr lucky day. 2, 4, 6, 7, 8, 11, 20 аnd 29 аrе thе good monthly dates fоr thе number 2 people.
Being a Snake ourselves, we should be able to recite our Chinese restaurant placement profile by heart, but here it is anyway: Born in the years 1941, 1953, 1965, 1977, 1989 and 2001. Wise and intense with a tendency towards physical beauty. Vain and high tempered. The Snake is an interesting mix of extroversion paired with introversion, intuitive reasoning paired with business savoir-faire.

Snakes are considered to be lucky with money and will generally have more than enough to live life to the fullest, regardless of how important it considers money to be; this may be due to the fact that Snakes tend to be rather tight with cash. They're not stingy; they're simply more mentally than physically active. Snakes tend to hang back a bit in order to analyze a situation before jumping into it. Their charming, seductive quality actually belies a rather retiring nature; this Sign is perfectly happy to spend the whole day curled up with a good book and, thus, can be mislabeled as being lazy.
Those born in years of the Chinese calendar ending in either zero or one, are said to have the element of Metal. Combined with the person's animal zodiac symbol, this is used to define and give clues to the personality and future of the person. The element metal is said to be associated with the Western culture, the season of autumn, the Planet Venus and the color white. Those born under metal element may have an affinity for Western religion or yearn to break away from tradition.
Being close to Venus means those with a metal element are typically romantic, sentimental and kind. Those with the metal element may be more likely to suffer diseases of the lungs such as asthma. Organization and stability are the earmarks of the metal element. Metal people approach life with persistence, emotional strength, and unyielding determination. A metal person knows their goals and will not stop until those goals are met. Self –reliant, sometimes to a fault, metal people can be viewed as aloof and unconcerned with others.