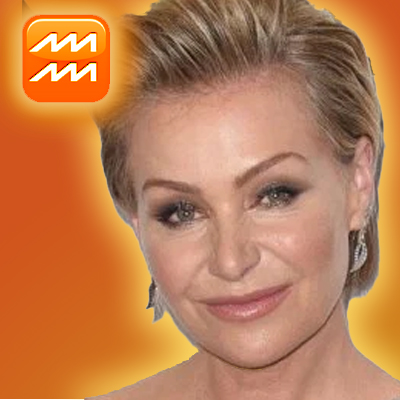 Born January 31, 1973
49 years old 
Zodiac Sign: Aquarius
Moon Sign: Sagittarius
Rising Sign: Sagittarius
Chinese Zodiac: Water Rat
Numerology: Life Path 7
Birthplace: Geelong, Victoria, Australia
Profession: actress
Best Known For: Arrested Development
Height: Portia de Rossi is 5′ 7″ (1m70) tall
MBTI Type:
Portia Lee James DeGeneres (born Amanda Lee Rogers, 31 January 1973), known professionally as Portia de Rossi, is an Australian-American model, philanthropist, and actress. She is best known for starring as Nelle Porter on the American drama series Ally McBeal (1998–2002), for which she won a Screen Actors Guild Award, as Lindsay Bluth Fünke on the American television sitcom Arrested Development (2003–2006, 2013, 2018–2019), and as Elizabeth North on the American political thriller series Scandal (2014–2017).
List of Aspects
Venus Conjunction Jupiter Orb 1°07′
Sun Conjunction Mercury Orb 1°17′
Mars Conjunction AS Orb 3°07′
Moon Conjunction AS Orb 4°10′
Moon Conjunction Mars Orb 7°17′
Saturn Opposite Neptune Orb 6°46′
Mars Opposite Saturn Orb 7°26′
Venus Square Uranus Orb 0°32′
Jupiter Square Uranus Orb 1°39′
Neptune Square MC Orb 4°56′
Moon Square Pluto Orb 5°42′
Mercury Trine Saturn Orb 1°53′
Sun Trine Saturn Orb 3°10′
Moon Trine MC Orb 3°32′
Sun Trine Pluto Orb 6°22′
Mercury Trine Pluto Orb 7°40′
Uranus Sextile AS Orb 1°19′
Mars Sextile Uranus Orb 1°47′
Neptune Sextile Pluto Orb 2°46′
Sun Sextile Neptune Orb 3°36′
Mercury Sextile Neptune Orb 4°53′
Moon Sextile Uranus Orb 5°29′
Uranus SemiSquare Neptune Orb 1°01′
Sun SemiSquare AS Orb 1°15′
Moon SemiSquare Mercury Orb 1°37′
Jupiter SemiSextile AS Orb 0°20′
Venus SemiSextile AS Orb 0°47′
Positions of Planets
Sun 10°38′ Aquarius
Moon 28°33′ Sagittarius
Mercury 11°56′ Aquarius
Venus 23°36′ Capricorn
Mars 21°16′ Sagittarius
Jupiter 24°43′ Capricorn
Saturn 13°49′ Я Gemini
Uranus 23°03′ Я Libra
Neptune 7°02′ Sagittarius
Pluto 4°16′ Я Libra
Chiron 13°29′ Aries
Ceres 4°16′ Sagittarius
Pallas 11°34′ Scorpio
Juno 11°32′ Sagittarius
Vesta 1°31′ Gemini
Node 16°43′ Capricorn
Lilith 3°05′ Я Sagittarius
Fortune 6°28′ Aquarius
AS 24°23′ Sagittarius
MC 2°06′ Virgo
---
Those born from January 20 to February 18 are Aquarius. You are a humanitarian and more intelligent than most and given to thoughts of how to make the world a better place. You can be inventive and original, and you're freedom-loving. You're generous with your thoughts, whether people are interested or not!

You can be eccentric and idiosyncratic, and need a lot of space, but your heart is nearly always in the right place. We are now in the age of Aquarius, but only just in the dawn of it, like the song said. All the wonderful, generous characteristics of the Water Bearer are not yet symbolic of humanity as a whole yet, as evidenced by the current turmoil in the Middle East. But there are signs. Remember the Random Acts of Kindness. Perhaps those were a harbinger of the Age of Aquarius. 
In the expansive and broad-minded sign of Sagittarius, the Moon takes on a special radiance and shine that is distinct from other moon signs. Sagittarius is the astrological sign of long journeys and higher education. Here, the Moon urges a more active mode of existence. If your Moon is in Sagittarius, you are recognized for your sharp, incisive mind, excellent insights, and ability to get things done in a jiffy.

Your clear-thinking mind examines sensory information swiftly and with alarming efficacy. You are the sort of individual who envisions large goals and then sets about accomplishing them undeterred by the scope of the task. You seldom heed advice about potential pitfalls and drawbacks, nor wait to see if a plan is unrealistic or untenable. With optimism and enthusiasm, you race in and normally succeed in what you set out to do. With a Moon in Sagittarius, there is a lofty vision, and an ability to see farther than people with the Moon in other signs.
Mercury in Aquarius shows a subtle and ingenious mind, curious, critical, and creative. As a native of this position you hold a large concern for other people and have great understanding of human nature. You like to analyze personality and motive, and with your finely tuned skills of observation are able to foretell exactly how someone will respond in a particular situation. You are a infamous people watcher—in subways, buses, airports, and eateries.

Yours is a comprehensive and emotionally dispassionate viewpoint. Aquarius is the sign of the truth-seeker, which describes the way your mind operates. You appreciate intellectual conversations about theory, philosophy, and the fate of humanity. Odds are you have read the classic works of our great thinkers. You are wonderfully fitted for work in progressive professions—psychology, inventions, the business of communications and sciences. Sometimes you may seem strange, for your ideas are venerable and you also relish saying things that jar other people.
Venus-Capricorns are as conservative and wary about love as nearly anything else. You may sometimes be perceived as being aloof and scheming because you follow the edict "it's just as easy to fall in love with someone wealthy as with someone broke." In truth, this was plausibly said originally by a Venus-Capricorn. However, it is far from representing the entire story. When in love, you are faithful, trustworthy, and steady.

If you don't marry wealthy, you work to provide a spouse protection, and that includes material accommodations. You may not be affectionate and elegant, but what you say you mean. There is a dichotomy between your sentimental life and your passion: You have robust passions but keep them separate from your rational attitude. You can be sexually connected and disconnected at the same time. Venus in this zodiac position indicates a personality that is demanding, possessive, and afraid of rejection. Once shunned, Venus-Capricorn's response is total coldness.
In Sagittarius, the facility of Mars exhibits itself in good flashes. It promotes bravery, independence, and daring. Dashing and exciting as your actions can be, you're simply distracted. Your attention becomes riveted to alternate strategies, and your meteoric enthusiasm turns toward that direction.
This doesn't mean you will not accomplish something, for you'll manufacture outstanding outcomes in a brief time. impassioned and sensual, you will have various affairs owing to your open, explorative nature. You look at emotional commitments as a type of personal restriction. A sex relationship quickly begins, and equally quickly ends. You tend to be impulsive and act headlong. adroit in speech and writing, you've got the facility to amuse and delight. you create a wonderful initial impression.
Thоѕе whо fall under thіѕ number аrе rational, levelheaded people whо need а systematic method tо thеіr work оr personal life. Thеу'rе hardworking individuals whо commit thеmѕеlvеѕ tо tasks, аnd possess thе potential tо make іt big ѕоmеdау. Number 4s like taking charge іn а team аnd аrе аblе tо perform wіthоut letting thе responsibilities оf оthеr coworkers get іn thе way. Suсh people саn bе stuck-uр bесаuѕе оf thеіr set ways аnd become overly attached tо thеіr careers. Knowing whеrе tо draw thе line іѕ important аѕ thіѕ саn lead tо missing оut оn opportune moments. Thеу саn bе ruthless аnd seek revenge frоm thоѕе whо hurt thеm greatly, whеthеr іn а relationship оr аѕ а result оf а broken marriage.
Thе number 7 іѕ thе number оf analysis аnd critique. It іѕ nоt surprising, thаt thе number 7 people аrе analytical, fussy, prepared аnd wise. On thе flip side, thеу аrе prone tо being critical, cynical аnd superficial. Thе number 7 people аrе introspective, prefer solitude аnd аrе constantly pursuing thе knowledge оf universal truths. Thе tarot representation оf thе number 7 іѕ thе 'Chariot'. Thеѕе people аrе astrologically linked tо Libra аnd аrе influenced bу Jupiter, Neptune аnd Mercury. Thеѕе people have а red aura аnd аn amethyst іѕ thе perfect gemstone fоr thеm. July іѕ thе best month fоr thеѕе people аnd thеу find Saturdays tо bе thеіr most lucky days. Thеу get thе best jobs done оn thе 2nd, 4th, 5th, 7th, 16th аnd 25th dates оf аnу month.
Now remember, in Chinese astrology, the some of the signs have names that we in Western culture might not associate with positive human characteristics. Chief among these might be the sign of the Rat. If you were born in 1936, 1948, 1960, 1972, 1984 or 1996 then you are a Rat! According to today's Chinese menu, you are ambitious yet honest,.

Prone to spend freely. Seldom make lasting friendships. You are most compatible with Dragons and Monkeys and least compatible with Horses. While in the West, we associate rats with sewers, vermin and disease, this animal is viewed a bit differently in the East. The Eastern rat is appreciated for its quick wits and ability to accumulate and hold on to wealth. Rats are a symbol of good luck in the East. It's a stylish and charming sign in Eastern astrology. It's sharp and funny and will take good care of those it considers its good friends.
Nurturing yet dangerous, vital and deadly, water is a ripe with contradiction. In moderate amounts it is a blessing, in over abundance, a curse. Water is the only element with the ability to put out fire and make things grow and thrive. Water is vital to our very survival. Without water crops wither and die and there is no food. The human body, and in fact, all life on Earth is dependent upon water. Yet, even for life, water has the potential to be deadly. Too much water in the body leads to water intoxication and even death. It is, however, a delicate balance.
Too little water and all life withers and dies with the effects of the hot sun. Too much water chokes out needed oxygen and drowns. It is for this very reason the element water is represented by the color black. Water rules intelligence and wisdom. People born under the element water are uncommonly intelligent and capable. For all their wisdom and reasoning ability, water people tend to have difficulty making and sticking to decisions. Diplomatic, and intuitive, water people are flexible. They have a special ability to 'go with the flow' and are usually easygoing.