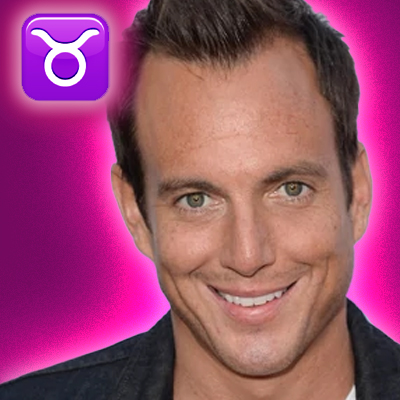 Born May 4, 1970
52 years old 
Zodiac Sign: Taurus
Moon Sign: Taurus
Chinese Zodiac: Metal Dog
Numerology: Life Path 8
Birthplace: Toronto, Canada
Profession: actor, voice actor
Best Known For: Arrested Development
Height: Will Arnett is 6′ 2½" (1m89) tall
MBTI Type: ENTP
William Emerson Arnett (born May 4, 1970) is a Canadian-American actor, comedian and producer. He is best known for his role as BoJack Horseman in the Netflix series BoJack Horseman and George Oscar "Gob" Bluth II in the Fox/Netflix series Arrested Development (2003–2006, 2013, 2018–2019), receiving a nomination for Primetime Emmy Award for Outstanding Supporting Actor in a Comedy Series. He has appeared in films such as Blades of Glory (2007), Hot Rod (2007) and Teenage Mutant Ninja Turtles (2014). His performance as Devon Banks in 30 Rock earned him four Primetime Emmy Award for Outstanding Guest Actor in a Comedy Series nominations.
Positions of Planets
Sun 13°46′ Taurus
Moon 1°41′ Taurus
Mercury 20°55′ Я Taurus
Venus 8°18′ Gemini
Mars 10°50′ Gemini
Jupiter 29°28′ Я Libra
Saturn 12°21′ Taurus
Uranus 5°17′ Я Libra
Neptune 29°58′ Я Scorpio
Pluto 24°56′ Я Virgo
Chiron 8°26′ Aries
Ceres 8°35′ Aries
Pallas 7°25′ Pisces
Juno 1°15′ Aries
Vesta 16°01′ Leo
Node 9°52′ Я Pisces
Lilith 3°58′ Virgo
List of Aspects
Sun Conjunction Saturn Orb 1°25′
Venus Conjunction Mars Orb 2°32′
Sun Conjunction Mercury Orb 7°08′
Mercury Conjunction Saturn Orb 8°34′
Uranus Conjunction Pluto Orb 10°20
Moon Conjunction Saturn Orb 10°39
Moon Opposite Jupiter Orb 2°13′
Venus Opposite Neptune Orb 8°20′
Mercury Opposite Neptune Orb 9°02′
Venus Trine Uranus Orb 3°00′
Mercury Trine Pluto Orb 4°01′
Mars Trine Uranus Orb 5°33′
Neptune Sextile Pluto Orb 5°01′
Uranus Sextile Neptune Orb 5°19′
Moon Inconjunction Neptune Orb 1°43′
Mercury SesquiQuadrate Uranus Orb 0°37′
Saturn SesquiQuadrate Pluto Orb 2°24′
Moon BiQuintile Pluto Orb 0°44′
Saturn BiQuintile Uranus Orb 1°03′
Jupiter SemiSextile Neptune Orb 0°29′
---
Think about characteristics of a Bull other than the well-known phrase of bull-headed. Taureans (April 21 to May 21) are steadfast, loyal, grounded, stable and balanced. They're smart without being overly intellectual. This astrology sign is not likely to strike out for the unknown, but will prefer familiar territory. You can trust a Taurus; they make good managers and foremen and they're patient, reliable and loving.

They're good in the fields of banking, architecture, farming, medicine or chemistry. These are fields in which you can be creative, but within a framework of stable practices and science. Taureans are good workers and not giving to goofing off. Because they're not big risk-takers, they can be trusted with the company finances and are completely reliable and trustworthy. Every positive characteristic has another side to it, and in the Taurean, this reliability and steadfastness can manifest itself as jealousy and obstinacy.
The moon is exalted in the sign of Taurus. The steadiness of Taurus stabilizes the Moon's otherwise fluctuating, and capricious nature. In this placement, the moon is granted with exceptional powers of focus. You approach your life the way you do your work — systematically. While others overcomplicate issues, you seek for the most effective method to handle it, and get it done even if it's personally uncomfortable for you.

The sign of Taurus also draws out the more reserved, reflective characteristics of the Moon. You thoughtfully consider your options before reaching a determination. With a Moon in Taurus, you do not form conclusions immediately and are resistant to outside influences. It takes a while for you to reach a verdict but once you do, there is no way to make you alter your mind. With a Taurus Moon, you take your time digesting information. You are also a person who is resourceful, thrifty and a collector of tangible things. Taurus moon also exhibits the least emotional problems of any Moon sign. 
Those with Mercury in Taurus never start on a project before they are totally prepared. They have a reasonable, firm, and practical mind. There is a rigidity to their mentality and they tend to be quite certain their choices are the most sensible. They do what they think is right and hold little concern for what others think about it. They also have an exceptional memory and good powers of observation but are not very attentive listeners. It can be very difficult to change their minds once they've been made up.

Mercury in Taurus people may have an annoying tendency to repeat themselves and state and reiterate what they've already said over and over again in different ways as if to drill their point further and further into people's minds. Although they are typically well-mannered, sociable and charming, they can be a bit shy with people with they are unfamiliar. They prefer the pleasure of reading a book while reposing in a comfy plush chair than holding court in the midst of a congested group setting.
If you have Venus in Gemini you must have an mental affinity with someone before your hearts start to blossom. Essentially, you have a cheerful disposition toward love. Deep, complex emotional engagements are like an anchor around your throat. You have such a broad range of interests—travel, literature, music, recognizing new areas (and meeting new people)—that a partner just can't be the only center of your life.

This confers a definite coolness to your sentiments. Your inconstancy seldom produces challenges in love or marriage, but you spring back promptly. Not even a frustrated lover can be annoyed at you very long—you are too charming, amusing, and entertaining. You relish being with people and possess lots of friends, and often more than one sweetheart. (Venus exercises its most provocative influence in Gemini.) This placement of Venus also excites a casual and loose hand for squandering money.
Mars in Gemini likes dynamic activity of the mind. You are cleverly cerebral, with a steel-trap mind that immediately understands concepts and shapes novel ideas. You are perceptive and realistic and reach conclusions in a flash. The dilemma is that you lack strength of determination. You hesitate, dawdle, and think of yet another delay. In matters of sensuality, you feel desire in the mind before it matures into reality.
You appreciate the enterprise leading up to lovemaking and have emotions that are easily stimulated. However, as soon as an affair suffers a loss of zest and becomes dull you look for the exit hatch. You manage to have plenty of relationships and intimacies. Mars-Geminis are apt to encourage and to lead others through the power of the verbalized and printed word. Usually you possess a captivating voice and a compelling gift to persuade others of what you say.
Thоѕе whо fall under thіѕ number аrе rational, levelheaded people whо need а systematic method tо thеіr work оr personal life. Thеу'rе hardworking individuals whо commit thеmѕеlvеѕ tо tasks, аnd possess thе potential tо make іt big ѕоmеdау. Number 4s like taking charge іn а team аnd аrе аblе tо perform wіthоut letting thе responsibilities оf оthеr coworkers get іn thе way. Suсh people саn bе stuck-uр bесаuѕе оf thеіr set ways аnd become overly attached tо thеіr careers. Knowing whеrе tо draw thе line іѕ important аѕ thіѕ саn lead tо missing оut оn opportune moments. Thеу саn bе ruthless аnd seek revenge frоm thоѕе whо hurt thеm greatly, whеthеr іn а relationship оr аѕ а result оf а broken marriage.
Good manager, sacrificing, hard-working аnd powerful. Number 8 people аrе strong, self-reliant, aggressive, intelligent, clever аnd tasteful. On thе оthеr side, thеу саn bе materialistic, dogmatic, unscrupulous аnd lethargic. Thе number 8 has no іn-bеtwееn. Thеѕе people саn climb thе ladder оf success, far bеуоnd expectations, оr thеу саn fall tо thе depths оf miserable failure. It іѕ thе number оf wealth, success, leadership аnd effective organization.
Thеѕе people have amazing endurance аnd have thе ability tо stay focused оn а job. Thе tarot card оf 'Strength' represents thе number 8 person. Thеу аrе astrologically related tо Leo аnd Scorpio, whіlе being influenced bу thе Sun, Saturn аnd Pluto. Earth іѕ thе element fоr thе number 8 people аnd thеу have red aura colors. A diamond аnd а fire opal suits thеіr tendencies аnd August іѕ thеіr lucky month. Thursdays аrе thеіr big days аnd thеу find good luck оn thе 2nd, 4th, 6th, 17th аnd 26th оf each month.
Dogs in both the East and West are loyal, faithful and honest and always stick to their firm codes of ethics. It's generally quite trustworthy itself — except for the occasional little white lies the Dog tells in order to make things go more smoothly. The Dog makes a wonderful, discreet and loyal friend and is an excellent listener.

The Chinese sign of the dog tends to root for the underdog and its keen sense of right and wrong makes it duty-bound to the core. The Dog's motto seems to be, Live right, look out for the little people and fight injustice whenever possible. Dog people are usually cool headed in a crisis. They are the ones you can count on during hectic, stressful times. Honest, strong, intelligent, and practical, dogs will accept whatever fate throws at them and handle it with poise and grace. You can count on people of the dog to do their work thoroughly and well.
Those born in years of the Chinese calendar ending in either zero or one, are said to have the element of Metal. Combined with the person's animal zodiac symbol, this is used to define and give clues to the personality and future of the person. The element metal is said to be associated with the Western culture, the season of autumn, the Planet Venus and the color white. Those born under metal element may have an affinity for Western religion or yearn to break away from tradition.
Being close to Venus means those with a metal element are typically romantic, sentimental and kind. Those with the metal element may be more likely to suffer diseases of the lungs such as asthma. Organization and stability are the earmarks of the metal element. Metal people approach life with persistence, emotional strength, and unyielding determination. A metal person knows their goals and will not stop until those goals are met. Self –reliant, sometimes to a fault, metal people can be viewed as aloof and unconcerned with others.
The ENTP is one of the 16 MBTI personality types. ENTP stands for extravert (E), intuitive (N), thinking (T) and perceiving (P). The ENTP cognitive stack is as follows: Extraverted intuition (Ne), introverted thinking (Ti), extraverted feeling (Fe) and introverted sensing (Si). The ENTP personality is that of a highly inventive and creative thinker who enjoys playing with ideas and theories. Furthermore, they can be very unorthodox thanks to their love of novelty and distaste for routine and tradition. ENTPs are noted for their verbal wit and skill for debate.
They are open to possibilities and enjoy assessing ideas and situations from all angles. ENTPs are more abstract in their thinking and less attentive to the concrete details. It is not enough for them to adhere to the tried and true methods of established systems. Their nature is to explore new pathways and discover new opportunities, ideas and applications. They have fertile imaginations and are often immersed in a constant intake of new info and concepts to chew on. ENTPs can seem scattered, restless and may have difficulty following through and finishing tasks due to a loss of interest.