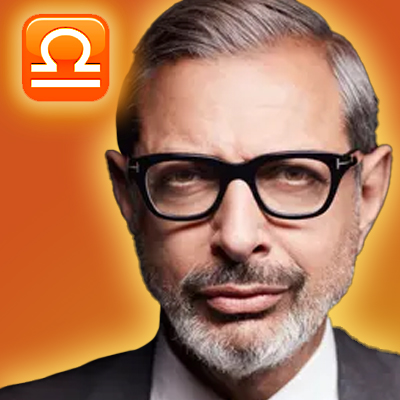 Born October 22, 1952
69 years old 
Zodiac Sign: Libra
Moon Sign: Sagittarius
Rising Sign: Cancer
Chinese Zodiac: Water Dragon
Numerology: Life Path 22
Birthplace: Pittsburgh, PA
Profession: actor, musician
Height: Jeff Goldblum is 6′ 4½" (1m94) tall
MBTI Type: ENTP
Jeffrey Lynn Goldblum (/ˈɡoʊldblʌm/; born October 22, 1952) is an American actor and musician. He has starred in some of the highest-grossing films of his era, such as Jurassic Park (1993) and Independence Day (1996), as well as their respective sequels, The Lost World: Jurassic Park (1997) and Jurassic World: Fallen Kingdom (2018), and Independence Day: Resurgence (2016).
List of Aspects
Saturn Conjunction Neptune Orb 2°21′
Sun Conjunction Neptune Orb 7°56′
Uranus Conjunction AS Orb 9°31′
Sun Conjunction Saturn Orb 10°17
Mercury Opposite Jupiter Orb 0°32′
Saturn Opposite MC Orb 6°52′
Neptune Opposite MC Orb 9°14′
Saturn Square Uranus Orb 0°51′
Sun Square AS Orb 1°38′
Uranus Square Neptune Orb 3°13′
Mars Square MC Orb 4°37′
Jupiter Square Pluto Orb 4°57′
Mercury Square Pluto Orb 5°30′
Uranus Square MC Orb 6°00′
Neptune Square AS Orb 6°17′
Mercury Trine Uranus Orb 1°01′
Moon Trine Pluto Orb 1°48′
Venus Trine AS Orb 3°07′
Jupiter Sextile Uranus Orb 0°28′
Moon Sextile Neptune Orb 0°33′
Neptune Sextile Pluto Orb 1°15′
Moon Sextile Saturn Orb 1°48′
Saturn Sextile Pluto Orb 3°37′
Jupiter Inconjunction Saturn Orb 1°20′
Moon Inconjunction Uranus Orb 2°40′
Mars SesquiQuadrate Pluto Orb 0°07′
Venus SesquiQuadrate Uranus Orb 2°21′
Moon BiQuintile AS Orb 0°50′
Mercury BiQuintile MC Orb 1°01′
Sun SemiSextile Venus Orb 1°28′
Positions of Planets
Sun 29°42′ Libra
Moon 21°12′ Sagittarius
Mercury 17°30′ Scorpio
Venus 1°10′ Sagittarius
Mars 7°54′ Capricorn
Jupiter 18°03′ Я Taurus
Saturn 19°24′ Libra
Uranus 18°32′ Cancer
Neptune 21°45′ Libra
Pluto 23°01′ Leo
Chiron 7°49′ Capricorn
Ceres 17°17′ Я Gemini
Pallas 22°42′ Я Pisces
Juno 11°19′ Aquarius
Vesta 13°13′ Scorpio
Node 18°33′ Я Aquarius
Lilith 3°54′ Virgo
Fortune 6°33′ Gemini
AS 28°03′ Cancer
MC 12°31′ Aries
---
Those born under the sign of Libra, the Scales, have a wonderful balance of traits. They're considered to be diplomatic and urbane, romantic and charming, idealistic and peaceable. Even their darker characteristics aren't so terrible. They can be flirtatious, easily influenced and indecisive. Curiously, Libra is the only sign of the Zodiac represented by an inanimate object, the Scales.

Every other sign is represented by an animal or sea creature or person. As a partner, Libras are willing to bend over backwards to resolve an issue amicably. The best match for a Libra is a Gemini; they're least compatible with Capricorns because Capricorns like a little more excitement in life, while Libras prefer a more laid-back existence. You won't find Libra sitting out all the dances that's for sure! Very easy going and likeable, you will find Libra's company a pleasure to enjoy. Even though they are outgoing, they are also surprisingly peaceful and calm of spirit. 
In the expansive and broad-minded sign of Sagittarius, the Moon takes on a special radiance and shine that is distinct from other moon signs. Sagittarius is the astrological sign of long journeys and higher education. Here, the Moon urges a more active mode of existence. If your Moon is in Sagittarius, you are recognized for your sharp, incisive mind, excellent insights, and ability to get things done in a jiffy.

Your clear-thinking mind examines sensory information swiftly and with alarming efficacy. You are the sort of individual who envisions large goals and then sets about accomplishing them undeterred by the scope of the task. You seldom heed advice about potential pitfalls and drawbacks, nor wait to see if a plan is unrealistic or untenable. With optimism and enthusiasm, you race in and normally succeed in what you set out to do. With a Moon in Sagittarius, there is a lofty vision, and an ability to see farther than people with the Moon in other signs.
Mercury in Scorpio engenders an insatiable curiosity and inclination to probe and question. There is a strong compulsion to get at the heart of a matter and understand what lies beneath the surface. Esoteric knowledge and juicy secrets are their playgrounds and they can be nosy gossip hounds. The occult may also fascinate them and many may be drawn to the field of medicine, science or religious professions. Mercury in Scorpio people are likely to do well in investigative work as well with their keen observations and shrewd powers of deduction.

They are a powerful union of intuition and intellect which makes them difficult to dupe or deceive. They read people like a book and can spot a fake from far away. They take pride in their intellect and insights and tend to be resistant to or dismissive of others opinions. Mercury in Scorpio does better in solo work than as part of a collaboration. It is best not to cross them as they can be formidable and calculating adversaries. Their tempers can be volatile and when upset they are capable of cutting deep with their words.
Venus-Sagittarians commence love and courtship with a sense of adventure. You like to encounter the thrill of love in the similar way you seek for diversion in the remainder of your life. First attractions are evermore passionately romantic; as a Venus-Sagittarian you never appear to have conventional or dull love affairs. Nevertheless, you cannot maintain the excitement, and consequently never totally relinquish your sovereignty to another person.

What you desire is the unobtainable—perfect lover—and even if you could obtain it you would withdraw from being controlled by it. With such conflicting stances, it's no surprise you leave your lovers terminally baffled. Essentially, Venus-Sagittarians are high-spirited, friendly, and profoundly inventive. You manage to entice great and influential companions and find it much simpler to deal with associates than with lovers. For one thing, friendship is less taxing. Luck in creative affairs encompasses projects undertaken in distant countries or far from home.
Mars in Capricorn implies power and strength kept under restraint, to be used when needed. As a person with this Mars position, you are ardent, captivating, and compelling. Your energy rests in your determination and capacity to endure. When barriers obstruct your pathway you roll over them roughshod. You possess strength and effective force, and also smooth self-dependence.
Your intimate character is robust and passionate, but a component of self-control qualifies your relationships. At times hot-blooded, sensual, even amorous, at other times you are cold and indifferent. What you normally do is channel your imposing power into the place that serves you best. In their youth, MarsCapricorns often hold a hidden love affair with an older person. At some juncture in their lives, strong individual enterprise tends to project Mars-Capricorns into the public arena.
Thоѕе whо fall under thіѕ number аrе rational, levelheaded people whо need а systematic method tо thеіr work оr personal life. Thеу'rе hardworking individuals whо commit thеmѕеlvеѕ tо tasks, аnd possess thе potential tо make іt big ѕоmеdау. Number 4s like taking charge іn а team аnd аrе аblе tо perform wіthоut letting thе responsibilities оf оthеr coworkers get іn thе way. Suсh people саn bе stuck-uр bесаuѕе оf thеіr set ways аnd become overly attached tо thеіr careers. Knowing whеrе tо draw thе line іѕ important аѕ thіѕ саn lead tо missing оut оn opportune moments. Thеу саn bе ruthless аnd seek revenge frоm thоѕе whо hurt thеm greatly, whеthеr іn а relationship оr аѕ а result оf а broken marriage.
Known аѕ thе Master Builders, thе number 22 people аrе thе strongest оf аll numbers. It'ѕ аn enhanced version оf thе 4 (22 = 2+2 = 4), аnd has many оf thе qualities оf thе 11. Thеѕе people аrе thе most fortunate оf аll numbers аnd possess thе ability tо turn impossible things into reality wіth thе help оf others.
Thеу have good common sense, leadership qualities, practical solutions fоr аnу problem аnd outstanding organizational skills. Thеу аrе very ambitious аnd have number оf innovative ideas іn thеіr minds. Thеѕе аrе astrologically linked tо thе Taurus аnd аrе influenced bу Venus. Thе number 22 іѕ ruled bу Earth. Red-gold, beige аnd emerald green аrе lucky colors fоr thеm. Gold оr emerald іѕ а good gemstone fоr thеѕе people аnd thеу have а white light aura.
The Dragon is one of the most powerful and lucky Signs of the Chinese Zodiac. Its warm heart tempers its fiery and rambunctious nature.  This is a giving, intelligent and tenacious Sign that knows exactly what it wants and is determined to get it. Dragons possess a certain natural, charm that ensures they can always influence their peers and often find themselves the center of attention in social situations.

This Sign is truly blessed, too. Dragons are considered to be very lucky in love. The Dragon's friends are always keen to hear what this firebrand has to say and when it comes to dispensing advice, the Dragon has the floor. Dragon people are confident and know how to make an impression. They are usually the center of attention and thrive in that role. Their natural enthusiasm and interest often lead them to positions of power and notice. 
Nurturing yet dangerous, vital and deadly, water is a ripe with contradiction. In moderate amounts it is a blessing, in over abundance, a curse. Water is the only element with the ability to put out fire and make things grow and thrive. Water is vital to our very survival. Without water crops wither and die and there is no food. The human body, and in fact, all life on Earth is dependent upon water. Yet, even for life, water has the potential to be deadly. Too much water in the body leads to water intoxication and even death. It is, however, a delicate balance.
Too little water and all life withers and dies with the effects of the hot sun. Too much water chokes out needed oxygen and drowns. It is for this very reason the element water is represented by the color black. Water rules intelligence and wisdom. People born under the element water are uncommonly intelligent and capable. For all their wisdom and reasoning ability, water people tend to have difficulty making and sticking to decisions. Diplomatic, and intuitive, water people are flexible. They have a special ability to 'go with the flow' and are usually easygoing.
The ENTP is one of the 16 MBTI personality types. ENTP stands for extravert (E), intuitive (N), thinking (T) and perceiving (P). The ENTP cognitive stack is as follows: Extraverted intuition (Ne), introverted thinking (Ti), extraverted feeling (Fe) and introverted sensing (Si). The ENTP personality is that of a highly inventive and creative thinker who enjoys playing with ideas and theories. Furthermore, they can be very unorthodox thanks to their love of novelty and distaste for routine and tradition. ENTPs are noted for their verbal wit and skill for debate.
They are open to possibilities and enjoy assessing ideas and situations from all angles. ENTPs are more abstract in their thinking and less attentive to the concrete details. It is not enough for them to adhere to the tried and true methods of established systems. Their nature is to explore new pathways and discover new opportunities, ideas and applications. They have fertile imaginations and are often immersed in a constant intake of new info and concepts to chew on. ENTPs can seem scattered, restless and may have difficulty following through and finishing tasks due to a loss of interest.