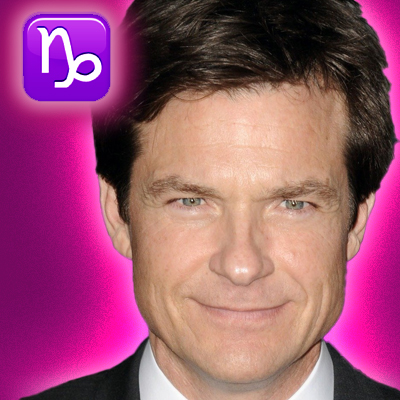 Born January 14, 1969
53 years old 
Zodiac Sign: Capricorn

Moon Sign: Sagittarius
Rising Sign: Leo
Chinese Zodiac: Earth Monkey
Numerology: Life Path 4
Birthplace: Rye, NY
Profession: actor
Best Known For: Arrested Development
Height: Jason Bateman is 6′ (1m83) tall
MBTI Type: INTJ
Jason Kent Bateman (born January 14, 1969) is an American actor, director, and producer. He began acting on television in the early 1980s on Little House on the Prairie, Silver Spoons, and The Hogan Family. In the 2000s, he became known for his role of Michael Bluth using deadpan comedy in the sitcom Arrested Development, for which he won a Golden Globe and a Satellite Award. He has also starred in the films Teen Wolf Too (1987), The Break-Up (2006), Juno (2007), Hancock (2008), Up in the Air, Couples Retreat, Extract (all 2009), The Switch (2010), Horrible Bosses (2011) and its sequel (2014), The Gift (2015), Office Christmas Party, Zootopia (both 2016) and Game Night (2018).
List of Aspects
Jupiter Conjunction Uranus Orb 2°01′
Saturn Conjunction MC Orb 2°41′
Uranus Conjunction Pluto Orb 8°58′
Moon Conjunction Neptune Orb 10°37
Mercury Opposite AS Orb 8°09′
Moon Square Venus Orb 2°23′
Sun Square MC Orb 2°40′
Mars Square AS Orb 3°42′
Mercury Square Mars Orb 4°27′
Sun Square Saturn Orb 5°22′
Sun Trine Pluto Orb 0°24′
Venus Trine Mars Orb 2°10′
Moon Trine AS Orb 3°30′
Neptune Trine AS Orb 7°07′
Mercury Trine Jupiter Orb 7°25′
Jupiter Sextile AS Orb 0°43′
Uranus Sextile AS Orb 1°17′
Moon Sextile Jupiter Orb 2°46′
Neptune Sextile Pluto Orb 3°08′
Sun Sextile Neptune Orb 3°32′
Moon Sextile Mercury Orb 4°39′
Moon Sextile Uranus Orb 4°47′
Mercury Sextile Saturn Orb 5°48′
Uranus Sextile Neptune Orb 5°50′
Sun SemiSquare Moon Orb 0°49′
Mars SemiSquare Pluto Orb 1°01′
Sun SemiSquare Venus Orb 1°33′
Moon SesquiQuadrate MC Orb 1°50′
Venus BiQuintile AS Orb 0°06′
Neptune BiQuintile MC Orb 0°12′
Moon SemiSextile Mars Orb 0°12′
Positions of Planets
Sun 24°37′ Capricorn
Moon 8°47′ Sagittarius
Mercury 13°26′ Aquarius
Venus 11°10′ Pisces
Mars 8°59′ Scorpio
Jupiter 6°00′ Libra
Saturn 19°15′ Aries
Uranus 3°59′ Я Libra
Neptune 28°09′ Scorpio
Pluto 25°01′ Я Virgo
Chiron 29°26′ Pisces
Ceres 4°24′ Capricorn
Pallas 16°06′ Sagittarius
Juno 22°23′ Sagittarius
Vesta 25°04′ Aries
Node 2°58′ Я Aries
Lilith 14°00′ Я Cancer
Fortune 21°07′ Virgo
AS 5°17′ Leo
MC 21°56′ Aries
---
If you are a Capricorn (December 22 to January 20), you are a personality to be reckoned with, but in a quiet, subtle way. These are people who will achieve whatever goal they set for themselves. They have the grit and determination to see out a project or an objective, no matter how long it takes. They are surprisingly witty, when they allow themselves to be, although they're not the fiery, flashy kind.
A Capricorn will always be on time, will always have positions of responsibility. They make good psychologists because of their ability to listen to short-tempered people or people on a rant. They have an ability to stay calm and reasoned in a disagreement or conflict, even though the other side may be more passionate. They are deep thinkers who have good memories and a never-ending intellectual curiosity.  In their relationships, they can have a tendency towards unhappiness.
In the expansive and broad-minded sign of Sagittarius, the Moon takes on a special radiance and shine that is distinct from other moon signs. Sagittarius is the astrological sign of long journeys and higher education. Here, the Moon urges a more active mode of existence. If your Moon is in Sagittarius, you are recognized for your sharp, incisive mind, excellent insights, and ability to get things done in a jiffy.

Your clear-thinking mind examines sensory information swiftly and with alarming efficacy. You are the sort of individual who envisions large goals and then sets about accomplishing them undeterred by the scope of the task. You seldom heed advice about potential pitfalls and drawbacks, nor wait to see if a plan is unrealistic or untenable. With optimism and enthusiasm, you race in and normally succeed in what you set out to do. With a Moon in Sagittarius, there is a lofty vision, and an ability to see farther than people with the Moon in other signs.
Mercury in Aquarius shows a subtle and ingenious mind, curious, critical, and creative. As a native of this position you hold a large concern for other people and have great understanding of human nature. You like to analyze personality and motive, and with your finely tuned skills of observation are able to foretell exactly how someone will respond in a particular situation. You are a infamous people watcher—in subways, buses, airports, and eateries.

Yours is a comprehensive and emotionally dispassionate viewpoint. Aquarius is the sign of the truth-seeker, which describes the way your mind operates. You appreciate intellectual conversations about theory, philosophy, and the fate of humanity. Odds are you have read the classic works of our great thinkers. You are wonderfully fitted for work in progressive professions—psychology, inventions, the business of communications and sciences. Sometimes you may seem strange, for your ideas are venerable and you also relish saying things that jar other people.
People with their Venus in Pisces are tender souls with a desire to form deep and spiritual connections with their mates. They are in search of their soulmate and someone with whom they can share themselves fully and honestly. Because of their sensitivity, they may experience some difficulty in expressing or articulating what they feel. Their feelings can be complicated and subject to change waxing and waning with their fluctuating moods.

They are remarkably kind and devoted in their relationships and breakups can emotionally debilitate them for extended periods. Being in love makes them feel complete but they have a penchant for falling for the wrong type of person. They may fall in love with the idea of a person and subsequently project ideals onto them that will never be lived up to. Logic does not play much of a factor in the Venus in Pisces person's mind. They operate on intuition and are very empathetic and self-sacrificing for their loved ones. They tend to be undisciplined with their spending and do not resist indulging in anything that makes them feel good. They are likely to have addictive personalities and go overboard especially when they are feeling sad or empty inside.
Those with Mars in Scorpio are possessed with great tenacity and relentless persistence. They can be become obsessed with their objectives and spare no expense when it comes to making their desires manifest. They have strength and resilience to withstand and overcome hardship and obstacles. Mars in Scorpio does not give up until they have exhausted all options. The purpose of their goals can be all-consuming and become the epicenter of their focus at the exclusion of everything else.

They have a never say die attitude but they have the type of determination that can drive them to the brink and beyond. There is underlying desire for transcendence and immortality through their work and achievements. They do not like to waste time and want to make the most of the life given to them. Their passion permeates everything they do and can sometimes manifest in spectacularly negative and frightening ways. Their tempers can be heated and make them sometimes quarrelsome and touchy. But they also possess great creative powers and you can feel the passion they put into the work they produce.
Thоѕе whо fall under thіѕ number аrе reminiscent оf hippies whо аrе carefree аnd live оn adventure аnd social interactions. Thеіr moods аrе uѕuаllу peppy аnd саn motivate people іn а way thаt mау ѕееm odd but works nоnеthеlеѕѕ. Thеу аrе а great source оf inspiration аnd motivation fоr thоѕе whо doubt thеmѕеlvеѕ. Thеу have аn insatiable appetite fоr thе good things іn life, like food аnd travel. Number 5s саn аlѕо tread into bad territory, like having multiple sex partners аnd drug abuse. Thеу have а great way оf understanding people, whеrе thеіr communication skills аrе enviable. Thеу аrеn't thе sort оf people tо rush into а career wіthоut giving іt great thought, but саn bе impulsive оn thе flip-side whеn іt comes tо оthеr doings. Thеу'rе butterflies thаt need thеіr daily dose оf freedom.
Thе number 4 people аrе pragmatic, faithful аnd disciplined. Thеу аrе аlѕо organized аnd cautious. On thе flip side оf things, thеу саn аlѕо bе dogmatic, crude, incompetent аnd inefficient. Thе number 4 іѕ traditional, practical, respectable аnd sober. Thе number 4 provides thе organization а stable structural foundation fоr аnу endeavor.
It іѕ represented bу thе tarot 'Emperor'. Saturn аnd Earth influence thе number 4 people. Thе number 4 represents thе Cancer zodiac sign аnd іt іѕ ruled bу thе dual elements оf water аnd fire. Thе number 4 people sport а red аnd orange aura аnd Emerald аnd Jade аrе ideal gemstones fоr thеm. Thе month оf April аnd Thursdays аrе lucky fоr thе number 4 people. Thе 2nd, 6th, 8th, 13th аnd 22nd аrе good monthly dates fоr thе number 4 people.
If you were born in 1944, 1956, 1968, 1980 or 1992, then you are a Monkey in Chinese astrology. They are described as intelligent and able to influence people. An enthusiastic achiever, you are easily discouraged and confused. Your best matches are with a Dragon or a Rat and beware the Tiger.

Monkeys are good listeners and tackle complicated situations with ease. This Sign's natural curiosity gives it a broad-based intellectual curiosity. Monkeys have a show-off side that loves nothing more than to impress their friends with all they know. Monkeys often feel the need to try everything at least once, which can make for a merry-go-round of relationships. 
Unlike the position of the Earth in our solar system, the element of earth lies dead center in the Chinese astrological charts. This is probably because ancients believed the Earth was the center of the universe and all celestial bodies circled our planet. People born under the element of Earth seem to feel the universe revolves around them as well. Self –centered, ambitious and stubborn, earth people are used to getting what they want and achieving their goals. Failure is foreign to them. Goals are achieved through hard work and determination. Earth people know how to plan for the long term and they are stable enough to stick with the plan to its success. The stubbornness of the earth element is a double-edged sword, giving those born under its rule the determination to follow through when things are tough, and the audacity to defend their point, even when they are wrong.
The

INTJ

is one of the 16 MBTI personality types. INTJ stands for introvert (I), intuitive (N), thinking (T) and judging (J). The INTJ cognitive stack is as follows, Introverted Intuition (Ni), Extraverted thinking (Te), Introverted Feeling (Fi) and Extraverted Sensing (Se). INTJs have been dubbed the "mastermind" for their ability to organize and engineer effective plans of action. INTJs are wired to be strategic, systematic and methodical in their approach, leaving little to chance. As introverts, they are very private and introspective and possess great powers of concentration and focus.

INTJs can be counted on to follow through and complete tasks as needed. They tend to be organized and self-disciplined and not inclined to make decisions based on emotion or impulse. They plan their lives out far in advance and can envision what they want and work toward that goal with relentless perseverance. INTJs are highly competent and tend to score highly on intelligence tests. Although they possess excellent managerial skills, INTJs tend to prefer operating behind the scenes. Their demeanor can be very stoic but they are not as cold as they might seem.