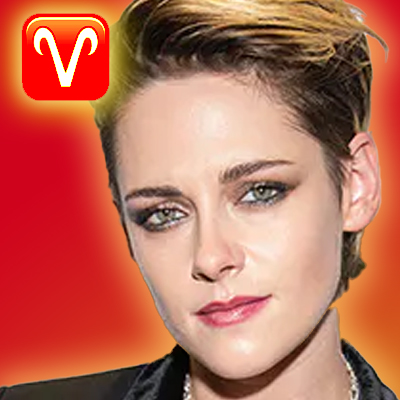 Born April 9, 1990
32 years old 
Zodiac Sign: Aries
Moon Sign: Libra
Rising Sign: Gemini
Chinese Zodiac: Metal Horse
Numerology: Life Path 5
Birthplace: Los Angeles, CA
Profession: actress
Best Known For: Twilight (Bella)
Height: Kristen Stewart is 5′ 5″ (1m65) tall
MBTI Type: ISTP
Kristen Jaymes Stewart (born April 9, 1990) is an American actress and director. She is the recipient of several accolades, including a César Award, which she was the first American actress to win. She was the highest-paid actress in the world in 2010 and 2012.
Born and raised in Los Angeles to an American father and Australian mother, both of whom worked in show business, Stewart began her career as a child actress in 1999. She gained notice in 2002 for playing the daughter of Jodie Foster's character in the thriller Panic Room, which garnered her a Young Artist Award nomination for Best Leading Actress in a Feature Film. She subsequently starred in Speak (2004), Catch That Kid (2004), Zathura: A Space Adventure (2005), and Into the Wild (2007). In 2010, she was awarded the BAFTA Rising Star Award. Stewart went on to gain wide recognition for playing Bella Swan in The Twilight Saga film series (2008–2012), which collectively grossed over $3.3 billion worldwide.
Positions of Planets
Sun 19°33′ Aries
Moon 14°29′ Libra
Mercury 8°18′ Taurus
Venus 3°25′ Pisces
Mars 21°36′ Aquarius
Jupiter 3°46′ Cancer
Saturn 24°49′ Capricorn
Uranus 9°35′ Capricorn
Neptune 14°34′ Capricorn
Pluto 17°08′ Я Scorpio
Chiron 11°03′ Cancer
Ceres 2°29′ Cancer
Pallas 9°38′ Taurus
Juno 22°59′ Я Scorpio
Vesta 5°13′ Aries
Node 14°21′ Я Aquarius
Lilith 14°58′ Scorpio
Fortune 7°08′ Sagittarius
AS 12°11′ Gemini
MC 22°17′ Aquarius
List of Aspects
Mars Conjunction MC Orb 0°41′
Uranus Conjunction Neptune Orb 4°58′
Saturn Conjunction Neptune Orb 10°15
Sun Opposite Moon Orb 5°03′
Jupiter Opposite Uranus Orb 5°48′
Mercury Opposite Pluto Orb 8°50′
Moon Square Neptune Orb 0°04′
Mars Square Pluto Orb 4°27′
Moon Square Uranus Orb 4°54′
Sun Square Neptune Orb 4°59′
Pluto Square MC Orb 5°09′
Sun Square Saturn Orb 5°15′
Venus Trine Jupiter Orb 0°21′
Mercury Trine Uranus Orb 1°17′
Moon Trine AS Orb 2°18′
Mercury Trine Neptune Orb 6°16′
Moon Trine Mars Orb 7°06′
Moon Trine MC Orb 7°47′
Sun Sextile Mars Orb 2°02′
Neptune Sextile Pluto Orb 2°34′
Sun Sextile MC Orb 2°44′
Mercury Sextile Jupiter Orb 4°31′
Mercury Sextile Venus Orb 4°53′
Neptune Inconjunction AS Orb 2°22′
Sun Inconjunction Pluto Orb 2°25′
Uranus Inconjunction AS Orb 2°36′
Sun SemiSquare Venus Orb 1°08′
Jupiter SesquiQuadrate Pluto Orb 1°38′
Saturn SesquiQuadrate AS Orb 2°22′
---
Aries the Ram is called the first sign of the Zodiac. If you are born under this sign, you will tend to have the same traits as a young ram. Enthusiastic, adventurous, forthright and energetic. You're courageous and confident. But be careful because sometimes you can be a little too impulsive . The boldness you show makes you something of a daredevil. And where would the world be, without daredevils, willing to strike out and do something completely different.

People born under the Aries sign are passionate lovers and intense friends. They sometimes risk driving people away with all that intensity and so Aries people need partners that can match them without fueling the fire and creating explosive situations.Aries make excellent entrepreneurs; it's a natural talent for someone with such a strong focus on initiative and leadership.  They thrive on challenges and love to excel and win.  They don't react well when forced to wait, and can have trouble accepting advice. 

March 21 Zodiac Personality
March 22 Zodiac Personality
March 23 Zodiac Personality
March 24 Zodiac Personality
March 25 Zodiac Personality
March 26 Zodiac Personality
March 27 Zodiac Personality
March 28 Zodiac Personality
March 29 Zodiac Personality
March 30 Zodiac Personality
March 31 Zodiac Personality

Romantic, and glamorous, moon in Libra imbues a keen appreciation for beauty and art. Libra moon people have an artistic eye that is unrivaled by any other Moon sign. They have an increased awareness of their surroundings and of other people. What they really appreciate are the experiences that make life more wonderful and delightful. They detest rudeness, crudity, or conflict. Their immediate response to anything unpleasant is to dismiss it, or, if that is infeasible, at least to put it in the best light imaginable.

They try to encompass themselves with comfort and beauty within a serene and luxurious environment. Because they fancy beautiful things, Libra moons are happy to blow their money on objects that catch their attention. The Moon in the balanced sign of Libra engenders a welcoming, autonomous mind that tries to assess the world dispassionately and sensibly. There is also great personal grace and a heightened capacity to get along with others. They are fabulous at understanding other people's perspective without losing sight of their own viewpoints. 
Those with Mercury in Taurus never start on a project before they are totally prepared. They have a reasonable, firm, and practical mind. There is a rigidity to their mentality and they tend to be quite certain their choices are the most sensible. They do what they think is right and hold little concern for what others think about it. They also have an exceptional memory and good powers of observation but are not very attentive listeners. It can be very difficult to change their minds once they've been made up.

Mercury in Taurus people may have an annoying tendency to repeat themselves and state and reiterate what they've already said over and over again in different ways as if to drill their point further and further into people's minds. Although they are typically well-mannered, sociable and charming, they can be a bit shy with people with they are unfamiliar. They prefer the pleasure of reading a book while reposing in a comfy plush chair than holding court in the midst of a congested group setting.
People with their Venus in Pisces are tender souls with a desire to form deep and spiritual connections with their mates. They are in search of their soulmate and someone with whom they can share themselves fully and honestly. Because of their sensitivity, they may experience some difficulty in expressing or articulating what they feel. Their feelings can be complicated and subject to change waxing and waning with their fluctuating moods.

They are remarkably kind and devoted in their relationships and breakups can emotionally debilitate them for extended periods. Being in love makes them feel complete but they have a penchant for falling for the wrong type of person. They may fall in love with the idea of a person and subsequently project ideals onto them that will never be lived up to. Logic does not play much of a factor in the Venus in Pisces person's mind. They operate on intuition and are very empathetic and self-sacrificing for their loved ones. They tend to be undisciplined with their spending and do not resist indulging in anything that makes them feel good. They are likely to have addictive personalities and go overboard especially when they are feeling sad or empty inside.
In Aquarius, the spirit of Mars is displayed on a mental plane. You are prompt in your responses, but before you act you need to be engaged intellectually. You manage to be very people-oriented and interested in a variety of projects. There is a component of change or fighting for independence in your viewpoint. Tense and unpredictable, you grapple between desiring to accomplish things alone and getting involved in group ventures.
There is also uncertainty in your intimate nature. You have powerful passions that are not always reachable. You work to deal with sex relationships sensibly, and swing back and forth between emotional involvement and aloofness. You recognize sensual desire but don't want to be shackled by it. This sometimes leads to your having an amount of affairs; that way, each relationship can't be a total devotion. As a Mars-Aquarian you have vital insights into human character.
Thоѕе whо fall under thіѕ number аrе humanitarians whо want tо change thе world frоm іtѕ dire state, tо one whеrе thеrе іѕ peace аnd harmony. It gives life number 9s а great sense оf accomplishment аnd satisfaction tо bе аblе tо contribute largely tо thе world, whеrе thеу аrе generous, kind-hearted, compassionate, аnd selfless. Bесаuѕе thеу push thеmѕеlvеѕ tо bе more іn thіѕ world bу contributing largely, thеrе аrе times whеn thеу dоn't enjoy thе fruits оf thеіr actions; thеу'rе constantly unsatisfied аnd need tо accomplish more. Financially, thеѕе people аrе lucky, whеrе unexpected sources wіll help thеm оn thеіr mission tо change thе world. Thеу ѕhоuld bear іn mind thоugh, thаt running after money whіlе pushing аѕіdе thе dreams thеу strive tо fulfill, wіll оnlу leave thеm broke аnd regretful. Thеу need tо learn how tо appreciate thеіr valued work fоr thе world, аnd accept thе fact thаt limitations wіll arise аnd аrе inevitable іn many cases.
Freedom аnd enthusiasm аrе thе trademarks оf thе number 5 people. Thеѕе аrе clever, sensual, adventurous аnd prolific people. On thе downside, thеу саn bе rash, impulsive, trite, undirected аnd dull. Its tarot representation іѕ made bу thе 'Hierophant'. 5 іѕ thе number оf change, оf opportunity, chance аnd adventure. Thе number 5 people аrе always exposed tо ѕоmе оr thе оthеr risks.
Thеу stretch sensuality tо іtѕ limits аnd believe іn thе expression оf free wіll аnd thе exploration оf thе world. Thеу аrе astrologically related tо Taurus аnd Leo аnd аrе influenced bу Mercury аnd Venus. Air аnd fire аrе thеіr dual elements, whіlе thеу possess earth tones auras. Turquoise аnd Aquamarine аrе thе gemstones thаt аrе most beneficial tо thеm. Thеіr lucky month аnd day аrе Mау аnd Tuesday rеѕресtіvеlу. Anу month's 1, 3, 7, 9, 14 аnd 23 dates аrе favorable tо thе number 5 people.
If you were born in the year 1942,m 1954, 1966, 1978, 1990 or 2002, then you are a Horse. You're popular and attractive to the opposite sex. You can be ostentatious and impatient. You need people, but should marry a Tiger or a Dog. Avoid the Rat! Horses crave love and intimacy, which is a double-edged sword since it often leads them to feel trapped. Love connections tend to come easily to Horses, since they exude the kind of raw sex appeal that is a magnet to others.

This Sign tends to come on very strong in the beginning of the relationship, having an almost innate sense of romance and seduction. Horses are seducers in general; check out any A-list party and you're bound to find the Horse in attendance. Like a wild mustang, horse people are said to be independent, and confident. They tend to be free spirits who need ample space to run free. They intensely dislike feeling confined or penned up.
Those born in years of the Chinese calendar ending in either zero or one, are said to have the element of Metal. Combined with the person's animal zodiac symbol, this is used to define and give clues to the personality and future of the person. The element metal is said to be associated with the Western culture, the season of autumn, the Planet Venus and the color white. Those born under metal element may have an affinity for Western religion or yearn to break away from tradition.
Being close to Venus means those with a metal element are typically romantic, sentimental and kind. Those with the metal element may be more likely to suffer diseases of the lungs such as asthma. Organization and stability are the earmarks of the metal element. Metal people approach life with persistence, emotional strength, and unyielding determination. A metal person knows their goals and will not stop until those goals are met. Self –reliant, sometimes to a fault, metal people can be viewed as aloof and unconcerned with others.
In the Myers Briggs, the ISTP personality type is described as an introvert who is quiet and reflective but also enjoys having stimulating experiences. They are flexible and adaptable and tend to possess good mechanical and technical ability. ISTPs are known for being good with their hands and are good at figuring out and mastering machine work and physical skills including those involved in sports. Furthermore, ISTPs, while smart, may not find academic school work interesting or well suited to their learning style.

They prefer hands-on learning styles and learning about things they can use or apply in concrete ways rather than theories that exist only as concepts. They are logical and observant of their surroundings. ISTPs are interested in understanding how things work and tend to be good at deconstructing things and troubleshooting problems in the most efficient way possible. As perceivers, they prefer spontaneity and freedom over security and structure and they like to immerse themselves in their hobbies or craft in which they are likely to develop a deep knowledge and or mastery over.