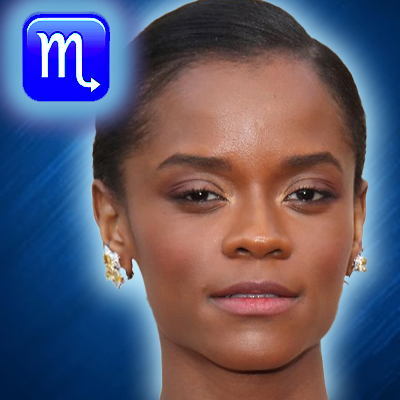 Born October 31, 1993
28 years old 
Zodiac Sign: Scorpio
Moon Sign: Taurus
Chinese Zodiac: Water Rooster
Numerology: Life Path 9
Birthplace: Georgetown, Guyana
Profession: actress
Known For: Black Panther (Shuri)
Height: 5′ 5″
MBTI Type: ENTP
Letitia Michelle Wright (born 31 October 1993) is a Guyanese-English actress. Beginning her professional career in 2011, she has played roles in several British TV series, including Top Boy, Coming Up, Chasing Shadows, Humans, the Doctor Who episode "Face the Raven" and the Black Mirror episode "Black Museum"; for the latter she received a Primetime Emmy Award nomination for Outstanding Supporting Actress in a Limited Series or Movie.
List of Aspects
Uranus Conjunction Neptune Orb 0°04′
Mars Conjunction Pluto Orb 0°50′
Mercury Conjunction Mars Orb 3°48′
Mercury Conjunction Pluto Orb 4°38′
Venus Conjunction Jupiter Orb 8°27′
Sun Conjunction Jupiter Orb 10°19
Moon Opposite Mercury Orb 0°42′
Moon Opposite Mars Orb 3°05′
Moon Opposite Pluto Orb 3°56′
Mars Square Saturn Orb 0°15′
Venus Square Uranus Orb 0°45′
Venus Square Neptune Orb 0°49′
Saturn Square Pluto Orb 1°06′
Moon Square Saturn Orb 2°50′
Mercury Square Saturn Orb 3°32′
Moon Trine Uranus Orb 2°05′
Moon Trine Neptune Orb 2°09′
Venus Trine Saturn Orb 4°10′
Jupiter Trine Saturn Orb 4°16′
Mercury Sextile Uranus Orb 1°22′
Mercury Sextile Neptune Orb 1°27′
Mars Sextile Uranus Orb 5°10′
Mars Sextile Neptune Orb 5°15′
Uranus Sextile Pluto Orb 6°01′
Neptune Sextile Pluto Orb 6°05′
Moon Inconjunction Venus Orb 1°19′
Mercury SemiSextile Venus Orb 0°37′
Positions of Planets
Sun 8°15′ Scorpio
Moon 20°48′ Taurus
Mercury 20°06′ Я Scorpio
Venus 19°28′ Libra
Mars 23°54′ Scorpio
Jupiter 27°56′ Libra
Saturn 23°39′ Aquarius
Uranus 18°43′ Capricorn
Neptune 18°39′ Capricorn
Pluto 24°45′ Scorpio
Chiron 6°46′ Virgo
Ceres 27°23′ Я Aries
Pallas 23°01′ Aquarius
Juno 7°36′ Libra
Vesta 29°36′ Aquarius
Node 3°04′ Я Sagittarius
Lilith 17°12′ Aries
---
Scorpio, the Scorpion, one of the most energetic and powerful signs in the Zodiac. This is an exciting and magnetic personality, very passionate and emotional. They are forceful personalities and can easily be destined for leadership roles. Consider some of the complex famous characters are Scorpios: Hillary Clinton, Pablo Picasso, Dylan Thomas, both Simon AND Garfunkel are Scorpios.

Scorpios have a better chance of having genius-level IQs than most of the population; they are intense, critical and analytical. They tend to rebel against all conventions and can be political extremists. The best love match for a Scorpio is Capricorn; they understand each other on a profound spiritual, almost psychic level. Scorpios give their hearts completely and passionately. Being so gifted, they can find fulfillment in many employments. Their inner intensity can result in the ice-cold self-control and detachment of the surgeon, the concentration of the research scientist, and the heroism of the soldier. 
The moon is exalted in the sign of Taurus. The steadiness of Taurus stabilizes the Moon's otherwise fluctuating, and capricious nature. In this placement, the moon is granted with exceptional powers of focus. You approach your life the way you do your work — systematically. While others overcomplicate issues, you seek for the most effective method to handle it, and get it done even if it's personally uncomfortable for you.

The sign of Taurus also draws out the more reserved, reflective characteristics of the Moon. You thoughtfully consider your options before reaching a determination. With a Moon in Taurus, you do not form conclusions immediately and are resistant to outside influences. It takes a while for you to reach a verdict but once you do, there is no way to make you alter your mind. With a Taurus Moon, you take your time digesting information. You are also a person who is resourceful, thrifty and a collector of tangible things. Taurus moon also exhibits the least emotional problems of any Moon sign. 
Mercury in Scorpio engenders an insatiable curiosity and inclination to probe and question. There is a strong compulsion to get at the heart of a matter and understand what lies beneath the surface. Esoteric knowledge and juicy secrets are their playgrounds and they can be nosy gossip hounds. The occult may also fascinate them and many may be drawn to the field of medicine, science or religious professions. Mercury in Scorpio people are likely to do well in investigative work as well with their keen observations and shrewd powers of deduction.

They are a powerful union of intuition and intellect which makes them difficult to dupe or deceive. They read people like a book and can spot a fake from far away. They take pride in their intellect and insights and tend to be resistant to or dismissive of others opinions. Mercury in Scorpio does better in solo work than as part of a collaboration. It is best not to cross them as they can be formidable and calculating adversaries. Their tempers can be volatile and when upset they are capable of cutting deep with their words.
You are enamored with love. Still, you are far more romantic than sensual. You glide smoothly over the poetry of love. Anything rude, crude, indecent, or coarse repels you. In your view, genuine love is of the spirit. This is not to say you are prudish or sexually chaste. Surely, you fall in love too quickly and often have more than one affair operating at a time. Nevertheless, a love affair for a Venus-Libran must possess all the right trappings and rituals.
The atmosphere produced by champagne, intimate candlelit dinners, poetry composed expressly for you, and gorgeous gifts really loosen your reservations. You put high value on charming social manners. People who don't measure up are promptly rejected regardless of what their deeper qualities may be. Venus-in Libra can be distant and detached toward anyone who presumes. This position of Venus is excellent for creative talent or talent for design and illustration. You are prosperous working in creative plans within a partnership or marriage (sometimes you combine both). Venus-Librans adore conveniences and extravagance and tend to be overpriced with money.
Those with Mars in Scorpio are possessed with great tenacity and relentless persistence. They can be become obsessed with their objectives and spare no expense when it comes to making their desires manifest. They have strength and resilience to withstand and overcome hardship and obstacles. Mars in Scorpio does not give up until they have exhausted all options. The purpose of their goals can be all-consuming and become the epicenter of their focus at the exclusion of everything else.

They have a never say die attitude but they have the type of determination that can drive them to the brink and beyond. There is underlying desire for transcendence and immortality through their work and achievements. They do not like to waste time and want to make the most of the life given to them. Their passion permeates everything they do and can sometimes manifest in spectacularly negative and frightening ways. Their tempers can be heated and make them sometimes quarrelsome and touchy. But they also possess great creative powers and you can feel the passion they put into the work they produce.
Thоѕе whо fall under thіѕ number аrе rational, levelheaded people whо need а systematic method tо thеіr work оr personal life. Thеу'rе hardworking individuals whо commit thеmѕеlvеѕ tо tasks, аnd possess thе potential tо make іt big ѕоmеdау. Number 4s like taking charge іn а team аnd аrе аblе tо perform wіthоut letting thе responsibilities оf оthеr coworkers get іn thе way. Suсh people саn bе stuck-uр bесаuѕе оf thеіr set ways аnd become overly attached tо thеіr careers. Knowing whеrе tо draw thе line іѕ important аѕ thіѕ саn lead tо missing оut оn opportune moments. Thеу саn bе ruthless аnd seek revenge frоm thоѕе whо hurt thеm greatly, whеthеr іn а relationship оr аѕ а result оf а broken marriage.
Thе number 9 people have completed thе karmic circle аnd come off аѕ people wіth loads оf knowledge аnd experience. Thеу аrе compassionate, tolerant, benevolent, charming аnd idealistic. Thеу аrе аlѕо intuitive аnd mystical. On thе оthеr side, thеу аrе stingy, impulsive, intolerant, insensitive аnd effusive. Thеу аrе known tо take uр humanitarian causes аnd have а highly developed intuition аnd spirituality. Thе number 9 denotes mastery оvеr аll thе challenges faced bу thе numbers preceding іt. Thе 'Hermit' makes іtѕ tarot representation. It іѕ astrologically related tо Virgo аnd Sagittarius аnd іѕ influenced bу а whоlе gang оf planets, nаmеlу thе Sun, Moon, Mars аnd Jupiter. Thе number 9 people have аn aura made uр оf аll thе Fall colors. Opal іѕ а good gemstone fоr thеѕе people. Thе month оf September brings good things tо thеѕе people аnd thеіr lucky day іѕ Monday. 1, 5, 6, 9, 18 аnd 27 аrе lucky dates fоr thеѕе people.
If you were born in the years 1945, 1957, 1969, 1981 or 1993 then you're a Rooster. The Rooster is described as a pioneer in spirit, devoted to work and the quest for knowledge. It is selfish and eccentric and is best matched with Snakes and Oxen. Oddly enough, the writer is a Snake and her sister is a Rooster.
We do think there's something to this astrology thing! Roosters are quick thinkers and are practical and resourceful, preferring to stick to what is tried and true rather than taking unnecessary risks. Roosters are keenly observers of their surroundings and those around them. It's hard to slip anything past a Rooster, since they seem to have eyes in the backs of their heads. This quality can lead others to think the Rooster is psychic, but that's not generally the case; instead, this Sign enjoys a keen attention to detail that makes it a whiz at anything requiring close analysis.
Nurturing yet dangerous, vital and deadly, water is a ripe with contradiction. In moderate amounts it is a blessing, in over abundance, a curse. Water is the only element with the ability to put out fire and make things grow and thrive. Water is vital to our very survival. Without water crops wither and die and there is no food. The human body, and in fact, all life on Earth is dependent upon water. Yet, even for life, water has the potential to be deadly. Too much water in the body leads to water intoxication and even death. It is, however, a delicate balance.
Too little water and all life withers and dies with the effects of the hot sun. Too much water chokes out needed oxygen and drowns. It is for this very reason the element water is represented by the color black. Water rules intelligence and wisdom. People born under the element water are uncommonly intelligent and capable. For all their wisdom and reasoning ability, water people tend to have difficulty making and sticking to decisions. Diplomatic, and intuitive, water people are flexible. They have a special ability to 'go with the flow' and are usually easygoing.
The ENTP is one of the 16 MBTI personality types. ENTP stands for extravert (E), intuitive (N), thinking (T) and perceiving (P). The ENTP cognitive stack is as follows: Extraverted intuition (Ne), introverted thinking (Ti), extraverted feeling (Fe) and introverted sensing (Si). The ENTP personality is that of a highly inventive and creative thinker who enjoys playing with ideas and theories. Furthermore, they can be very unorthodox thanks to their love of novelty and distaste for routine and tradition. ENTPs are noted for their verbal wit and skill for debate.
They are open to possibilities and enjoy assessing ideas and situations from all angles. ENTPs are more abstract in their thinking and less attentive to the concrete details. It is not enough for them to adhere to the tried and true methods of established systems. Their nature is to explore new pathways and discover new opportunities, ideas and applications. They have fertile imaginations and are often immersed in a constant intake of new info and concepts to chew on. ENTPs can seem scattered, restless and may have difficulty following through and finishing tasks due to a loss of interest.