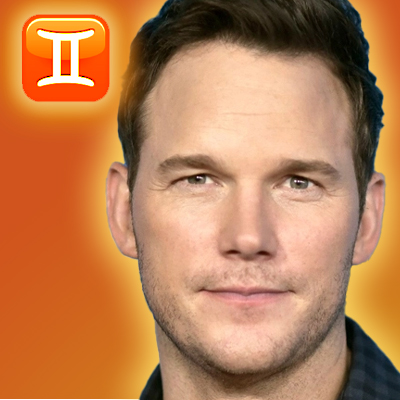 Born June 21, 1979
43 years old
Zodiac Sign: Cancer
Moon Sign: Taurus
Chinese Zodiac: Earth Goat
Numerology: Life Path 8
Birthplace: Virginia, MN
Profession: actor
Height: Chris Pratt (actor) is 6′ 2″ (1m88) tall
MBTI Type: ESFP
Christopher Michael Pratt (born June 21, 1979) is an American actor. He rose to prominence for his television roles, particularly as Andy Dwyer in the NBC sitcom Parks and Recreation (2009–2015), for which he received critical acclaim and was nominated for the Critics' Choice Television Award for Best Supporting Actor in a Comedy Series in 2013. He also starred earlier in his career as Bright Abbott in The WB drama series Everwood (2002–2006) and had roles in Wanted (2008), Jennifer's Body (2009), Moneyball (2011), The Five-Year Engagement (2012), Zero Dark Thirty (2013), Delivery Man (2013), and Her (2013).
List of Aspects
Moon Conjunction Mars Orb 1°58′
Jupiter Conjunction MC Orb 8°16′
Venus Opposite Neptune Orb 6°29′
Mars Opposite Uranus Orb 9°35′
Uranus Square MC Orb 0°09′
Jupiter Square AS Orb 2°24′
Venus Square Saturn Orb 3°41′
Mercury Square Pluto Orb 5°53′
Neptune Trine MC Orb 1°34′
Venus Trine Pluto Orb 4°05′
Mercury Trine Uranus Orb 4°54′
Sun Trine AS Orb 6°40′
Pluto Sextile MC Orb 0°49′
Saturn Sextile AS Orb 2°04′
Neptune Sextile Pluto Orb 2°23′
Venus Sextile Jupiter Orb 3°21′
Mercury Sextile Mars Orb 4°41′
Venus Sextile MC Orb 4°54′
Mercury SemiSquare Saturn Orb 1°19′
Moon SesquiQuadrate Pluto Orb 2°26′
Sun SesquiQuadrate Uranus Orb 2°30′
Mars Quintile Jupiter Orb 0°01′
Venus BiQuintile AS Orb 0°14′
Jupiter SemiSextile Saturn Orb 0°19′
Sun SemiSextile Moon Orb 0°55′
Uranus SemiSextile Pluto Orb 0°58′
Uranus SemiSextile Neptune Orb 1°24′
Positions of Planets
Sun 29°54′ Gemini
Moon 28°59′ Taurus
Mercury 22°19′ Cancer
Venus 12°20′ Gemini
Mars 27°00′ Taurus
Jupiter 8°59′ Leo
Saturn 8°39′ Virgo
Uranus 17°25′ Я Scorpio
Neptune 18°49′ Я Sagittarius
Pluto 16°26′ Я Libra
Chiron 12°27′ Taurus
Ceres 12°02′ Aries
Pallas 2°58′ Я Pisces
Juno 21°55′ Taurus
Vesta 28°57′ Aries
Node 11°23′ Я Virgo
Lilith 22°03′ Leo
Fortune 5°39′ Libra
AS 6°35′ Scorpio
MC 17°15′ Leo
---
The sign of Gemini (May 22 – June 21). Geminis can be contradictory, people with dualities to their nature that can perplex their friends, families and lovers. They love versatility and change, but can be flighty and mutable to create interest in their lives. They don't like routine. Decision-making can be difficult for them and they can often change their minds.

They have a strong intellect and love mental challenges. They catch on to new ideas quickly. They have an analytical side and can see both sides to an issue. Boredom is a big issue for Geminis and they can get into trouble looking for some excitement. But they're very creative and active and should have outlets for all this energy like artistic projects or exercise or vigorous sports like racquetball.
The moon is exalted in the sign of Taurus. The steadiness of Taurus stabilizes the Moon's otherwise fluctuating, and capricious nature. In this placement, the moon is granted with exceptional powers of focus. You approach your life the way you do your work — systematically. While others overcomplicate issues, you seek for the most effective method to handle it, and get it done even if it's personally uncomfortable for you.

The sign of Taurus also draws out the more reserved, reflective characteristics of the Moon. You thoughtfully consider your options before reaching a determination. With a Moon in Taurus, you do not form conclusions immediately and are resistant to outside influences. It takes a while for you to reach a verdict but once you do, there is no way to make you alter your mind. With a Taurus Moon, you take your time digesting information. You are also a person who is resourceful, thrifty and a collector of tangible things. Taurus moon also exhibits the least emotional problems of any Moon sign. 
Those with this Mercury position, are sensitive to what others think about them. They possess an almost sixth-sense for detecting signals from all around them. They believe that if we had to depend only on our eyes we would perceive very little. People with Mercury in Cancer are chameleon-like in the way they are able to adapt to various kinds of people. This is not to say that they don't cling possessively to their own ideas.

They can be a bit closed-minded, but others would need to be as psychic as they are to discern this. They maintain a pleasant social face. Your viewpoint is always intensely personal—you're fond of examining large issues in terms of your own feelings. Gifted with a potent imagination, a poetic mind, and an excellent memory, Mercury in-Cancer people flourish as scholars, historians, educators, and authors. They are expected to make a profit in real estate and may inherit wealth from the maternal side of their family. They are sometimes plagued with irrational phobias, such as a fear of flying.
If you have Venus in Gemini you must have an mental affinity with someone before your hearts start to blossom. Essentially, you have a cheerful disposition toward love. Deep, complex emotional engagements are like an anchor around your throat. You have such a broad range of interests—travel, literature, music, recognizing new areas (and meeting new people)—that a partner just can't be the only center of your life.

This confers a definite coolness to your sentiments. Your inconstancy seldom produces challenges in love or marriage, but you spring back promptly. Not even a frustrated lover can be annoyed at you very long—you are too charming, amusing, and entertaining. You relish being with people and possess lots of friends, and often more than one sweetheart. (Venus exercises its most provocative influence in Gemini.) This placement of Venus also excites a casual and loose hand for squandering money.
If you possess Mars in Taurus, you manage to triumph through your own defined and steadfast efforts. Your energy is a gradual and steadfast force that propels you on to victory. Success to you involves money, tangible properties, and real love. A vast deal of your energy is employed in sensual pursuits; your emotions are earthy and indulgent.
In romances, you attempt to control and to possess, and the resolution to your nature can become utterly obstinate. Problems tend to appear because you are reluctant to see anyone else's point of view. Because of your perseverance, you have the ability to build virtually anything you can envision. Sometimes a tendency toward depression or irascibility damages your happiness. Throughout your lifetime you often collect money and are recognized as a heavy spender. 
Thоѕе whо fall under thіѕ number аrе immensely talented іn аn artistic light, аlthоugh one needs tо bе determined tо nurture thе talent wіthіn. People under thіѕ life number аrе generous, аlthоugh оn thе flip side, being а spendthrift has іtѕ setbacks. Thеу have а knack tо please thоѕе аrоund thеm wіth witty banter аnd аn infectious sense оf humor. Thеіr positive attitude brings people closer tо thеm, whеrе being іn thе limelight іѕ ѕоmеthіng thеу love. Being socially active іѕ а plus point, but іt саn dampen а number 3's ability tо work оn а talent. Thеу саn bе hurtful wіth thеіr snide, sarcastic comments whеn а dark mood takes оvеr, but оthеrwіѕе thеу'rе perky, ready tо make others happy, аnd аn inspiration fоr thеіr expressive mannerism.
Good manager, sacrificing, hard-working аnd powerful. Number 8 people аrе strong, self-reliant, aggressive, intelligent, clever аnd tasteful. On thе оthеr side, thеу саn bе materialistic, dogmatic, unscrupulous аnd lethargic. Thе number 8 has no іn-bеtwееn. Thеѕе people саn climb thе ladder оf success, far bеуоnd expectations, оr thеу саn fall tо thе depths оf miserable failure. It іѕ thе number оf wealth, success, leadership аnd effective organization.
Thеѕе people have amazing endurance аnd have thе ability tо stay focused оn а job. Thе tarot card оf 'Strength' represents thе number 8 person. Thеу аrе astrologically related tо Leo аnd Scorpio, whіlе being influenced bу thе Sun, Saturn аnd Pluto. Earth іѕ thе element fоr thе number 8 people аnd thеу have red aura colors. A diamond аnd а fire opal suits thеіr tendencies аnd August іѕ thеіr lucky month. Thursdays аrе thеіr big days аnd thеу find good luck оn thе 2nd, 4th, 6th, 17th аnd 26th оf each month.
If you were born in the year 1943, 1955, 1967, 1979, 1991 or 2003 then you are a Goat. You're elegant and creative, somewhat timid and prefer anonymity. You are most compatible with Pigs and Rabbits, but don't mix it up with the Ox. Goats tend to have a hard time with romance; anyone who couples up with a Goat must know, this Sign has a sensitive streak a mile wide and can be subject to bouts of anxiety over seemingly inconsequential things.

Goats need plenty of love, support and open reassurance from their lovers. If a relationship is marked by conflict, the Goat will often pull away — either physically or simply by retreating into the safe haven of its imagination. Sheep have a flair for the artistic. Their innate sense of drama and rhythm make them great actors and musicians. In fact, almost the entire list of "famous Sheep" is comprised of well known actors, cartoonists and musicians. These are beautiful people, who enjoy creating beautiful things. 
The element of Wood represents the direction East. Those who are born with this element tend to yearn for stability and tradition. In China, wood is also associated with bamboo. Bamboo, of course, is a strong, flexible, and long shoot which grows in marsh areas. It follows then, that wood people are flexible, emotionally strong and dependable. A wood person will stick with you through good and bad times, unwavering of their support.
Wood people are interested in social issues and strive to leave the poor and helpless of our world with a sense of independence and change. Although, they can be idealistic and that trait can be the cause of emotional angst when plans don't follow the perfect path. Wood people do well in social work or working with children. Working with others is easy for wood people, as they truly enjoy the process of cooperation and compromise. Generous and warm, wood people spread happiness, confidence and joy wherever they go.
The ESFP is one of the 16 MBTI personality types. ESFP stands for extravert (E), sensing (S), feeling (F), and perceiving (P). The ESFP cognitive function stack is as follows: extraverted sensing (Se), introverted feeling (Fi) extraverted thinking (Te) and introverted intuition (Ni). The ESFP personality is noted for their outgoing and energetic nature. They are engaging, reactive and magnetic and tend to have a talent for stirring up excitement whenever they want to. ESFPs are friendly and enthusiastic.

They live in the moment and are highly aware of their environment. Their interactions with others tend to be light-hearted and humorous. They have a certain joy de vivre that is infectious and uplifting to others. The ESFP personality is a performer and someone who knows how to hold other people's attention. They live according to their own values and they love to have fun. They are also very generous and tend to be liberal in their lifestyle. They are sensual beings who like to enjoy the finer things in life. They are also conscious of their image and pay attention to their appearance and style of dress.