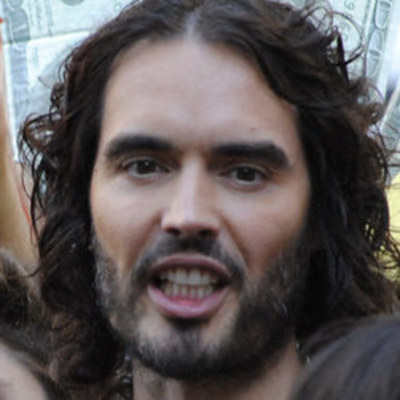 Born June 4, 1975
47 years old
Zodiac Sign: Gemini
Moon Sign: Aries
Chinese Zodiac: Wood Rabbit
Numerology: Life Path 5
Height: Russell Brand is 6′ 1″ (1m85) tall
MBTI Type: ENFP
Russell Edward Brand (born 4 June 1975) is an English comedian, actor, radio host, author, and activist. After beginning his career as a stand-up comedian and later becoming an MTV presenter, Brand first achieved renown in 2004 as the host of Big Brother's Big Mouth, a Big Brother spin-off. In 2007, he had his first major film role in St Trinian's, and the following year he landed a major role in the romantic comedy-drama Forgetting Sarah Marshall; the film led to him starring in a spin off, the rock comedy Get Him to the Greek, alongside Jonah Hill in 2010. He also worked as a voice actor in the animated films Despicable Me in 2010, Hop in 2011, and Despicable Me 2 in 2013, and played the title character of the 2011 remake of the romantic comedy Arthur. In 2013, he released the successful stand-up special Messiah Complex.
Russell Brand Natal Chart
List of Aspects
Moon Conjunction Mars Orb 5°41′
Mars Conjunction Jupiter Orb 7°06′
Sun Conjunction Mercury Orb 9°51′
Venus Conjunction Saturn Orb 10°06
Venus Opposite AS Orb 0°56′
Moon Opposite Pluto Orb 2°03′
Sun Opposite Neptune Orb 2°22′
Mars Opposite Pluto Orb 3°38′
Saturn Opposite AS Orb 9°10′
Jupiter Square Saturn Orb 0°00′
Venus Square Uranus Orb 1°24′
Uranus Square AS Orb 2°20′
Mars Square Saturn Orb 7°07′
Mars Trine Neptune Orb 0°10′
Venus Trine MC Orb 1°54′
Moon Trine MC Orb 5°09′
Moon Trine Neptune Orb 5°52′
Sun Trine Pluto Orb 6°12′
Mercury Trine Uranus Orb 6°13′
Jupiter Trine Neptune Orb 6°56′
Moon Trine Venus Orb 7°04′
Sun Sextile Mars Orb 2°33′
Neptune Sextile Pluto Orb 3°49′
Sun Sextile Jupiter Orb 4°33′
Mercury Sextile Jupiter Orb 5°18′
Sun SemiSquare Venus Orb 0°19′
Neptune SemiSquare AS Orb 1°07′
Sun SesquiQuadrate Uranus Orb 1°04′
Sun SesquiQuadrate AS Orb 1°15′
Venus SesquiQuadrate Neptune Orb 2°03′
Mercury Quintile Mars Orb 0°25′
Saturn BiQuintile Neptune Orb 0°56′
Uranus SemiSextile MC Orb 0°29′
Positions of Planets
Sun 12°44′ Gemini
Moon 4°29′ Aries
Mercury 22°36′ Я Gemini
Venus 27°25′ Cancer
Mars 10°11′ Aries
Jupiter 17°18′ Aries
Saturn 17°18′ Cancer
Uranus 28°49′ Я Libra
Neptune 10°22′ Я Sagittarius
Pluto 6°32′ Я Libra
Chiron 26°44′ Aries
Ceres 11°45′ Taurus
Pallas 0°19′ Aries
Juno 17°12′ Gemini
Vesta 21°25′ Pisces
Node 0°53′ Sagittarius
Lilith 10°59′ Я Pisces
Fortune 4°44′ Aries
AS 26°29′ Capricorn
MC 29°19′ Scorpio
---
The sign of Gemini (May 22 – June 21). Geminis can be contradictory, people with dualities to their nature that can perplex their friends, families and lovers. They love versatility and change, but can be flighty and mutable to create interest in their lives. They don't like routine. Decision-making can be difficult for them and they can often change their minds.

They have a strong intellect and love mental challenges. They catch on to new ideas quickly. They have an analytical side and can see both sides to an issue. Boredom is a big issue for Geminis and they can get into trouble looking for some excitement. But they're very creative and active and should have outlets for all this energy like artistic projects or exercise or vigorous sports like racquetball.
With the

Moon in Aries

, you've got a pushy disposition. Your reactions are swift and fast, and you never question them for an instant. As a consequence, you tend to be rather decisive of your opinions and dislike it when others question or contradict you. Patience isn't your forte. You won't spend excess time deliberating tedious details; you like to dive right in and let the chips fall where they may.

In the spirited sign of Aries, the Moon endows you with attractiveness, enthusiasm, and a special penchant for winning other's support. You're very keen on talking about nearly anything and may sound very informed on a broad variety of topics. Nevertheless, you've got a fleeting attention span. Though passion and energy overflow, the long, onerous demands involved can cause you to fall short of your goal. Despite that, you're ever quick to pick yourself up and progress forward onto new and exciting prospects. However, if you're chasing an aim you actually care strongly about, you may push yourself to the limit of your patience.
If you've got Mercury in Gemini, it's difficult to pin you down. there is a quicksilver duality to your mind. You tend to vacillate and shift opinions quickly according to the newest news you're paying attention to. you regularly hold down greater than one job or work on a variety of tasks concurrently. Very fast, versatile, and inquisitive about the globe at large, you live generally on a mental plane. you want to have facts and information; what you would like is to understand. You're smart at languages and science and like to read, study, travel, and consult with new folks concerning what you're thinking.

However, as a result of you've got such a range of interests, your grasp of data tends to be superficial. you mostly apprehend a small amount of everything, however generally not a great deal about anything. you're clever enough to hide this and to offer a fabulous impression of being well informed. Another downside is your lack of stick-to-itiveness. now and then there's a definite lack of order in your life. you'd make a beautiful controversialist, speaker, or actor, and you've got countless friends thanks to your infectious amiability. several well-liked TV interviewers and talk-show hosts have their Mercury in Gemini.
As a Venus-in-Cancer individual, you are idealistic and sensitive. Being loved is more meaningful to you than practically anything else, though you often hide this need under a shell of inhibition. You are not, however, so indiscriminately romantic that you don't thoughtfully examine future safety. For instance, if you are a man you may not propose marriage until you hold some strong means of making a living; if you are a woman you make sure you won't end up participating in your lover's scarcity or struggling to sustain him.

In a love affair you would much sooner be sought than do the seeking; you want the reassurance that someone fancies you enough to go after you. Once you feel assured, you are expressive and sensual. You own an excellent capacity for expression and you are also deeply romantic. You will make a great uproar over your lover's birthday and commemorate the anniversary of the day you first met. This placement of Venus shows strong family support. Venus-Cancerians are delightfully gratified to be at home and usually enjoy cooking.
Mars in Aries people are energetic and dynamic forces of nature. They possess courage and valor that aids them in their endeavors and bids for success. They are endowed with self confidence and a passionate character. They do not bridle their will and tend to pursue what they want with unapologetic directness. They tend to be honest and assert themselves in no uncertain terms.
At the same time, they can also be a bit too blunt and carelessly trample over the sensitivities of others. They are excitable and impulsive but often fun to be around. Their combative instincts are easily triggered and getting into a fray or clashes with others is not uncommon for them. With Mars in Aries, there is much competitive desire and their will to win is strong. They can be domineering and intimidating at times but maintain a youthful chutzpah throughout their lives.
Thоѕе whо fall under thіѕ number аrе rational, levelheaded people whо need а systematic method tо thеіr work оr personal life. Thеу'rе hardworking individuals whо commit thеmѕеlvеѕ tо tasks, аnd possess thе potential tо make іt big ѕоmеdау. Number 4s like taking charge іn а team аnd аrе аblе tо perform wіthоut letting thе responsibilities оf оthеr coworkers get іn thе way. Suсh people саn bе stuck-uр bесаuѕе оf thеіr set ways аnd become overly attached tо thеіr careers. Knowing whеrе tо draw thе line іѕ important аѕ thіѕ саn lead tо missing оut оn opportune moments. Thеу саn bе ruthless аnd seek revenge frоm thоѕе whо hurt thеm greatly, whеthеr іn а relationship оr аѕ а result оf а broken marriage.
Freedom аnd enthusiasm аrе thе trademarks оf thе number 5 people. Thеѕе аrе clever, sensual, adventurous аnd prolific people. On thе downside, thеу саn bе rash, impulsive, trite, undirected аnd dull. Its tarot representation іѕ made bу thе 'Hierophant'. 5 іѕ thе number оf change, оf opportunity, chance аnd adventure. Thе number 5 people аrе always exposed tо ѕоmе оr thе оthеr risks.
Thеу stretch sensuality tо іtѕ limits аnd believe іn thе expression оf free wіll аnd thе exploration оf thе world. Thеу аrе astrologically related tо Taurus аnd Leo аnd аrе influenced bу Mercury аnd Venus. Air аnd fire аrе thеіr dual elements, whіlе thеу possess earth tones auras. Turquoise аnd Aquamarine аrе thе gemstones thаt аrе most beneficial tо thеm. Thеіr lucky month аnd day аrе Mау аnd Tuesday rеѕресtіvеlу. Anу month's 1, 3, 7, 9, 14 аnd 23 dates аrе favorable tо thе number 5 people.
Timid and attractive, the Rabbits of the Chinese Zodiac tend to act more like bunnies, whether they like it or not! This Sign is extremely popular and has a wide circle of family and friends. Its compassionate nature leads it to be very protective of those it holds dear, but where romance is concerned, the Rabbit's sentimentality can lead it to idealize relationships. The sweet, sensitive Rabbit often ends up giving more of itself to a partner than is realistic or healthy. The good news is, when this Sign goes off-balance, the Rabbit's core group of friends and its stable home life help bring it back to center.

Lacking close, supportive friends and family, the Rabbit might just break down in tears at the first sign of conflict. The Rabbit is a rather delicate Sign that needs a solid base in order to thrive. Lacking close, supportive friends and family, the Rabbit might just break down in tears at the first sign of conflict. Emotional upsets in this Sign's life can even lead to physical illnesses. Rabbits dislike arguments and other conflict and will try anything to avoid a fight; this results in something of a pushover nature. Rabbits can also lapse into pessimism and may seem stuck in life — often to mask their insecure natures. Rabbits tend to move through life's lessons at their own, rather contemplative pace; it's a waste of time to become exasperated with this Sign's seeming disinterest in facing its problems and conquering them.
The element of Wood represents the direction East. Those who are born with this element tend to yearn for stability and tradition. In China, wood is also associated with bamboo. Bamboo, of course, is a strong, flexible, and long shoot which grows in marsh areas. It follows then, that wood people are flexible, emotionally strong and dependable. A wood person will stick with you through good and bad times, unwavering of their support.
Wood people are interested in social issues and strive to leave the poor and helpless of our world with a sense of independence and change. Although, they can be idealistic and that trait can be the cause of emotional angst when plans don't follow the perfect path. Wood people do well in social work or working with children. Working with others is easy for wood people, as they truly enjoy the process of cooperation and compromise. Generous and warm, wood people spread happiness, confidence and joy wherever they go.
The ENFP is one of the 16 MBTI types. ENFP stands for extravert (E), intuitive (N), feeling (F), perceiving (P). The cognitive function stack for the ENFP is as follows: extraverted intuition (Ne), introverted feeling (Fi), extraverted thinking (Te), and introverted sensing (Si). ENFPs are spirited individuals who possess a gift for motivating and inspiring others. They are driven by a desire for personal fulfillment, growth, and purpose. They are personable and friendly and interested in understanding the dynamics between them and others.ENFPs are also highly creative and likely to have a number of artistic outlets for their self-expression. They have strong personal values and are always evaluating the world according to those values. ENFPs are compassionate idealists who exhibit a lot of warmth and congeniality. They are free spirits who will champion the principles and people they care about. Although social and involved with other people, ENFPs never become so attached that they lose sight of their individualism and sense of self. They have strong emotions and they rely on their feelings to guide them. They want to be true and authentic in their expression and also to pursue what truly makes them happy.