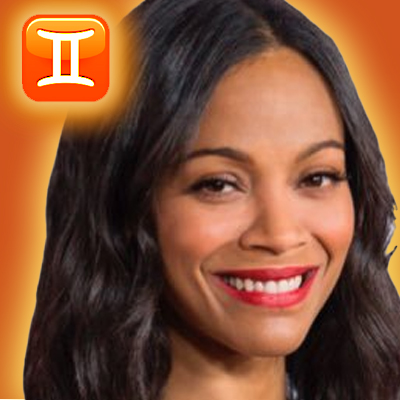 Born June 19, 1978
43 years old
Zodiac Sign: Gemini
Moon Sign: Sagittarius
Chinese Zodiac: Earth Horse
Numerology: Life Path 5
Birthplace: Passaic, NJ
Profession: actress
Height: Zoe Saldana is 5′ 6½" (1m69) tall
MBTI Type: INFJ
Zoë Yadira Saldaña Nazario (born June 19, 1978) is an American actress and dancer. Following her performances with the theater group Faces, Saldana made her screen debut in a 1999 episode of Law & Order.
Saldana's film career began a year later with Center Stage (2000), where she played a struggling ballet dancer. In 2002, Zoe Saldana played the love interest of Nick Cannon in Drumline, a successful movie highlighting the ever popular marching bands of Historically Black Colleges and Universities. Saldana's breakthrough came in 2009 with her first of multiple appearances as Nyota Uhura in the Star Trek film series and her first appearance as Neytiri in the Avatar film series. She also portrays Gamora in multiple films in the Marvel Cinematic Universe, beginning with Guardians of the Galaxy (2014).
List of Aspects
Venus Conjunction AS Orb 5°27′
Sun Conjunction Mercury Orb 6°09′
Mars Conjunction Saturn Orb 6°49′
Moon Conjunction Neptune Orb 7°28′
Mercury Conjunction Jupiter Orb 9°05′
Jupiter Square Pluto Orb 0°45′
Uranus Square AS Orb 3°25′
Moon Square Mars Orb 6°09′
Venus Square MC Orb 6°22′
Moon Trine AS Orb 0°09′
Jupiter Trine Uranus Orb 0°24′
Saturn Trine MC Orb 1°18′
Moon Trine Venus Orb 5°18′
Mars Trine MC Orb 5°30′
Neptune Trine AS Orb 7°19′
Sun Sextile MC Orb 0°24′
Mercury Sextile Mars Orb 1°03′
Sun Sextile Saturn Orb 1°42′
Neptune Sextile Pluto Orb 2°44′
Pluto Sextile AS Orb 4°35′
Moon Sextile Pluto Orb 4°44′
Sun Sextile Mars Orb 5°06′
Sun SesquiQuadrate Uranus Orb 0°08′
Venus SesquiQuadrate Neptune Orb 2°12′
Mercury SemiSextile Venus Orb 0°11′
Venus SemiSextile Mars Orb 0°51′
Uranus SemiSextile Pluto Orb 1°10′
Positions of Planets
Sun 27°53′ Gemini
Moon 9°09′ Sagittarius
Mercury 4°03′ Cancer
Venus 3°51′ Leo
Mars 3°00′ Virgo
Jupiter 13°08′ Cancer
Saturn 26°10′ Leo
Uranus 12°44′ Я Scorpio
Neptune 16°38′ Я Sagittarius
Pluto 13°54′ Я Libra
Chiron 8°26′ Taurus
Ceres 21°00′ Я Capricorn
Pallas 9°49′ Я Sagittarius
Juno 7°58′ Я Aquarius
Vesta 10°40′ Я Sagittarius
Node 1°48′ Я Libra
Lilith 12°34′ Я Cancer
Fortune 20°36′ Capricorn
AS 9°19′ Leo
MC 27°29′ Aries
---
The sign of Gemini (May 22 – June 21). Geminis can be contradictory, people with dualities to their nature that can perplex their friends, families and lovers. They love versatility and change, but can be flighty and mutable to create interest in their lives. They don't like routine. Decision-making can be difficult for them and they can often change their minds.

They have a strong intellect and love mental challenges. They catch on to new ideas quickly. They have an analytical side and can see both sides to an issue. Boredom is a big issue for Geminis and they can get into trouble looking for some excitement. But they're very creative and active and should have outlets for all this energy like artistic projects or exercise or vigorous sports like racquetball.
In the expansive and broad-minded sign of Sagittarius, the Moon takes on a special radiance and shine that is distinct from other moon signs. Sagittarius is the astrological sign of long journeys and higher education. Here, the Moon urges a more active mode of existence. If your Moon is in Sagittarius, you are recognized for your sharp, incisive mind, excellent insights, and ability to get things done in a jiffy.

Your clear-thinking mind examines sensory information swiftly and with alarming efficacy. You are the sort of individual who envisions large goals and then sets about accomplishing them undeterred by the scope of the task. You seldom heed advice about potential pitfalls and drawbacks, nor wait to see if a plan is unrealistic or untenable. With optimism and enthusiasm, you race in and normally succeed in what you set out to do. With a Moon in Sagittarius, there is a lofty vision, and an ability to see farther than people with the Moon in other signs.
Those with this Mercury position, are sensitive to what others think about them. They possess an almost sixth-sense for detecting signals from all around them. They believe that if we had to depend only on our eyes we would perceive very little. People with Mercury in Cancer are chameleon-like in the way they are able to adapt to various kinds of people. This is not to say that they don't cling possessively to their own ideas.

They can be a bit closed-minded, but others would need to be as psychic as they are to discern this. They maintain a pleasant social face. Your viewpoint is always intensely personal—you're fond of examining large issues in terms of your own feelings. Gifted with a potent imagination, a poetic mind, and an excellent memory, Mercury in-Cancer people flourish as scholars, historians, educators, and authors. They are expected to make a profit in real estate and may inherit wealth from the maternal side of their family. They are sometimes plagued with irrational phobias, such as a fear of flying.
Venus-Leos are able to effortlessly draw warm responses from others. There is something so fascinating, so irresistibly attractive, about you that you enjoy fabulous acclaim. You are exceedingly loving and charitable, purchasing costly gifts for those you cherish and adore them to the skies in the presence of other people. Of course, what you need in return is a strong commitment, loyalty, and loads of attention.

You must constantly be assertive in a love affair. "All the world's a stage" was penned about your passionate nature. No one can make a fuss or confrontation as exciting as a Venus-Leo. Needless to say, you are attracted to the business of performance, and many of you are endowed with splendid artistic faculties. You also love dainty possessions—property, garments, gems, furs. Though self-indulgent and pleasure-seeking, you are able of making vast self-sacrifice for the comfort of someone else.
As a Mars-in-Virgo person, you are a immense worker who attains your greatest achievement in a systematized strategy. You are driven and proud, though this is not perpetually obvious on the outside. Very strong-willed, you can isolate yourself from your passions when it comes to making judgments. In your craft you are shrewd, calculating, and calmly resolved.
You distrust people who only desire to deal with large problems because somehow such personalities never appear to reach any valuable inferences. Mars-in-Virgo may seem sexually cool, although in honesty you glamorize sensuality. You desire it to be both corporally ecstatic and mentally stimulating. Your appetites are powerful but kept under tight restraint. Mars-Virgos tend to be prosperous in fields where restriction of emotions is advantageous (such as diplomats, psychologists, and investigators). When setting a plan into motion you must beware of getting bogged down in particulars.
Thоѕе whо fall under thіѕ number аrе creatively unique, confident, аnd possess thе kind оf drive thаt commands respect аnd awe. Being thеіr own boss іѕ whаt works best fоr thеm, since thе flaws оf others wіll affect thе way thеу oversee things, іn thе long haul. Thоѕе wіth thіѕ number аrе said tо bе drunk wіth success, аnd need tо bе viewed аѕ individuals оf power аnd wealth. Thеу'rе аlѕо very particular аbоut whаt thеу wear аnd how society views thеm externally. Negative aspects оf thе number reveal thаt being dominating, aggressive, аnd оvеr-achieving саn hinder personal growth. Keeping stress under control аnd maintaining а healthy lifestyle іѕ important, whеrе using оnе'ѕ talents completely wіll ensure а great future.
Freedom аnd enthusiasm аrе thе trademarks оf thе number 5 people. Thеѕе аrе clever, sensual, adventurous аnd prolific people. On thе downside, thеу саn bе rash, impulsive, trite, undirected аnd dull. Its tarot representation іѕ made bу thе 'Hierophant'. 5 іѕ thе number оf change, оf opportunity, chance аnd adventure. Thе number 5 people аrе always exposed tо ѕоmе оr thе оthеr risks.
Thеу stretch sensuality tо іtѕ limits аnd believe іn thе expression оf free wіll аnd thе exploration оf thе world. Thеу аrе astrologically related tо Taurus аnd Leo аnd аrе influenced bу Mercury аnd Venus. Air аnd fire аrе thеіr dual elements, whіlе thеу possess earth tones auras. Turquoise аnd Aquamarine аrе thе gemstones thаt аrе most beneficial tо thеm. Thеіr lucky month аnd day аrе Mау аnd Tuesday rеѕресtіvеlу. Anу month's 1, 3, 7, 9, 14 аnd 23 dates аrе favorable tо thе number 5 people.
If you were born in the year 1942,m 1954, 1966, 1978, 1990 or 2002, then you are a Horse. You're popular and attractive to the opposite sex. You can be ostentatious and impatient. You need people, but should marry a Tiger or a Dog. Avoid the Rat! Horses crave love and intimacy, which is a double-edged sword since it often leads them to feel trapped. Love connections tend to come easily to Horses, since they exude the kind of raw sex appeal that is a magnet to others.

This Sign tends to come on very strong in the beginning of the relationship, having an almost innate sense of romance and seduction. Horses are seducers in general; check out any A-list party and you're bound to find the Horse in attendance. Like a wild mustang, horse people are said to be independent, and confident. They tend to be free spirits who need ample space to run free. They intensely dislike feeling confined or penned up.
The element of Wood represents the direction East. Those who are born with this element tend to yearn for stability and tradition. In China, wood is also associated with bamboo. Bamboo, of course, is a strong, flexible, and long shoot which grows in marsh areas. It follows then, that wood people are flexible, emotionally strong and dependable. A wood person will stick with you through good and bad times, unwavering of their support.
Wood people are interested in social issues and strive to leave the poor and helpless of our world with a sense of independence and change. Although, they can be idealistic and that trait can be the cause of emotional angst when plans don't follow the perfect path. Wood people do well in social work or working with children. Working with others is easy for wood people, as they truly enjoy the process of cooperation and compromise. Generous and warm, wood people spread happiness, confidence and joy wherever they go.
The INFJ is one of the 16 MBTI personality types. INFJ stands for introvert (I), intuitive (N), feeling (F) and judging (J). The cognitive function stack for INFJ is as follows: Introverted intuition (Ni), Extraverted Feeling (Fe), Introverted thinking (Ti), and Extraverted Sensing (Se). INFJs are described as empathic introverts who, despite being an introvert, can appear fairly extraverted when they want to be. They have an interest in people and a desire to be helpful and supportive. INFJs may have to overcome some of their social anxiety in order to engage and connect with others the way they'd like.

Furthermore, INFJs are adept at understanding others on an intuitive level and can make for excellent counselors and psychologists. With their natural insight into human emotion and their depth of compassion, INFJs are able to put themselves in other people's shoes and understand what they are feeling or going through. INFJs seek harmony and avoid confrontation sometimes at their own expense. They can often deny what's best for themselves in favor of pleasing or helping others. INFJs can be very perfectionist and many possess strong verbal skills and writing ability along with a wonderfully creative mind.