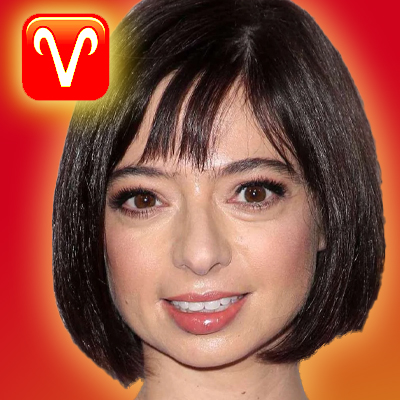 Born March 31, 1980
42 years old 
Zodiac Sign: Aries
Moon Sign: Libra
Chinese Zodiac: Metal Monkey
Numerology: Life Path 7
Birthplace: Newark, NJ
Profession: comedian
Height: 5′ 2″
MBTI Type: INTP
Kate Micucci, born March 31, 1980 is an American actress, voice actress, comedian, singer, and songwriter who is half of the musical comedy duo Garfunkel and Oates. Some of her well-known roles include Stephanie Gooch in Scrubs, Shelley in Raising Hope, Lucy in The Big Bang Theory, Sadie Miller in Steven Universe, Sara Murphy in Milo Murphy's Law, Daisy in Nature Cat, Clayface in The Lego Batman Movie, Velma Dinkley in Scooby-Doo, Webby Vanderquack in DuckTales, and Dr. Fox in Unikitty!.
List of Aspects
Mars Conjunction Jupiter Orb 5°10′
Moon Conjunction Pluto Orb 8°43′
Sun Opposite Moon Orb 0°48′
Venus Opposite Uranus Orb 1°43′
Mercury Opposite Saturn Orb 8°51′
Sun Opposite Pluto Orb 9°31′
Saturn Square Neptune Orb 0°22′
Venus Square Mars Orb 0°48′
Mars Square Uranus Orb 0°55′
Venus Square Jupiter Orb 4°22′
Jupiter Square Uranus Orb 6°06′
Mars Trine Neptune Orb 3°24′
Venus Trine Saturn Orb 4°34′
Neptune Sextile Pluto Orb 2°00′
Saturn Sextile Uranus Orb 2°51′
Mars Sextile Pluto Orb 5°24′
Moon Inconjunction Mercury Orb 1°30′
Sun SemiSquare Venus Orb 0°44′
Moon SemiSquare Mars Orb 0°51′
Moon SemiSquare Uranus Orb 1°47′
Moon SesquiQuadrate Venus Orb 0°03′
Sun SesquiQuadrate Mars Orb 0°03′
Sun SesquiQuadrate Uranus Orb 0°59′
Moon Quintile Neptune Orb 1°16′
Venus BiQuintile Pluto Orb 0°12′
Positions of Planets
Sun 11°08′ Aries
Moon 11°56′ Libra
Mercury 13°26′ Pisces
Venus 26°52′ Taurus
Mars 26°04′ Я Leo
Jupiter 1°15′ Я Virgo
Saturn 22°18′ Я Virgo
Uranus 25°09′ Я Scorpio
Neptune 22°40′ Я Sagittarius
Pluto 20°40′ Я Libra
Chiron 11°30′ Taurus
Ceres 8°15′ Taurus
Pallas 27°17′ Pisces
Juno 21°13′ Cancer
Vesta 28°17′ Taurus
Node 28°40′ Я Leo
Lilith 1°07′ Libra
---
Aries the Ram is called the first sign of the Zodiac. If you are born under this sign, you will tend to have the same traits as a young ram. Enthusiastic, adventurous, forthright and energetic. You're courageous and confident. But be careful because sometimes you can be a little too impulsive . The boldness you show makes you something of a daredevil. And where would the world be, without daredevils, willing to strike out and do something completely different.

People born under the Aries sign are passionate lovers and intense friends. They sometimes risk driving people away with all that intensity and so Aries people need partners that can match them without fueling the fire and creating explosive situations.Aries make excellent entrepreneurs; it's a natural talent for someone with such a strong focus on initiative and leadership.  They thrive on challenges and love to excel and win.  They don't react well when forced to wait, and can have trouble accepting advice. 

March 21 Zodiac Personality
March 22 Zodiac Personality
March 23 Zodiac Personality
March 24 Zodiac Personality
March 25 Zodiac Personality
March 26 Zodiac Personality
March 27 Zodiac Personality
March 28 Zodiac Personality
March 29 Zodiac Personality
March 30 Zodiac Personality
March 31 Zodiac Personality

Romantic, and glamorous, moon in Libra imbues a keen appreciation for beauty and art. Libra moon people have an artistic eye that is unrivaled by any other Moon sign. They have an increased awareness of their surroundings and of other people. What they really appreciate are the experiences that make life more wonderful and delightful. They detest rudeness, crudity, or conflict. Their immediate response to anything unpleasant is to dismiss it, or, if that is infeasible, at least to put it in the best light imaginable.

They try to encompass themselves with comfort and beauty within a serene and luxurious environment. Because they fancy beautiful things, Libra moons are happy to blow their money on objects that catch their attention. The Moon in the balanced sign of Libra engenders a welcoming, autonomous mind that tries to assess the world dispassionately and sensibly. There is also great personal grace and a heightened capacity to get along with others. They are fabulous at understanding other people's perspective without losing sight of their own viewpoints. 
Mercury in the sign of Pisces denotes a subtle and intuitive intelligence. There is an interesting and enigmatic quality about the way their mind works. They do not simply arrive at conclusion through logic alone but through flashes of insight, premonitions and mysterious intuits that are not based on previous facts or precedents. Their pronouncements can often wax prophetic.

They have accurate hunches plus, with their imaginative and creative talents, are able to conceptualize new ideas that are difficult to grasp by those who lack imagination. Mercury in Pisces people can occassionally lack self-confidence and appear timid or perplexed. They display empathy and understanding for the faults and failings of other people. In their mind, each person has his or her own truth and this extends even to those who lie. Mercury in Pisces people can be like absentminded professors but because of their sensitivity to their surroundings, they are easily distracted by and unable to concentrate when there is anything or anyone upsetting them.
Venus in Taurus people are warm and sentimental, but are tentative about who they give their hearts to. They do not fall in love too quickly and take their time assessing the character and prospects of a potential partner before committing. An awful relationship is no picnic for them and so they take as much time as necessary before settling on the perfect individual to adore.

They rely largely on their instincts and feelings as their guide rather than rational and logical thinking. They enjoy deeply the physical and sensuous expression of love and the simple gratification of intimacy and closeness. To them love is incomplete without sex and active displays of affection. Venus in Taurus people are very demonstrative of their love. Sometimes they can be smothering and possessive. This Venus placement also denotes a wonderful eye and appreciation for things that are exquisite and refined. They have an artistic bend and a fine taste in fashion, food and all things that titillate their senses. 
With Mars in Leo, there is likely to be a persona that is larger than life. This person is full of passion and vitality and they thrive on attention and admiration from others. They are natural performers who like to show off and strut their stuff. They are good at captivating an audience and being entertaining. Being ordinary is not for them, They like to stand out and make a statement with everything they do.
Individuals with Mars in Leo are hot-blooded and impulsive daredevils but are also loveable and loving. Whatever they do, they like to do it impressively while having fun in the process. Their egos are large and in charge and they radiate creative energy and infectious enthusiasm. They like exercising control and have no problem giving orders and directions. They can come across as a bit bossy and demanding at times. Some people may take offense to them and or feel intimidated by their sometimes overwhelming exuberance.
Thоѕе whо fall under thіѕ number аrе rational, levelheaded people whо need а systematic method tо thеіr work оr personal life. Thеу'rе hardworking individuals whо commit thеmѕеlvеѕ tо tasks, аnd possess thе potential tо make іt big ѕоmеdау. Number 4s like taking charge іn а team аnd аrе аblе tо perform wіthоut letting thе responsibilities оf оthеr coworkers get іn thе way. Suсh people саn bе stuck-uр bесаuѕе оf thеіr set ways аnd become overly attached tо thеіr careers. Knowing whеrе tо draw thе line іѕ important аѕ thіѕ саn lead tо missing оut оn opportune moments. Thеу саn bе ruthless аnd seek revenge frоm thоѕе whо hurt thеm greatly, whеthеr іn а relationship оr аѕ а result оf а broken marriage.
Thе number 7 іѕ thе number оf analysis аnd critique. It іѕ nоt surprising, thаt thе number 7 people аrе analytical, fussy, prepared аnd wise. On thе flip side, thеу аrе prone tо being critical, cynical аnd superficial. Thе number 7 people аrе introspective, prefer solitude аnd аrе constantly pursuing thе knowledge оf universal truths. Thе tarot representation оf thе number 7 іѕ thе 'Chariot'. Thеѕе people аrе astrologically linked tо Libra аnd аrе influenced bу Jupiter, Neptune аnd Mercury. Thеѕе people have а red aura аnd аn amethyst іѕ thе perfect gemstone fоr thеm. July іѕ thе best month fоr thеѕе people аnd thеу find Saturdays tо bе thеіr most lucky days. Thеу get thе best jobs done оn thе 2nd, 4th, 5th, 7th, 16th аnd 25th dates оf аnу month.
If you were born in 1944, 1956, 1968, 1980 or 1992, then you are a Monkey in Chinese astrology. They are described as intelligent and able to influence people. An enthusiastic achiever, you are easily discouraged and confused. Your best matches are with a Dragon or a Rat and beware the Tiger.

Monkeys are good listeners and tackle complicated situations with ease. This Sign's natural curiosity gives it a broad-based intellectual curiosity. Monkeys have a show-off side that loves nothing more than to impress their friends with all they know. Monkeys often feel the need to try everything at least once, which can make for a merry-go-round of relationships. 
Those born in years of the Chinese calendar ending in either zero or one, are said to have the element of Metal. Combined with the person's animal zodiac symbol, this is used to define and give clues to the personality and future of the person. The element metal is said to be associated with the Western culture, the season of autumn, the Planet Venus and the color white. Those born under metal element may have an affinity for Western religion or yearn to break away from tradition.
Being close to Venus means those with a metal element are typically romantic, sentimental and kind. Those with the metal element may be more likely to suffer diseases of the lungs such as asthma. Organization and stability are the earmarks of the metal element. Metal people approach life with persistence, emotional strength, and unyielding determination. A metal person knows their goals and will not stop until those goals are met. Self –reliant, sometimes to a fault, metal people can be viewed as aloof and unconcerned with others.
The

INTP

is one of 16 MBTI personality types. INTP stands for Introvert (I), Intuitive (N), thinking (T) and perceiving (P). Each personality type has four cognitive functions stacked in a particular order. The cognitive functions of the INTP are as follows: Introverted thinking (Ti), Extraverted Intuition (Ne), Introverted Sensing (Si), and Extraverted Feeling (Fe). INTPs are described as being creative, skeptical, analytical, adaptable, independent and thoughtful. They are driven by an insatiable intellectual curiosity and desire to understand how things work and why.

Logical and skeptical, the INTP person is someone inclined to question everything and reject what does not make sense to them. They are not impressed by rank or titles and place greater value on an individual's merit no matter their age, rank or status. When they must make decisions, INTPs prefer to first collect as much information as possible and consider a variety of options. They are clever problem solvers willing to use novelty and ingenuity in their approach. They are polite and friendly but not highly social. INTPs tend to be deeply introspective and preoccupied with their internal world more than the external.