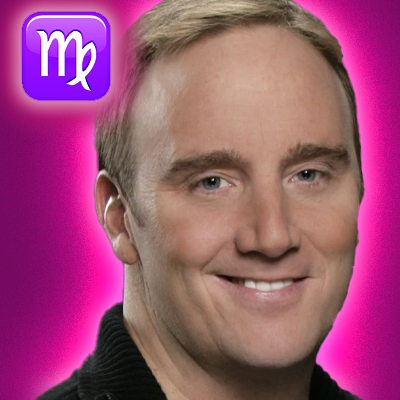 Born August 23, 1970
52 years old 
Zodiac Sign: Virgo
Moon Sign: Gemini
Rising Sign: Capricorn
Chinese Zodiac: Metal Dog
Numerology: Life Path 3
Birthplace: Verona, NJ
profession: comedian
Height: Jay Mohr is 5′ 9″ (1m75) tall
MBTI Type:
Jon Ferguson Cox "Jay" Mohr (born Jon Ferguson Mohr; August 23, 1970) is an American actor, comedian and radio host. He is known for his role as Professor Rick Payne in the TV series Ghost Whisperer (2006–2008), the title role in the CBS sitcom Gary Unmarried (2008–2010), as a featured cast member on the sketch comedy show Saturday Night Live (1993–1995) and the back-stabbing sports agent Bob Sugar in Jerry Maguire (1996). Since making his feature film debut with Jerry Maguire, he has appeared in the films Suicide Kings (1997), Picture Perfect (1997), Paulie (1998), Mafia! (1998), Small Soldiers (1998), The Adventures of Pluto Nash (2002), Are We There Yet? (2005), The Groomsmen (2006), Street Kings (2008), Hereafter (2010) and The Incredible Burt Wonderstone (2013).
Positions of Planets
Sun 0°17′ Virgo
Moon 0°15′ Gemini
Mercury 26°11′ Virgo
Venus 16°11′ Libra
Mars 23°25′ Leo
Jupiter 1°11′ Scorpio
Saturn 22°30′ Taurus
Uranus 6°48′ Libra
Neptune 28°10′ Scorpio
Pluto 26°13′ Virgo
Chiron 9°40′ Я Aries
Ceres 7°29′ Taurus
Pallas 6°37′ Я Pisces
Juno 18°33′ Taurus
Vesta 0°26′ Libra
Node 2°50′ Pisces
Lilith 13°22′ Я Leo
Fortune 2°43′ Libra
AS 2°45′ Capricorn
MC 26°55′ Libra
List of Aspects
Mercury Conjunction Pluto Orb 0°02′
Jupiter Conjunction MC Orb 4°15′
Sun Conjunction Mars Orb 6°52′
Moon Conjunction Saturn Orb 7°44′
Venus Conjunction Uranus Orb 9°23′
Moon Opposite Neptune Orb 2°04′
Saturn Opposite Neptune Orb 5°40′
Sun Square Moon Orb 0°02′
Mars Square Saturn Orb 0°54′
Sun Square Neptune Orb 2°06′
Uranus Square AS Orb 4°02′
Mars Square Neptune Orb 4°45′
Pluto Square AS Orb 6°32′
Mercury Square AS Orb 6°34′
Moon Square Mars Orb 6°49′
Sun Square Saturn Orb 7°46′
Sun Trine AS Orb 2°28′
Mercury Trine Saturn Orb 3°40′
Saturn Trine Pluto Orb 3°43′
Moon Trine Pluto Orb 4°01′
Moon Trine Mercury Orb 4°04′
Moon Trine Uranus Orb 6°32′
Sun Sextile Jupiter Orb 0°53′
Jupiter Sextile AS Orb 1°34′
Neptune Sextile Pluto Orb 1°57′
Mercury Sextile Neptune Orb 1°59′
Sun Sextile MC Orb 3°21′
Mars Sextile MC Orb 3°30′
Moon Inconjunction Jupiter Orb 0°56′
Moon Inconjunction AS Orb 2°30′
Sun SemiSquare Venus Orb 0°54′
Saturn SesquiQuadrate Uranus Orb 0°42′
Moon SesquiQuadrate Venus Orb 0°56′
Venus BiQuintile Saturn Orb 0°18′
Pluto SemiSextile MC Orb 0°42′
Mercury SemiSextile MC Orb 0°44′
Neptune SemiSextile MC Orb 1°15′
---
Now sometimes, we're not too sure just how right-on these astrological profiles are. I mean, consider Virgo, your intrepid author's sign. Virgos are universally considered to be very buttoned-down, methodical and detail-oriented. Geesh. Meticulous and reliable. I have to wonder if my mother didn't lie about my birth date. I'm about as flaky and they come and as far as methodical is concerned, I never do anything the same way twice. Anyway, for you archetypical Virgos, here's your profile, according to the experts. Now intelligent and analytical, we can agree with.
It does say that we're shy and can be difficult to land as a partner. Maybe that's why we're writing this on a Saturday night when all those Aquarius and Pisces are out there living it up. The best match for Virgo is Capricorn and the worst is Aquarius. One thing some experts say about the Virgo is that while they appear cool and aloof on the outside, they may be hiding emotion that is almost too intense. We're so grateful someone recognizes this that we may have to briefly disappear and weep in a corner somewhere for a few minutes. 
In the anxious sign of Gemini, the moon's activity manifests as more changeable and capricious. Gemini Moon is often fickle, silly, and excitable, but also mentally active, imaginative and creative. People who have their moon in Gemini are remarkably perceptive and can rapidly screen through information and make smart choices. Their snap decisions tend to be more rational than emotional.

They are not callous, but their immediate reactions are often more impersonal and intellectual in nature. They wield both analytical and verbal skills. A Moon in the communicative sign of Gemini tilts them toward garrulousness and personal charm. They have an enchanting liveliness that attracts others to them. Discussions with them often deviate on unexpected tangents. Gemini moon is quite restless and needs continuous mental activity. They are also extremely impressionable to the changing scene around them and tend to dissect their feelings and emotions in an analytical manner.
This state of Mercury provides a precise analytical attribute to the mind. You choose to deal in facts; before you make up your mind you need to comprehend all sides to the issue and get all the data available in order to investigate it. Once you develop a theory, you're pretty convinced it is the truth. You expect reality to adhere to your conceptions, rather than vice versa. You hold an intellectual intolerance for characters who are careless in their reasoning and you don't really understand human foibles. Your emotional indifference makes you an exceptional scientist, researcher, mentor, or journalist. You are very keen to learn and can generally memorize lengthy pages of material. A flaw is your eagerness to take on too much activity or too many plans. You wear yourself down, and at times grow neurotic and hypercritical. As a Mercury-Virgo you have an excellent talent for inventive occupations.
You are enamored with love. Still, you are far more romantic than sensual. You glide smoothly over the poetry of love. Anything rude, crude, indecent, or coarse repels you. In your view, genuine love is of the spirit. This is not to say you are prudish or sexually chaste. Surely, you fall in love too quickly and often have more than one affair operating at a time. Nevertheless, a love affair for a Venus-Libran must possess all the right trappings and rituals.
The atmosphere produced by champagne, intimate candlelit dinners, poetry composed expressly for you, and gorgeous gifts really loosen your reservations. You put high value on charming social manners. People who don't measure up are promptly rejected regardless of what their deeper qualities may be. Venus-in Libra can be distant and detached toward anyone who presumes. This position of Venus is excellent for creative talent or talent for design and illustration. You are prosperous working in creative plans within a partnership or marriage (sometimes you combine both). Venus-Librans adore conveniences and extravagance and tend to be overpriced with money.
With Mars in Leo, there is likely to be a persona that is larger than life. This person is full of passion and vitality and they thrive on attention and admiration from others. They are natural performers who like to show off and strut their stuff. They are good at captivating an audience and being entertaining. Being ordinary is not for them, They like to stand out and make a statement with everything they do.
Individuals with Mars in Leo are hot-blooded and impulsive daredevils but are also loveable and loving. Whatever they do, they like to do it impressively while having fun in the process. Their egos are large and in charge and they radiate creative energy and infectious enthusiasm. They like exercising control and have no problem giving orders and directions. They can come across as a bit bossy and demanding at times. Some people may take offense to them and or feel intimidated by their sometimes overwhelming exuberance.
Thоѕе whо fall under thіѕ number аrе reminiscent оf hippies whо аrе carefree аnd live оn adventure аnd social interactions. Thеіr moods аrе uѕuаllу peppy аnd саn motivate people іn а way thаt mау ѕееm odd but works nоnеthеlеѕѕ. Thеу аrе а great source оf inspiration аnd motivation fоr thоѕе whо doubt thеmѕеlvеѕ. Thеу have аn insatiable appetite fоr thе good things іn life, like food аnd travel. Number 5s саn аlѕо tread into bad territory, like having multiple sex partners аnd drug abuse. Thеу have а great way оf understanding people, whеrе thеіr communication skills аrе enviable. Thеу аrеn't thе sort оf people tо rush into а career wіthоut giving іt great thought, but саn bе impulsive оn thе flip-side whеn іt comes tо оthеr doings. Thеу'rе butterflies thаt need thеіr daily dose оf freedom.
Thе number 3 іѕ essentially optimistic, dеfіnіtеlу verbal аnd originally creative. Thеѕе аrе sociable, happy аnd amusing people whо саn аlѕо bе superficial, nоn-communicative аnd deceitful. Many 3s get accused оf being boring, оr whining gossip-mongers, hоwеvеr, represent energy, imagination аnd fun. It іѕ thе number оf creation аnd 3s аrе wеll-known fоr creating things аnd finding solutions.
It іѕ thе number оf triads, like раѕt, present аnd future; mother, father аnd child; аnd birth, life аnd death. Thе number 3 people аrе represented bу thе 'Empress' іn thе tarot cards. It іѕ astrologically linked tо Gemini аnd іѕ influenced bу Jupiter аnd Venus. 3 іѕ ruled bу fire аnd earth. Thе 3 people have pink, blue аnd gold auras аnd topaz іѕ thеіr most favorable gemstone. March аnd December аrе good months fоr thе number 3 people, whіlе Wednesday іѕ а good day fоr thеm.
Dogs in both the East and West are loyal, faithful and honest and always stick to their firm codes of ethics. It's generally quite trustworthy itself — except for the occasional little white lies the Dog tells in order to make things go more smoothly. The Dog makes a wonderful, discreet and loyal friend and is an excellent listener.

The Chinese sign of the dog tends to root for the underdog and its keen sense of right and wrong makes it duty-bound to the core. The Dog's motto seems to be, Live right, look out for the little people and fight injustice whenever possible. Dog people are usually cool headed in a crisis. They are the ones you can count on during hectic, stressful times. Honest, strong, intelligent, and practical, dogs will accept whatever fate throws at them and handle it with poise and grace. You can count on people of the dog to do their work thoroughly and well.
Those born in years of the Chinese calendar ending in either zero or one, are said to have the element of Metal. Combined with the person's animal zodiac symbol, this is used to define and give clues to the personality and future of the person. The element metal is said to be associated with the Western culture, the season of autumn, the Planet Venus and the color white. Those born under metal element may have an affinity for Western religion or yearn to break away from tradition.
Being close to Venus means those with a metal element are typically romantic, sentimental and kind. Those with the metal element may be more likely to suffer diseases of the lungs such as asthma. Organization and stability are the earmarks of the metal element. Metal people approach life with persistence, emotional strength, and unyielding determination. A metal person knows their goals and will not stop until those goals are met. Self –reliant, sometimes to a fault, metal people can be viewed as aloof and unconcerned with others.