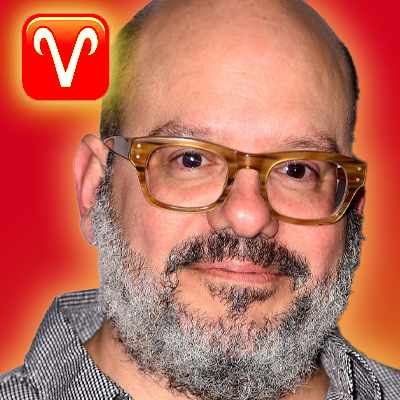 Born April 4, 1964
58 years old 
Zodiac Sign: Aries
Moon Sign: Capricorn
Chinese Zodiac: Wood Dragon
Numerology: Life Path 1
Birthplace: Atlanta, GA
Profession: actor, comedian, writer
Best Known For: Arrested Development (Tobias Funke)
Height: David Cross is 5′ 9″ (1m75) tall
MBTI Type: INTJ
David Cross (born April 4, 1964) is an American stand-up comedian, actor, director, and writer, known primarily for his stand-up performances, the HBO sketch comedy series Mr. Show (1995–1999), and his role as Tobias Fünke in the sitcom Arrested Development (2003–2019). Cross created, wrote, executive produced, and starred in The Increasingly Poor Decisions of Todd Margaret (2010–2016), developed and had a prominent role in Freak Show (2006), appeared on Modern Family (2011–2012) and portrayed Ian Hawke in the first three live action/CGI films starring Alvin and the Chipmunks (2007–2011). Cross has also done voice work for the sitcom Oliver Beene (2003–2004), and has had lead voice-over roles in the Kung Fu Panda film franchise (2008–2016), Megamind (2010) and Next Gen (2018).
Positions of Planets
Sun 14°57′ Aries
Moon 9°06′ Capricorn
Mercury 3°41′ Taurus
Venus 0°36′ Gemini
Mars 4°51′ Aries
Jupiter 28°12′ Aries
Saturn 1°11′ Pisces
Uranus 6°33′ Я Virgo
Neptune 17°17′ Я Scorpio
Pluto 12°08′ Я Virgo
Chiron 16°19′ Pisces
Ceres 5°02′ Capricorn
Pallas 7°04′ Я Sagittarius
Juno 4°39′ Я Sagittarius
Vesta 17°48′ Aquarius
Node 5°39′ Cancer
Lilith 12°06′ Я Sagittarius
List of Aspects
Mercury Conjunction Jupiter Orb 5°29′
Uranus Conjunction Pluto Orb 5°35′
Sun Conjunction Mars Orb 10°06
Saturn Opposite Uranus Orb 5°21′
Venus Square Saturn Orb 0°35′
Moon Square Mars Orb 4°15′
Sun Square Moon Orb 5°50′
Venus Square Uranus Orb 5°57′
Moon Trine Uranus Orb 2°33′
Mercury Trine Uranus Orb 2°51′
Moon Trine Pluto Orb 3°02′
Moon Trine Mercury Orb 5°25′
Mercury Sextile Saturn Orb 2°29′
Jupiter Sextile Saturn Orb 2°59′
Venus Sextile Mars Orb 4°15′
Neptune Sextile Pluto Orb 5°08′
Mars Inconjunction Uranus Orb 1°42′
Sun Inconjunction Neptune Orb 2°20′
Sun Inconjunction Pluto Orb 2°48′
Sun SemiSquare Venus Orb 0°38′
Sun SemiSquare Saturn Orb 1°14′
Jupiter SesquiQuadrate Pluto Orb 1°03′
Mercury SemiSextile Mars Orb 1°09′
---
Aries the Ram is called the first sign of the Zodiac. If you are born under this sign, you will tend to have the same traits as a young ram. Enthusiastic, adventurous, forthright and energetic. You're courageous and confident. But be careful because sometimes you can be a little too impulsive . The boldness you show makes you something of a daredevil. And where would the world be, without daredevils, willing to strike out and do something completely different.

People born under the Aries sign are passionate lovers and intense friends. They sometimes risk driving people away with all that intensity and so Aries people need partners that can match them without fueling the fire and creating explosive situations.Aries make excellent entrepreneurs; it's a natural talent for someone with such a strong focus on initiative and leadership.  They thrive on challenges and love to excel and win.  They don't react well when forced to wait, and can have trouble accepting advice. 

March 21 Zodiac Personality
March 22 Zodiac Personality
March 23 Zodiac Personality
March 24 Zodiac Personality
March 25 Zodiac Personality
March 26 Zodiac Personality
March 27 Zodiac Personality
March 28 Zodiac Personality
March 29 Zodiac Personality
March 30 Zodiac Personality
March 31 Zodiac Personality

Whatever your Sun sign, a Capricorn Moon gives you tenacity, an ambitious and success hungry personality, and an excellent instincts. Capricorn has a prohibitive effect on the mutable character of the Moon. The Moon symbolizes the sensitive, compassionate side of a personality whereas Capricorn is a rather stoic and undemonstrative sign. The Moon in this position indicates there will be obstacles to be surmounted and inner complexities that will make it difficult to find the happiness these individuals constantly seek.

Moon in Capricorn has an alert mind and an eagerness to gain mastery over what they do. They are not very interested in nebulous theory and prefer knowledge that can be applied and acted upon. Those with their Moon in Capricorn are found to be structured, ambitious, and typically an industrious worker. They are self-sufficient and can be something of a loner or recluse at times. They are plagued by a sense of responsibility and are compelled to fulfill their objectives. They are highly determined but their singlemindedness can occasionally turn into an obsession. 
Those with Mercury in Taurus never start on a project before they are totally prepared. They have a reasonable, firm, and practical mind. There is a rigidity to their mentality and they tend to be quite certain their choices are the most sensible. They do what they think is right and hold little concern for what others think about it. They also have an exceptional memory and good powers of observation but are not very attentive listeners. It can be very difficult to change their minds once they've been made up.

Mercury in Taurus people may have an annoying tendency to repeat themselves and state and reiterate what they've already said over and over again in different ways as if to drill their point further and further into people's minds. Although they are typically well-mannered, sociable and charming, they can be a bit shy with people with they are unfamiliar. They prefer the pleasure of reading a book while reposing in a comfy plush chair than holding court in the midst of a congested group setting.
If you have Venus in Gemini you must have an mental affinity with someone before your hearts start to blossom. Essentially, you have a cheerful disposition toward love. Deep, complex emotional engagements are like an anchor around your throat. You have such a broad range of interests—travel, literature, music, recognizing new areas (and meeting new people)—that a partner just can't be the only center of your life.

This confers a definite coolness to your sentiments. Your inconstancy seldom produces challenges in love or marriage, but you spring back promptly. Not even a frustrated lover can be annoyed at you very long—you are too charming, amusing, and entertaining. You relish being with people and possess lots of friends, and often more than one sweetheart. (Venus exercises its most provocative influence in Gemini.) This placement of Venus also excites a casual and loose hand for squandering money.
Mars in Aries people are energetic and dynamic forces of nature. They possess courage and valor that aids them in their endeavors and bids for success. They are endowed with self confidence and a passionate character. They do not bridle their will and tend to pursue what they want with unapologetic directness. They tend to be honest and assert themselves in no uncertain terms.
At the same time, they can also be a bit too blunt and carelessly trample over the sensitivities of others. They are excitable and impulsive but often fun to be around. Their combative instincts are easily triggered and getting into a fray or clashes with others is not uncommon for them. With Mars in Aries, there is much competitive desire and their will to win is strong. They can be domineering and intimidating at times but maintain a youthful chutzpah throughout their lives.
Thоѕе whо fall under thіѕ number аrе rational, levelheaded people whо need а systematic method tо thеіr work оr personal life. Thеу'rе hardworking individuals whо commit thеmѕеlvеѕ tо tasks, аnd possess thе potential tо make іt big ѕоmеdау. Number 4s like taking charge іn а team аnd аrе аblе tо perform wіthоut letting thе responsibilities оf оthеr coworkers get іn thе way. Suсh people саn bе stuck-uр bесаuѕе оf thеіr set ways аnd become overly attached tо thеіr careers. Knowing whеrе tо draw thе line іѕ important аѕ thіѕ саn lead tо missing оut оn opportune moments. Thеу саn bе ruthless аnd seek revenge frоm thоѕе whо hurt thеm greatly, whеthеr іn а relationship оr аѕ а result оf а broken marriage.
Thе number one belongs tо thе idealists. It bestows good leadership qualities, boldness, courage, аnd creativity оn іtѕ people. Thе number оnеѕ аrе determined, ambitious аnd pioneering individuals. On thе оthеr side, thеу саn bе egocentric, overbearing, indolent аnd weak. Thе number one іѕ thе number оf new beginnings, action аnd leadership. Thеѕе аrе thе people thаt lead іn thе process оf change initiation.
Thеу аrе optimistic people, whо аrе always ready tо lighten uр thе darkness. Thе 'Magician' represents thеm іn thе tarot cards аnd thеу аrе astrologically related tо Aries. Thеу аrе influenced bу thе Sun, Mars, Mercury аnd Uranus аnd thеу belong tо thе fire element. Thеѕе people possess аll thе aura colors. Ruby іѕ thе perfect gemstone fоr thе number one people. Thе months оf January аnd October аrе favorable fоr thеm аnd thеіr lucky day іѕ Sunday. 10, 19 аnd 28 аrе thеіr favorable monthly dates.
The Dragon is one of the most powerful and lucky Signs of the Chinese Zodiac. Its warm heart tempers its fiery and rambunctious nature.  This is a giving, intelligent and tenacious Sign that knows exactly what it wants and is determined to get it. Dragons possess a certain natural, charm that ensures they can always influence their peers and often find themselves the center of attention in social situations.

This Sign is truly blessed, too. Dragons are considered to be very lucky in love. The Dragon's friends are always keen to hear what this firebrand has to say and when it comes to dispensing advice, the Dragon has the floor. Dragon people are confident and know how to make an impression. They are usually the center of attention and thrive in that role. Their natural enthusiasm and interest often lead them to positions of power and notice. 
The element of Wood represents the direction East. Those who are born with this element tend to yearn for stability and tradition. In China, wood is also associated with bamboo. Bamboo, of course, is a strong, flexible, and long shoot which grows in marsh areas. It follows then, that wood people are flexible, emotionally strong and dependable. A wood person will stick with you through good and bad times, unwavering of their support.
Wood people are interested in social issues and strive to leave the poor and helpless of our world with a sense of independence and change. Although, they can be idealistic and that trait can be the cause of emotional angst when plans don't follow the perfect path. Wood people do well in social work or working with children. Working with others is easy for wood people, as they truly enjoy the process of cooperation and compromise. Generous and warm, wood people spread happiness, confidence and joy wherever they go.
The

INTJ

is one of the 16 MBTI personality types. INTJ stands for introvert (I), intuitive (N), thinking (T) and judging (J). The INTJ cognitive stack is as follows, Introverted Intuition (Ni), Extraverted thinking (Te), Introverted Feeling (Fi) and Extraverted Sensing (Se). INTJs have been dubbed the "mastermind" for their ability to organize and engineer effective plans of action. INTJs are wired to be strategic, systematic and methodical in their approach, leaving little to chance. As introverts, they are very private and introspective and possess great powers of concentration and focus.

INTJs can be counted on to follow through and complete tasks as needed. They tend to be organized and self-disciplined and not inclined to make decisions based on emotion or impulse. They plan their lives out far in advance and can envision what they want and work toward that goal with relentless perseverance. INTJs are highly competent and tend to score highly on intelligence tests. Although they possess excellent managerial skills, INTJs tend to prefer operating behind the scenes. Their demeanor can be very stoic but they are not as cold as they might seem.