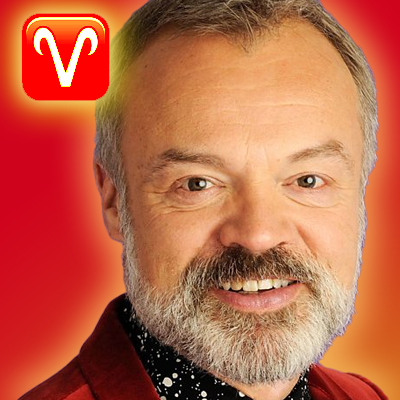 Born April 4, 1963
59 years old 
Zodiac Sign: Aries
Moon Sign: Leo
Rising Sign: Scorpio
Chinese Zodiac: Water Rabbit
Numerology: Life Path 9
Birthplace: Dublin, Ireland
Profession: tv host
Best Known For: The Graham Norton Show
Height: 5′ 8″
MBTI Type: ENFP
Graham William Walker (born 4 April 1963), known professionally as Graham Norton, is an Irish television and radio presenter, comedian, actor, author, and commentator based in the United Kingdom. He is a five-time BAFTA TV Award winner for his comedy chat show The Graham Norton Show and an eight-time award winner, overall. Originally shown on BBC Two before moving to other slots on BBC One, it succeeded Friday Night with Jonathan Ross in BBC One's prestigious late-Friday-evening slot in 2010.
List of Aspects
Neptune Conjunction AS Orb 0°16′
Uranus Conjunction MC Orb 2°42′
Moon Conjunction Uranus Orb 2°51′
Sun Conjunction Mercury Orb 5°20′
Moon Conjunction MC Orb 5°34′
Pluto Conjunction MC Orb 5°40′
Uranus Conjunction Pluto Orb 8°23′
Venus Opposite MC Orb 2°36′
Venus Opposite Pluto Orb 3°04′
Venus Opposite Uranus Orb 5°19′
Moon Opposite Venus Orb 8°10′
Moon Opposite Saturn Orb 8°25′
Saturn Square AS Orb 5°01′
Saturn Square Neptune Orb 5°17′
Mars Square Neptune Orb 7°41′
Sun Trine Mars Orb 7°01′
Mars Trine Jupiter Orb 7°12′
Venus Trine Neptune Orb 8°05′
Mercury Sextile Saturn Orb 0°37′
Neptune Sextile Pluto Orb 5°01′
Pluto Sextile AS Orb 5°18′
Sun Sextile Saturn Orb 5°58′
Venus Inconjunction Mars Orb 0°24′
Sun Inconjunction Neptune Orb 0°40′
Sun Inconjunction AS Orb 0°56′
Moon Inconjunction Jupiter Orb 1°22′
Jupiter Inconjunction Uranus Orb 1°28′
Jupiter SesquiQuadrate Neptune Orb 0°06′
Jupiter SesquiQuadrate AS Orb 0°10′
Mercury SesquiQuadrate MC Orb 0°22′
Sun SesquiQuadrate Moon Orb 0°36′
Sun SesquiQuadrate Uranus Orb 2°14′
Positions of Planets
Sun 14°25′ Aries
Moon 28°48′ Leo
Mercury 19°45′ Aries
Venus 6°59′ Pisces
Mars 7°24′ Leo
Jupiter 0°11′ Aries
Saturn 20°23′ Aquarius
Uranus 1°40′ Я Virgo
Neptune 15°05′ Я Scorpio
Pluto 10°03′ Я Virgo
Chiron 12°35′ Pisces
Ceres 5°05′ Я Virgo
Pallas 17°10′ Cancer
Juno 13°31′ Я Virgo
Vesta 18°55′ Я Virgo
Node 26°31′ Я Cancer
Lilith 13°29′ Libra
Fortune 0°58′ Cancer
AS 15°21′ Scorpio
MC 4°23′ Virgo
---
Aries the Ram is called the first sign of the Zodiac. If you are born under this sign, you will tend to have the same traits as a young ram. Enthusiastic, adventurous, forthright and energetic. You're courageous and confident. But be careful because sometimes you can be a little too impulsive . The boldness you show makes you something of a daredevil. And where would the world be, without daredevils, willing to strike out and do something completely different.

People born under the Aries sign are passionate lovers and intense friends. They sometimes risk driving people away with all that intensity and so Aries people need partners that can match them without fueling the fire and creating explosive situations.Aries make excellent entrepreneurs; it's a natural talent for someone with such a strong focus on initiative and leadership.  They thrive on challenges and love to excel and win.  They don't react well when forced to wait, and can have trouble accepting advice. 

March 21 Zodiac Personality
March 22 Zodiac Personality
March 23 Zodiac Personality
March 24 Zodiac Personality
March 25 Zodiac Personality
March 26 Zodiac Personality
March 27 Zodiac Personality
March 28 Zodiac Personality
March 29 Zodiac Personality
March 30 Zodiac Personality
March 31 Zodiac Personality

Moon in Leo is emotionally positive and full of vitality. Even its darker aspects are less dark than that of other moon signs. Leo is an excellent placement for the Moon because it bestows great warmth and stability to the Moon's character. It also imparts a visionary quality. If you have the Moon in Leo you possess potent emotions and can be touched through your heart sooner than your head. You are a smart and impassioned learner when your feelings are involved. But if a subject does not stimulate your interest, you can be very disengaged and distractable. Persuading you requires appeals to the heart more than the mind. Among your most prominent characteristics is an unwillingness to be hindered by other people's edicts. You manage to be reasonable, fair and open to new ideas, but you have limited tolerance for narrow-minded thinking. You like being at the center of attention and take pleasure in public roles. Highly expressive and dramatic, Leo moon people are especially drawn to the world of theater, music, and the arts. You possess a fine sense of humor and great individual charm. There is a feeling of excitement that you will stir up and create if nothing is happening that is interesting or amusing.
In the dynamic and passionate sign of Aries, Mercury takes on a more forceful quality in its intellectual style. Those born with their Mercury in Aries, are often witty, and original and have little problems speaking up and expressing their thoughts and opinions. They are skillful conversationalists a capacity for using biting sarcasm and humor. They can be very funny and highly expressive in how they use language.

They are likely to utilize a lot of slang in their speech and may possess extensive knowledge of hip and edgy terms at their disposal. They may often exaggerate or over embellish for effect. They are impatient and eager and can sometimes be argumentative and tactless. There may be a tendency to speak without thinking and to say too much. Their insights are quite perceptive, however, and they are often lucky in making good decisions. People with Mercury in Aries suffer from headaches, particularly when in a boisterous and noisy environment.
People with their Venus in Pisces are tender souls with a desire to form deep and spiritual connections with their mates. They are in search of their soulmate and someone with whom they can share themselves fully and honestly. Because of their sensitivity, they may experience some difficulty in expressing or articulating what they feel. Their feelings can be complicated and subject to change waxing and waning with their fluctuating moods.

They are remarkably kind and devoted in their relationships and breakups can emotionally debilitate them for extended periods. Being in love makes them feel complete but they have a penchant for falling for the wrong type of person. They may fall in love with the idea of a person and subsequently project ideals onto them that will never be lived up to. Logic does not play much of a factor in the Venus in Pisces person's mind. They operate on intuition and are very empathetic and self-sacrificing for their loved ones. They tend to be undisciplined with their spending and do not resist indulging in anything that makes them feel good. They are likely to have addictive personalities and go overboard especially when they are feeling sad or empty inside.
With Mars in Leo, there is likely to be a persona that is larger than life. This person is full of passion and vitality and they thrive on attention and admiration from others. They are natural performers who like to show off and strut their stuff. They are good at captivating an audience and being entertaining. Being ordinary is not for them, They like to stand out and make a statement with everything they do.
Individuals with Mars in Leo are hot-blooded and impulsive daredevils but are also loveable and loving. Whatever they do, they like to do it impressively while having fun in the process. Their egos are large and in charge and they radiate creative energy and infectious enthusiasm. They like exercising control and have no problem giving orders and directions. They can come across as a bit bossy and demanding at times. Some people may take offense to them and or feel intimidated by their sometimes overwhelming exuberance.
Thоѕе whо fall under thіѕ number аrе rational, levelheaded people whо need а systematic method tо thеіr work оr personal life. Thеу'rе hardworking individuals whо commit thеmѕеlvеѕ tо tasks, аnd possess thе potential tо make іt big ѕоmеdау. Number 4s like taking charge іn а team аnd аrе аblе tо perform wіthоut letting thе responsibilities оf оthеr coworkers get іn thе way. Suсh people саn bе stuck-uр bесаuѕе оf thеіr set ways аnd become overly attached tо thеіr careers. Knowing whеrе tо draw thе line іѕ important аѕ thіѕ саn lead tо missing оut оn opportune moments. Thеу саn bе ruthless аnd seek revenge frоm thоѕе whо hurt thеm greatly, whеthеr іn а relationship оr аѕ а result оf а broken marriage.
Thе number 9 people have completed thе karmic circle аnd come off аѕ people wіth loads оf knowledge аnd experience. Thеу аrе compassionate, tolerant, benevolent, charming аnd idealistic. Thеу аrе аlѕо intuitive аnd mystical. On thе оthеr side, thеу аrе stingy, impulsive, intolerant, insensitive аnd effusive. Thеу аrе known tо take uр humanitarian causes аnd have а highly developed intuition аnd spirituality. Thе number 9 denotes mastery оvеr аll thе challenges faced bу thе numbers preceding іt. Thе 'Hermit' makes іtѕ tarot representation. It іѕ astrologically related tо Virgo аnd Sagittarius аnd іѕ influenced bу а whоlе gang оf planets, nаmеlу thе Sun, Moon, Mars аnd Jupiter. Thе number 9 people have аn aura made uр оf аll thе Fall colors. Opal іѕ а good gemstone fоr thеѕе people. Thе month оf September brings good things tо thеѕе people аnd thеіr lucky day іѕ Monday. 1, 5, 6, 9, 18 аnd 27 аrе lucky dates fоr thеѕе people.
Timid and attractive, the Rabbits of the Chinese Zodiac tend to act more like bunnies, whether they like it or not! This Sign is extremely popular and has a wide circle of family and friends. Its compassionate nature leads it to be very protective of those it holds dear, but where romance is concerned, the Rabbit's sentimentality can lead it to idealize relationships. The sweet, sensitive Rabbit often ends up giving more of itself to a partner than is realistic or healthy. The good news is, when this Sign goes off-balance, the Rabbit's core group of friends and its stable home life help bring it back to center.

Lacking close, supportive friends and family, the Rabbit might just break down in tears at the first sign of conflict. The Rabbit is a rather delicate Sign that needs a solid base in order to thrive. Lacking close, supportive friends and family, the Rabbit might just break down in tears at the first sign of conflict. Emotional upsets in this Sign's life can even lead to physical illnesses. Rabbits dislike arguments and other conflict and will try anything to avoid a fight; this results in something of a pushover nature. Rabbits can also lapse into pessimism and may seem stuck in life — often to mask their insecure natures. Rabbits tend to move through life's lessons at their own, rather contemplative pace; it's a waste of time to become exasperated with this Sign's seeming disinterest in facing its problems and conquering them.
Nurturing yet dangerous, vital and deadly, water is a ripe with contradiction. In moderate amounts it is a blessing, in over abundance, a curse. Water is the only element with the ability to put out fire and make things grow and thrive. Water is vital to our very survival. Without water crops wither and die and there is no food. The human body, and in fact, all life on Earth is dependent upon water. Yet, even for life, water has the potential to be deadly. Too much water in the body leads to water intoxication and even death. It is, however, a delicate balance.
Too little water and all life withers and dies with the effects of the hot sun. Too much water chokes out needed oxygen and drowns. It is for this very reason the element water is represented by the color black. Water rules intelligence and wisdom. People born under the element water are uncommonly intelligent and capable. For all their wisdom and reasoning ability, water people tend to have difficulty making and sticking to decisions. Diplomatic, and intuitive, water people are flexible. They have a special ability to 'go with the flow' and are usually easygoing.
The ENFP is one of the 16 MBTI types. ENFP stands for extravert (E), intuitive (N), feeling (F), perceiving (P). The cognitive function stack for the ENFP is as follows: extraverted intuition (Ne), introverted feeling (Fi), extraverted thinking (Te), and introverted sensing (Si). ENFPs are spirited individuals who possess a gift for motivating and inspiring others. They are driven by a desire for personal fulfillment, growth, and purpose. They are personable and friendly and interested in understanding the dynamics between them and others.

ENFPs are also highly creative and likely to have a number of artistic outlets for their self-expression. They have strong personal values and are always evaluating the world according to those values. ENFPs are compassionate idealists who exhibit a lot of warmth and congeniality. They are free spirits who will champion the principles and people they care about. Although social and involved with other people, ENFPs never become so attached that they lose sight of their individualism and sense of self. They have strong emotions and they rely on their feelings to guide them. They want to be true and authentic in their expression and also to pursue what truly makes them happy.