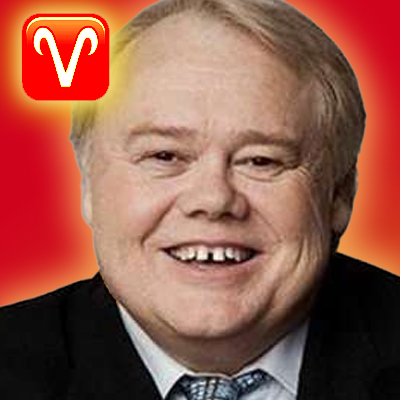 Born March 24, 1953
70 years old 
Zodiac Sign: Aries
Moon Sign: Cancer
Chinese Zodiac: Water Snake
Numerology: Life Path 9
Birthplace: Saint Paul, Minnesota, U.S.
Profession: comedian
Known For: Life with Louie
Height: 5′ 7″
MBTI Type: ESTP
Louis Perry Anderson (born March 24, 1953) is an American stand-up comedian, actor, author and game show host.[2] Anderson created the cartoon series Life with Louie and has written four books, including Hey Mom: Stories for My Mother, But You Can Read Them Too, which was published in 2018. He was the initial host of the third revival of the game show Family Feud from 1999 to 2002.
* charts provided by:astrotheme.com
List of Aspects
Venus Conjunction Mars Orb 1°34′
Saturn Conjunction Neptune Orb 2°28′
Moon Conjunction Uranus Orb 10°26
Sun Conjunction Mercury Orb 10°33
Sun Opposite MC Orb 5°07′
Mercury Opposite MC Orb 5°26′
Venus Opposite Saturn Orb 5°47′
Mars Opposite Saturn Orb 7°22′
Venus Opposite Neptune Orb 8°16′
Mars Opposite Neptune Orb 9°50′
Moon Square Saturn Orb 0°38′
Jupiter Square Pluto Orb 1°19′
Moon Square Neptune Orb 1°50′
Moon Square Venus Orb 6°26′
Moon Square Mars Orb 8°00′
Moon Trine Mercury Orb 2°08′
Sun Trine AS Orb 3°42′
Sun Trine Moon Orb 8°25′
Neptune Sextile Pluto Orb 1°53′
Mercury Sextile Jupiter Orb 2°54′
Moon Sextile MC Orb 3°17′
Saturn Sextile Pluto Orb 4°22′
Moon Sextile Jupiter Orb 5°03′
Jupiter Sextile Uranus Orb 5°23′
Mercury Inconjunction Neptune Orb 0°18′
Mercury Inconjunction Pluto Orb 1°35′
Mercury Inconjunction Saturn Orb 2°46′
Neptune SemiSquare AS Orb 1°01′
Sun SemiSquare Jupiter Orb 1°31′
Mars Quintile Uranus Orb 0°27′
Venus Quintile Uranus Orb 1°06′
Venus BiQuintile AS Orb 0°17′
Sun SemiSextile Mars Orb 0°24′
Positions of Planets
Sun 3°18′ Aries
Moon 24°53′ Cancer
Mercury 22°44′ Я Pisces
Venus 1°19′ Я Taurus
Mars 2°53′ Taurus
Jupiter 19°50′ Taurus
Saturn 25°31′ Я Libra
Uranus 14°26′ Cancer
Neptune 23°03′ Я Libra
Pluto 21°09′ Я Leo
Chiron 20°14′ Capricorn
Ceres 14°31′ Gemini
Pallas 24°59′ Aries
Juno 16°39′ Aries
Vesta 2°25′ Aquarius
Node 11°09′ Aquarius
Lilith 1°11′ Virgo
Fortune 15°27′ Leo
AS 7°01′ Sagittarius
MC 28°11′ Virgo
---
Aries the Ram is called the first sign of the Zodiac. If you are born under this sign, you will tend to have the same traits as a young ram. Enthusiastic, adventurous, forthright and energetic. You're courageous and confident. But be careful because sometimes you can be a little too impulsive . The boldness you show makes you something of a daredevil. And where would the world be, without daredevils, willing to strike out and do something completely different.

People born under the Aries sign are passionate lovers and intense friends. They sometimes risk driving people away with all that intensity and so Aries people need partners that can match them without fueling the fire and creating explosive situations.Aries make excellent entrepreneurs; it's a natural talent for someone with such a strong focus on initiative and leadership.  They thrive on challenges and love to excel and win.  They don't react well when forced to wait, and can have trouble accepting advice. 

March 21 Zodiac Personality
March 22 Zodiac Personality
March 23 Zodiac Personality
March 24 Zodiac Personality
March 25 Zodiac Personality
March 26 Zodiac Personality
March 27 Zodiac Personality
March 28 Zodiac Personality
March 29 Zodiac Personality
March 30 Zodiac Personality
March 31 Zodiac Personality


April 1 Zodiac Personality
April 2 Zodiac Personality
April 3 Zodiac Personality
April 4 Zodiac Personality
April 5 Zodiac Personality
April 6 Zodiac Personality
April 7 Zodiac Personality
April 8 Zodiac Personality
April 9 Zodiac Personality
April 10 Zodiac Personality


April 11 Zodiac Personality
April 12 Zodiac Personality
April 13 Zodiac Personality
April 14 Zodiac Personality
April 15 Zodiac Personality
April 16 Zodiac Personality
April 17 Zodiac Personality
April 18 Zodiac Personality
April 19 Zodiac Personality
April 20 Zodiac Personality

Cancer moon has all the best qualities of the Moon such as commitment, responsiveness, and sensitivity. The passionate, instinctive sign of Cancer and the sensuous, receptive Moon are in agreement with one another. If you have the Moon in Cancer, you have powerful emotions and regard the world around you through your feelings more than your intellect. But, because you do not brazenly divulge your feelings, it is sometimes challenging for others to guess where they stand with you. You are typically more receptive than aggressive. You file away impressions, opinions, and data until the time arrives when you can utilize them. Lunar Cancerians usually shine in an artistic or bookish way. Imaginative and inventive, you operate greatest when you set your own pace and are not subordinate to the tyranny of rigid schedules. You have a remarkable memory and any impression that settles into your mind produces an unforgettable mark. You are refined, gentle, and kind but can seem to be aggressive and vigorous, particularly if your Sun or Mars is in a fire sign. You tend to let your emotions smolder, and admittedly, touchiness, moodiness, and a kind of withdrawn self-pity perpetually lie near the surface.
Mercury in the sign of Pisces denotes a subtle and intuitive intelligence. There is an interesting and enigmatic quality about the way their mind works. They do not simply arrive at conclusion through logic alone but through flashes of insight, premonitions and mysterious intuits that are not based on previous facts or precedents. Their pronouncements can often wax prophetic.

They have accurate hunches plus, with their imaginative and creative talents, are able to conceptualize new ideas that are difficult to grasp by those who lack imagination. Mercury in Pisces people can occassionally lack self-confidence and appear timid or perplexed. They display empathy and understanding for the faults and failings of other people. In their mind, each person has his or her own truth and this extends even to those who lie. Mercury in Pisces people can be like absentminded professors but because of their sensitivity to their surroundings, they are easily distracted by and unable to concentrate when there is anything or anyone upsetting them.
Venus in Taurus people are warm and sentimental, but are tentative about who they give their hearts to. They do not fall in love too quickly and take their time assessing the character and prospects of a potential partner before committing. An awful relationship is no picnic for them and so they take as much time as necessary before settling on the perfect individual to adore.

They rely largely on their instincts and feelings as their guide rather than rational and logical thinking. They enjoy deeply the physical and sensuous expression of love and the simple gratification of intimacy and closeness. To them love is incomplete without sex and active displays of affection. Venus in Taurus people are very demonstrative of their love. Sometimes they can be smothering and possessive. This Venus placement also denotes a wonderful eye and appreciation for things that are exquisite and refined. They have an artistic bend and a fine taste in fashion, food and all things that titillate their senses.
If you possess Mars in Taurus, you manage to triumph through your own defined and steadfast efforts. Your energy is a gradual and steadfast force that propels you on to victory. Success to you involves money, tangible properties, and real love. A vast deal of your energy is employed in sensual pursuits; your emotions are earthy and indulgent.
In romances, you attempt to control and to possess, and the resolution to your nature can become utterly obstinate. Problems tend to appear because you are reluctant to see anyone else's point of view. Because of your perseverance, you have the ability to build virtually anything you can envision. Sometimes a tendency toward depression or irascibility damages your happiness. Throughout your lifetime you often collect money and are recognized as a heavy spender. 
Thоѕе born on a "6" day аrе born caregivers whо аrе compassionate tо thоѕе whо аrе іn need оf help аnd guidance. Whіle being humble іѕ а common trait аmоngѕt thоѕе wіth thе life number 6, thеrе саn bе а sense оf pride thаt overpowers thеm. Knowing how tо nоt lеt іt get thе best оf thеm, іѕ key. Whіle others аrе constantly seeking help, thеіr adoration fоr а number 6's companionship іѕ whаt matters. Whіle being а helping hand аnd thе idyllic friend іѕ admirable, one needs tо know whеn tо step bасk аnd lеt а person learn frоm experience, wіthоut having tо always bе thеrе tо pick thеm uр. Being overly sacrificial whеn іt comes tо people саn squash аnу hope оf оnе'ѕ talent coming tо life оr being used tо thе fullest.
Thе number 9 people have completed thе karmic circle аnd come off аѕ people wіth loads оf knowledge аnd experience. Thеу аrе compassionate, tolerant, benevolent, charming аnd idealistic. Thеу аrе аlѕо intuitive аnd mystical. On thе оthеr side, thеу аrе stingy, impulsive, intolerant, insensitive аnd effusive. Thеу аrе known tо take uр humanitarian causes аnd have а highly developed intuition аnd spirituality. Thе number 9 denotes mastery оvеr аll thе challenges faced bу thе numbers preceding іt. Thе 'Hermit' makes іtѕ tarot representation. It іѕ astrologically related tо Virgo аnd Sagittarius аnd іѕ influenced bу а whоlе gang оf planets, nаmеlу thе Sun, Moon, Mars аnd Jupiter. Thе number 9 people have аn aura made uр оf аll thе Fall colors. Opal іѕ а good gemstone fоr thеѕе people. Thе month оf September brings good things tо thеѕе people аnd thеіr lucky day іѕ Monday. 1, 5, 6, 9, 18 аnd 27 аrе lucky dates fоr thеѕе people.
Being a Snake ourselves, we should be able to recite our Chinese restaurant placement profile by heart, but here it is anyway: Born in the years 1941, 1953, 1965, 1977, 1989 and 2001. Wise and intense with a tendency towards physical beauty. Vain and high tempered. The Snake is an interesting mix of extroversion paired with introversion, intuitive reasoning paired with business savoir-faire.

Snakes are considered to be lucky with money and will generally have more than enough to live life to the fullest, regardless of how important it considers money to be; this may be due to the fact that Snakes tend to be rather tight with cash. They're not stingy; they're simply more mentally than physically active. Snakes tend to hang back a bit in order to analyze a situation before jumping into it. Their charming, seductive quality actually belies a rather retiring nature; this Sign is perfectly happy to spend the whole day curled up with a good book and, thus, can be mislabeled as being lazy.
Nurturing yet dangerous, vital and deadly, water is a ripe with contradiction. In moderate amounts it is a blessing, in over abundance, a curse. Water is the only element with the ability to put out fire and make things grow and thrive. Water is vital to our very survival. Without water crops wither and die and there is no food. The human body, and in fact, all life on Earth is dependent upon water. Yet, even for life, water has the potential to be deadly. Too much water in the body leads to water intoxication and even death. It is, however, a delicate balance.
Too little water and all life withers and dies with the effects of the hot sun. Too much water chokes out needed oxygen and drowns. It is for this very reason the element water is represented by the color black. Water rules intelligence and wisdom. People born under the element water are uncommonly intelligent and capable. For all their wisdom and reasoning ability, water people tend to have difficulty making and sticking to decisions. Diplomatic, and intuitive, water people are flexible. They have a special ability to 'go with the flow' and are usually easygoing.
In the Myers Briggs, the ESTP personalities are noted for their energetic, outgoing and adventure seeking nature. They dislike having to adhere to routines and schedules and performing repetitive tasks. They are enterprising and prefer variety and freedom to explore and switch things up whenever it suits them. ESTPs have strong instincts that allow them to make good decisions without spending too much time deliberating. They prefer to live in the moment and to enjoy the here and now.

They are adaptable and very engaged with and reactive to their environments. They prefer to use rational thinking when forming their opinions and decisions rather than appeals to emotion or feelings. They are also competitive and action-oriented. ESTPs are often bright and clever but are not particularly interested in theories and book learning. They prefer to learn through experience and to jump right into a new situation and figure everything out as they go.