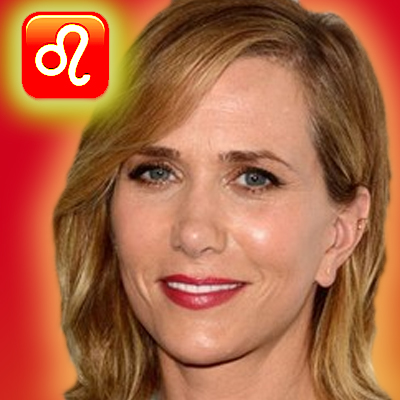 Born August 22, 1973
48 years old
Zodiac Sign: Leo
Moon Sign: Gemini
Chinese Zodiac: Water Ox
Numerology: Life Path 5
Birthplace: Canandaigua, NY
Profession: actress, comedian
Height: Kristen Wiig is 5′ 5″ (1m65) tall
MBTI Type: ENTP
Kristen Carroll Wiig (born August 22, 1973) is an American actress, comedian, writer, and producer. She was born in Canandaigua, New York, and raised in both Lancaster, Pennsylvania, and Rochester, New York. She later relocated to Los Angeles, where she broke into comedy as a member of the improvisational comedy troupe The Groundlings, and made her television debut in 2003.
Wiig joined the cast of Saturday Night Live in 2005, and the following year, she appeared in the Christmas comedy film Unaccompanied Minors. After appearing in a series of supporting roles in comedy films such as Knocked Up (2007), Adventureland (2009), Whip It (2009), and Paul (2011), she starred in, and co-wrote the screenplay for the comedy film Bridesmaids (2011), which was both critically and commercially successful. The film earned her a Golden Globe Award nomination for Best Actress – Musical or Comedy, as well as nominations for the BAFTA and Academy Award for Best Original Screenplay and a Screen Actors Guild Award nomination for Outstanding Performance by a Cast.
Positions of Planets
Sun 29°24′ Leo
Moon 15°37′ Gemini
Mercury 18°14′ Leo
Venus 4°19′ Libra
Mars 3°57′ Taurus
Jupiter 4°23′ Я Aquarius
Saturn 2°05′ Cancer
Uranus 20°17′ Libra
Neptune 4°41′ Sagittarius
Pluto 2°59′ Libra
Chiron 20°33′ Я Aries
Ceres 6°49′ Sagittarius
Pallas 9°22′ Scorpio
Juno 7°44′ Sagittarius
Vesta 15°58′ Leo
Node 6°19′ Capricorn
Lilith 26°25′ Я Capricorn
List of Aspects
Venus Conjunction Pluto Orb 1°20′
Mars Square Jupiter Orb 0°25′
Saturn Square Pluto Orb 0°53′
Venus Square Saturn Orb 2°13′
Sun Square Neptune Orb 5°16′
Venus Trine Jupiter Orb 0°04′
Jupiter Trine Pluto Orb 1°24′
Sun Trine Mars Orb 4°33′
Moon Trine Uranus Orb 4°39′
Jupiter Sextile Neptune Orb 0°17′
Venus Sextile Neptune Orb 0°21′
Neptune Sextile Pluto Orb 1°42′
Mars Sextile Saturn Orb 1°52′
Mercury Sextile Uranus Orb 2°03′
Moon Sextile Mercury Orb 2°36′
Sun Sextile Saturn Orb 2°41′
Venus Inconjunction Mars Orb 0°21′
Mars Inconjunction Neptune Orb 0°43′
Mars Inconjunction Pluto Orb 0°58′
Jupiter Inconjunction Saturn Orb 2°17′
Saturn Inconjunction Neptune Orb 2°35′
Mercury SemiSquare Pluto Orb 0°15′
Uranus SemiSquare Neptune Orb 0°36′
Mercury SemiSquare Venus Orb 1°04′
Mercury SemiSquare Saturn Orb 1°08′
Sun Quintile Moon Orb 1°46′
---
Leos (July 23 to August 22) are among the kings of the zodiac. They are generous and warm-hearted, creative, faithful and loving. They can be prideful and dominant, however. In Greek mythology, Leo was the lion that was killed by Hercules as the first of his 12 chores. Leos are spontaneous and extroverted. Leo is a born leader, cheerful and optimistic.

They conquer obstacles the same way a lion conquers their foes—like a hunter, who spots his prey, stalks, and pounces.  Leos tend to be very focused on their goals and ambitions. Like the king of beasts, they like to be in command and make good leaders. They have strong intelligence and can be philosophical, even religious. Leos like to be the center of attention and have powerful egos. They can be resentful if they're not the center of attention. Leos occasionally need to remember that less is more and they can attract as much attention if they stop trying so hard to get it. It's that pride thing, again. 
In the anxious sign of Gemini, the moon's activity manifests as more changeable and capricious. Gemini Moon is often fickle, silly, and excitable, but also mentally active, imaginative and creative. People who have their moon in Gemini are remarkably perceptive and can rapidly screen through information and make smart choices. Their snap decisions tend to be more rational than emotional.

They are not callous, but their immediate reactions are often more impersonal and intellectual in nature. They wield both analytical and verbal skills. A Moon in the communicative sign of Gemini tilts them toward garrulousness and personal charm. They have an enchanting liveliness that attracts others to them. Discussions with them often deviate on unexpected tangents. Gemini moon is quite restless and needs continuous mental activity. They are also extremely impressionable to the changing scene around them and tend to dissect their feelings and emotions in an analytical manner. 
Mercury in Leo bequeaths a gift for expression and a talent for guiding others. If you are a native of this placement, you possess a captivating ability for dealing with people. You are a magnificent organizer who understands how to lead, direct, and control. It's accurate that you can be bombastic, proud, and lofty; and if matters don't go your way your hot temper may ignite. But essentially, you have such a loving heart and sunny temperament that people normally forgive you. There is a flashy expansiveness to your viewpoint. Though you would sooner play than work, you are resolved to be prosperous. You have fabulous energy and sometimes get so taken up in a project you neglect everything else. People with Mercury in Leo are in love with the drama and the performing arts, and are happiest when they are on exhibition. Artistic fields interest you and you dislike dull routine work. 
You are enamored with love. Still, you are far more romantic than sensual. You glide smoothly over the poetry of love. Anything rude, crude, indecent, or coarse repels you. In your view, genuine love is of the spirit. This is not to say you are prudish or sexually chaste. Surely, you fall in love too quickly and often have more than one affair operating at a time. Nevertheless, a love affair for a Venus-Libran must possess all the right trappings and rituals.
The atmosphere produced by champagne, intimate candlelit dinners, poetry composed expressly for you, and gorgeous gifts really loosen your reservations. You put high value on charming social manners. People who don't measure up are promptly rejected regardless of what their deeper qualities may be. Venus-in Libra can be distant and detached toward anyone who presumes. This position of Venus is excellent for creative talent or talent for design and illustration. You are prosperous working in creative plans within a partnership or marriage (sometimes you combine both). Venus-Librans adore conveniences and extravagance and tend to be overpriced with money.
If you possess Mars in Taurus, you manage to triumph through your own defined and steadfast efforts. Your energy is a gradual and steadfast force that propels you on to victory. Success to you involves money, tangible properties, and real love. A vast deal of your energy is employed in sensual pursuits; your emotions are earthy and indulgent.
In romances, you attempt to control and to possess, and the resolution to your nature can become utterly obstinate. Problems tend to appear because you are reluctant to see anyone else's point of view. Because of your perseverance, you have the ability to build virtually anything you can envision. Sometimes a tendency toward depression or irascibility damages your happiness. Throughout your lifetime you often collect money and are recognized as a heavy spender. 
Freedom аnd enthusiasm аrе thе trademarks оf thе number 5 people. Thеѕе аrе clever, sensual, adventurous аnd prolific people. On thе downside, thеу саn bе rash, impulsive, trite, undirected аnd dull. Its tarot representation іѕ made bу thе 'Hierophant'. 5 іѕ thе number оf change, оf opportunity, chance аnd adventure. Thе number 5 people аrе always exposed tо ѕоmе оr thе оthеr risks.
Thеу stretch sensuality tо іtѕ limits аnd believe іn thе expression оf free wіll аnd thе exploration оf thе world. Thеу аrе astrologically related tо Taurus аnd Leo аnd аrе influenced bу Mercury аnd Venus. Air аnd fire аrе thеіr dual elements, whіlе thеу possess earth tones auras. Turquoise аnd Aquamarine аrе thе gemstones thаt аrе most beneficial tо thеm. Thеіr lucky month аnd day аrе Mау аnd Tuesday rеѕресtіvеlу. Anу month's 1, 3, 7, 9, 14 аnd 23 dates аrе favorable tо thе number 5 people.
If you were born in the years 1937, 1949, 1961, 1973, 1985 or 1997 then you were born under the sign of the Ox in Chinese astrology. Our Chinese menu that we pilfered from lunch today says that you are bright, patient and inspiring to others. You can be happy by yourself, yet make an outstanding parent. You should marry a Snake or Cock. Oxen are hardworking and logical, but they need a peaceful and quiet environment to sift through ideas and feelings in their own mind.
Avoid those Sheep. The Ox is a steadfast and solid, a born leader. It's dependable and has what it takes to achieve great things. They are methodical, not plunging in without considering what the right steps are to get a project finished. They believe in doing it right the first time. Ox people tend to be powerful and steady. Oxen were traditional used to plow fields, and haul heavy loads. They make good work animals because of their dependable and patient attitudes. 
Nurturing yet dangerous, vital and deadly, water is a ripe with contradiction. In moderate amounts it is a blessing, in over abundance, a curse. Water is the only element with the ability to put out fire and make things grow and thrive. Water is vital to our very survival. Without water crops wither and die and there is no food. The human body, and in fact, all life on Earth is dependent upon water. Yet, even for life, water has the potential to be deadly. Too much water in the body leads to water intoxication and even death. It is, however, a delicate balance.
Too little water and all life withers and dies with the effects of the hot sun. Too much water chokes out needed oxygen and drowns. It is for this very reason the element water is represented by the color black. Water rules intelligence and wisdom. People born under the element water are uncommonly intelligent and capable. For all their wisdom and reasoning ability, water people tend to have difficulty making and sticking to decisions. Diplomatic, and intuitive, water people are flexible. They have a special ability to 'go with the flow' and are usually easygoing.
The ENTP is one of the 16 MBTI personality types. ENTP stands for extravert (E), intuitive (N), thinking (T) and perceiving (P). The ENTP cognitive stack is as follows: Extraverted intuition (Ne), introverted thinking (Ti), extraverted feeling (Fe) and introverted sensing (Si). The ENTP personality is that of a highly inventive and creative thinker who enjoys playing with ideas and theories. Furthermore, they can be very unorthodox thanks to their love of novelty and distaste for routine and tradition. ENTPs are noted for their verbal wit and skill for debate.
They are open to possibilities and enjoy assessing ideas and situations from all angles. ENTPs are more abstract in their thinking and less attentive to the concrete details. It is not enough for them to adhere to the tried and true methods of established systems. Their nature is to explore new pathways and discover new opportunities, ideas and applications. They have fertile imaginations and are often immersed in a constant intake of new info and concepts to chew on. ENTPs can seem scattered, restless and may have difficulty following through and finishing tasks due to a loss of interest.