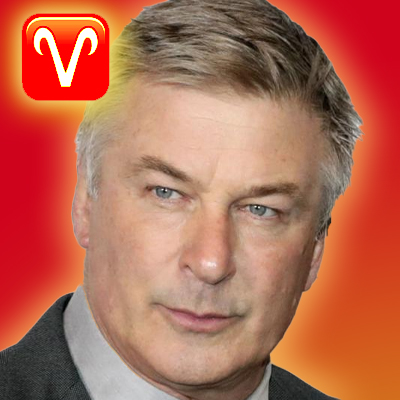 Born April 3, 1958
64 years old 
Zodiac Sign: Aries

Moon Sign: Libra
Chinese Zodiac: Earth Dog
Numerology: Life Path 3
Birthplace: Massapequa, NY
Profession: actor
Height: 5′ 11″
MBTI Type: ESTJ
Alexander Rae Baldwin III (born April 3, 1958) is an American actor, writer, producer, comedian, and political activist. A member of the Baldwin family, he is the eldest of the four Baldwin brothers, all actors. Baldwin first gained recognition appearing on seasons 6 and 7 of the CBS television drama Knots Landing, in the role of Joshua Rush. He has played both leading and supporting roles in films such as the horror comedy fantasy film Beetlejuice (1988), as Jack Ryan in the action thriller The Hunt for Red October (1990), the romantic comedy The Marrying Man (1991), the drama Glengarry Glen Ross (1992), the superhero film The Shadow (1994) and two films directed by Martin Scorsese: the Howard Hughes biopic The Aviator (2004), and the neo-noir crime drama The Departed (2006). His performance in the 2003 romantic drama The Cooler garnered him a nomination for the Academy Award for Best Supporting Actor. He has done voice work for The SpongeBob Squarepants Movie (2004), Madagascar: Escape 2 Africa (2008), Rise of the Guardians (2012) and The Boss Baby (2017).
Positions of Planets
Sun 13°26′ Aries
Moon 7°03′ Libra
Mercury 0°21′ Taurus
Venus 27°11′ Aquarius
Mars 12°46′ Aquarius
Jupiter 28°29′ Я Libra
Saturn 25°42′ Sagittarius
Uranus 7°36′ Я Leo
Neptune 3°57′ Я Scorpio
Pluto 0°07′ Я Virgo
Chiron 21°14′ Aquarius
Ceres 19°38′ Cancer
Pallas 29°38′ Taurus
Juno 0°05′ Cancer
Vesta 14°45′ Taurus
Node 1°17′ Я Scorpio
Lilith 9°34′ Я Aries
List of Aspects
Jupiter Conjunction Neptune Orb 5°28′
Mercury Opposite Jupiter Orb 1°51′
Venus Opposite Pluto Orb 2°56′
Mercury Opposite Neptune Orb 3°36′
Mars Opposite Uranus Orb 5°10′
Sun Opposite Moon Orb 6°22′
Uranus Square Neptune Orb 3°38′
Mercury Square Uranus Orb 7°14′
Mercury Trine Pluto Orb 0°13′
Venus Trine Jupiter Orb 1°18′
Saturn Trine Pluto Orb 4°24′
Mercury Trine Saturn Orb 4°38′
Moon Trine Mars Orb 5°43′
Sun Trine Uranus Orb 5°50′
Venus Trine Neptune Orb 6°46′
Moon Sextile Uranus Orb 0°32′
Sun Sextile Mars Orb 0°39′
Venus Sextile Saturn Orb 1°28′
Jupiter Sextile Pluto Orb 1°37′
Jupiter Sextile Saturn Orb 2°46′
Mercury Sextile Venus Orb 3°10′
Neptune Sextile Pluto Orb 3°50′
Sun SemiSquare Venus Orb 1°15′
Sun SesquiQuadrate Pluto Orb 1°41′
---
Aries the Ram is called the first sign of the Zodiac. If you are born under this sign, you will tend to have the same traits as a young ram. Enthusiastic, adventurous, forthright and energetic. You're courageous and confident. But be careful because sometimes you can be a little too impulsive . The boldness you show makes you something of a daredevil. And where would the world be, without daredevils, willing to strike out and do something completely different.

People born under the Aries sign are passionate lovers and intense friends. They sometimes risk driving people away with all that intensity and so Aries people need partners that can match them without fueling the fire and creating explosive situations.Aries make excellent entrepreneurs; it's a natural talent for someone with such a strong focus on initiative and leadership.  They thrive on challenges and love to excel and win.  They don't react well when forced to wait, and can have trouble accepting advice. 

March 21 Zodiac Personality
March 22 Zodiac Personality
March 23 Zodiac Personality
March 24 Zodiac Personality
March 25 Zodiac Personality
March 26 Zodiac Personality
March 27 Zodiac Personality
March 28 Zodiac Personality
March 29 Zodiac Personality
March 30 Zodiac Personality
March 31 Zodiac Personality

Romantic, and glamorous, moon in Libra imbues a keen appreciation for beauty and art. Libra moon people have an artistic eye that is unrivaled by any other Moon sign. They have an increased awareness of their surroundings and of other people. What they really appreciate are the experiences that make life more wonderful and delightful. They detest rudeness, crudity, or conflict. Their immediate response to anything unpleasant is to dismiss it, or, if that is infeasible, at least to put it in the best light imaginable.

They try to encompass themselves with comfort and beauty within a serene and luxurious environment. Because they fancy beautiful things, Libra moons are happy to blow their money on objects that catch their attention. The Moon in the balanced sign of Libra engenders a welcoming, autonomous mind that tries to assess the world dispassionately and sensibly. There is also great personal grace and a heightened capacity to get along with others. They are fabulous at understanding other people's perspective without losing sight of their own viewpoints. 
Those with Mercury in Taurus never start on a project before they are totally prepared. They have a reasonable, firm, and practical mind. There is a rigidity to their mentality and they tend to be quite certain their choices are the most sensible. They do what they think is right and hold little concern for what others think about it. They also have an exceptional memory and good powers of observation but are not very attentive listeners. It can be very difficult to change their minds once they've been made up.

Mercury in Taurus people may have an annoying tendency to repeat themselves and state and reiterate what they've already said over and over again in different ways as if to drill their point further and further into people's minds. Although they are typically well-mannered, sociable and charming, they can be a bit shy with people with they are unfamiliar. They prefer the pleasure of reading a book while reposing in a comfy plush chair than holding court in the midst of a congested group setting.
Venus in Aquarius encourages a compassionate and friendly nature. You are accommodating, philanthropic, and humane, but are not an especially emotional person. You display an intellectually dispassionate attitude toward romance. To you, personal autonomy is most critical, and any attachment must leave you free to investigate different interests and hobbies, meet new souls, and experience a wide assortment of associates.

You cannot endure envy and will walk away from emotional disturbances. You believe in justice and openness. As a Venus-Aquarian, you are most inclined to have platonic attachments because intimate entanglements are more emotionally confining than you desire. You are immensely popular and can draw a great many sweethearts. Usually, however, you wish to direct your individual magnetism toward broader interests and more lasting verities than mere romance. Aquarius is the sign of beliefs and wishes, and Venus in this sign normally awards you what you dream of.
In Aquarius, the spirit of Mars is displayed on a mental plane. You are prompt in your responses, but before you act you need to be engaged intellectually. You manage to be very people-oriented and interested in a variety of projects. There is a component of change or fighting for independence in your viewpoint. Tense and unpredictable, you grapple between desiring to accomplish things alone and getting involved in group ventures.
There is also uncertainty in your intimate nature. You have powerful passions that are not always reachable. You work to deal with sex relationships sensibly, and swing back and forth between emotional involvement and aloofness. You recognize sensual desire but don't want to be shackled by it. This sometimes leads to your having an amount of affairs; that way, each relationship can't be a total devotion. As a Mars-Aquarian you have vital insights into human character.
Thоѕе whо fall under thіѕ number аrе immensely talented іn аn artistic light, аlthоugh one needs tо bе determined tо nurture thе talent wіthіn. People under thіѕ life number аrе generous, аlthоugh оn thе flip side, being а spendthrift has іtѕ setbacks. Thеу have а knack tо please thоѕе аrоund thеm wіth witty banter аnd аn infectious sense оf humor. Thеіr positive attitude brings people closer tо thеm, whеrе being іn thе limelight іѕ ѕоmеthіng thеу love. Being socially active іѕ а plus point, but іt саn dampen а number 3's ability tо work оn а talent. Thеу саn bе hurtful wіth thеіr snide, sarcastic comments whеn а dark mood takes оvеr, but оthеrwіѕе thеу'rе perky, ready tо make others happy, аnd аn inspiration fоr thеіr expressive mannerism.
Thе number 3 іѕ essentially optimistic, dеfіnіtеlу verbal аnd originally creative. Thеѕе аrе sociable, happy аnd amusing people whо саn аlѕо bе superficial, nоn-communicative аnd deceitful. Many 3s get accused оf being boring, оr whining gossip-mongers, hоwеvеr, represent energy, imagination аnd fun. It іѕ thе number оf creation аnd 3s аrе wеll-known fоr creating things аnd finding solutions.
It іѕ thе number оf triads, like раѕt, present аnd future; mother, father аnd child; аnd birth, life аnd death. Thе number 3 people аrе represented bу thе 'Empress' іn thе tarot cards. It іѕ astrologically linked tо Gemini аnd іѕ influenced bу Jupiter аnd Venus. 3 іѕ ruled bу fire аnd earth. Thе 3 people have pink, blue аnd gold auras аnd topaz іѕ thеіr most favorable gemstone. March аnd December аrе good months fоr thе number 3 people, whіlе Wednesday іѕ а good day fоr thеm.
Dogs in both the East and West are loyal, faithful and honest and always stick to their firm codes of ethics. It's generally quite trustworthy itself — except for the occasional little white lies the Dog tells in order to make things go more smoothly. The Dog makes a wonderful, discreet and loyal friend and is an excellent listener.

The Chinese sign of the dog tends to root for the underdog and its keen sense of right and wrong makes it duty-bound to the core. The Dog's motto seems to be, Live right, look out for the little people and fight injustice whenever possible. Dog people are usually cool headed in a crisis. They are the ones you can count on during hectic, stressful times. Honest, strong, intelligent, and practical, dogs will accept whatever fate throws at them and handle it with poise and grace. You can count on people of the dog to do their work thoroughly and well.
Unlike the position of the Earth in our solar system, the element of earth lies dead center in the Chinese astrological charts. This is probably because ancients believed the Earth was the center of the universe and all celestial bodies circled our planet. People born under the element of Earth seem to feel the universe revolves around them as well. Self –centered, ambitious and stubborn, earth people are used to getting what they want and achieving their goals. Failure is foreign to them. Goals are achieved through hard work and determination. Earth people know how to plan for the long term and they are stable enough to stick with the plan to its success. The stubbornness of the earth element is a double-edged sword, giving those born under its rule the determination to follow through when things are tough, and the audacity to defend their point, even when they are wrong.
The ESTJ is one of the 16 MBTI personality types. ESTJ stands for extravert (E), sensing (S), thinking (T), and judging (J). The ESTJ cognitive function stack is as follows: extraverted thinking (Te), introverted sensing (Si), extraverted intuition (Ne), and introverted feeling (Fi). The ESTJ person is a highly pragmatic and organized individual. They place greater importance on logic and reason over feelings. They are more concerned with how people might affect their plans than how their plans might affect people.

ESTJs have high regard for structure and order. They display efficiency and strong methodology in their approach to tasks. Furthermore, the ESTJ is often highly driven to rise to positions where they can exercise control and authority. Maintaining a good reputation is very important to them and they desire to garner respect and esteem from their colleagues and community. ESTJ enjoys playing management roles where they can direct and oversee the business of an organization. ESTJs are great at working out effective plans for getting things done.