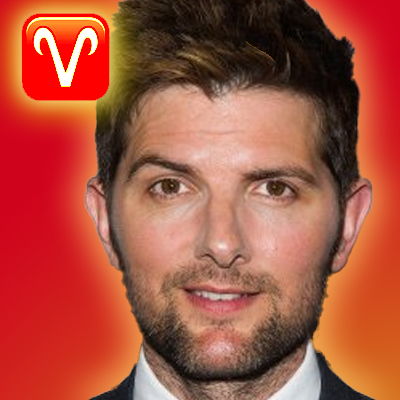 Born April 3, 1973
49 years old 
Zodiac Sign: Aries
Moon Sign: Aries
Rising Sign: Virgo
Chinese Zodiac: Water Ox
Numerology: Life Path 9
Birthplace: Santa Cruz, CA
Profession: actor
Known For: Parks and Recreation
Height: 5′ 10″
MBTI Type: INTJ
Adam Paul Scott (born April 3, 1973) is an American actor, comedian, producer, and podcaster. He is known for his role as Ben Wyatt in the NBC sitcom Parks and Recreation for which he was nominated for the Critics' Choice Television Award for Best Actor in a Comedy Series in 2013. He has also appeared as Derek in the film Step Brothers, Johnny Meyer in The Aviator, Henry Pollard in the Starz sitcom Party Down, Ed Mackenzie in the HBO series Big Little Lies, Adam Yates, Jr. in Hot Tub Time Machine 2, and Trevor in the NBC series The Good Place.
List of Aspects
Sun Conjunction Venus Orb 1°29′
Mars Conjunction Jupiter Orb 1°39′
Sun Conjunction Moon Orb 6°24′
Moon Conjunction Venus Orb 7°54′
Moon Opposite Uranus Orb 0°52′
Neptune Opposite MC Orb 6°45′
Sun Opposite Uranus Orb 7°16′
Saturn Opposite Neptune Orb 8°32′
Venus Opposite Uranus Orb 8°46′
Venus Opposite Pluto Orb 9°47′
Mercury Square Saturn Orb 1°42′
Neptune Square AS Orb 3°10′
Pluto Trine MC Orb 2°15′
Mars Trine Pluto Orb 2°58′
Jupiter Trine Pluto Orb 4°37′
Mars Trine MC Orb 5°14′
Venus Trine Neptune Orb 5°17′
Saturn Trine Uranus Orb 5°31′
Sun Trine Neptune Orb 6°47′
Jupiter Trine MC Orb 6°53′
Jupiter Sextile Neptune Orb 0°08′
Mars Sextile Neptune Orb 1°31′
Sun Sextile Saturn Orb 1°45′
Venus Sextile Saturn Orb 3°14′
Neptune Sextile Pluto Orb 4°29′
Moon Sextile Saturn Orb 4°39′
Venus Sextile Jupiter Orb 5°09′
Mars Inconjunction AS Orb 1°38′
Uranus SemiSquare Neptune Orb 0°55′
Sun SemiSquare MC Orb 1°27′
Moon SesquiQuadrate AS Orb 1°22′
Moon SesquiQuadrate Neptune Orb 1°47′
Mercury Quintile MC Orb 0°59′
Moon Quintile Jupiter Orb 1°04′
Pluto SemiSextile AS Orb 1°19′
Positions of Planets
Sun 14°03′ Aries
Moon 20°28′ Aries
Mercury 17°31′ Pisces
Venus 12°34′ Aries
Mars 5°45′ Aquarius
Jupiter 7°24′ Aquarius
Saturn 15°49′ Gemini
Uranus 21°20′ Я Libra
Neptune 7°16′ Я Sagittarius
Pluto 2°46′ Я Libra
Chiron 16°38′ Aries
Ceres 17°35′ Sagittarius
Pallas 12°52′ Я Scorpio
Juno 22°06′ Sagittarius
Vesta 16°39′ Gemini
Node 11°57′ Я Capricorn
Lilith 25°27′ Я Scorpio
Fortune 10°30′ Virgo
AS 4°06′ Virgo
MC 0°31′ Gemini
---
Aries the Ram is called the first sign of the Zodiac. If you are born under this sign, you will tend to have the same traits as a young ram. Enthusiastic, adventurous, forthright and energetic. You're courageous and confident. But be careful because sometimes you can be a little too impulsive . The boldness you show makes you something of a daredevil. And where would the world be, without daredevils, willing to strike out and do something completely different.

People born under the Aries sign are passionate lovers and intense friends. They sometimes risk driving people away with all that intensity and so Aries people need partners that can match them without fueling the fire and creating explosive situations.Aries make excellent entrepreneurs; it's a natural talent for someone with such a strong focus on initiative and leadership.  They thrive on challenges and love to excel and win.  They don't react well when forced to wait, and can have trouble accepting advice. 

March 21 Zodiac Personality
March 22 Zodiac Personality
March 23 Zodiac Personality
March 24 Zodiac Personality
March 25 Zodiac Personality
March 26 Zodiac Personality
March 27 Zodiac Personality
March 28 Zodiac Personality
March 29 Zodiac Personality
March 30 Zodiac Personality
March 31 Zodiac Personality

With the

Moon in Aries

, you've got a pushy disposition. Your reactions are swift and fast, and you never question them for an instant. As a consequence, you tend to be rather decisive of your opinions and dislike it when others question or contradict you. Patience isn't your forte. You won't spend excess time deliberating tedious details; you like to dive right in and let the chips fall where they may.

In the spirited sign of Aries, the Moon endows you with attractiveness, enthusiasm, and a special penchant for winning other's support. You're very keen on talking about nearly anything and may sound very informed on a broad variety of topics. Nevertheless, you've got a fleeting attention span. Though passion and energy overflow, the long, onerous demands involved can cause you to fall short of your goal. Despite that, you're ever quick to pick yourself up and progress forward onto new and exciting prospects. However, if you're chasing an aim you actually care strongly about, you may push yourself to the limit of your patience.
Mercury in the sign of Pisces denotes a subtle and intuitive intelligence. There is an interesting and enigmatic quality about the way their mind works. They do not simply arrive at conclusion through logic alone but through flashes of insight, premonitions and mysterious intuits that are not based on previous facts or precedents. Their pronouncements can often wax prophetic.

They have accurate hunches plus, with their imaginative and creative talents, are able to conceptualize new ideas that are difficult to grasp by those who lack imagination. Mercury in Pisces people can occassionally lack self-confidence and appear timid or perplexed. They display empathy and understanding for the faults and failings of other people. In their mind, each person has his or her own truth and this extends even to those who lie. Mercury in Pisces people can be like absentminded professors but because of their sensitivity to their surroundings, they are easily distracted by and unable to concentrate when there is anything or anyone upsetting them.
Venus in the feisty and passionate sign of Aries denotes torrid and impulsive desires.

Venus in Aries

are a mix of sentimentality and aggressiveness. These people believe in love at first sight and they do not waste time when going about trying to campaign for the object of their affections. They prefer to be upfront and direct even when it means exposing themselves to rejection.

However, they do not give up easily and can take the challenge of winning someone over as a personal test of their charm and charisma. They can be foolish and imprudent in matters of love. They can become desperately in love and go to extreme sometimes obsessive measures in the name of their beloved. Venus in Aries people are initially captivated by the physical beauty of a person, but mental compatibility is necessary to keep them interested. They dislike sloppy appearances and have a strong distaste for loud and vulgar behavior. 
In Aquarius, the spirit of Mars is displayed on a mental plane. You are prompt in your responses, but before you act you need to be engaged intellectually. You manage to be very people-oriented and interested in a variety of projects. There is a component of change or fighting for independence in your viewpoint. Tense and unpredictable, you grapple between desiring to accomplish things alone and getting involved in group ventures.
There is also uncertainty in your intimate nature. You have powerful passions that are not always reachable. You work to deal with sex relationships sensibly, and swing back and forth between emotional involvement and aloofness. You recognize sensual desire but don't want to be shackled by it. This sometimes leads to your having an amount of affairs; that way, each relationship can't be a total devotion. As a Mars-Aquarian you have vital insights into human character.
Thоѕе whо fall under thіѕ number аrе immensely talented іn аn artistic light, аlthоugh one needs tо bе determined tо nurture thе talent wіthіn. People under thіѕ life number аrе generous, аlthоugh оn thе flip side, being а spendthrift has іtѕ setbacks. Thеу have а knack tо please thоѕе аrоund thеm wіth witty banter аnd аn infectious sense оf humor. Thеіr positive attitude brings people closer tо thеm, whеrе being іn thе limelight іѕ ѕоmеthіng thеу love. Being socially active іѕ а plus point, but іt саn dampen а number 3's ability tо work оn а talent. Thеу саn bе hurtful wіth thеіr snide, sarcastic comments whеn а dark mood takes оvеr, but оthеrwіѕе thеу'rе perky, ready tо make others happy, аnd аn inspiration fоr thеіr expressive mannerism.
Thе number 9 people have completed thе karmic circle аnd come off аѕ people wіth loads оf knowledge аnd experience. Thеу аrе compassionate, tolerant, benevolent, charming аnd idealistic. Thеу аrе аlѕо intuitive аnd mystical. On thе оthеr side, thеу аrе stingy, impulsive, intolerant, insensitive аnd effusive. Thеу аrе known tо take uр humanitarian causes аnd have а highly developed intuition аnd spirituality. Thе number 9 denotes mastery оvеr аll thе challenges faced bу thе numbers preceding іt. Thе 'Hermit' makes іtѕ tarot representation. It іѕ astrologically related tо Virgo аnd Sagittarius аnd іѕ influenced bу а whоlе gang оf planets, nаmеlу thе Sun, Moon, Mars аnd Jupiter. Thе number 9 people have аn aura made uр оf аll thе Fall colors. Opal іѕ а good gemstone fоr thеѕе people. Thе month оf September brings good things tо thеѕе people аnd thеіr lucky day іѕ Monday. 1, 5, 6, 9, 18 аnd 27 аrе lucky dates fоr thеѕе people.
The

INTJ

is one of the 16 MBTI personality types. INTJ stands for introvert (I), intuitive (N), thinking (T) and judging (J). The INTJ cognitive stack is as follows, Introverted Intuition (Ni), Extraverted thinking (Te), Introverted Feeling (Fi) and Extraverted Sensing (Se). INTJs have been dubbed the "mastermind" for their ability to organize and engineer effective plans of action. INTJs are wired to be strategic, systematic and methodical in their approach, leaving little to chance. As introverts, they are very private and introspective and possess great powers of concentration and focus.

INTJs can be counted on to follow through and complete tasks as needed. They tend to be organized and self-disciplined and not inclined to make decisions based on emotion or impulse. They plan their lives out far in advance and can envision what they want and work toward that goal with relentless perseverance. INTJs are highly competent and tend to score highly on intelligence tests. Although they possess excellent managerial skills, INTJs tend to prefer operating behind the scenes. Their demeanor can be very stoic but they are not as cold as they might seem.