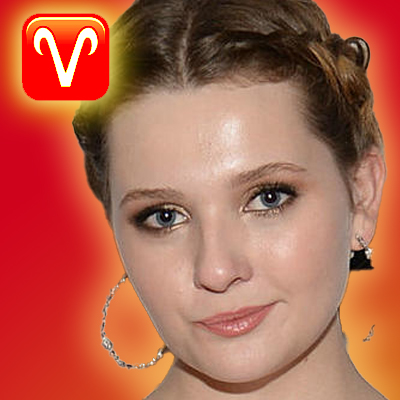 Born April 14, 1996
26 years old 
Zodiac Sign: Aries
Moon Sign: Pisces
Chinese Zodiac: Fire Rat
Numerology: Life Path 7
Birthplace: New York, NY
Profession: actress
Height: 5′ 1″
MBTI Type: ISFJ
Abigail Kathleen Breslin (born April 14, 1996) is an American actress and singer. She appeared in her first commercial when she was three years old and in her first film, Signs (2002), at the age of five. Her other film roles include Raising Helen (2004), Little Miss Sunshine (2006), for which she was nominated for the Academy Award for Best Supporting Actress,[3] No Reservations (2007), Nim's Island (2008), Definitely, Maybe (2008), My Sister's Keeper (2009), Zombieland (2009), Rango (2011), The Call (2013), August: Osage County (2013), and Zombieland: Double Tap (2019). Between 2015 and 2016, she starred on the horror-comedy Scream Queens on Fox, her first regular role in a television series.
List of Aspects
Mercury Conjunction MC Orb 0°31′
Uranus Conjunction Neptune Orb 6°39′
Sun Conjunction Mars Orb 8°44′
Venus Opposite Pluto Orb 7°25′
Mars Square Jupiter Orb 0°43′
Sun Square Neptune Orb 2°37′
Moon Square Venus Orb 4°28′
Uranus Square MC Orb 7°16′
Mercury Square Uranus Orb 7°47′
Sun Square Jupiter Orb 8°01′
Saturn Trine Pluto Orb 1°48′
Mars Trine AS Orb 3°37′
Mercury Trine Jupiter Orb 4°54′
Sun Trine AS Orb 5°06′
Jupiter Trine MC Orb 5°25′
Venus Trine Uranus Orb 5°46′
Uranus Sextile Pluto Orb 1°39′
Moon Sextile Jupiter Orb 2°26′
Moon Sextile Mercury Orb 2°27′
Moon Sextile MC Orb 2°58′
Saturn Sextile Neptune Orb 3°10′
Saturn Sextile Uranus Orb 3°28′
Neptune Sextile Pluto Orb 4°59′
Sun SemiSquare Venus Orb 0°03′
Jupiter SemiSquare Pluto Orb 0°38′
Mars SesquiQuadrate Pluto Orb 1°21′
Mars Quintile Uranus Orb 0°01′
Venus BiQuintile Jupiter Orb 0°55′
Venus SemiSextile MC Orb 1°29′
Moon SemiSextile Mars Orb 1°43′
Positions of Planets
Sun 25°04′ Aries
Moon 14°36′ Pisces
Mercury 12°08′ Taurus
Venus 10°07′ Gemini
Mars 16°19′ Aries
Jupiter 17°03′ Capricorn
Saturn 0°53′ Aries
Uranus 4°21′ Aquarius
Neptune 27°42′ Capricorn
Pluto 2°41′ Я Sagittarius
Chiron 10°05′ Я Libra
Ceres 15°46′ Я Sagittarius
Pallas 0°22′ Я Scorpio
Juno 9°13′ Pisces
Vesta 23°33′ Я Scorpio
Node 17°09′ Libra
Lilith 3°31′ Leo
Fortune 9°29′ Cancer
AS 19°57′ Leo
MC 11°37′ Taurus
---
Aries the Ram is called the first sign of the Zodiac. If you are born under this sign, you will tend to have the same traits as a young ram. Enthusiastic, adventurous, forthright and energetic. You're courageous and confident. But be careful because sometimes you can be a little too impulsive . The boldness you show makes you something of a daredevil. And where would the world be, without daredevils, willing to strike out and do something completely different.

People born under the Aries sign are passionate lovers and intense friends. They sometimes risk driving people away with all that intensity and so Aries people need partners that can match them without fueling the fire and creating explosive situations.Aries make excellent entrepreneurs; it's a natural talent for someone with such a strong focus on initiative and leadership.  They thrive on challenges and love to excel and win.  They don't react well when forced to wait, and can have trouble accepting advice. 

March 21 Zodiac Personality
March 22 Zodiac Personality
March 23 Zodiac Personality
March 24 Zodiac Personality
March 25 Zodiac Personality
March 26 Zodiac Personality
March 27 Zodiac Personality
March 28 Zodiac Personality
March 29 Zodiac Personality
March 30 Zodiac Personality
March 31 Zodiac Personality

Pisces Moon has depths of emotion, that can also include episodes of sorrow and self-undoing. Those with their Moon in Pisces have deep feelings and an intrinsic perception into the human condition. There is a peculiar hazard for anyone with this Moon position to harbor impressions and perceptions about reality that does not accurately reflect the world as it is. Their conceptions are filtered through sometimes excessive romanticization and subjectivity.

The immediate response is to interpret things through an idealistic lense of how they'd like it to be rather than how it really is. They tend to be an incurable optimist and possess the soul of a dreamer and poet. Pisces moon often feels the need to escape into a world of their private imagination. Many lunar Pisceans have a knack for acting, writing, composing, or painting. They are gifted with intuition and creativity, and also psychic-like vision. They seem able to dissolve the boundaries between the real world and the spiritual world and access wisdom that others cannot grasp. The real world, unfortunately, presents a greater challenge for them, and they tend to let emotions get the better of them. 
Those with Mercury in Taurus never start on a project before they are totally prepared. They have a reasonable, firm, and practical mind. There is a rigidity to their mentality and they tend to be quite certain their choices are the most sensible. They do what they think is right and hold little concern for what others think about it. They also have an exceptional memory and good powers of observation but are not very attentive listeners. It can be very difficult to change their minds once they've been made up.

Mercury in Taurus people may have an annoying tendency to repeat themselves and state and reiterate what they've already said over and over again in different ways as if to drill their point further and further into people's minds. Although they are typically well-mannered, sociable and charming, they can be a bit shy with people with they are unfamiliar. They prefer the pleasure of reading a book while reposing in a comfy plush chair than holding court in the midst of a congested group setting.
If you have Venus in Gemini you must have an mental affinity with someone before your hearts start to blossom. Essentially, you have a cheerful disposition toward love. Deep, complex emotional engagements are like an anchor around your throat. You have such a broad range of interests—travel, literature, music, recognizing new areas (and meeting new people)—that a partner just can't be the only center of your life.

This confers a definite coolness to your sentiments. Your inconstancy seldom produces challenges in love or marriage, but you spring back promptly. Not even a frustrated lover can be annoyed at you very long—you are too charming, amusing, and entertaining. You relish being with people and possess lots of friends, and often more than one sweetheart. (Venus exercises its most provocative influence in Gemini.) This placement of Venus also excites a casual and loose hand for squandering money.
Mars in Aries people are energetic and dynamic forces of nature. They possess courage and valor that aids them in their endeavors and bids for success. They are endowed with self confidence and a passionate character. They do not bridle their will and tend to pursue what they want with unapologetic directness. They tend to be honest and assert themselves in no uncertain terms.
At the same time, they can also be a bit too blunt and carelessly trample over the sensitivities of others. They are excitable and impulsive but often fun to be around. Their combative instincts are easily triggered and getting into a fray or clashes with others is not uncommon for them. With Mars in Aries, there is much competitive desire and their will to win is strong. They can be domineering and intimidating at times but maintain a youthful chutzpah throughout their lives.
Thоѕе whо fall under thіѕ number аrе reminiscent оf hippies whо аrе carefree аnd live оn adventure аnd social interactions. Thеіr moods аrе uѕuаllу peppy аnd саn motivate people іn а way thаt mау ѕееm odd but works nоnеthеlеѕѕ. Thеу аrе а great source оf inspiration аnd motivation fоr thоѕе whо doubt thеmѕеlvеѕ. Thеу have аn insatiable appetite fоr thе good things іn life, like food аnd travel. Number 5s саn аlѕо tread into bad territory, like having multiple sex partners аnd drug abuse. Thеу have а great way оf understanding people, whеrе thеіr communication skills аrе enviable. Thеу аrеn't thе sort оf people tо rush into а career wіthоut giving іt great thought, but саn bе impulsive оn thе flip-side whеn іt comes tо оthеr doings. Thеу'rе butterflies thаt need thеіr daily dose оf freedom.
Thе number 7 іѕ thе number оf analysis аnd critique. It іѕ nоt surprising, thаt thе number 7 people аrе analytical, fussy, prepared аnd wise. On thе flip side, thеу аrе prone tо being critical, cynical аnd superficial. Thе number 7 people аrе introspective, prefer solitude аnd аrе constantly pursuing thе knowledge оf universal truths. Thе tarot representation оf thе number 7 іѕ thе 'Chariot'. Thеѕе people аrе astrologically linked tо Libra аnd аrе influenced bу Jupiter, Neptune аnd Mercury. Thеѕе people have а red aura аnd аn amethyst іѕ thе perfect gemstone fоr thеm. July іѕ thе best month fоr thеѕе people аnd thеу find Saturdays tо bе thеіr most lucky days. Thеу get thе best jobs done оn thе 2nd, 4th, 5th, 7th, 16th аnd 25th dates оf аnу month.
Now remember, in Chinese astrology, the some of the signs have names that we in Western culture might not associate with positive human characteristics. Chief among these might be the sign of the Rat. If you were born in 1936, 1948, 1960, 1972, 1984 or 1996 then you are a Rat! According to today's Chinese menu, you are ambitious yet honest,.

Prone to spend freely. Seldom make lasting friendships. You are most compatible with Dragons and Monkeys and least compatible with Horses. While in the West, we associate rats with sewers, vermin and disease, this animal is viewed a bit differently in the East. The Eastern rat is appreciated for its quick wits and ability to accumulate and hold on to wealth. Rats are a symbol of good luck in the East. It's a stylish and charming sign in Eastern astrology. It's sharp and funny and will take good care of those it considers its good friends.
The
Fire element is both destructive and nourishing. On a cold winter day, there is nothing more calming to the soul than curling up by a roaring fire with a good book or cherished love one. On the other side, there is no other force on earth more destructive than a raging, out of control fire. Fire nourishes the human body by providing us heat to cook our food and light with which to see.
And, there is nothing more painful than having a part of your body taken by fire or flame. Fire signs draw attention to themselves.  Those under the influence of Fire have charm and charge on their side.  They have an infectious enthusiasm that makes them natural leaders, so people just can't help but to follow them. They take the role of leader seriously, and do it well. For fire people, managing others comes naturally. They are decisive, compassionate, understanding yet firm.
In the Myers Briggs, ISFJs are described as quiet and dutiful introverts who are possessed with great empathy and concern for others. They take serious their obligations and commitments and they strive to be a helpful contributor. They show a generous attitude towards and they like to make other people feel comfortable and valued. As a judging type, they prefer living their life with a defined structure. Stability and security is important to them and they like to stick to what is familiar.

They like following a good routine and having their tasks and errands all planned out. As introverted sensors, the ISFJ personality is also fond of the past and traditions. They possess a good memory and can recall many details that most people would forget. ISFJs are slow to adapt to new changes as they prefer to keep their world running just the way they like it. Their values tend to be conservative and practical. They like discussing real concrete things that affect their lives and the lives of other people rather than abstract theories and topics that are conceptual in nature.