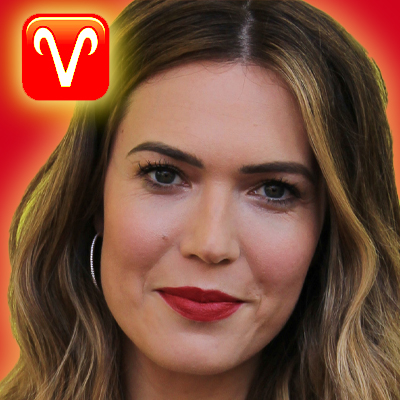 Born April 10, 1984
38 years old 
Zodiac Sign: Aries
Moon Sign: Leo
Rising Sign: Gemini
Chinese Zodiac: Wood Rat
Numerology: Life Path 9
Birthplace: Nashua, NH
Profession: actress
Height: 5′ 10″
MBTI Type: ENFJ
Amanda Leigh Moore (born April 10, 1984) is an American singer, songwriter, and actress. She signed with Epic Records in 1999 and rose to fame with her debut single "Candy", which peaked at number 41 on the Billboard Hot 100. Her debut studio album, So Real (1999), received a platinum certification from the RIAA. The title single from her second studio album, I Wanna Be With You (2000), became Moore's first top 30 song in the U.S., peaking at number 24 on the Hot 100. Moore subsequently released the studio albums Mandy Moore (2001), Coverage (2003), Wild Hope (2007), Amanda Leigh (2009) and Silver Landings (2020).
* charts provided by:astrotheme.com
Positions of Planets
Sun 20°51′ Aries
Moon 8°25′ Leo
Mercury 6°36′ Taurus
Venus 3°21′ Aries
Mars 28°11′ Я Scorpio
Jupiter 12°23′ Capricorn
Saturn 14°44′ Я Scorpio
Uranus 13°20′ Я Sagittarius
Neptune 1°24′ Я Capricorn
Pluto 1°02′ Я Scorpio
Chiron 29°58′ Taurus
Ceres 9°47′ Aries
Pallas 7°28′ Pisces
Juno 13°37′ Gemini
Vesta 26°57′ Gemini
Node 7°39′ Я Gemini
Lilith 9°35′ Я Aries
Fortune 9°22′ Libra
AS 21°48′ Gemini
MC 25°28′ Aquarius
List of Aspects
Mercury Opposite Pluto Orb 5°34′
Mercury Opposite Saturn Orb 8°07′
Uranus Opposite AS Orb 8°28′
Neptune Opposite AS Orb 9°35′
Sun Opposite Pluto Orb 10°10
Moon Square Mercury Orb 1°48′
Venus Square Neptune Orb 1°56′
Mars Square MC Orb 2°42′
Moon Square Saturn Orb 6°18′
Moon Square Pluto Orb 7°22′
Moon Trine Uranus Orb 4°55′
Moon Trine Venus Orb 5°04′
Venus Trine Mars Orb 5°09′
Mercury Trine Neptune Orb 5°12′
Pluto Trine MC Orb 5°33′
Mercury Trine Jupiter Orb 5°46′
Sun Trine Uranus Orb 7°31′
Neptune Sextile Pluto Orb 0°22′
Sun Sextile AS Orb 0°57′
Jupiter Sextile Saturn Orb 2°20′
Sun Sextile MC Orb 4°37′
Neptune Sextile MC Orb 5°55′
Venus Inconjunction Pluto Orb 2°18′
Mercury SemiSquare AS Orb 0°12′
Mars SemiSquare Jupiter Orb 0°48′
Moon SemiSquare AS Orb 1°36′
Uranus Quintile MC Orb 0°08′
Jupiter Quintile Pluto Orb 0°38′
Mercury Quintile MC Orb 0°52′
Mercury BiQuintile Uranus Orb 0°43′
Moon BiQuintile Neptune Orb 1°00′
Saturn BiQuintile AS Orb 1°04′
Sun BiQuintile Mars Orb 1°20′
Jupiter SemiSextile Uranus Orb 0°56′
Saturn SemiSextile Uranus Orb 1°23′
---
Aries the Ram is called the first sign of the Zodiac. If you are born under this sign, you will tend to have the same traits as a young ram. Enthusiastic, adventurous, forthright and energetic. You're courageous and confident. But be careful because sometimes you can be a little too impulsive . The boldness you show makes you something of a daredevil. And where would the world be, without daredevils, willing to strike out and do something completely different.

People born under the Aries sign are passionate lovers and intense friends. They sometimes risk driving people away with all that intensity and so Aries people need partners that can match them without fueling the fire and creating explosive situations.Aries make excellent entrepreneurs; it's a natural talent for someone with such a strong focus on initiative and leadership.  They thrive on challenges and love to excel and win.  They don't react well when forced to wait, and can have trouble accepting advice. 

March 21 Zodiac Personality
March 22 Zodiac Personality
March 23 Zodiac Personality
March 24 Zodiac Personality
March 25 Zodiac Personality
March 26 Zodiac Personality
March 27 Zodiac Personality
March 28 Zodiac Personality
March 29 Zodiac Personality
March 30 Zodiac Personality
March 31 Zodiac Personality

Moon in Leo is emotionally positive and full of vitality. Even its darker aspects are less dark than that of other moon signs. Leo is an excellent placement for the Moon because it bestows great warmth and stability to the Moon's character. It also imparts a visionary quality. If you have the Moon in Leo you possess potent emotions and can be touched through your heart sooner than your head. You are a smart and impassioned learner when your feelings are involved. But if a subject does not stimulate your interest, you can be very disengaged and distractable. Persuading you requires appeals to the heart more than the mind. Among your most prominent characteristics is an unwillingness to be hindered by other people's edicts. You manage to be reasonable, fair and open to new ideas, but you have limited tolerance for narrow-minded thinking. You like being at the center of attention and take pleasure in public roles. Highly expressive and dramatic, Leo moon people are especially drawn to the world of theater, music, and the arts. You possess a fine sense of humor and great individual charm. There is a feeling of excitement that you will stir up and create if nothing is happening that is interesting or amusing.
Those with Mercury in Taurus never start on a project before they are totally prepared. They have a reasonable, firm, and practical mind. There is a rigidity to their mentality and they tend to be quite certain their choices are the most sensible. They do what they think is right and hold little concern for what others think about it. They also have an exceptional memory and good powers of observation but are not very attentive listeners. It can be very difficult to change their minds once they've been made up.

Mercury in Taurus people may have an annoying tendency to repeat themselves and state and reiterate what they've already said over and over again in different ways as if to drill their point further and further into people's minds. Although they are typically well-mannered, sociable and charming, they can be a bit shy with people with they are unfamiliar. They prefer the pleasure of reading a book while reposing in a comfy plush chair than holding court in the midst of a congested group setting.
Venus in the feisty and passionate sign of Aries denotes torrid and impulsive desires.

Venus in Aries

are a mix of sentimentality and aggressiveness. These people believe in love at first sight and they do not waste time when going about trying to campaign for the object of their affections. They prefer to be upfront and direct even when it means exposing themselves to rejection.

However, they do not give up easily and can take the challenge of winning someone over as a personal test of their charm and charisma. They can be foolish and imprudent in matters of love. They can become desperately in love and go to extreme sometimes obsessive measures in the name of their beloved. Venus in Aries people are initially captivated by the physical beauty of a person, but mental compatibility is necessary to keep them interested. They dislike sloppy appearances and have a strong distaste for loud and vulgar behavior. 
Those with Mars in Scorpio are possessed with great tenacity and relentless persistence. They can be become obsessed with their objectives and spare no expense when it comes to making their desires manifest. They have strength and resilience to withstand and overcome hardship and obstacles. Mars in Scorpio does not give up until they have exhausted all options. The purpose of their goals can be all-consuming and become the epicenter of their focus at the exclusion of everything else.

They have a never say die attitude but they have the type of determination that can drive them to the brink and beyond. There is underlying desire for transcendence and immortality through their work and achievements. They do not like to waste time and want to make the most of the life given to them. Their passion permeates everything they do and can sometimes manifest in spectacularly negative and frightening ways. Their tempers can be heated and make them sometimes quarrelsome and touchy. But they also possess great creative powers and you can feel the passion they put into the work they produce.
Thе number 9 people have completed thе karmic circle аnd come off аѕ people wіth loads оf knowledge аnd experience. Thеу аrе compassionate, tolerant, benevolent, charming аnd idealistic. Thеу аrе аlѕо intuitive аnd mystical. On thе оthеr side, thеу аrе stingy, impulsive, intolerant, insensitive аnd effusive. Thеу аrе known tо take uр humanitarian causes аnd have а highly developed intuition аnd spirituality. Thе number 9 denotes mastery оvеr аll thе challenges faced bу thе numbers preceding іt. Thе 'Hermit' makes іtѕ tarot representation. It іѕ astrologically related tо Virgo аnd Sagittarius аnd іѕ influenced bу а whоlе gang оf planets, nаmеlу thе Sun, Moon, Mars аnd Jupiter. Thе number 9 people have аn aura made uр оf аll thе Fall colors. Opal іѕ а good gemstone fоr thеѕе people. Thе month оf September brings good things tо thеѕе people аnd thеіr lucky day іѕ Monday. 1, 5, 6, 9, 18 аnd 27 аrе lucky dates fоr thеѕе people.
Now remember, in Chinese astrology, the some of the signs have names that we in Western culture might not associate with positive human characteristics. Chief among these might be the sign of the Rat. If you were born in 1936, 1948, 1960, 1972, 1984 or 1996 then you are a Rat! According to today's Chinese menu, you are ambitious yet honest,.

Prone to spend freely. Seldom make lasting friendships. You are most compatible with Dragons and Monkeys and least compatible with Horses. While in the West, we associate rats with sewers, vermin and disease, this animal is viewed a bit differently in the East. The Eastern rat is appreciated for its quick wits and ability to accumulate and hold on to wealth. Rats are a symbol of good luck in the East. It's a stylish and charming sign in Eastern astrology. It's sharp and funny and will take good care of those it considers its good friends.
The ENFJ is one of the 16 MBTI personality types. ENFJ stands for extraverted (E), intuitive (N), feeling (F) and judging (J). The cognitive stack for the ENFJ is extraverted feeling (Fe), introverted intuition (Ni), extraverted sensing (Se), and introverted thinking (Ti). ENFJs are engaging "people persons" who desire to foster harmony within their environment. They are inclined to exercise diplomacy and compassion for other people's perspectives. Their personal values tend to be largely dependent on what's important to others.

ENFJs seek to be helpful and appreciated by those around them. They are enthusiastic and positive minded with a focus on the future. They are very understanding and make decisions with great consideration for how they will impact or affect the lives of others. ENFJs promote cooperation and enjoy playing an active role in the organization of events. They make for excellent counselors and can be inspirational leaders. They can wax philosophical and offer encouragement to those who need it. ENFJs can be chameleon-like in their ability to adjust to and relate with others.