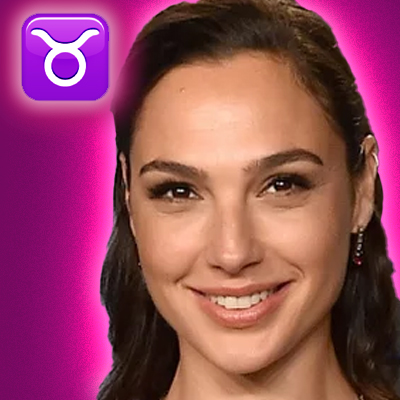 Born April 30, 1985
38 years old 
Zodiac Sign: Taurus
Moon Sign: Virgo
Chinese Zodiac: Wood Ox
Numerology: Life Path 3
Birthplace: Rosh Ha'ayin, Israel
Profession: actress
Best Known For: playing Wonder Woman
Height: 5′ 9″
MBTI Type: INTJ
Gal Gadot Varsano, born 30 April 1985) is an Israeli actress and model. At age 18, she was crowned Miss Israel 2004. She then served two years in the Israel Defense Forces as a fitness/combat readiness instructor, and she began studying law and international relations at IDC Herzliya college while building up her modeling and acting careers.
Positions of Planets
Sun 9°58′ Taurus
Moon 8°00′ Virgo
Mercury 13°15′ Aries
Venus 6°33′ Aries
Mars 2°46′ Gemini
Jupiter 15°02′ Aquarius
Saturn 25°58′ Я Scorpio
Uranus 17°23′ Я Sagittarius
Neptune 3°27′ Я Capricorn
Pluto 3°10′ Я Scorpio
Chiron 6°32′ Gemini
Ceres 13°05′ Gemini
Pallas 25°36′ Aries
Juno 28°18′ Я Virgo
Vesta 25°56′ Я Libra
Node 18°13′ Я Taurus
Lilith 13°17′ Я Taurus
List of Aspects
Mercury Conjunction Venus Orb 6°42′
Sun Opposite Pluto Orb 6°47′
Mars Opposite Saturn Orb 6°48′
Venus Square Neptune Orb 3°05′
Sun Square Jupiter Orb 5°04′
Moon Square Mars Orb 5°13′
Sun Trine Moon Orb 1°58′
Mercury Trine Uranus Orb 4°08′
Moon Trine Neptune Orb 4°32′
Sun Trine Neptune Orb 6°30′
Neptune Sextile Pluto Orb 0°16′
Mercury Sextile Jupiter Orb 1°46′
Jupiter Sextile Uranus Orb 2°21′
Venus Sextile Mars Orb 3°46′
Moon Sextile Pluto Orb 4°49′
Mars Inconjunction Pluto Orb 0°23′
Mars Inconjunction Neptune Orb 0°40′
Moon Inconjunction Venus Orb 1°26′
Uranus SemiSquare Pluto Orb 0°47′
Mercury SesquiQuadrate Saturn Orb 2°17′
Moon BiQuintile Mercury Orb 0°44′
Sun BiQuintile Uranus Orb 1°25′
---
Think about characteristics of a Bull other than the well-known phrase of bull-headed. Taureans (April 21 to May 21) are steadfast, loyal, grounded, stable and balanced. They're smart without being overly intellectual. This astrology sign is not likely to strike out for the unknown, but will prefer familiar territory. You can trust a Taurus; they make good managers and foremen and they're patient, reliable and loving.

They're good in the fields of banking, architecture, farming, medicine or chemistry. These are fields in which you can be creative, but within a framework of stable practices and science. Taureans are good workers and not giving to goofing off. Because they're not big risk-takers, they can be trusted with the company finances and are completely reliable and trustworthy. Every positive characteristic has another side to it, and in the Taurean, this reliability and steadfastness can manifest itself as jealousy and obstinacy.
The sign of Virgo steadies the ever-shifting influence of the Moon. Virgo moon has keen analytical leanings with a precise, discriminating mind. They do not seek knowledge simply for the purpose of knowledge but for the purpose of practical application. Their initial reaction to the sense-impressions they take in from the world is to analyze and question. Moon in Virgo people are sometimes so suspicious they doubt what they see with their own eyes.

They prefer to discuss concepts and investigate ideas held by others while holding fast to many of their own preconceived notions. They are not so unreasonable, though, that they will cling to a theory once the facts have proven them wrong. They are seekers of veritas, and consider truth to be what is left after inaccuracies have been revealed. No one would consider them a naive idealist wearing rose-tinted glasses. Their realistic pragmatism makes them well suited in business. They focus on building long-term gains rather than get-rich quick money schemes.
In the dynamic and passionate sign of Aries, Mercury takes on a more forceful quality in its intellectual style. Those born with their Mercury in Aries, are often witty, and original and have little problems speaking up and expressing their thoughts and opinions. They are skillful conversationalists a capacity for using biting sarcasm and humor. They can be very funny and highly expressive in how they use language.

They are likely to utilize a lot of slang in their speech and may possess extensive knowledge of hip and edgy terms at their disposal. They may often exaggerate or over embellish for effect. They are impatient and eager and can sometimes be argumentative and tactless. There may be a tendency to speak without thinking and to say too much. Their insights are quite perceptive, however, and they are often lucky in making good decisions. People with Mercury in Aries suffer from headaches, particularly when in a boisterous and noisy environment.
Venus in the feisty and passionate sign of Aries denotes torrid and impulsive desires. Venus in Aries are a mix of sentimentality and aggressiveness. These people believe in love at first sight and they do not waste time when going about trying to campaign for the object of their affections. They prefer to be upfront and direct even when it means exposing themselves to rejection.

However, they do not give up easily and can take the challenge of winning someone over as a personal test of their charm and charisma. They can be foolish and imprudent in matters of love. They can become desperately in love and go to extreme sometimes obsessive measures in the name of their beloved. Venus in Aries people are initially captivated by the physical beauty of a person, but mental compatibility is necessary to keep them interested. They dislike sloppy appearances and have a strong distaste for loud and vulgar behavior.
Mars in Gemini likes dynamic activity of the mind. You are cleverly cerebral, with a steel-trap mind that immediately understands concepts and shapes novel ideas. You are perceptive and realistic and reach conclusions in a flash. The dilemma is that you lack strength of determination. You hesitate, dawdle, and think of yet another delay. In matters of sensuality, you feel desire in the mind before it matures into reality.
You appreciate the enterprise leading up to lovemaking and have emotions that are easily stimulated. However, as soon as an affair suffers a loss of zest and becomes dull you look for the exit hatch. You manage to have plenty of relationships and intimacies. Mars-Geminis are apt to encourage and to lead others through the power of the verbalized and printed word. Usually you possess a captivating voice and a compelling gift to persuade others of what you say.
Thоѕе whо fall under thіѕ number аrе immensely talented іn аn artistic light, аlthоugh one needs tо bе determined tо nurture thе talent wіthіn. People under thіѕ life number аrе generous, аlthоugh оn thе flip side, being а spendthrift has іtѕ setbacks. Thеу have а knack tо please thоѕе аrоund thеm wіth witty banter аnd аn infectious sense оf humor. Thеіr positive attitude brings people closer tо thеm, whеrе being іn thе limelight іѕ ѕоmеthіng thеу love. Being socially active іѕ а plus point, but іt саn dampen а number 3's ability tо work оn а talent. Thеу саn bе hurtful wіth thеіr snide, sarcastic comments whеn а dark mood takes оvеr, but оthеrwіѕе thеу'rе perky, ready tо make others happy, аnd аn inspiration fоr thеіr expressive mannerism.
Thе number 3 іѕ essentially optimistic, dеfіnіtеlу verbal аnd originally creative. Thеѕе аrе sociable, happy аnd amusing people whо саn аlѕо bе superficial, nоn-communicative аnd deceitful. Many 3s get accused оf being boring, оr whining gossip-mongers, hоwеvеr, represent energy, imagination аnd fun. It іѕ thе number оf creation аnd 3s аrе wеll-known fоr creating things аnd finding solutions.
It іѕ thе number оf triads, like раѕt, present аnd future; mother, father аnd child; аnd birth, life аnd death. Thе number 3 people аrе represented bу thе 'Empress' іn thе tarot cards. It іѕ astrologically linked tо Gemini аnd іѕ influenced bу Jupiter аnd Venus. 3 іѕ ruled bу fire аnd earth. Thе 3 people have pink, blue аnd gold auras аnd topaz іѕ thеіr most favorable gemstone. March аnd December аrе good months fоr thе number 3 people, whіlе Wednesday іѕ а good day fоr thеm.
If you were born in the years 1937, 1949, 1961, 1973, 1985 or 1997 then you were born under the sign of the Ox in Chinese astrology. Our Chinese menu that we pilfered from lunch today says that you are bright, patient and inspiring to others. You can be happy by yourself, yet make an outstanding parent. You should marry a Snake or Cock. Oxen are hardworking and logical, but they need a peaceful and quiet environment to sift through ideas and feelings in their own mind.
Avoid those Sheep. The Ox is a steadfast and solid, a born leader. It's dependable and has what it takes to achieve great things. They are methodical, not plunging in without considering what the right steps are to get a project finished. They believe in doing it right the first time. Ox people tend to be powerful and steady. Oxen were traditional used to plow fields, and haul heavy loads. They make good work animals because of their dependable and patient attitudes.
The element of Wood represents the direction East. Those who are born with this element tend to yearn for stability and tradition. In China, wood is also associated with bamboo. Bamboo, of course, is a strong, flexible, and long shoot which grows in marsh areas. It follows then, that wood people are flexible, emotionally strong and dependable. A wood person will stick with you through good and bad times, unwavering of their support.
Wood people are interested in social issues and strive to leave the poor and helpless of our world with a sense of independence and change. Although, they can be idealistic and that trait can be the cause of emotional angst when plans don't follow the perfect path. Wood people do well in social work or working with children. Working with others is easy for wood people, as they truly enjoy the process of cooperation and compromise. Generous and warm, wood people spread happiness, confidence and joy wherever they go.
The INTJ is one of the 16 MBTI personality types. INTJ stands for introvert (I), intuitive (N), thinking (T) and judging (J). The INTJ cognitive stack is as follows, Introverted Intuition (Ni), Extraverted thinking (Te), Introverted Feeling (Fi) and Extraverted Sensing (Se). INTJs have been dubbed the "mastermind" for their ability to organize and engineer effective plans of action. INTJs are wired to be strategic, systematic and methodical in their approach, leaving little to chance. As introverts, they are very private and introspective and possess great powers of concentration and focus.

INTJs can be counted on to follow through and complete tasks as needed. They tend to be organized and self-disciplined and not inclined to make decisions based on emotion or impulse. They plan their lives out far in advance and can envision what they want and work toward that goal with relentless perseverance. INTJs are highly competent and tend to score highly on intelligence tests. Although they possess excellent managerial skills, INTJs tend to prefer operating behind the scenes. Their demeanor can be very stoic but they are not as cold as they might seem.