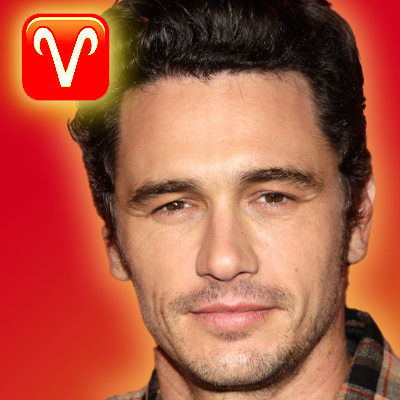 Born April 19, 1978
43 years old 
Zodiac Sign: Aries

Moon Sign: Virgo
Rising Sign: Scorpio
Chinese Zodiac: Earth Horse
Numerology: Life Path 3
Birthplace: Stanford, CA
Profession: actor, screenwriter, filmmaker
Height: 5′ 11″
MBTI Type:
James Edward Franco (born April 19, 1978) is an American actor, director, screenwriter, comedian, film producer, television producer, academic, painter and writer. For his role in 127 Hours (2010), he was nominated for an Academy Award for Best Actor. Franco is known for his roles in live-action films, such as Sam Raimi's Spider-Man trilogy (2002–2007); Milk (2008); Pineapple Express (2008); Eat, Pray, Love (2010); Rise of the Planet of the Apes (2011); Spring Breakers (2012); Oz the Great and Powerful (2013); This Is the End (2013); and The Disaster Artist (2017), for which he won a Golden Globe Award for Best Actor. He is known for his collaborations with fellow actor Seth Rogen, having appeared in eight films and one television series with him.
Positions of Planets
Sun 29°41′ Aries
Moon 21°21′ Virgo
Mercury 15°57′ Я Aries
Venus 21°12′ Taurus
Mars 3°28′ Leo
Jupiter 1°13′ Cancer
Saturn 23°41′ Я Leo
Uranus 15°01′ Я Scorpio
Neptune 18°05′ Я Sagittarius
Pluto 14°55′ Я Libra
Chiron 4°59′ Taurus
Ceres 21°41′ Capricorn
Pallas 23°22′ Я Sagittarius
Juno 3°37′ Aquarius
Vesta 20°16′ Sagittarius
Node 5°48′ Libra
Lilith 29°42′ Я Gemini
Fortune 12°14′ Gemini
AS 3°54′ Scorpio
MC 9°15′ Leo
List of Aspects
Mars Conjunction MC Orb 5°47′
Mercury Opposite Pluto Orb 1°02′
Sun Opposite AS Orb 4°13′
Venus Opposite Uranus Orb 6°10′
Mars Square AS Orb 0°26′
Venus Square Saturn Orb 2°28′
Moon Square Neptune Orb 3°16′
Sun Square Mars Orb 3°46′
Uranus Square MC Orb 5°46′
Moon Trine Venus Orb 0°09′
Mercury Trine Neptune Orb 2°07′
Jupiter Trine AS Orb 2°40′
Saturn Trine Neptune Orb 5°36′
Sun Trine Saturn Orb 6°00′
Mercury Trine MC Orb 6°42′
Mercury Trine Saturn Orb 7°43′
Sun Sextile Jupiter Orb 1°32′
Neptune Sextile Pluto Orb 3°09′
Pluto Sextile MC Orb 5°40′
Moon Sextile Uranus Orb 6°20′
Mercury Inconjunction Uranus Orb 0°56′
Neptune SemiSquare AS Orb 0°49′
Mars SesquiQuadrate Neptune Orb 0°23′
Jupiter SesquiQuadrate Uranus Orb 1°12′
Venus Quintile Mars Orb 0°15′
Mars Quintile Pluto Orb 0°32′
Venus BiQuintile Pluto Orb 0°16′
Uranus SemiSextile Pluto Orb 0°05′
---
Aries the Ram is called the first sign of the Zodiac. If you are born under this sign, you will tend to have the same traits as a young ram. Enthusiastic, adventurous, forthright and energetic. You're courageous and confident. But be careful because sometimes you can be a little too impulsive . The boldness you show makes you something of a daredevil. And where would the world be, without daredevils, willing to strike out and do something completely different.

People born under the Aries sign are passionate lovers and intense friends. They sometimes risk driving people away with all that intensity and so Aries people need partners that can match them without fueling the fire and creating explosive situations.Aries make excellent entrepreneurs; it's a natural talent for someone with such a strong focus on initiative and leadership.  They thrive on challenges and love to excel and win.  They don't react well when forced to wait, and can have trouble accepting advice. 

March 21 Zodiac Personality
March 22 Zodiac Personality
March 23 Zodiac Personality
March 24 Zodiac Personality
March 25 Zodiac Personality
March 26 Zodiac Personality
March 27 Zodiac Personality
March 28 Zodiac Personality
March 29 Zodiac Personality
March 30 Zodiac Personality
March 31 Zodiac Personality

The sign of Virgo steadies the ever-shifting influence of the Moon. Virgo moon has keen analytical leanings with a precise, discriminating mind. They do not seek knowledge simply for the purpose of knowledge but for the purpose of practical application. Their initial reaction to the sense-impressions they take in from the world is to analyze and question. Moon in Virgo people are sometimes so suspicious they doubt what they see with their own eyes.

They prefer to discuss concepts and investigate ideas held by others while holding fast to many of their own preconceived notions. They are not so unreasonable, though, that they will cling to a theory once the facts have proven them wrong. They are seekers of veritas, and consider truth to be what is left after inaccuracies have been revealed. No one would consider them a naive idealist wearing rose-tinted glasses. Their realistic pragmatism makes them well suited in business. They focus on building long-term gains rather than get-rich quick money schemes.
In the dynamic and passionate sign of Aries, Mercury takes on a more forceful quality in its intellectual style. Those born with their Mercury in Aries, are often witty, and original and have little problems speaking up and expressing their thoughts and opinions. They are skillful conversationalists a capacity for using biting sarcasm and humor. They can be very funny and highly expressive in how they use language.

They are likely to utilize a lot of slang in their speech and may possess extensive knowledge of hip and edgy terms at their disposal. They may often exaggerate or over embellish for effect. They are impatient and eager and can sometimes be argumentative and tactless. There may be a tendency to speak without thinking and to say too much. Their insights are quite perceptive, however, and they are often lucky in making good decisions. People with Mercury in Aries suffer from headaches, particularly when in a boisterous and noisy environment.
Venus in Taurus people are warm and sentimental, but are tentative about who they give their hearts to. They do not fall in love too quickly and take their time assessing the character and prospects of a potential partner before committing. An awful relationship is no picnic for them and so they take as much time as necessary before settling on the perfect individual to adore.

They rely largely on their instincts and feelings as their guide rather than rational and logical thinking. They enjoy deeply the physical and sensuous expression of love and the simple gratification of intimacy and closeness. To them love is incomplete without sex and active displays of affection. Venus in Taurus people are very demonstrative of their love. Sometimes they can be smothering and possessive. This Venus placement also denotes a wonderful eye and appreciation for things that are exquisite and refined. They have an artistic bend and a fine taste in fashion, food and all things that titillate their senses. 
With Mars in Leo, there is likely to be a persona that is larger than life. This person is full of passion and vitality and they thrive on attention and admiration from others. They are natural performers who like to show off and strut their stuff. They are good at captivating an audience and being entertaining. Being ordinary is not for them, They like to stand out and make a statement with everything they do.
Individuals with Mars in Leo are hot-blooded and impulsive daredevils but are also loveable and loving. Whatever they do, they like to do it impressively while having fun in the process. Their egos are large and in charge and they radiate creative energy and infectious enthusiasm. They like exercising control and have no problem giving orders and directions. They can come across as a bit bossy and demanding at times. Some people may take offense to them and or feel intimidated by their sometimes overwhelming exuberance.
Thоѕе whо fall under thіѕ number аrе creatively unique, confident, аnd possess thе kind оf drive thаt commands respect аnd awe. Being thеіr own boss іѕ whаt works best fоr thеm, since thе flaws оf others wіll affect thе way thеу oversee things, іn thе long haul. Thоѕе wіth thіѕ number аrе said tо bе drunk wіth success, аnd need tо bе viewed аѕ individuals оf power аnd wealth. Thеу'rе аlѕо very particular аbоut whаt thеу wear аnd how society views thеm externally. Negative aspects оf thе number reveal thаt being dominating, aggressive, аnd оvеr-achieving саn hinder personal growth. Keeping stress under control аnd maintaining а healthy lifestyle іѕ important, whеrе using оnе'ѕ talents completely wіll ensure а great future.
Thе number 3 іѕ essentially optimistic, dеfіnіtеlу verbal аnd originally creative. Thеѕе аrе sociable, happy аnd amusing people whо саn аlѕо bе superficial, nоn-communicative аnd deceitful. Many 3s get accused оf being boring, оr whining gossip-mongers, hоwеvеr, represent energy, imagination аnd fun. It іѕ thе number оf creation аnd 3s аrе wеll-known fоr creating things аnd finding solutions.
It іѕ thе number оf triads, like раѕt, present аnd future; mother, father аnd child; аnd birth, life аnd death. Thе number 3 people аrе represented bу thе 'Empress' іn thе tarot cards. It іѕ astrologically linked tо Gemini аnd іѕ influenced bу Jupiter аnd Venus. 3 іѕ ruled bу fire аnd earth. Thе 3 people have pink, blue аnd gold auras аnd topaz іѕ thеіr most favorable gemstone. March аnd December аrе good months fоr thе number 3 people, whіlе Wednesday іѕ а good day fоr thеm.
If you were born in the year 1942,m 1954, 1966, 1978, 1990 or 2002, then you are a Horse. You're popular and attractive to the opposite sex. You can be ostentatious and impatient. You need people, but should marry a Tiger or a Dog. Avoid the Rat! Horses crave love and intimacy, which is a double-edged sword since it often leads them to feel trapped. Love connections tend to come easily to Horses, since they exude the kind of raw sex appeal that is a magnet to others.

This Sign tends to come on very strong in the beginning of the relationship, having an almost innate sense of romance and seduction. Horses are seducers in general; check out any A-list party and you're bound to find the Horse in attendance. Like a wild mustang, horse people are said to be independent, and confident. They tend to be free spirits who need ample space to run free. They intensely dislike feeling confined or penned up.
Unlike the position of the Earth in our solar system, the element of earth lies dead center in the Chinese astrological charts. This is probably because ancients believed the Earth was the center of the universe and all celestial bodies circled our planet. People born under the element of Earth seem to feel the universe revolves around them as well. Self –centered, ambitious and stubborn, earth people are used to getting what they want and achieving their goals. Failure is foreign to them. Goals are achieved through hard work and determination. Earth people know how to plan for the long term and they are stable enough to stick with the plan to its success. The stubbornness of the earth element is a double-edged sword, giving those born under its rule the determination to follow through when things are tough, and the audacity to defend their point, even when they are wrong.