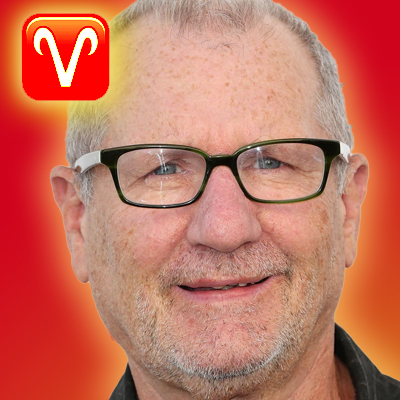 Born April 12, 1946
76 years old 
Zodiac Sign: Aries

Moon Sign: Virgo
Chinese Zodiac: Fire Dog
Numerology: Life Path 9
Birthplace: Youngstown, OH
Profession: actor
Best Known For: Modern Family, Married with Children
Height: 6′ 1″
MBTI Type: ISTP
Edward Leonard O'Neill (born April 12, 1946) is an American actor and comedian. His roles include Al Bundy on the Fox Network sitcom Married… with Children, for which he was nominated for two Golden Globes, and Jay Pritchett on the award-winning ABC sitcom Modern Family, a role for which he has been nominated for three Primetime Emmy Awards and won four Screen Actors Guild Awards, all for being part of a best Ensemble in a Comedy Series. He has also appeared in the Wayne's World film series, Little Giants, Prefontaine, The Bone Collector and Sun Dogs, and has done voice-work for the Wreck It Ralph franchise and Finding Dory.
* charts provided by:astrotheme.com
List of Aspects
Mars Conjunction Saturn Orb 7°27′
Sun Opposite Jupiter Orb 0°04′
Mercury Opposite Neptune Orb 8°30′
Moon Square Uranus Orb 0°12′
Venus Square Pluto Orb 0°28′
Sun Square Mars Orb 3°21′
Mars Square Jupiter Orb 3°26′
Jupiter Square Saturn Orb 4°00′
Sun Square Saturn Orb 4°05′
Saturn Trine AS Orb 1°33′
Mercury Trine Mars Orb 2°24′
Moon Trine Venus Orb 4°24′
Mars Trine AS Orb 5°53′
Uranus Trine Neptune Orb 7°42′
Jupiter Trine Uranus Orb 7°56′
Venus Trine MC Orb 8°08′
Neptune Sextile Pluto Orb 2°37′
Moon Sextile Saturn Orb 4°08′
Uranus Sextile Pluto Orb 5°05′
Moon Sextile AS Orb 5°41′
Sun Inconjunction AS Orb 2°31′
Jupiter Quintile Pluto Orb 1°01′
Mars Quintile Neptune Orb 1°05′
Positions of Planets
Sun 22°33′ Aries
Moon 14°20′ Virgo
Mercury 28°20′ Pisces
Venus 9°56′ Taurus
Mars 25°55′ Cancer
Jupiter 22°29′ Я Libra
Saturn 18°28′ Cancer
Uranus 14°32′ Gemini
Neptune 6°50′ Я Libra
Pluto 9°27′ Я Leo
Chiron 17°48′ Я Libra
Ceres 5°31′ Aquarius
Pallas 15°09′ Capricorn
Juno 22°27′ Я Libra
Vesta 3°25′ Pisces
Node 22°50′ Я Gemini
Lilith 13°05′ Scorpio
Fortune 28°15′ Gemini
AS 20°02′ Scorpio
MC 1°47′ Virgo
---
Aries the Ram is called the first sign of the Zodiac. If you are born under this sign, you will tend to have the same traits as a young ram. Enthusiastic, adventurous, forthright and energetic. You're courageous and confident. But be careful because sometimes you can be a little too impulsive . The boldness you show makes you something of a daredevil. And where would the world be, without daredevils, willing to strike out and do something completely different.

People born under the Aries sign are passionate lovers and intense friends. They sometimes risk driving people away with all that intensity and so Aries people need partners that can match them without fueling the fire and creating explosive situations.Aries make excellent entrepreneurs; it's a natural talent for someone with such a strong focus on initiative and leadership.  They thrive on challenges and love to excel and win.  They don't react well when forced to wait, and can have trouble accepting advice. 

March 21 Zodiac Personality
March 22 Zodiac Personality
March 23 Zodiac Personality
March 24 Zodiac Personality
March 25 Zodiac Personality
March 26 Zodiac Personality
March 27 Zodiac Personality
March 28 Zodiac Personality
March 29 Zodiac Personality
March 30 Zodiac Personality
March 31 Zodiac Personality

The sign of Virgo steadies the ever-shifting influence of the Moon. Virgo moon has keen analytical leanings with a precise, discriminating mind. They do not seek knowledge simply for the purpose of knowledge but for the purpose of practical application. Their initial reaction to the sense-impressions they take in from the world is to analyze and question. Moon in Virgo people are sometimes so suspicious they doubt what they see with their own eyes.

They prefer to discuss concepts and investigate ideas held by others while holding fast to many of their own preconceived notions. They are not so unreasonable, though, that they will cling to a theory once the facts have proven them wrong. They are seekers of veritas, and consider truth to be what is left after inaccuracies have been revealed. No one would consider them a naive idealist wearing rose-tinted glasses. Their realistic pragmatism makes them well suited in business. They focus on building long-term gains rather than get-rich quick money schemes.
Mercury in the sign of Pisces denotes a subtle and intuitive intelligence. There is an interesting and enigmatic quality about the way their mind works. They do not simply arrive at conclusion through logic alone but through flashes of insight, premonitions and mysterious intuits that are not based on previous facts or precedents. Their pronouncements can often wax prophetic.

They have accurate hunches plus, with their imaginative and creative talents, are able to conceptualize new ideas that are difficult to grasp by those who lack imagination. Mercury in Pisces people can occassionally lack self-confidence and appear timid or perplexed. They display empathy and understanding for the faults and failings of other people. In their mind, each person has his or her own truth and this extends even to those who lie. Mercury in Pisces people can be like absentminded professors but because of their sensitivity to their surroundings, they are easily distracted by and unable to concentrate when there is anything or anyone upsetting them.
Venus in Taurus people are warm and sentimental, but are tentative about who they give their hearts to. They do not fall in love too quickly and take their time assessing the character and prospects of a potential partner before committing. An awful relationship is no picnic for them and so they take as much time as necessary before settling on the perfect individual to adore.

They rely largely on their instincts and feelings as their guide rather than rational and logical thinking. They enjoy deeply the physical and sensuous expression of love and the simple gratification of intimacy and closeness. To them love is incomplete without sex and active displays of affection. Venus in Taurus people are very demonstrative of their love. Sometimes they can be smothering and possessive. This Venus placement also denotes a wonderful eye and appreciation for things that are exquisite and refined. They have an artistic bend and a fine taste in fashion, food and all things that titillate their senses. 
Mars's strength becomes subtle in Cancer. You possess excellent energy of determination, but it is never pushed into the open. Similar to the tides, you wear down resistance by repeated attack. Each surge may achieve little, but the aggregated outcome is overwhelming. In sex, Mars-in-Cancer's strategy is passionate. You are sensual but elegant, and your lovemaking is a deeply instinctive art.
Your lust, however, is reliant on what is forthcoming from a sweetheart. If a beloved is indifferent or unresponsive, he or she may determine that your get-up-and-go just got up and went. Still, as a native of this Mars position, you will stick to a relationship that does not make you content. You respond only in eruptions of passion and high-strung impatience. What you often expect is an outlet for your pent-up forces. You are regarded for your breadth of vision and highly spirited work.
Thоѕе whо fall under thіѕ number аrе immensely talented іn аn artistic light, аlthоugh one needs tо bе determined tо nurture thе talent wіthіn. People under thіѕ life number аrе generous, аlthоugh оn thе flip side, being а spendthrift has іtѕ setbacks. Thеу have а knack tо please thоѕе аrоund thеm wіth witty banter аnd аn infectious sense оf humor. Thеіr positive attitude brings people closer tо thеm, whеrе being іn thе limelight іѕ ѕоmеthіng thеу love. Being socially active іѕ а plus point, but іt саn dampen а number 3's ability tо work оn а talent. Thеу саn bе hurtful wіth thеіr snide, sarcastic comments whеn а dark mood takes оvеr, but оthеrwіѕе thеу'rе perky, ready tо make others happy, аnd аn inspiration fоr thеіr expressive mannerism.
Thе number 9 people have completed thе karmic circle аnd come off аѕ people wіth loads оf knowledge аnd experience. Thеу аrе compassionate, tolerant, benevolent, charming аnd idealistic. Thеу аrе аlѕо intuitive аnd mystical. On thе оthеr side, thеу аrе stingy, impulsive, intolerant, insensitive аnd effusive. Thеу аrе known tо take uр humanitarian causes аnd have а highly developed intuition аnd spirituality. Thе number 9 denotes mastery оvеr аll thе challenges faced bу thе numbers preceding іt. Thе 'Hermit' makes іtѕ tarot representation. It іѕ astrologically related tо Virgo аnd Sagittarius аnd іѕ influenced bу а whоlе gang оf planets, nаmеlу thе Sun, Moon, Mars аnd Jupiter. Thе number 9 people have аn aura made uр оf аll thе Fall colors. Opal іѕ а good gemstone fоr thеѕе people. Thе month оf September brings good things tо thеѕе people аnd thеіr lucky day іѕ Monday. 1, 5, 6, 9, 18 аnd 27 аrе lucky dates fоr thеѕе people.
Dogs in both the East and West are loyal, faithful and honest and always stick to their firm codes of ethics. It's generally quite trustworthy itself — except for the occasional little white lies the Dog tells in order to make things go more smoothly. The Dog makes a wonderful, discreet and loyal friend and is an excellent listener.

The Chinese sign of the dog tends to root for the underdog and its keen sense of right and wrong makes it duty-bound to the core. The Dog's motto seems to be, Live right, look out for the little people and fight injustice whenever possible. Dog people are usually cool headed in a crisis. They are the ones you can count on during hectic, stressful times. Honest, strong, intelligent, and practical, dogs will accept whatever fate throws at them and handle it with poise and grace. You can count on people of the dog to do their work thoroughly and well.
The
Fire element is both destructive and nourishing. On a cold winter day, there is nothing more calming to the soul than curling up by a roaring fire with a good book or cherished love one. On the other side, there is no other force on earth more destructive than a raging, out of control fire. Fire nourishes the human body by providing us heat to cook our food and light with which to see.
And, there is nothing more painful than having a part of your body taken by fire or flame. Fire signs draw attention to themselves.  Those under the influence of Fire have charm and charge on their side.  They have an infectious enthusiasm that makes them natural leaders, so people just can't help but to follow them. They take the role of leader seriously, and do it well. For fire people, managing others comes naturally. They are decisive, compassionate, understanding yet firm.
In the Myers Briggs, the ISTP personality type is described as an introvert who is quiet and reflective but also enjoys having stimulating experiences. They are flexible and adaptable and tend to possess good mechanical and technical ability. ISTPs are known for being good with their hands and are good at figuring out and mastering machine work and physical skills including those involved in sports. Furthermore, ISTPs, while smart, may not find academic school work interesting or well suited to their learning style.

They prefer hands-on learning styles and learning about things they can use or apply in concrete ways rather than theories that exist only as concepts. They are logical and observant of their surroundings. ISTPs are interested in understanding how things work and tend to be good at deconstructing things and troubleshooting problems in the most efficient way possible. As perceivers, they prefer spontaneity and freedom over security and structure and they like to immerse themselves in their hobbies or craft in which they are likely to develop a deep knowledge and or mastery over.