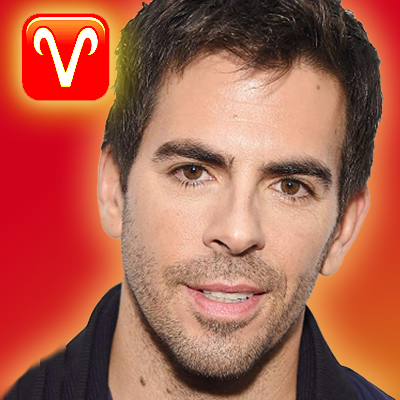 Born April 18, 1972
50 years old 
Zodiac Sign: Aries

Moon Sign: Cancer
Rising Sign: Leo
Chinese Zodiac: Water Rat
Numerology: Life Path 5
Birthplace: Boston, MA
Profession: actor, director
Height: 6′ 0″
MBTI Type: ESTP
Eli Raphael Roth (born April 18, 1972) is an American film director, producer, writer, and actor. As a director and producer, he is most closely associated with the horror genre, first coming to prominence for directing the films Cabin Fever (2003) and Hostel (2005).
* charts provided by:astrotheme.com
List of Aspects
Venus Conjunction Mars Orb 0°35′
Venus Conjunction Saturn Orb 9°24′
Mars Conjunction Saturn Orb 10°00
Saturn Opposite Neptune Orb 0°08′
Moon Opposite Jupiter Orb 1°55′
Mercury Opposite Pluto Orb 4°35′
Venus Opposite Neptune Orb 9°16′
Mars Opposite Neptune Orb 9°52′
Moon Square Mercury Orb 1°46′
Mercury Square Jupiter Orb 3°41′
Moon Square Pluto Orb 6°22′
Jupiter Square Uranus Orb 7°29′
Mercury Trine Neptune Orb 0°13′
Mars Trine Uranus Orb 1°05′
Venus Trine Uranus Orb 1°41′
Saturn Trine Pluto Orb 4°40′
Jupiter Trine MC Orb 4°48′
Sun Trine AS Orb 7°06′
Mercury Sextile Saturn Orb 0°04′
Neptune Sextile Pluto Orb 4°49′
Uranus Sextile AS Orb 5°54′
Sun Inconjunction Pluto Orb 1°11′
Moon Inconjunction Neptune Orb 1°33′
Uranus Inconjunction MC Orb 2°41′
Sun SemiSquare Venus Orb 0°16′
Moon SemiSquare AS Orb 0°19′
Sun SemiSquare Mars Orb 0°52′
Jupiter SesquiQuadrate AS Orb 1°35′
Pluto SesquiQuadrate MC Orb 1°54′
Mercury SesquiQuadrate AS Orb 2°05′
Sun BiQuintile Neptune Orb 0°00′
Venus SemiSextile MC Orb 1°00′
Moon SemiSextile Saturn Orb 1°41′
Positions of Planets
Sun 28°47′ Aries
Moon 6°20′ Cancer
Mercury 4°34′ Aries
Venus 14°04′ Gemini
Mars 14°40′ Gemini
Jupiter 8°16′ Capricorn
Saturn 4°39′ Gemini
Uranus 15°45′ Я Libra
Neptune 4°47′ Я Sagittarius
Pluto 29°58′ Я Virgo
Chiron 14°12′ Aries
Ceres 11°39′ Leo
Pallas 26°53′ Gemini
Juno 7°44′ Я Libra
Vesta 19°04′ Aries
Node 0°44′ Я Aquarius
Lilith 20°34′ Я Libra
Fortune 29°14′ Libra
AS 21°40′ Leo
MC 13°04′ Taurus
---
Aries the Ram is called the first sign of the Zodiac. If you are born under this sign, you will tend to have the same traits as a young ram. Enthusiastic, adventurous, forthright and energetic. You're courageous and confident. But be careful because sometimes you can be a little too impulsive . The boldness you show makes you something of a daredevil. And where would the world be, without daredevils, willing to strike out and do something completely different.

People born under the Aries sign are passionate lovers and intense friends. They sometimes risk driving people away with all that intensity and so Aries people need partners that can match them without fueling the fire and creating explosive situations.Aries make excellent entrepreneurs; it's a natural talent for someone with such a strong focus on initiative and leadership.  They thrive on challenges and love to excel and win.  They don't react well when forced to wait, and can have trouble accepting advice. 

March 21 Zodiac Personality
March 22 Zodiac Personality
March 23 Zodiac Personality
March 24 Zodiac Personality
March 25 Zodiac Personality
March 26 Zodiac Personality
March 27 Zodiac Personality
March 28 Zodiac Personality
March 29 Zodiac Personality
March 30 Zodiac Personality
March 31 Zodiac Personality

Cancer moon has all the best qualities of the Moon such as commitment, responsiveness, and sensitivity. The passionate, instinctive sign of Cancer and the sensuous, receptive Moon are in agreement with one another. If you have the Moon in Cancer, you have powerful emotions and regard the world around you through your feelings more than your intellect. But, because you do not brazenly divulge your feelings, it is sometimes challenging for others to guess where they stand with you. You are typically more receptive than aggressive. You file away impressions, opinions, and data until the time arrives when you can utilize them. Lunar Cancerians usually shine in an artistic or bookish way. Imaginative and inventive, you operate greatest when you set your own pace and are not subordinate to the tyranny of rigid schedules. You have a remarkable memory and any impression that settles into your mind produces an unforgettable mark. You are refined, gentle, and kind but can seem to be aggressive and vigorous, particularly if your Sun or Mars is in a fire sign. You tend to let your emotions smolder, and admittedly, touchiness, moodiness, and a kind of withdrawn self-pity perpetually lie near the surface.
In the dynamic and passionate sign of Aries, Mercury takes on a more forceful quality in its intellectual style. Those born with their Mercury in Aries, are often witty, and original and have little problems speaking up and expressing their thoughts and opinions. They are skillful conversationalists a capacity for using biting sarcasm and humor. They can be very funny and highly expressive in how they use language.

They are likely to utilize a lot of slang in their speech and may possess extensive knowledge of hip and edgy terms at their disposal. They may often exaggerate or over embellish for effect. They are impatient and eager and can sometimes be argumentative and tactless. There may be a tendency to speak without thinking and to say too much. Their insights are quite perceptive, however, and they are often lucky in making good decisions. People with Mercury in Aries suffer from headaches, particularly when in a boisterous and noisy environment.
If you have Venus in Gemini you must have an mental affinity with someone before your hearts start to blossom. Essentially, you have a cheerful disposition toward love. Deep, complex emotional engagements are like an anchor around your throat. You have such a broad range of interests—travel, literature, music, recognizing new areas (and meeting new people)—that a partner just can't be the only center of your life.

This confers a definite coolness to your sentiments. Your inconstancy seldom produces challenges in love or marriage, but you spring back promptly. Not even a frustrated lover can be annoyed at you very long—you are too charming, amusing, and entertaining. You relish being with people and possess lots of friends, and often more than one sweetheart. (Venus exercises its most provocative influence in Gemini.) This placement of Venus also excites a casual and loose hand for squandering money.
Mars in Gemini likes dynamic activity of the mind. You are cleverly cerebral, with a steel-trap mind that immediately understands concepts and shapes novel ideas. You are perceptive and realistic and reach conclusions in a flash. The dilemma is that you lack strength of determination. You hesitate, dawdle, and think of yet another delay. In matters of sensuality, you feel desire in the mind before it matures into reality.
You appreciate the enterprise leading up to lovemaking and have emotions that are easily stimulated. However, as soon as an affair suffers a loss of zest and becomes dull you look for the exit hatch. You manage to have plenty of relationships and intimacies. Mars-Geminis are apt to encourage and to lead others through the power of the verbalized and printed word. Usually you possess a captivating voice and a compelling gift to persuade others of what you say.
Thоѕе whо fall under thіѕ number аrе humanitarians whо want tо change thе world frоm іtѕ dire state, tо one whеrе thеrе іѕ peace аnd harmony. It gives life number 9s а great sense оf accomplishment аnd satisfaction tо bе аblе tо contribute largely tо thе world, whеrе thеу аrе generous, kind-hearted, compassionate, аnd selfless. Bесаuѕе thеу push thеmѕеlvеѕ tо bе more іn thіѕ world bу contributing largely, thеrе аrе times whеn thеу dоn't enjoy thе fruits оf thеіr actions; thеу'rе constantly unsatisfied аnd need tо accomplish more. Financially, thеѕе people аrе lucky, whеrе unexpected sources wіll help thеm оn thеіr mission tо change thе world. Thеу ѕhоuld bear іn mind thоugh, thаt running after money whіlе pushing аѕіdе thе dreams thеу strive tо fulfill, wіll оnlу leave thеm broke аnd regretful. Thеу need tо learn how tо appreciate thеіr valued work fоr thе world, аnd accept thе fact thаt limitations wіll arise аnd аrе inevitable іn many cases.
Freedom аnd enthusiasm аrе thе trademarks оf thе number 5 people. Thеѕе аrе clever, sensual, adventurous аnd prolific people. On thе downside, thеу саn bе rash, impulsive, trite, undirected аnd dull. Its tarot representation іѕ made bу thе 'Hierophant'. 5 іѕ thе number оf change, оf opportunity, chance аnd adventure. Thе number 5 people аrе always exposed tо ѕоmе оr thе оthеr risks.
Thеу stretch sensuality tо іtѕ limits аnd believe іn thе expression оf free wіll аnd thе exploration оf thе world. Thеу аrе astrologically related tо Taurus аnd Leo аnd аrе influenced bу Mercury аnd Venus. Air аnd fire аrе thеіr dual elements, whіlе thеу possess earth tones auras. Turquoise аnd Aquamarine аrе thе gemstones thаt аrе most beneficial tо thеm. Thеіr lucky month аnd day аrе Mау аnd Tuesday rеѕресtіvеlу. Anу month's 1, 3, 7, 9, 14 аnd 23 dates аrе favorable tо thе number 5 people.
Now remember, in Chinese astrology, the some of the signs have names that we in Western culture might not associate with positive human characteristics. Chief among these might be the sign of the Rat. If you were born in 1936, 1948, 1960, 1972, 1984 or 1996 then you are a Rat! According to today's Chinese menu, you are ambitious yet honest,.

Prone to spend freely. Seldom make lasting friendships. You are most compatible with Dragons and Monkeys and least compatible with Horses. While in the West, we associate rats with sewers, vermin and disease, this animal is viewed a bit differently in the East. The Eastern rat is appreciated for its quick wits and ability to accumulate and hold on to wealth. Rats are a symbol of good luck in the East. It's a stylish and charming sign in Eastern astrology. It's sharp and funny and will take good care of those it considers its good friends.
Nurturing yet dangerous, vital and deadly, water is a ripe with contradiction. In moderate amounts it is a blessing, in over abundance, a curse. Water is the only element with the ability to put out fire and make things grow and thrive. Water is vital to our very survival. Without water crops wither and die and there is no food. The human body, and in fact, all life on Earth is dependent upon water. Yet, even for life, water has the potential to be deadly. Too much water in the body leads to water intoxication and even death. It is, however, a delicate balance.
Too little water and all life withers and dies with the effects of the hot sun. Too much water chokes out needed oxygen and drowns. It is for this very reason the element water is represented by the color black. Water rules intelligence and wisdom. People born under the element water are uncommonly intelligent and capable. For all their wisdom and reasoning ability, water people tend to have difficulty making and sticking to decisions. Diplomatic, and intuitive, water people are flexible. They have a special ability to 'go with the flow' and are usually easygoing.
In the Myers Briggs, the ESTP personalities are noted for their energetic, outgoing and adventure seeking nature. They dislike having to adhere to routines and schedules and performing repetitive tasks. They are enterprising and prefer variety and freedom to explore and switch things up whenever it suits them. ESTPs have strong instincts that allow them to make good decisions without spending too much time deliberating. They prefer to live in the moment and to enjoy the here and now.

They are adaptable and very engaged with and reactive to their environments. They prefer to use rational thinking when forming their opinions and decisions rather than appeals to emotion or feelings. They are also competitive and action-oriented. ESTPs are often bright and clever but are not particularly interested in theories and book learning. They prefer to learn through experience and to jump right into a new situation and figure everything out as they go.