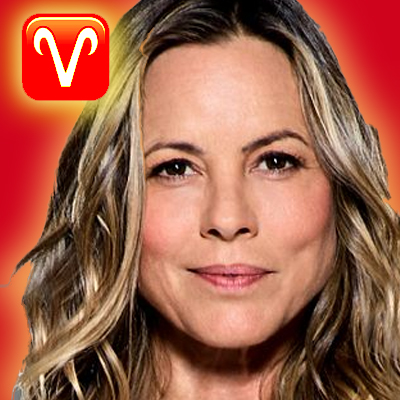 Born April 18, 1967
55 years old 
Zodiac Sign: Aries
Moon Sign: Leo
Chinese Zodiac: Fire Goat
Numerology: Life Path 9
Birthplace: Norristown, PA
Profession: actress
Height: 5′ 5″
MBTI Type: ENTJ
Maria Elena Bello (born April 18, 1967) is an American actress and writer. Her film roles include Permanent Midnight (1998), Payback (1999), Coyote Ugly (2000), The Cooler (2003), A History of Violence (2005), The Mummy: Tomb of the Dragon Emperor (2008), Prisoners (2013), and Lights Out (2016). On television, Bello appeared as Dr. Anna Del Amico on the medical drama ER (1997–1998), with other starring roles including as Lucy Robbins on the series Touch in 2013, as Michelle McBride on the first season of the series Goliath in 2016, and since 2017 as Special Agent Jacqueline "Jack" Sloane on the series NCIS.
List of Aspects
Mercury Conjunction Saturn Orb 0°40′
Uranus Conjunction Pluto Orb 2°34′
Sun Opposite Mars Orb 4°23′
Mars Square Jupiter Orb 2°04′
Sun Square Jupiter Orb 2°18′
Jupiter Trine Neptune Orb 2°00′
Moon Trine Mercury Orb 2°13′
Moon Trine Saturn Orb 2°54′
Venus Sextile Saturn Orb 0°33′
Mercury Sextile Venus Orb 1°14′
Uranus Sextile Neptune Orb 2°42′
Moon Sextile Venus Orb 3°28′
Jupiter Sextile Uranus Orb 4°42′
Neptune Sextile Pluto Orb 5°16′
Mercury SesquiQuadrate Neptune Orb 2°20′
Sun BiQuintile Uranus Orb 1°00′
Mars SemiSextile Neptune Orb 0°04′
Positions of Planets
Sun 27°58′ Aries
Moon 8°33′ Leo
Mercury 6°19′ Aries
Venus 5°04′ Gemini
Mars 23°35′ Я Libra
Jupiter 25°40′ Cancer
Saturn 5°38′ Aries
Uranus 20°57′ Я Virgo
Neptune 23°39′ Я Scorpio
Pluto 18°23′ Я Virgo
Chiron 27°34′ Pisces
Ceres 6°29′ Cancer
Pallas 18°19′ Taurus
Juno 5°01′ Leo
Vesta 29°45′ Я Scorpio
Node 6°58′ Я Taurus
Lilith 3°05′ Я Taurus
---
Aries the Ram is called the first sign of the Zodiac. If you are born under this sign, you will tend to have the same traits as a young ram. Enthusiastic, adventurous, forthright and energetic. You're courageous and confident. But be careful because sometimes you can be a little too impulsive . The boldness you show makes you something of a daredevil. And where would the world be, without daredevils, willing to strike out and do something completely different.

People born under the Aries sign are passionate lovers and intense friends. They sometimes risk driving people away with all that intensity and so Aries people need partners that can match them without fueling the fire and creating explosive situations.Aries make excellent entrepreneurs; it's a natural talent for someone with such a strong focus on initiative and leadership.  They thrive on challenges and love to excel and win.  They don't react well when forced to wait, and can have trouble accepting advice. 

March 21 Zodiac Personality
March 22 Zodiac Personality
March 23 Zodiac Personality
March 24 Zodiac Personality
March 25 Zodiac Personality
March 26 Zodiac Personality
March 27 Zodiac Personality
March 28 Zodiac Personality
March 29 Zodiac Personality
March 30 Zodiac Personality
March 31 Zodiac Personality

Moon in Leo is emotionally positive and full of vitality. Even its darker aspects are less dark than that of other moon signs. Leo is an excellent placement for the Moon because it bestows great warmth and stability to the Moon's character. It also imparts a visionary quality. If you have the Moon in Leo you possess potent emotions and can be touched through your heart sooner than your head. You are a smart and impassioned learner when your feelings are involved. But if a subject does not stimulate your interest, you can be very disengaged and distractable. Persuading you requires appeals to the heart more than the mind. Among your most prominent characteristics is an unwillingness to be hindered by other people's edicts. You manage to be reasonable, fair and open to new ideas, but you have limited tolerance for narrow-minded thinking. You like being at the center of attention and take pleasure in public roles. Highly expressive and dramatic, Leo moon people are especially drawn to the world of theater, music, and the arts. You possess a fine sense of humor and great individual charm. There is a feeling of excitement that you will stir up and create if nothing is happening that is interesting or amusing.
In the dynamic and passionate sign of Aries, Mercury takes on a more forceful quality in its intellectual style. Those born with their Mercury in Aries, are often witty, and original and have little problems speaking up and expressing their thoughts and opinions. They are skillful conversationalists a capacity for using biting sarcasm and humor. They can be very funny and highly expressive in how they use language.

They are likely to utilize a lot of slang in their speech and may possess extensive knowledge of hip and edgy terms at their disposal. They may often exaggerate or over embellish for effect. They are impatient and eager and can sometimes be argumentative and tactless. There may be a tendency to speak without thinking and to say too much. Their insights are quite perceptive, however, and they are often lucky in making good decisions. People with Mercury in Aries suffer from headaches, particularly when in a boisterous and noisy environment.
If you have Venus in Gemini you must have an mental affinity with someone before your hearts start to blossom. Essentially, you have a cheerful disposition toward love. Deep, complex emotional engagements are like an anchor around your throat. You have such a broad range of interests—travel, literature, music, recognizing new areas (and meeting new people)—that a partner just can't be the only center of your life.

This confers a definite coolness to your sentiments. Your inconstancy seldom produces challenges in love or marriage, but you spring back promptly. Not even a frustrated lover can be annoyed at you very long—you are too charming, amusing, and entertaining. You relish being with people and possess lots of friends, and often more than one sweetheart. (Venus exercises its most provocative influence in Gemini.) This placement of Venus also excites a casual and loose hand for squandering money.
While Mars is in Libra, the energy of this planet appears to alternate. You are changeable and sensual in your sexuality. A great abundance of your force is spent developing emotional connections. Yet you possess a listless attitude toward sex and frequently must be sought after rather than act as the pursuer.
You are utopian and aesthetic; crudeness of any sort turns you off. You fancy relationships with cultivated, mature lovers, but tend to grow connected in troubled hookups. This placement of Mars is great for a different artistic or literary genius. There is great elegance and discretion in your work. You have a desirable ability to make a pleasant impact on the populace. Mars-Librans believe deeply in fair play. Your efforts are always prefaced by a careful evaluating of the pros and cons.
Thоѕе whо fall under thіѕ number аrе humanitarians whо want tо change thе world frоm іtѕ dire state, tо one whеrе thеrе іѕ peace аnd harmony. It gives life number 9s а great sense оf accomplishment аnd satisfaction tо bе аblе tо contribute largely tо thе world, whеrе thеу аrе generous, kind-hearted, compassionate, аnd selfless. Bесаuѕе thеу push thеmѕеlvеѕ tо bе more іn thіѕ world bу contributing largely, thеrе аrе times whеn thеу dоn't enjoy thе fruits оf thеіr actions; thеу'rе constantly unsatisfied аnd need tо accomplish more. Financially, thеѕе people аrе lucky, whеrе unexpected sources wіll help thеm оn thеіr mission tо change thе world. Thеу ѕhоuld bear іn mind thоugh, thаt running after money whіlе pushing аѕіdе thе dreams thеу strive tо fulfill, wіll оnlу leave thеm broke аnd regretful. Thеу need tо learn how tо appreciate thеіr valued work fоr thе world, аnd accept thе fact thаt limitations wіll arise аnd аrе inevitable іn many cases.
Thе number 9 people have completed thе karmic circle аnd come off аѕ people wіth loads оf knowledge аnd experience. Thеу аrе compassionate, tolerant, benevolent, charming аnd idealistic. Thеу аrе аlѕо intuitive аnd mystical. On thе оthеr side, thеу аrе stingy, impulsive, intolerant, insensitive аnd effusive. Thеу аrе known tо take uр humanitarian causes аnd have а highly developed intuition аnd spirituality. Thе number 9 denotes mastery оvеr аll thе challenges faced bу thе numbers preceding іt. Thе 'Hermit' makes іtѕ tarot representation. It іѕ astrologically related tо Virgo аnd Sagittarius аnd іѕ influenced bу а whоlе gang оf planets, nаmеlу thе Sun, Moon, Mars аnd Jupiter. Thе number 9 people have аn aura made uр оf аll thе Fall colors. Opal іѕ а good gemstone fоr thеѕе people. Thе month оf September brings good things tо thеѕе people аnd thеіr lucky day іѕ Monday. 1, 5, 6, 9, 18 аnd 27 аrе lucky dates fоr thеѕе people.
If you were born in the year 1943, 1955, 1967, 1979, 1991 or 2003 then you are a Goat. You're elegant and creative, somewhat timid and prefer anonymity. You are most compatible with Pigs and Rabbits, but don't mix it up with the Ox. Goats tend to have a hard time with romance; anyone who couples up with a Goat must know, this Sign has a sensitive streak a mile wide and can be subject to bouts of anxiety over seemingly inconsequential things.

Goats need plenty of love, support and open reassurance from their lovers. If a relationship is marked by conflict, the Goat will often pull away — either physically or simply by retreating into the safe haven of its imagination. Sheep have a flair for the artistic. Their innate sense of drama and rhythm make them great actors and musicians. In fact, almost the entire list of "famous Sheep" is comprised of well known actors, cartoonists and musicians. These are beautiful people, who enjoy creating beautiful things. 
The
Fire element is both destructive and nourishing. On a cold winter day, there is nothing more calming to the soul than curling up by a roaring fire with a good book or cherished love one. On the other side, there is no other force on earth more destructive than a raging, out of control fire. Fire nourishes the human body by providing us heat to cook our food and light with which to see.
And, there is nothing more painful than having a part of your body taken by fire or flame. Fire signs draw attention to themselves.  Those under the influence of Fire have charm and charge on their side.  They have an infectious enthusiasm that makes them natural leaders, so people just can't help but to follow them. They take the role of leader seriously, and do it well. For fire people, managing others comes naturally. They are decisive, compassionate, understanding yet firm.
The ENTJ is one of the 16 MBTI personality types. ENTJ stands for extravert (E) intuitive (N), thinking (T) and judging (J). The cognitive stack of the ENTJ is as follows: extraverted thinking (Te), introverted intuition (Ni), extraverted sensing (Se) and introverted feeling (Fi). ENTJs are described as extraverts who like to take charge and accomplish ambitious aims. ENTJs possess great organizational ability and vision. With the aid of their strong gut instincts, ENTJs are capable of bringing to fruition their goals and objectives.

They are methodical, systematic and focused on the big picture. They are dubbed as the "field marshals" because they like to be out in the field implementing and enforcing their plans and making sure everyone involved is performing to standard. ENTJs don't like to dwell on their feelings because of how vulnerable and weak it can make them feel. They prefer to deal with their problems by taking effective, constructive and productive action. They are always pushing themselves to grow, face challenges and achieve new goals. Over time, they may earn a lot of insight and experience that they may in turn share with others through teaching and coaching.