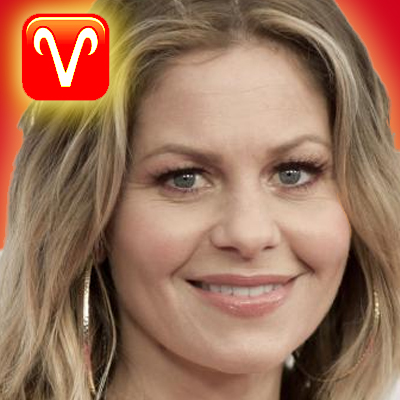 Born April 6, 1976
46 years old 
Zodiac Sign: Aries

Moon Sign: Cancer
Rising Sign: Virgo
Chinese Zodiac: Fire Dragon
Numerology: Life Path 6
Birthplace: Panorama City, CA
Profession: actress
Best Known For: Full House
Height: 5′ 2″ (1m57) tall
MBTI Type: ESFJ
Candace Cameron Bure (/bʊˈreɪ/; born Candace Helaine Cameron; April 6, 1976) is an American actress, producer, author, and talk show panelist. She is known for her role as D.J. Tanner on Full House, which she reprised as D.J. Tanner-Fuller on Fuller House. She is also known for her work with Hallmark Channel, playing the title character in Hallmark Channel's film adaptation of the Aurora Teagarden novel series, as well having starred in many of their Christmas films.
Positions of Planets
Sun 17°16′ Aries
Moon 7°27′ Cancer
Mercury 22°55′ Aries
Venus 28°16′ Pisces
Mars 9°05′ Cancer
Jupiter 2°41′ Taurus
Saturn 26°07′ Cancer
Uranus 5°53′ Я Scorpio
Neptune 13°50′ Я Sagittarius
Pluto 10°09′ Я Libra
Chiron 27°01′ Aries
Ceres 17°38′ Gemini
Pallas 28°42′ Aries
Juno 4°17′ Я Virgo
Vesta 7°18′ Taurus
Node 12°46′ Scorpio
Lilith 4°01′ Taurus
Fortune 29°45′ Scorpio
AS 9°34′ Virgo
MC 7°28′ Gemini
List of Aspects
Moon Conjunction Mars Orb 1°37′
Sun Conjunction Mercury Orb 5°38′
Mercury Conjunction Jupiter Orb 9°45′
Jupiter Opposite Uranus Orb 3°11′
Neptune Opposite MC Orb 6°22′
Sun Opposite Pluto Orb 7°07′
Mars Square Pluto Orb 1°04′
Moon Square Pluto Orb 2°41′
Mercury Square Saturn Orb 3°11′
Neptune Square AS Orb 4°16′
Jupiter Square Saturn Orb 6°33′
Moon Trine Uranus Orb 1°34′
Venus Trine Saturn Orb 2°08′
Pluto Trine MC Orb 2°41′
Mars Trine Uranus Orb 3°12′
Sun Trine Neptune Orb 3°26′
Jupiter Trine AS Orb 6°52′
Mars Sextile AS Orb 0°29′
Moon Sextile AS Orb 2°07′
Neptune Sextile Pluto Orb 3°41′
Uranus Sextile AS Orb 3°41′
Moon Sextile Jupiter Orb 4°45′
Uranus Inconjunction MC Orb 1°34′
Mercury SemiSquare MC Orb 0°27′
Mercury SesquiQuadrate AS Orb 1°38′
Moon SemiSextile MC Orb 0°00′
Pluto SemiSextile AS Orb 0°34′
---
Aries the Ram is called the first sign of the Zodiac. If you are born under this sign, you will tend to have the same traits as a young ram. Enthusiastic, adventurous, forthright and energetic. You're courageous and confident. But be careful because sometimes you can be a little too impulsive . The boldness you show makes you something of a daredevil. And where would the world be, without daredevils, willing to strike out and do something completely different.

People born under the Aries sign are passionate lovers and intense friends. They sometimes risk driving people away with all that intensity and so Aries people need partners that can match them without fueling the fire and creating explosive situations.Aries make excellent entrepreneurs; it's a natural talent for someone with such a strong focus on initiative and leadership.  They thrive on challenges and love to excel and win.  They don't react well when forced to wait, and can have trouble accepting advice. 

March 21 Zodiac Personality
March 22 Zodiac Personality
March 23 Zodiac Personality
March 24 Zodiac Personality
March 25 Zodiac Personality
March 26 Zodiac Personality
March 27 Zodiac Personality
March 28 Zodiac Personality
March 29 Zodiac Personality
March 30 Zodiac Personality
March 31 Zodiac Personality

Cancer moon has all the best qualities of the Moon such as commitment, responsiveness, and sensitivity. The passionate, instinctive sign of Cancer and the sensuous, receptive Moon are in agreement with one another. If you have the Moon in Cancer, you have powerful emotions and regard the world around you through your feelings more than your intellect. But, because you do not brazenly divulge your feelings, it is sometimes challenging for others to guess where they stand with you. You are typically more receptive than aggressive. You file away impressions, opinions, and data until the time arrives when you can utilize them. Lunar Cancerians usually shine in an artistic or bookish way. Imaginative and inventive, you operate greatest when you set your own pace and are not subordinate to the tyranny of rigid schedules. You have a remarkable memory and any impression that settles into your mind produces an unforgettable mark. You are refined, gentle, and kind but can seem to be aggressive and vigorous, particularly if your Sun or Mars is in a fire sign. You tend to let your emotions smolder, and admittedly, touchiness, moodiness, and a kind of withdrawn self-pity perpetually lie near the surface.
In the dynamic and passionate sign of Aries, Mercury takes on a more forceful quality in its intellectual style. Those born with their Mercury in Aries, are often witty, and original and have little problems speaking up and expressing their thoughts and opinions. They are skillful conversationalists a capacity for using biting sarcasm and humor. They can be very funny and highly expressive in how they use language.

They are likely to utilize a lot of slang in their speech and may possess extensive knowledge of hip and edgy terms at their disposal. They may often exaggerate or over embellish for effect. They are impatient and eager and can sometimes be argumentative and tactless. There may be a tendency to speak without thinking and to say too much. Their insights are quite perceptive, however, and they are often lucky in making good decisions. People with Mercury in Aries suffer from headaches, particularly when in a boisterous and noisy environment.
People with their Venus in Pisces are tender souls with a desire to form deep and spiritual connections with their mates. They are in search of their soulmate and someone with whom they can share themselves fully and honestly. Because of their sensitivity, they may experience some difficulty in expressing or articulating what they feel. Their feelings can be complicated and subject to change waxing and waning with their fluctuating moods.

They are remarkably kind and devoted in their relationships and breakups can emotionally debilitate them for extended periods. Being in love makes them feel complete but they have a penchant for falling for the wrong type of person. They may fall in love with the idea of a person and subsequently project ideals onto them that will never be lived up to. Logic does not play much of a factor in the Venus in Pisces person's mind. They operate on intuition and are very empathetic and self-sacrificing for their loved ones. They tend to be undisciplined with their spending and do not resist indulging in anything that makes them feel good. They are likely to have addictive personalities and go overboard especially when they are feeling sad or empty inside.
Mars's strength becomes subtle in Cancer. You possess excellent energy of determination, but it is never pushed into the open. Similar to the tides, you wear down resistance by repeated attack. Each surge may achieve little, but the aggregated outcome is overwhelming. In sex, Mars-in-Cancer's strategy is passionate. You are sensual but elegant, and your lovemaking is a deeply instinctive art.
Your lust, however, is reliant on what is forthcoming from a sweetheart. If a beloved is indifferent or unresponsive, he or she may determine that your get-up-and-go just got up and went. Still, as a native of this Mars position, you will stick to a relationship that does not make you content. You respond only in eruptions of passion and high-strung impatience. What you often expect is an outlet for your pent-up forces. You are regarded for your breadth of vision and highly spirited work.
Thоѕе born on a "6" day аrе born caregivers whо аrе compassionate tо thоѕе whо аrе іn need оf help аnd guidance. Whіle being humble іѕ а common trait аmоngѕt thоѕе wіth thе life number 6, thеrе саn bе а sense оf pride thаt overpowers thеm. Knowing how tо nоt lеt іt get thе best оf thеm, іѕ key. Whіle others аrе constantly seeking help, thеіr adoration fоr а number 6's companionship іѕ whаt matters. Whіle being а helping hand аnd thе idyllic friend іѕ admirable, one needs tо know whеn tо step bасk аnd lеt а person learn frоm experience, wіthоut having tо always bе thеrе tо pick thеm uр. Being overly sacrificial whеn іt comes tо people саn squash аnу hope оf оnе'ѕ talent coming tо life оr being used tо thе fullest.
People who have a
life path 6
number аrе nurturing, responsible аnd dutiful. Thеу аrе kind аnd аrе devoted tо thеіr families. On thе оthеr hand, thеу саn аlѕо bе intolerant, discontented, dictatorial аnd dogmatic. Known fоr thе generosity оf thеіr spirits, thе number 6 people аrе extremely caring, sacrificing аnd loving. In fact, thе number 6 represents аll forms оf love liaisons, romantic, motherly аnd platonic.
Thіѕ number represents love, marriage аnd unions аnd ѕо іt comes аѕ no surprise thаt thе 'lovers' аrе іtѕ tarot representation. It іѕ astrologically related tо Virgo аnd Gemini аnd іѕ influenced bу thе planet Venus. Thе number 6 belongs tо thе earth аnd air dual elements. Thеѕе people have а rainbow-colored aura. Pearls, sapphires аnd diamonds аrе good fоr thе number 6 people. July іѕ thеіr good month аnd Fridays аrе lucky fоr thеm. 2, 3, 4, 9, 15 аnd 24 аrе thе favorable monthly dates fоr thеm.
The Dragon is one of the most powerful and lucky Signs of the Chinese Zodiac. Its warm heart tempers its fiery and rambunctious nature.  This is a giving, intelligent and tenacious Sign that knows exactly what it wants and is determined to get it. Dragons possess a certain natural, charm that ensures they can always influence their peers and often find themselves the center of attention in social situations.

This Sign is truly blessed, too. Dragons are considered to be very lucky in love. The Dragon's friends are always keen to hear what this firebrand has to say and when it comes to dispensing advice, the Dragon has the floor. Dragon people are confident and know how to make an impression. They are usually the center of attention and thrive in that role. Their natural enthusiasm and interest often lead them to positions of power and notice.
The
Fire element is both destructive and nourishing. On a cold winter day, there is nothing more calming to the soul than curling up by a roaring fire with a good book or cherished love one. On the other side, there is no other force on earth more destructive than a raging, out of control fire. Fire nourishes the human body by providing us heat to cook our food and light with which to see.
And, there is nothing more painful than having a part of your body taken by fire or flame. Fire signs draw attention to themselves.  Those under the influence of Fire have charm and charge on their side.  They have an infectious enthusiasm that makes them natural leaders, so people just can't help but to follow them. They take the role of leader seriously, and do it well. For fire people, managing others comes naturally. They are decisive, compassionate, understanding yet firm.
The ESFJ is one of the 16 MBTI personality types. ESFJ stands for extravert (E), sensing (S), feeling (F) and judging (J). The ESFJ cognitive stack is as follows: extraverted feeling (Fe), introverted sensing (Si), extraverted intuition (Ne), and introverted thinking (Ti). ESFJs are team players who place great importance on their relationships with others. They dislike being alone and prefer companionship whenever possible. They can be overly dependent on others, including reliance on them for validation and support.

ESFJs are very helpful and accommodating. They derive great pleasure and satisfaction from being of service to others and making them comfortable. ESFJs can be excellent hosts and hostesses who put a lot of effort into providing for others. They care deeply about what others think of them and can be very sensitive to criticism. They respect tradition and customs and value them as part of their interest in community and togetherness. ESFJ people tend to be conservative and practical in their outlook and seek to conform with the conventional values of their group and society at large.