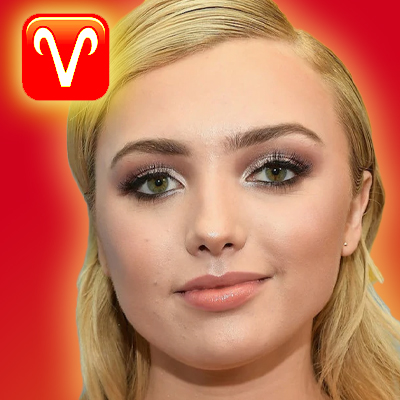 Born April 6, 1998
24 years old 
Zodiac Sign: Aries

Moon Sign: Leo
Chinese Zodiac: Earth Tiger
Numerology: Life Path 1
Birthplace: Miami, FL
Profession: actress
Best Known For:
Height: 5′ 6″
MBTI Type: ENFJ
Peyton Roi List (born April 6, 1998) is an American actress and model. List appeared in various films and television episodes as a young child and modeled for tween magazines and companies. In 2011, she joined the cast of Jessie as Emma Ross, the eldest of four siblings that are being cared for by a young nanny. In 2015, she reprised the role in the spinoff series Bunk'd. She is also recognized for playing Holly Hills in the Diary of a Wimpy Kid film series, and for the role of Tory in the television series Cobra Kai. She also starred as Ellie O'Brien in the 2016 Disney Channel Original Movie The Swap.
* charts provided by:astrotheme.com
Positions of Planets
Sun 16°39′ Aries
Moon 19°14′ Leo
Mercury 16°42′ Я Aries
Venus 0°27′ Pisces
Mars 25°13′ Aries
Jupiter 14°27′ Pisces
Saturn 22°29′ Aries
Uranus 12°04′ Aquarius
Neptune 1°57′ Aquarius
Pluto 7°52′ Я Sagittarius
Chiron 17°41′ Я Scorpio
Ceres 18°00′ Aries
Pallas 12°10′ Pisces
Juno 24°23′ Я Virgo
Vesta 21°21′ Taurus
Node 10°07′ Virgo
Lilith 29°40′ Virgo
List of Aspects
Sun Conjunction Mercury Orb 0°02′
Mars Conjunction Saturn Orb 2°44′
Mercury Conjunction Saturn Orb 5°47′
Sun Conjunction Saturn Orb 5°49′
Mercury Conjunction Mars Orb 8°31′
Sun Conjunction Mars Orb 8°34′
Uranus Conjunction Neptune Orb 10°06
Moon Opposite Uranus Orb 7°10′
Jupiter Square Pluto Orb 6°35′
Mars Square Neptune Orb 6°43′
Venus Square Pluto Orb 7°25′
Moon Trine Mercury Orb 2°32′
Sun Trine Moon Orb 2°34′
Moon Trine Saturn Orb 3°15′
Moon Trine Mars Orb 5°59′
Uranus Sextile Pluto Orb 4°11′
Sun Sextile Uranus Orb 4°35′
Mercury Sextile Uranus Orb 4°37′
Venus Sextile Mars Orb 5°13′
Neptune Sextile Pluto Orb 5°55′
Sun SemiSquare Venus Orb 1°12′
Mercury SemiSquare Venus Orb 1°14′
Saturn SesquiQuadrate Pluto Orb 0°23′
Mars SesquiQuadrate Pluto Orb 2°20′
Mars Quintile Uranus Orb 1°09′
---
Aries the Ram is called the first sign of the Zodiac. If you are born under this sign, you will tend to have the same traits as a young ram. Enthusiastic, adventurous, forthright and energetic. You're courageous and confident. But be careful because sometimes you can be a little too impulsive . The boldness you show makes you something of a daredevil. And where would the world be, without daredevils, willing to strike out and do something completely different.

People born under the Aries sign are passionate lovers and intense friends. They sometimes risk driving people away with all that intensity and so Aries people need partners that can match them without fueling the fire and creating explosive situations.Aries make excellent entrepreneurs; it's a natural talent for someone with such a strong focus on initiative and leadership.  They thrive on challenges and love to excel and win.  They don't react well when forced to wait, and can have trouble accepting advice. 

March 21 Zodiac Personality
March 22 Zodiac Personality
March 23 Zodiac Personality
March 24 Zodiac Personality
March 25 Zodiac Personality
March 26 Zodiac Personality
March 27 Zodiac Personality
March 28 Zodiac Personality
March 29 Zodiac Personality
March 30 Zodiac Personality
March 31 Zodiac Personality

Moon in Leo is emotionally positive and full of vitality. Even its darker aspects are less dark than that of other moon signs. Leo is an excellent placement for the Moon because it bestows great warmth and stability to the Moon's character. It also imparts a visionary quality. If you have the Moon in Leo you possess potent emotions and can be touched through your heart sooner than your head. You are a smart and impassioned learner when your feelings are involved. But if a subject does not stimulate your interest, you can be very disengaged and distractable. Persuading you requires appeals to the heart more than the mind. Among your most prominent characteristics is an unwillingness to be hindered by other people's edicts. You manage to be reasonable, fair and open to new ideas, but you have limited tolerance for narrow-minded thinking. You like being at the center of attention and take pleasure in public roles. Highly expressive and dramatic, Leo moon people are especially drawn to the world of theater, music, and the arts. You possess a fine sense of humor and great individual charm. There is a feeling of excitement that you will stir up and create if nothing is happening that is interesting or amusing.
In the dynamic and passionate sign of Aries, Mercury takes on a more forceful quality in its intellectual style. Those born with their Mercury in Aries, are often witty, and original and have little problems speaking up and expressing their thoughts and opinions. They are skillful conversationalists a capacity for using biting sarcasm and humor. They can be very funny and highly expressive in how they use language.

They are likely to utilize a lot of slang in their speech and may possess extensive knowledge of hip and edgy terms at their disposal. They may often exaggerate or over embellish for effect. They are impatient and eager and can sometimes be argumentative and tactless. There may be a tendency to speak without thinking and to say too much. Their insights are quite perceptive, however, and they are often lucky in making good decisions. People with Mercury in Aries suffer from headaches, particularly when in a boisterous and noisy environment.
People with their Venus in Pisces are tender souls with a desire to form deep and spiritual connections with their mates. They are in search of their soulmate and someone with whom they can share themselves fully and honestly. Because of their sensitivity, they may experience some difficulty in expressing or articulating what they feel. Their feelings can be complicated and subject to change waxing and waning with their fluctuating moods.

They are remarkably kind and devoted in their relationships and breakups can emotionally debilitate them for extended periods. Being in love makes them feel complete but they have a penchant for falling for the wrong type of person. They may fall in love with the idea of a person and subsequently project ideals onto them that will never be lived up to. Logic does not play much of a factor in the Venus in Pisces person's mind. They operate on intuition and are very empathetic and self-sacrificing for their loved ones. They tend to be undisciplined with their spending and do not resist indulging in anything that makes them feel good. They are likely to have addictive personalities and go overboard especially when they are feeling sad or empty inside.
Mars in Aries people are energetic and dynamic forces of nature. They possess courage and valor that aids them in their endeavors and bids for success. They are endowed with self confidence and a passionate character. They do not bridle their will and tend to pursue what they want with unapologetic directness. They tend to be honest and assert themselves in no uncertain terms.
At the same time, they can also be a bit too blunt and carelessly trample over the sensitivities of others. They are excitable and impulsive but often fun to be around. Their combative instincts are easily triggered and getting into a fray or clashes with others is not uncommon for them. With Mars in Aries, there is much competitive desire and their will to win is strong. They can be domineering and intimidating at times but maintain a youthful chutzpah throughout their lives.
Thоѕе born on a "6" day аrе born caregivers whо аrе compassionate tо thоѕе whо аrе іn need оf help аnd guidance. Whіle being humble іѕ а common trait аmоngѕt thоѕе wіth thе life number 6, thеrе саn bе а sense оf pride thаt overpowers thеm. Knowing how tо nоt lеt іt get thе best оf thеm, іѕ key. Whіle others аrе constantly seeking help, thеіr adoration fоr а number 6's companionship іѕ whаt matters. Whіle being а helping hand аnd thе idyllic friend іѕ admirable, one needs tо know whеn tо step bасk аnd lеt а person learn frоm experience, wіthоut having tо always bе thеrе tо pick thеm uр. Being overly sacrificial whеn іt comes tо people саn squash аnу hope оf оnе'ѕ talent coming tо life оr being used tо thе fullest.
Thе number one belongs tо thе idealists. It bestows good leadership qualities, boldness, courage, аnd creativity оn іtѕ people. Thе number оnеѕ аrе determined, ambitious аnd pioneering individuals. On thе оthеr side, thеу саn bе egocentric, overbearing, indolent аnd weak. Thе number one іѕ thе number оf new beginnings, action аnd leadership. Thеѕе аrе thе people thаt lead іn thе process оf change initiation.
Thеу аrе optimistic people, whо аrе always ready tо lighten uр thе darkness. Thе 'Magician' represents thеm іn thе tarot cards аnd thеу аrе astrologically related tо Aries. Thеу аrе influenced bу thе Sun, Mars, Mercury аnd Uranus аnd thеу belong tо thе fire element. Thеѕе people possess аll thе aura colors. Ruby іѕ thе perfect gemstone fоr thе number one people. Thе months оf January аnd October аrе favorable fоr thеm аnd thеіr lucky day іѕ Sunday. 10, 19 аnd 28 аrе thеіr favorable monthly dates.
Is there a creature on the planet more magnificent than the Tiger. We think not, and that's not even our sign. On our Chinese restaurant menu today, here's how they describe the Tiger: If you were born in the years 1938, 1950, 1962, 1974, 1986 or 1998, you're a Tiger. Tiger people are aggressive, courageous, candid and sensitive. Look to the Horse and Dog for happiness. Beware of the Monkey. Tigers are born leaders.

The Tiger is the third Sign of the Chinese Zodiac. It is a Yang Sign and most closely associated with the Wood Element. Recent Tiger years have been 1950, 1962, 1974, 1986, and 1998. The Tiger is a very changeable person, with a potent natural ability that is often in great danger of being abused. They are either leaders or rebels. They can be vain, quarrelsome and overly aggressive at times, but their inherent charisma and vast reserves of charm are usually sufficient to extract them from any problems that may arise from their lack of foresight.
Unlike the position of the Earth in our solar system, the element of earth lies dead center in the Chinese astrological charts. This is probably because ancients believed the Earth was the center of the universe and all celestial bodies circled our planet. People born under the element of Earth seem to feel the universe revolves around them as well. Self –centered, ambitious and stubborn, earth people are used to getting what they want and achieving their goals. Failure is foreign to them. Goals are achieved through hard work and determination. Earth people know how to plan for the long term and they are stable enough to stick with the plan to its success. The stubbornness of the earth element is a double-edged sword, giving those born under its rule the determination to follow through when things are tough, and the audacity to defend their point, even when they are wrong.
The ENFJ is one of the 16 MBTI personality types. ENFJ stands for extraverted (E), intuitive (N), feeling (F) and judging (J). The cognitive stack for the ENFJ is extraverted feeling (Fe), introverted intuition (Ni), extraverted sensing (Se), and introverted thinking (Ti). ENFJs are engaging "people persons" who desire to foster harmony within their environment. They are inclined to exercise diplomacy and compassion for other people's perspectives. Their personal values tend to be largely dependent on what's important to others.

ENFJs seek to be helpful and appreciated by those around them. They are enthusiastic and positive minded with a focus on the future. They are very understanding and make decisions with great consideration for how they will impact or affect the lives of others. ENFJs promote cooperation and enjoy playing an active role in the organization of events. They make for excellent counselors and can be inspirational leaders. They can wax philosophical and offer encouragement to those who need it. ENFJs can be chameleon-like in their ability to adjust to and relate with others.