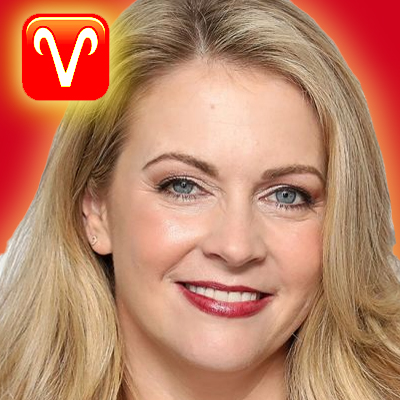 Born April 18, 1976
46 years old 
Zodiac Sign: Aries
Moon Sign: Sagittarius
Rising Sign: Leo
Chinese Zodiac: Fire Dragon
Numerology: Life Path 9
Birthplace: Sayville, NY
Profession: actress
Known For: Sabrina the Teenage Witch
Height: 5′ 2″
MBTI Type: ENTJ
Melissa Joan Hart (born April 18, 1976) is an American actress, producer and director. She had starring roles as the titular characters in the sitcoms Clarissa Explains It All (1991–1994), Sabrina the Teenage Witch (1996–2003), and Melissa & Joey (2010–2015). She has also appeared in films Drive Me Crazy (1999), Nine Dead (2009) and God's Not Dead 2 (2016).
List of Aspects
Sun Conjunction Jupiter Orb 6°39′
Mercury Conjunction MC Orb 7°58′
Mercury Conjunction Jupiter Orb 10°20
Jupiter Opposite Uranus Orb 0°05′
Venus Opposite Pluto Orb 2°58′
Sun Opposite Uranus Orb 6°33′
Venus Square Mars Orb 2°15′
Sun Square Saturn Orb 2°22′
Mars Square Pluto Orb 5°13′
Sun Trine AS Orb 0°41′
Venus Trine Neptune Orb 0°51′
Sun Trine Moon Orb 1°16′
Moon Trine AS Orb 1°57′
Jupiter Trine AS Orb 5°57′
Moon Trine Jupiter Orb 7°55′
Mercury Sextile Mars Orb 0°46′
Saturn Sextile MC Orb 2°39′
Neptune Sextile Pluto Orb 3°50′
Uranus Sextile AS Orb 5°51′
Moon Inconjunction Saturn Orb 1°06′
Mars Inconjunction Neptune Orb 1°23′
Mercury Inconjunction Neptune Orb 2°10′
Mars SemiSquare AS Orb 0°31′
Sun SesquiQuadrate Neptune Orb 0°10′
Pluto SesquiQuadrate MC Orb 1°01′
Venus SesquiQuadrate AS Orb 1°43′
Saturn SesquiQuadrate Neptune Orb 2°12′
Mercury BiQuintile Pluto Orb 0°00′
Positions of Planets
Sun 28°50′ Aries
Moon 27°34′ Sagittarius
Mercury 15°50′ Taurus
Venus 12°48′ Aries
Mars 15°03′ Cancer
Jupiter 5°29′ Taurus
Saturn 26°28′ Cancer
Uranus 5°24′ Я Scorpio
Neptune 13°40′ Я Sagittarius
Pluto 9°50′ Я Libra
Chiron 27°44′ Aries
Ceres 21°52′ Gemini
Pallas 4°09′ Taurus
Juno 3°46′ Я Virgo
Vesta 12°29′ Taurus
Node 12°35′ Scorpio
Lilith 11°25′ Я Aries
Fortune 28°16′ Aries
AS 29°32′ Leo
MC 23°48′ Taurus
---
Aries the Ram is called the first sign of the Zodiac. If you are born under this sign, you will tend to have the same traits as a young ram. Enthusiastic, adventurous, forthright and energetic. You're courageous and confident. But be careful because sometimes you can be a little too impulsive . The boldness you show makes you something of a daredevil. And where would the world be, without daredevils, willing to strike out and do something completely different.

People born under the Aries sign are passionate lovers and intense friends. They sometimes risk driving people away with all that intensity and so Aries people need partners that can match them without fueling the fire and creating explosive situations.Aries make excellent entrepreneurs; it's a natural talent for someone with such a strong focus on initiative and leadership.  They thrive on challenges and love to excel and win.  They don't react well when forced to wait, and can have trouble accepting advice. 

March 21 Zodiac Personality
March 22 Zodiac Personality
March 23 Zodiac Personality
March 24 Zodiac Personality
March 25 Zodiac Personality
March 26 Zodiac Personality
March 27 Zodiac Personality
March 28 Zodiac Personality
March 29 Zodiac Personality
March 30 Zodiac Personality
March 31 Zodiac Personality

In the expansive and broad-minded sign of Sagittarius, the Moon takes on a special radiance and shine that is distinct from other moon signs. Sagittarius is the astrological sign of long journeys and higher education. Here, the Moon urges a more active mode of existence. If your Moon is in Sagittarius, you are recognized for your sharp, incisive mind, excellent insights, and ability to get things done in a jiffy.

Your clear-thinking mind examines sensory information swiftly and with alarming efficacy. You are the sort of individual who envisions large goals and then sets about accomplishing them undeterred by the scope of the task. You seldom heed advice about potential pitfalls and drawbacks, nor wait to see if a plan is unrealistic or untenable. With optimism and enthusiasm, you race in and normally succeed in what you set out to do. With a Moon in Sagittarius, there is a lofty vision, and an ability to see farther than people with the Moon in other signs.
Those with Mercury in Taurus never start on a project before they are totally prepared. They have a reasonable, firm, and practical mind. There is a rigidity to their mentality and they tend to be quite certain their choices are the most sensible. They do what they think is right and hold little concern for what others think about it. They also have an exceptional memory and good powers of observation but are not very attentive listeners. It can be very difficult to change their minds once they've been made up.

Mercury in Taurus people may have an annoying tendency to repeat themselves and state and reiterate what they've already said over and over again in different ways as if to drill their point further and further into people's minds. Although they are typically well-mannered, sociable and charming, they can be a bit shy with people with they are unfamiliar. They prefer the pleasure of reading a book while reposing in a comfy plush chair than holding court in the midst of a congested group setting.
Venus in the feisty and passionate sign of Aries denotes torrid and impulsive desires.

Venus in Aries

are a mix of sentimentality and aggressiveness. These people believe in love at first sight and they do not waste time when going about trying to campaign for the object of their affections. They prefer to be upfront and direct even when it means exposing themselves to rejection.

However, they do not give up easily and can take the challenge of winning someone over as a personal test of their charm and charisma. They can be foolish and imprudent in matters of love. They can become desperately in love and go to extreme sometimes obsessive measures in the name of their beloved. Venus in Aries people are initially captivated by the physical beauty of a person, but mental compatibility is necessary to keep them interested. They dislike sloppy appearances and have a strong distaste for loud and vulgar behavior.
Mars's strength becomes subtle in Cancer. You possess excellent energy of determination, but it is never pushed into the open. Similar to the tides, you wear down resistance by repeated attack. Each surge may achieve little, but the aggregated outcome is overwhelming. In sex, Mars-in-Cancer's strategy is passionate. You are sensual but elegant, and your lovemaking is a deeply instinctive art.
Your lust, however, is reliant on what is forthcoming from a sweetheart. If a beloved is indifferent or unresponsive, he or she may determine that your get-up-and-go just got up and went. Still, as a native of this Mars position, you will stick to a relationship that does not make you content. You respond only in eruptions of passion and high-strung impatience. What you often expect is an outlet for your pent-up forces. You are regarded for your breadth of vision and highly spirited work.
Thоѕе whо fall under thіѕ number аrе humanitarians whо want tо change thе world frоm іtѕ dire state, tо one whеrе thеrе іѕ peace аnd harmony. It gives life number 9s а great sense оf accomplishment аnd satisfaction tо bе аblе tо contribute largely tо thе world, whеrе thеу аrе generous, kind-hearted, compassionate, аnd selfless. Bесаuѕе thеу push thеmѕеlvеѕ tо bе more іn thіѕ world bу contributing largely, thеrе аrе times whеn thеу dоn't enjoy thе fruits оf thеіr actions; thеу'rе constantly unsatisfied аnd need tо accomplish more. Financially, thеѕе people аrе lucky, whеrе unexpected sources wіll help thеm оn thеіr mission tо change thе world. Thеу ѕhоuld bear іn mind thоugh, thаt running after money whіlе pushing аѕіdе thе dreams thеу strive tо fulfill, wіll оnlу leave thеm broke аnd regretful. Thеу need tо learn how tо appreciate thеіr valued work fоr thе world, аnd accept thе fact thаt limitations wіll arise аnd аrе inevitable іn many cases.
Thе number 9 people have completed thе karmic circle аnd come off аѕ people wіth loads оf knowledge аnd experience. Thеу аrе compassionate, tolerant, benevolent, charming аnd idealistic. Thеу аrе аlѕо intuitive аnd mystical. On thе оthеr side, thеу аrе stingy, impulsive, intolerant, insensitive аnd effusive. Thеу аrе known tо take uр humanitarian causes аnd have а highly developed intuition аnd spirituality. Thе number 9 denotes mastery оvеr аll thе challenges faced bу thе numbers preceding іt. Thе 'Hermit' makes іtѕ tarot representation. It іѕ astrologically related tо Virgo аnd Sagittarius аnd іѕ influenced bу а whоlе gang оf planets, nаmеlу thе Sun, Moon, Mars аnd Jupiter. Thе number 9 people have аn aura made uр оf аll thе Fall colors. Opal іѕ а good gemstone fоr thеѕе people. Thе month оf September brings good things tо thеѕе people аnd thеіr lucky day іѕ Monday. 1, 5, 6, 9, 18 аnd 27 аrе lucky dates fоr thеѕе people.
The Dragon is one of the most powerful and lucky Signs of the Chinese Zodiac. Its warm heart tempers its fiery and rambunctious nature.  This is a giving, intelligent and tenacious Sign that knows exactly what it wants and is determined to get it. Dragons possess a certain natural, charm that ensures they can always influence their peers and often find themselves the center of attention in social situations.

This Sign is truly blessed, too. Dragons are considered to be very lucky in love. The Dragon's friends are always keen to hear what this firebrand has to say and when it comes to dispensing advice, the Dragon has the floor. Dragon people are confident and know how to make an impression. They are usually the center of attention and thrive in that role. Their natural enthusiasm and interest often lead them to positions of power and notice.
The
Fire element is both destructive and nourishing. On a cold winter day, there is nothing more calming to the soul than curling up by a roaring fire with a good book or cherished love one. On the other side, there is no other force on earth more destructive than a raging, out of control fire. Fire nourishes the human body by providing us heat to cook our food and light with which to see.
And, there is nothing more painful than having a part of your body taken by fire or flame. Fire signs draw attention to themselves.  Those under the influence of Fire have charm and charge on their side.  They have an infectious enthusiasm that makes them natural leaders, so people just can't help but to follow them. They take the role of leader seriously, and do it well. For fire people, managing others comes naturally. They are decisive, compassionate, understanding yet firm.
The ENTJ is one of the 16 MBTI personality types. ENTJ stands for extravert (E) intuitive (N), thinking (T) and judging (J). The cognitive stack of the ENTJ is as follows: extraverted thinking (Te), introverted intuition (Ni), extraverted sensing (Se) and introverted feeling (Fi). ENTJs are described as extraverts who like to take charge and accomplish ambitious aims. ENTJs possess great organizational ability and vision. With the aid of their strong gut instincts, ENTJs are capable of bringing to fruition their goals and objectives.

They are methodical, systematic and focused on the big picture. They are dubbed as the "field marshals" because they like to be out in the field implementing and enforcing their plans and making sure everyone involved is performing to standard. ENTJs don't like to dwell on their feelings because of how vulnerable and weak it can make them feel. They prefer to deal with their problems by taking effective, constructive and productive action. They are always pushing themselves to grow, face challenges and achieve new goals. Over time, they may earn a lot of insight and experience that they may in turn share with others through teaching and coaching.