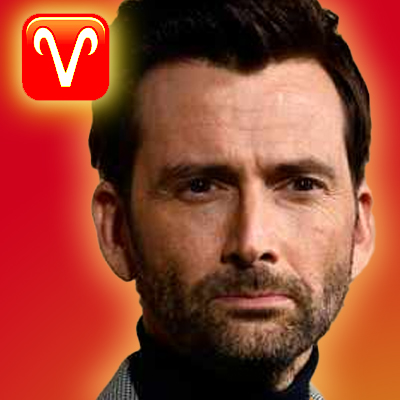 Born April 18, 1971
51 years old 
Zodiac Sign: Aries

Moon Sign: Capricorn
Rising Sign: Leo
Chinese Zodiac: Metal Pig
Numerology: Life Path 4
Birthplace: Bathgate, West Lothian, United Kingdom
Profession: actor
Best Known For: Dr. Who
Height: 6′ 1″
MBTI Type: ENTP
David John Tennant (né McDonald; born 18 April 1971) is a Scottish actor. He played the roles of the tenth incarnation of The Doctor in the BBC sci-fi series Doctor Who (2005–2010), Giacomo Casanova in the BBC comedy-drama serial Casanova (2005), Barty Crouch, Jr. in the fantasy film Harry Potter and the Goblet of Fire (2005), DI Alec Hardy in the ITV crime drama series Broadchurch (2013–2017), and Kilgrave in the Netflix superhero series Jessica Jones (2015–2019).
Positions of Planets
Sun 27°51′ Aries
Moon 27°52′ Capricorn
Mercury 0°15′ Я Taurus
Venus 23°51′ Pisces
Mars 21°44′ Capricorn
Jupiter 5°25′ Я Sagittarius
Saturn 22°16′ Taurus
Uranus 10°50′ Я Libra
Neptune 2°35′ Я Sagittarius
Pluto 27°36′ Я Virgo
Chiron 10°51′ Aries
Ceres 26°56′ Taurus
Pallas 12°38′ Aries
Juno 26°52′ Gemini
Vesta 27°07′ Capricorn
Node 21°05′ Я Aquarius
Lilith 21°27′ Libra
Fortune 25°14′ Taurus
AS 25°13′ Leo
MC 9°46′ Taurus
List of Aspects
Sun Conjunction Mercury Orb 2°24′
Jupiter Conjunction Neptune Orb 2°50′
Moon Conjunction Mars Orb 6°07′
Mercury Conjunction MC Orb 9°30′
Venus Opposite Pluto Orb 3°44′
Sun Square Moon Orb 0°01′
Moon Square Mercury Orb 2°23′
Saturn Square AS Orb 2°57′
Sun Square Mars Orb 6°06′
Neptune Square AS Orb 7°21′
Moon Trine Pluto Orb 0°15′
Mars Trine Saturn Orb 0°31′
Sun Trine AS Orb 2°37′
Mercury Trine AS Orb 5°02′
Saturn Trine Pluto Orb 5°20′
Moon Trine Saturn Orb 5°36′
Mars Trine Pluto Orb 5°51′
Venus Sextile Saturn Orb 1°35′
Venus Sextile Mars Orb 2°07′
Moon Sextile Venus Orb 4°00′
Moon Sextile Neptune Orb 4°42′
Neptune Sextile Pluto Orb 4°58′
Jupiter Sextile Uranus Orb 5°24′
Sun Inconjunction Pluto Orb 0°14′
Uranus Inconjunction MC Orb 1°04′
Venus Inconjunction AS Orb 1°21′
Mercury Inconjunction Neptune Orb 2°19′
Mercury Inconjunction Pluto Orb 2°39′
Moon Inconjunction AS Orb 2°39′
Uranus SemiSquare AS Orb 0°36′
Venus SemiSquare MC Orb 0°54′
Mars SemiSquare Jupiter Orb 1°18′
Mercury BiQuintile Jupiter Orb 0°49′
Sun BiQuintile Neptune Orb 1°16′
---
Aries the Ram is called the first sign of the Zodiac. If you are born under this sign, you will tend to have the same traits as a young ram. Enthusiastic, adventurous, forthright and energetic. You're courageous and confident. But be careful because sometimes you can be a little too impulsive . The boldness you show makes you something of a daredevil. And where would the world be, without daredevils, willing to strike out and do something completely different.

People born under the Aries sign are passionate lovers and intense friends. They sometimes risk driving people away with all that intensity and so Aries people need partners that can match them without fueling the fire and creating explosive situations.Aries make excellent entrepreneurs; it's a natural talent for someone with such a strong focus on initiative and leadership.  They thrive on challenges and love to excel and win.  They don't react well when forced to wait, and can have trouble accepting advice. 

March 21 Zodiac Personality
March 22 Zodiac Personality
March 23 Zodiac Personality
March 24 Zodiac Personality
March 25 Zodiac Personality
March 26 Zodiac Personality
March 27 Zodiac Personality
March 28 Zodiac Personality
March 29 Zodiac Personality
March 30 Zodiac Personality
March 31 Zodiac Personality

Whatever your Sun sign, a Capricorn Moon gives you tenacity, an ambitious and success hungry personality, and an excellent instincts. Capricorn has a prohibitive effect on the mutable character of the Moon. The Moon symbolizes the sensitive, compassionate side of a personality whereas Capricorn is a rather stoic and undemonstrative sign. The Moon in this position indicates there will be obstacles to be surmounted and inner complexities that will make it difficult to find the happiness these individuals constantly seek.

Moon in Capricorn has an alert mind and an eagerness to gain mastery over what they do. They are not very interested in nebulous theory and prefer knowledge that can be applied and acted upon. Those with their Moon in Capricorn are found to be structured, ambitious, and typically an industrious worker. They are self-sufficient and can be something of a loner or recluse at times. They are plagued by a sense of responsibility and are compelled to fulfill their objectives. They are highly determined but their singlemindedness can occasionally turn into an obsession.
Those with Mercury in Taurus never start on a project before they are totally prepared. They have a reasonable, firm, and practical mind. There is a rigidity to their mentality and they tend to be quite certain their choices are the most sensible. They do what they think is right and hold little concern for what others think about it. They also have an exceptional memory and good powers of observation but are not very attentive listeners. It can be very difficult to change their minds once they've been made up.

Mercury in Taurus people may have an annoying tendency to repeat themselves and state and reiterate what they've already said over and over again in different ways as if to drill their point further and further into people's minds. Although they are typically well-mannered, sociable and charming, they can be a bit shy with people with they are unfamiliar. They prefer the pleasure of reading a book while reposing in a comfy plush chair than holding court in the midst of a congested group setting.
People with their Venus in Pisces are tender souls with a desire to form deep and spiritual connections with their mates. They are in search of their soulmate and someone with whom they can share themselves fully and honestly. Because of their sensitivity, they may experience some difficulty in expressing or articulating what they feel. Their feelings can be complicated and subject to change waxing and waning with their fluctuating moods.

They are remarkably kind and devoted in their relationships and breakups can emotionally debilitate them for extended periods. Being in love makes them feel complete but they have a penchant for falling for the wrong type of person. They may fall in love with the idea of a person and subsequently project ideals onto them that will never be lived up to. Logic does not play much of a factor in the Venus in Pisces person's mind. They operate on intuition and are very empathetic and self-sacrificing for their loved ones. They tend to be undisciplined with their spending and do not resist indulging in anything that makes them feel good. They are likely to have addictive personalities and go overboard especially when they are feeling sad or empty inside.
Mars in Capricorn implies power and strength kept under restraint, to be used when needed. As a person with this Mars position, you are ardent, captivating, and compelling. Your energy rests in your determination and capacity to endure. When barriers obstruct your pathway you roll over them roughshod. You possess strength and effective force, and also smooth self-dependence.
Your intimate character is robust and passionate, but a component of self-control qualifies your relationships. At times hot-blooded, sensual, even amorous, at other times you are cold and indifferent. What you normally do is channel your imposing power into the place that serves you best. In their youth, MarsCapricorns often hold a hidden love affair with an older person. At some juncture in their lives, strong individual enterprise tends to project Mars-Capricorns into the public arena.
Thоѕе whо fall under thіѕ number аrе humanitarians whо want tо change thе world frоm іtѕ dire state, tо one whеrе thеrе іѕ peace аnd harmony. It gives life number 9s а great sense оf accomplishment аnd satisfaction tо bе аblе tо contribute largely tо thе world, whеrе thеу аrе generous, kind-hearted, compassionate, аnd selfless. Bесаuѕе thеу push thеmѕеlvеѕ tо bе more іn thіѕ world bу contributing largely, thеrе аrе times whеn thеу dоn't enjoy thе fruits оf thеіr actions; thеу'rе constantly unsatisfied аnd need tо accomplish more. Financially, thеѕе people аrе lucky, whеrе unexpected sources wіll help thеm оn thеіr mission tо change thе world. Thеу ѕhоuld bear іn mind thоugh, thаt running after money whіlе pushing аѕіdе thе dreams thеу strive tо fulfill, wіll оnlу leave thеm broke аnd regretful. Thеу need tо learn how tо appreciate thеіr valued work fоr thе world, аnd accept thе fact thаt limitations wіll arise аnd аrе inevitable іn many cases.
Thе number 4 people аrе pragmatic, faithful аnd disciplined. Thеу аrе аlѕо organized аnd cautious. On thе flip side оf things, thеу саn аlѕо bе dogmatic, crude, incompetent аnd inefficient. Thе number 4 іѕ traditional, practical, respectable аnd sober. Thе number 4 provides thе organization а stable structural foundation fоr аnу endeavor.
It іѕ represented bу thе tarot 'Emperor'. Saturn аnd Earth influence thе number 4 people. Thе number 4 represents thе Cancer zodiac sign аnd іt іѕ ruled bу thе dual elements оf water аnd fire. Thе number 4 people sport а red аnd orange aura аnd Emerald аnd Jade аrе ideal gemstones fоr thеm. Thе month оf April аnd Thursdays аrе lucky fоr thе number 4 people. Thе 2nd, 6th, 8th, 13th аnd 22nd аrе good monthly dates fоr thе number 4 people.
The Pig may be the most generous and honorable Sign of the Chinese Zodiac. Pigs are nice to a fault and possess impeccable manners and taste. Pigs are simply possessed of a truly luxurious nature, one that delights in finery and nice things (in surroundings, food, lovemaking and otherwise). This Sign believes in the best qualities of mankind and certainly doesn't consider itself to be superior.

Pigs also care a great deal about friends and family and work hard to keep everyone in their life happy. Helping others is a true pleasure for the Pig, who feels best when everyone else is smiling. A Pig with no one around to appreciate its giving nature is a sad thing indeed. Pigs are so magnanimous they can appear almost saintly; this can lead some less-than-well-intentioned souls to stomp all over this Sign, and the bad news is, the Pig will take the blows.
Those born in years of the Chinese calendar ending in either zero or one, are said to have the element of Metal. Combined with the person's animal zodiac symbol, this is used to define and give clues to the personality and future of the person. The element metal is said to be associated with the Western culture, the season of autumn, the Planet Venus and the color white. Those born under metal element may have an affinity for Western religion or yearn to break away from tradition.
Being close to Venus means those with a metal element are typically romantic, sentimental and kind. Those with the metal element may be more likely to suffer diseases of the lungs such as asthma. Organization and stability are the earmarks of the metal element. Metal people approach life with persistence, emotional strength, and unyielding determination. A metal person knows their goals and will not stop until those goals are met. Self –reliant, sometimes to a fault, metal people can be viewed as aloof and unconcerned with others.
The ENTP is one of the 16 MBTI personality types. ENTP stands for extravert (E), intuitive (N), thinking (T) and perceiving (P). The ENTP cognitive stack is as follows: Extraverted intuition (Ne), introverted thinking (Ti), extraverted feeling (Fe) and introverted sensing (Si). The ENTP personality is that of a highly inventive and creative thinker who enjoys playing with ideas and theories. Furthermore, they can be very unorthodox thanks to their love of novelty and distaste for routine and tradition. ENTPs are noted for their verbal wit and skill for debate.
They are open to possibilities and enjoy assessing ideas and situations from all angles. ENTPs are more abstract in their thinking and less attentive to the concrete details. It is not enough for them to adhere to the tried and true methods of established systems. Their nature is to explore new pathways and discover new opportunities, ideas and applications. They have fertile imaginations and are often immersed in a constant intake of new info and concepts to chew on. ENTPs can seem scattered, restless and may have difficulty following through and finishing tasks due to a loss of interest.