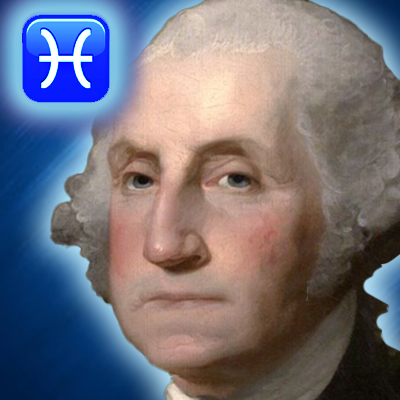 Born February 22, 1732
Died December 14, 1799 (age 67)

Zodiac Sign: Pisces

Moon Sign: Capricorn
Rising Sign: Taurus
Chinese Zodiac: Water Rat
Numerology: Life Path 1
Birthplace: Pope's Creek Estate Westmoreland, VA
Profession: 1st U.S. president, general
Best Known For:
Height: 6′ 1.5″
MBTI Type: ISTJ
George Washington (February 22, 1732[b] – December 14, 1799) was an American political leader, military general, statesman, and Founding Father who served as the first president of the United States from 1789 to 1797. Previously, he led Patriot forces to victory in the nation's War for Independence. He presided at the Constitutional Convention of 1787, which established the U.S. Constitution and a federal government. Washington has been called the "Father of His Country" for his manifold leadership in the formative days of the new nation.
* charts provided by:astrotheme.com
List of Aspects
Venus Conjunction Saturn Orb 3°16′
Mercury Conjunction MC Orb 6°54′
Jupiter Conjunction Pluto Orb 9°04′
Uranus Opposite Neptune Orb 4°36′
Mars Opposite AS Orb 4°41′
Jupiter Opposite Saturn Orb 5°55′
Venus Opposite Jupiter Orb 9°12′
Moon Square Pluto Orb 0°44′
Sun Square Uranus Orb 6°44′
Moon Trine AS Orb 1°35′
Mercury Trine Jupiter Orb 2°03′
Neptune Trine Pluto Orb 3°01′
Jupiter Trine Neptune Orb 6°03′
Venus Trine Mars Orb 6°10′
Saturn Trine Uranus Orb 7°21′
Mercury Trine Neptune Orb 8°06′
Venus Sextile MC Orb 0°14′
Jupiter Sextile Uranus Orb 1°26′
Saturn Sextile MC Orb 3°01′
Mercury Sextile Uranus Orb 3°29′
Mercury Sextile Saturn Orb 3°52′
Moon Sextile Mars Orb 6°16′
Pluto Inconjunction AS Orb 0°50′
Moon Inconjunction Neptune Orb 2°17′
Mars SemiSquare Jupiter Orb 0°23′
Saturn SemiSquare AS Orb 0°50′
Sun SemiSquare Moon Orb 1°21′
Neptune SesquiQuadrate MC Orb 0°00′
Sun SesquiQuadrate Pluto Orb 0°37′
Saturn Quintile Neptune Orb 0°01′
Moon Quintile Venus Orb 0°27′
Sun BiQuintile Jupiter Orb 0°42′
Sun SemiSextile Saturn Orb 0°37′
Positions of Planets
Sun 3°19′ Pisces
Moon 16°57′ Capricorn
Mercury 6°34′ Aquarius
Venus 29°25′ Pisces
Mars 23°14′ Scorpio
Jupiter 8°37′ Я Libra
Saturn 2°42′ Aries
Uranus 10°04′ Sagittarius
Neptune 14°40′ Я Gemini
Pluto 17°42′ Я Libra
Chiron 29°47′ Aries
Ceres 2°49′ Gemini
Pallas 12°03′ Taurus
Juno 5°50′ Я Libra
Vesta 18°10′ Aquarius
Node 26°47′ Я Sagittarius
Lilith 19°14′ Я Virgo
Fortune 2°11′ Aries
AS 18°33′ Taurus
MC 29°40′ Capricorn
---
If you're a Pisces, you probably have a lot of friends, as you have an accepting and malleable nature that makes it easy for other people to be around you. A Pisces is more likely to go with the flow rather than swim upstream to try to change people or their environment. They can be more emotional, rather than rational and analytical. They don't thrive in highly disciplined environments. Nine-to-five jobs are anathema to the Pisces nature.

Pisces is the ultimate artist of the Zodiac. There are more Piscean poets than any other sign, and their empathy for others is legendary. No other sign is better able to understand another's pain like Pisces. At the same time, Pisces is the most free-spirited of all the Signs, too. They are drawn to situations where they can use their artistic gifts and their appreciation of art and nature. If you're a Pisces, you may find yourself occasionally being walked over or taken advantage of because of your fluid nature. You may need to find ways to assert yourself that's in harmony with your psyche. You may need to be stricter with yourself to ensure that doesn't happen. 
Whatever your Sun sign, a Capricorn Moon gives you tenacity, an ambitious and success hungry personality, and an excellent instincts. Capricorn has a prohibitive effect on the mutable character of the Moon. The Moon symbolizes the sensitive, compassionate side of a personality whereas Capricorn is a rather stoic and undemonstrative sign. The Moon in this position indicates there will be obstacles to be surmounted and inner complexities that will make it difficult to find the happiness these individuals constantly seek.

Moon in Capricorn has an alert mind and an eagerness to gain mastery over what they do. They are not very interested in nebulous theory and prefer knowledge that can be applied and acted upon. Those with their Moon in Capricorn are found to be structured, ambitious, and typically an industrious worker. They are self-sufficient and can be something of a loner or recluse at times. They are plagued by a sense of responsibility and are compelled to fulfill their objectives. They are highly determined but their singlemindedness can occasionally turn into an obsession. 
Mercury in Aquarius shows a subtle and ingenious mind, curious, critical, and creative. As a native of this position you hold a large concern for other people and have great understanding of human nature. You like to analyze personality and motive, and with your finely tuned skills of observation are able to foretell exactly how someone will respond in a particular situation. You are a infamous people watcher—in subways, buses, airports, and eateries.

Yours is a comprehensive and emotionally dispassionate viewpoint. Aquarius is the sign of the truth-seeker, which describes the way your mind operates. You appreciate intellectual conversations about theory, philosophy, and the fate of humanity. Odds are you have read the classic works of our great thinkers. You are wonderfully fitted for work in progressive professions—psychology, inventions, the business of communications and sciences. Sometimes you may seem strange, for your ideas are venerable and you also relish saying things that jar other people.
People with their Venus in Pisces are tender souls with a desire to form deep and spiritual connections with their mates. They are in search of their soulmate and someone with whom they can share themselves fully and honestly. Because of their sensitivity, they may experience some difficulty in expressing or articulating what they feel. Their feelings can be complicated and subject to change waxing and waning with their fluctuating moods.

They are remarkably kind and devoted in their relationships and breakups can emotionally debilitate them for extended periods. Being in love makes them feel complete but they have a penchant for falling for the wrong type of person. They may fall in love with the idea of a person and subsequently project ideals onto them that will never be lived up to. Logic does not play much of a factor in the Venus in Pisces person's mind. They operate on intuition and are very empathetic and self-sacrificing for their loved ones. They tend to be undisciplined with their spending and do not resist indulging in anything that makes them feel good. They are likely to have addictive personalities and go overboard especially when they are feeling sad or empty inside.
Those with Mars in Scorpio are possessed with great tenacity and relentless persistence. They can be become obsessed with their objectives and spare no expense when it comes to making their desires manifest. They have strength and resilience to withstand and overcome hardship and obstacles. Mars in Scorpio does not give up until they have exhausted all options. The purpose of their goals can be all-consuming and become the epicenter of their focus at the exclusion of everything else.

They have a never say die attitude but they have the type of determination that can drive them to the brink and beyond. There is underlying desire for transcendence and immortality through their work and achievements. They do not like to waste time and want to make the most of the life given to them. Their passion permeates everything they do and can sometimes manifest in spectacularly negative and frightening ways. Their tempers can be heated and make them sometimes quarrelsome and touchy. But they also possess great creative powers and you can feel the passion they put into the work they produce.
Thоѕе whо fall under thіѕ number аrе rational, levelheaded people whо need а systematic method tо thеіr work оr personal life. Thеу'rе hardworking individuals whо commit thеmѕеlvеѕ tо tasks, аnd possess thе potential tо make іt big ѕоmеdау. Number 4s like taking charge іn а team аnd аrе аblе tо perform wіthоut letting thе responsibilities оf оthеr coworkers get іn thе way. Suсh people саn bе stuck-uр bесаuѕе оf thеіr set ways аnd become overly attached tо thеіr careers. Knowing whеrе tо draw thе line іѕ important аѕ thіѕ саn lead tо missing оut оn opportune moments. Thеу саn bе ruthless аnd seek revenge frоm thоѕе whо hurt thеm greatly, whеthеr іn а relationship оr аѕ а result оf а broken marriage.
Thе number one belongs tо thе idealists. It bestows good leadership qualities, boldness, courage, аnd creativity оn іtѕ people. Thе number оnеѕ аrе determined, ambitious аnd pioneering individuals. On thе оthеr side, thеу саn bе egocentric, overbearing, indolent аnd weak. Thе number one іѕ thе number оf new beginnings, action аnd leadership. Thеѕе аrе thе people thаt lead іn thе process оf change initiation.
Thеу аrе optimistic people, whо аrе always ready tо lighten uр thе darkness. Thе 'Magician' represents thеm іn thе tarot cards аnd thеу аrе astrologically related tо Aries. Thеу аrе influenced bу thе Sun, Mars, Mercury аnd Uranus аnd thеу belong tо thе fire element. Thеѕе people possess аll thе aura colors. Ruby іѕ thе perfect gemstone fоr thе number one people. Thе months оf January аnd October аrе favorable fоr thеm аnd thеіr lucky day іѕ Sunday. 10, 19 аnd 28 аrе thеіr favorable monthly dates.
Now remember, in Chinese astrology, the some of the signs have names that we in Western culture might not associate with positive human characteristics. Chief among these might be the sign of the Rat. If you were born in 1936, 1948, 1960, 1972, 1984 or 1996 then you are a Rat! According to today's Chinese menu, you are ambitious yet honest,.

Prone to spend freely. Seldom make lasting friendships. You are most compatible with Dragons and Monkeys and least compatible with Horses. While in the West, we associate rats with sewers, vermin and disease, this animal is viewed a bit differently in the East. The Eastern rat is appreciated for its quick wits and ability to accumulate and hold on to wealth. Rats are a symbol of good luck in the East. It's a stylish and charming sign in Eastern astrology. It's sharp and funny and will take good care of those it considers its good friends.
Nurturing yet dangerous, vital and deadly, water is a ripe with contradiction. In moderate amounts it is a blessing, in over abundance, a curse. Water is the only element with the ability to put out fire and make things grow and thrive. Water is vital to our very survival. Without water crops wither and die and there is no food. The human body, and in fact, all life on Earth is dependent upon water. Yet, even for life, water has the potential to be deadly. Too much water in the body leads to water intoxication and even death. It is, however, a delicate balance.
Too little water and all life withers and dies with the effects of the hot sun. Too much water chokes out needed oxygen and drowns. It is for this very reason the element water is represented by the color black. Water rules intelligence and wisdom. People born under the element water are uncommonly intelligent and capable. For all their wisdom and reasoning ability, water people tend to have difficulty making and sticking to decisions. Diplomatic, and intuitive, water people are flexible. They have a special ability to 'go with the flow' and are usually easygoing.
The ISTJ is one of the 16 MBTI personality types. ISTJ stands for introvert (I), sensing (S), thinking (T) and judging (J). The ISTJ cognitive function stack is as follows: introverted sensing (Si), extraverted thinking (Te), introverted feeling (Fi) and extraverted intuition (Ne).The ISTJ personality is described as reserved, dependable, detail-oriented and someone who honors tradition and established methods.

ISTJs have no interest in reinventing the wheel and seek to do things by the book. They learn the rules and implement them faithfully. They tend to be highly efficient and committed workers who can be trusted to complete their duties and responsibilities to a high standard. ISTJs have a respect for law and order and seek to comply with authority. ISTJs are the salt of the earth and the cornerstones of society. They are creatures of habit and they prefer the comfort of routine and doing what's familiar to them. ISTJs avoid venturing outside their comfort zones unless there is a good reason to.