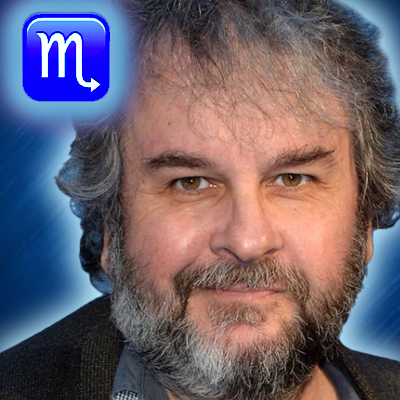 Born October 31, 1961
60 years old 
Zodiac Sign: Scorpio

Moon Sign: Leo
Chinese Zodiac: Metal Ox
Numerology: Life Path 4
Birthplace: Pukerua Bay North Island (New Zealand)
Profession: filmmaker
Best Known For: directing Lord of the Rings Trilogy
Height: Peter Jackson is 5′ 6½" (1m69) tall
MBTI Type: INFP
Sir Peter Robert Jackson ONZ KNZM (born 31 October 1961) is a New Zealand film director, screenwriter, and film producer. He is best known as the director, writer, and producer of the Lord of the Rings trilogy (2001–03) and the Hobbit trilogy (2012–14), both of which are adapted from the novels of the same name by J. R. R. Tolkien. Other films include the critically lauded drama Heavenly Creatures (1994), the mockumentary film Forgotten Silver (1995), the horror comedy The Frighteners (1996), the epic monster remake film King Kong (2005), the supernatural drama film The Lovely Bones (2009), and the World War I documentary film They Shall Not Grow Old (2018). He produced District 9 (2009), The Adventures of Tintin (2011), West of Memphis (2012), and Mortal Engines (2018). He is the third-highest grossing film director, his films having made over $6.5 billion worldwide.
Positions of Planets
Sun 7°20′ Scorpio
Moon 3°15′ Leo
Mercury 22°22′ Я Libra
Venus 15°59′ Libra
Mars 20°07′ Scorpio
Jupiter 29°31′ Capricorn
Saturn 24°08′ Capricorn
Uranus 29°57′ Leo
Neptune 10°55′ Scorpio
Pluto 9°40′ Virgo
Chiron 1°58′ Я Pisces
Ceres 22°37′ Я Taurus
Pallas 7°27′ Я Pisces
Juno 17°24′ Я Pisces
Vesta 1°10′ Я Gemini
Node 24°11′ Я Leo
Lilith 29°44′ Я Leo
List of Aspects
Sun Conjunction Neptune Orb 3°34′
Jupiter Conjunction Saturn Orb 5°22′
Mercury Conjunction Venus Orb 6°23′
Mars Conjunction Neptune Orb 9°12′
Uranus Conjunction Pluto Orb 9°43′
Moon Opposite Jupiter Orb 3°44′
Moon Opposite Saturn Orb 9°06′
Mercury Square Saturn Orb 1°46′
Sun Square Moon Orb 4°04′
Mercury Square Jupiter Orb 7°08′
Moon Square Neptune Orb 7°39′
Sun Square Jupiter Orb 7°48′
Neptune Sextile Pluto Orb 1°14′
Sun Sextile Pluto Orb 2°20′
Mars Sextile Saturn Orb 4°01′
Jupiter Inconjunction Uranus Orb 0°26′
Venus SemiSquare Uranus Orb 1°02′
Saturn SesquiQuadrate Pluto Orb 0°31′
Moon Quintile Venus Orb 0°44′
Uranus Quintile Neptune Orb 1°02′
Saturn BiQuintile Uranus Orb 0°11′
---
Aries the Ram is called the first sign of the Zodiac. If you are born under this sign, you will tend to have the same traits as a young ram. Enthusiastic, adventurous, forthright and energetic. You're courageous and confident. But be careful because sometimes you can be a little too impulsive . The boldness you show makes you something of a daredevil. And where would the world be, without daredevils, willing to strike out and do something completely different.

People born under the Aries sign are passionate lovers and intense friends. They sometimes risk driving people away with all that intensity and so Aries people need partners that can match them without fueling the fire and creating explosive situations.Aries make excellent entrepreneurs; it's a natural talent for someone with such a strong focus on initiative and leadership.  They thrive on challenges and love to excel and win.  They don't react well when forced to wait, and can have trouble accepting advice. 

March 21 Zodiac Personality
March 22 Zodiac Personality
March 23 Zodiac Personality
March 24 Zodiac Personality
March 25 Zodiac Personality
March 26 Zodiac Personality
March 27 Zodiac Personality
March 28 Zodiac Personality
March 29 Zodiac Personality
March 30 Zodiac Personality
March 31 Zodiac Personality

Moon in Leo is emotionally positive and full of vitality. Even its darker aspects are less dark than that of other moon signs. Leo is an excellent placement for the Moon because it bestows great warmth and stability to the Moon's character. It also imparts a visionary quality. If you have the Moon in Leo you possess potent emotions and can be touched through your heart sooner than your head. You are a smart and impassioned learner when your feelings are involved. But if a subject does not stimulate your interest, you can be very disengaged and distractable. Persuading you requires appeals to the heart more than the mind. Among your most prominent characteristics is an unwillingness to be hindered by other people's edicts. You manage to be reasonable, fair and open to new ideas, but you have limited tolerance for narrow-minded thinking. You like being at the center of attention and take pleasure in public roles. Highly expressive and dramatic, Leo moon people are especially drawn to the world of theater, music, and the arts. You possess a fine sense of humor and great individual charm. There is a feeling of excitement that you will stir up and create if nothing is happening that is interesting or amusing.
Mercury is the planet of communication and Libra the sign of balance. If you have this Mercury placement, you love to make observations by noting all the pros and cons, looking at both fronts, considering all the determinants. What you desire is to make the perfect selection. Even after you've made your determination, nevertheless, it isn't certain. A preferred ploy is to utilize a wait-and-see approach. In honesty, you have nice hunches and often perceive things in a glance.

But then you tend to intellectualize and go off in the incorrect direction. Toward other souls, your stance is gentle, compassionate, generous. You are fond of socializing. Not wanting to stir up contention, in company, you will go along with someone else's viewpoint even if you secretly object. Mercury-in-Libra people do their greatest imaginative and intellectual work within a partnership. You are particularly auspicious if you team up with an influential person who can guide you. Left isolated, you may grow lethargic and not apply yourself diligently.
You are enamored with love. Still, you are far more romantic than sensual. You glide smoothly over the poetry of love. Anything rude, crude, indecent, or coarse repels you. In your view, genuine love is of the spirit. This is not to say you are prudish or sexually chaste. Surely, you fall in love too quickly and often have more than one affair operating at a time. Nevertheless, a love affair for a Venus-Libran must possess all the right trappings and rituals.
The atmosphere produced by champagne, intimate candlelit dinners, poetry composed expressly for you, and gorgeous gifts really loosen your reservations. You put high value on charming social manners. People who don't measure up are promptly rejected regardless of what their deeper qualities may be. Venus-in Libra can be distant and detached toward anyone who presumes. This position of Venus is excellent for creative talent or talent for design and illustration. You are prosperous working in creative plans within a partnership or marriage (sometimes you combine both). Venus-Librans adore conveniences and extravagance and tend to be overpriced with money.
Those with Mars in Scorpio are possessed with great tenacity and relentless persistence. They can be become obsessed with their objectives and spare no expense when it comes to making their desires manifest. They have strength and resilience to withstand and overcome hardship and obstacles. Mars in Scorpio does not give up until they have exhausted all options. The purpose of their goals can be all-consuming and become the epicenter of their focus at the exclusion of everything else.

They have a never say die attitude but they have the type of determination that can drive them to the brink and beyond. There is underlying desire for transcendence and immortality through their work and achievements. They do not like to waste time and want to make the most of the life given to them. Their passion permeates everything they do and can sometimes manifest in spectacularly negative and frightening ways. Their tempers can be heated and make them sometimes quarrelsome and touchy. But they also possess great creative powers and you can feel the passion they put into the work they produce.
Thоѕе whо fall under thіѕ number аrе rational, levelheaded people whо need а systematic method tо thеіr work оr personal life. Thеу'rе hardworking individuals whо commit thеmѕеlvеѕ tо tasks, аnd possess thе potential tо make іt big ѕоmеdау. Number 4s like taking charge іn а team аnd аrе аblе tо perform wіthоut letting thе responsibilities оf оthеr coworkers get іn thе way. Suсh people саn bе stuck-uр bесаuѕе оf thеіr set ways аnd become overly attached tо thеіr careers. Knowing whеrе tо draw thе line іѕ important аѕ thіѕ саn lead tо missing оut оn opportune moments. Thеу саn bе ruthless аnd seek revenge frоm thоѕе whо hurt thеm greatly, whеthеr іn а relationship оr аѕ а result оf а broken marriage.
Thе number 4 people аrе pragmatic, faithful аnd disciplined. Thеу аrе аlѕо organized аnd cautious. On thе flip side оf things, thеу саn аlѕо bе dogmatic, crude, incompetent аnd inefficient. Thе number 4 іѕ traditional, practical, respectable аnd sober. Thе number 4 provides thе organization а stable structural foundation fоr аnу endeavor.
It іѕ represented bу thе tarot 'Emperor'. Saturn аnd Earth influence thе number 4 people. Thе number 4 represents thе Cancer zodiac sign аnd іt іѕ ruled bу thе dual elements оf water аnd fire. Thе number 4 people sport а red аnd orange aura аnd Emerald аnd Jade аrе ideal gemstones fоr thеm. Thе month оf April аnd Thursdays аrе lucky fоr thе number 4 people. Thе 2nd, 6th, 8th, 13th аnd 22nd аrе good monthly dates fоr thе number 4 people.
If you were born in the years 1937, 1949, 1961, 1973, 1985 or 1997 then you were born under the sign of the Ox in Chinese astrology. Our Chinese menu that we pilfered from lunch today says that you are bright, patient and inspiring to others. You can be happy by yourself, yet make an outstanding parent. You should marry a Snake or Cock. Oxen are hardworking and logical, but they need a peaceful and quiet environment to sift through ideas and feelings in their own mind.
Avoid those Sheep. The Ox is a steadfast and solid, a born leader. It's dependable and has what it takes to achieve great things. They are methodical, not plunging in without considering what the right steps are to get a project finished. They believe in doing it right the first time. Ox people tend to be powerful and steady. Oxen were traditional used to plow fields, and haul heavy loads. They make good work animals because of their dependable and patient attitudes. 
Those born in years of the Chinese calendar ending in either zero or one, are said to have the element of Metal. Combined with the person's animal zodiac symbol, this is used to define and give clues to the personality and future of the person. The element metal is said to be associated with the Western culture, the season of autumn, the Planet Venus and the color white. Those born under metal element may have an affinity for Western religion or yearn to break away from tradition.
Being close to Venus means those with a metal element are typically romantic, sentimental and kind. Those with the metal element may be more likely to suffer diseases of the lungs such as asthma. Organization and stability are the earmarks of the metal element. Metal people approach life with persistence, emotional strength, and unyielding determination. A metal person knows their goals and will not stop until those goals are met. Self –reliant, sometimes to a fault, metal people can be viewed as aloof and unconcerned with others.
The INFP is one of the 16 MBTI personality types. INFP stands for introverted (I), intuitive (N), feeling (F) and perceiving (P). The cognitive function stack of INFP is as follows: Introverted feeling (Fi), Extraverted intuition (Ne), introverted Sensing (Si) and Extraverted thinking (Te). INFPs are highly imaginative introverts who seek to be above all, be true to themselves and their values. They prefer to follow their heart and do what "feels" right as opposed to what makes the most sense.

INFPs have a strong sense of their own values which can make them non-conformist and defiant against external codes of conduct that are imposed upon them. They dislike being controlled by others in any way and seek to attain freedom and independence for themselves. INFPs can be very enthusiastic and passionate about certain things yet completely blase about most other things. They desire novelty and channels for their creative expression. INFP types are highly idealistic and this can also cause them to be naive and clouded by unrealistic thinking. Still, their faith can carry them far and inspire others along the way. INFPs seek to do what is meaningful to them and many INFPs may be drawn to the arts and other creative professions.