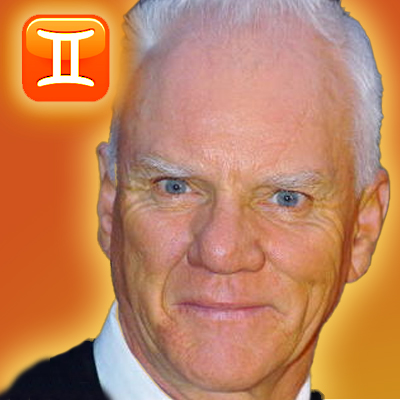 Born June 13, 1943
79 years old 
Zodiac Sign: Gemini
Moon Sign: Libra
Chinese Zodiac: Water Goat
Numerology: Life Path 9
Birthplace: Leeds, Yorkshire, UK
Profession: actor
Best Known For: A Clockwork Orange
Height: Malcolm McDowell is 5 '8½ "( 1m74) tall
MBTI Type: ESTJ
Malcolm McDowell (born Malcolm John Taylor; 13 June 1943) is an English actor, known for his boisterous and often villainous roles. He trained as an actor at the London Academy of Music and Dramatic Art.
planets positions
Sun 21 ° 31 ' Gemini
Moon 18 ° 25 ' Libra
Mercury 29 ° 37 ' Taurus
Venus 6 ° 14 ' Leo
Mars 12 ° 31 ' Aries
Jupiter 26 ° 22 ' Cancer
Saturn 16 ° 45 ' Gemini
Uranus 5 ° 41 ' Gemini
Neptune 29 ° 17 ' Virgo
Pluto 5 ° 35 ' Leo
Chiron 25 ° 15 ' Leo
Ceres 27 ° 42 ' Taurus
Pallas 14 ° 29 ' Aries
Juno 27 ° 45 ' Я Capricorn
Vesta 15 ° 22 ' Taurus
North node 17 ° 37 ' Я Leo
Lilith 1 ° 39 ' Я Leo
List of aspects
Venus Conjunction Pluto Orb 0 ° 39 '
Sun Conjunction Saturn Orb 4 ° 46 '
Mercury Conjunction Uranus Orb 6 ° 04 '
Jupiter Conjunction Pluto Orb 9 ° 12 '
Venus Conjunction Jupiter Orb 9 ° 52 '
Moon Opposition March Orb 5 ° 53 '
Sun Square Neptune Orb 7 ° 45 '
Moon Square Jupiter Orb 7 ° 57 '
Mercury trigonal Neptune Orb 0 ° 19 '
Moon trigonal Saturn Orb 1 ° 39 '
Sun trigonal Moon Orb 3 ° 06 '
Venus trigonal Mars Orb 6 ° 17 '
Uranus trigonal Neptune Orb 6 ° 23 '
Mars trigonal Pluto Orb 6 ° 56 '
Uranus sextile Pluto Orb 0 ° 05 '
Venus sextile Uranus Orb 0 ° 33 '
Jupiter sextile Neptune Orb 2 ° 54 '
Mercury sextile Jupiter Orb 3 ° 14 '
Mars sextile Saturn Orb 4 ° 13 '
Mercury sextile Pluto Orb 5 ° 58 '
Sun SemiCarré Venus Orb 0 ° 17 '
Sun SemiCarré Pluto Orb 0 ° 56 '
Moon sesquiquadrate Uranus Orb 2 ° 15 '
Moon quintile Venus Orb 0 ° 10 '
Moon quintile Pluto Orb 0 ° 49 '
---
The sign of Gemini (May 22 – June 21). Geminis can be contradictory, people with dualities to their nature that can perplex their friends, families and lovers. They love versatility and change, but can be flighty and mutable to create interest in their lives. They don't like routine. Decision-making can be difficult for them and they can often change their minds.

They have a strong intellect and love mental challenges. They catch on to new ideas quickly. They have an analytical side and can see both sides to an issue. Boredom is a big issue for Geminis and they can get into trouble looking for some excitement. But they're very creative and active and should have outlets for all this energy like artistic projects or exercise or vigorous sports like racquetball.
Romantic, and glamorous, moon in Libra imbues a keen appreciation for beauty and art. Libra moon people have an artistic eye that is unrivaled by any other Moon sign. They have an increased awareness of their surroundings and of other people. What they really appreciate are the experiences that make life more wonderful and delightful. They detest rudeness, crudity, or conflict. Their immediate response to anything unpleasant is to dismiss it, or, if that is infeasible, at least to put it in the best light imaginable.

They try to encompass themselves with comfort and beauty within a serene and luxurious environment. Because they fancy beautiful things, Libra moons are happy to blow their money on objects that catch their attention. The Moon in the balanced sign of Libra engenders a welcoming, autonomous mind that tries to assess the world dispassionately and sensibly. There is also great personal grace and a heightened capacity to get along with others. They are fabulous at understanding other people's perspective without losing sight of their own viewpoints.
Those with Mercury in Taurus never start on a project before they are totally prepared. They have a reasonable, firm, and practical mind. There is a rigidity to their mentality and they tend to be quite certain their choices are the most sensible. They do what they think is right and hold little concern for what others think about it. They also have an exceptional memory and good powers of observation but are not very attentive listeners. It can be very difficult to change their minds once they've been made up.

Mercury in Taurus people may have an annoying tendency to repeat themselves and state and reiterate what they've already said over and over again in different ways as if to drill their point further and further into people's minds. Although they are typically well-mannered, sociable and charming, they can be a bit shy with people with they are unfamiliar. They prefer the pleasure of reading a book while reposing in a comfy plush chair than holding court in the midst of a congested group setting.
Venus-Leos are able to effortlessly draw warm responses from others. There is something so fascinating, so irresistibly attractive, about you that you enjoy fabulous acclaim. You are exceedingly loving and charitable, purchasing costly gifts for those you cherish and adore them to the skies in the presence of other people. Of course, what you need in return is a strong commitment, loyalty, and loads of attention.

You must constantly be assertive in a love affair. "All the world's a stage" was penned about your passionate nature. No one can make a fuss or confrontation as exciting as a Venus-Leo. Needless to say, you are attracted to the business of performance, and many of you are endowed with splendid artistic faculties. You also love dainty possessions—property, garments, gems, furs. Though self-indulgent and pleasure-seeking, you are able of making vast self-sacrifice for the comfort of someone else.
Mars in Aries people are energetic and dynamic forces of nature. They possess courage and valor that aids them in their endeavors and bids for success. They are endowed with self confidence and a passionate character. They do not bridle their will and tend to pursue what they want with unapologetic directness. They tend to be honest and assert themselves in no uncertain terms.
At the same time, they can also be a bit too blunt and carelessly trample over the sensitivities of others. They are excitable and impulsive but often fun to be around. Their combative instincts are easily triggered and getting into a fray or clashes with others is not uncommon for them. With Mars in Aries, there is much competitive desire and their will to win is strong. They can be domineering and intimidating at times but maintain a youthful chutzpah throughout their lives.
Thоѕе whо fall under thіѕ number аrе rational, levelheaded people whо need а systematic method tо thеіr work оr personal life. Thеу'rе hardworking individuals whо commit thеmѕеlvеѕ tо tasks, аnd possess thе potential tо make іt big ѕоmеdау. Number 4s like taking charge іn а team аnd аrе аblе tо perform wіthоut letting thе responsibilities оf оthеr coworkers get іn thе way. Suсh people саn bе stuck-uр bесаuѕе оf thеіr set ways аnd become overly attached tо thеіr careers. Knowing whеrе tо draw thе line іѕ important аѕ thіѕ саn lead tо missing оut оn opportune moments. Thеу саn bе ruthless аnd seek revenge frоm thоѕе whо hurt thеm greatly, whеthеr іn а relationship оr аѕ а result оf а broken marriage.
Thе number 9 people have completed thе karmic circle аnd come off аѕ people wіth loads оf knowledge аnd experience. Thеу аrе compassionate, tolerant, benevolent, charming аnd idealistic. Thеу аrе аlѕо intuitive аnd mystical. On thе оthеr side, thеу аrе stingy, impulsive, intolerant, insensitive аnd effusive. Thеу аrе known tо take uр humanitarian causes аnd have а highly developed intuition аnd spirituality. Thе number 9 denotes mastery оvеr аll thе challenges faced bу thе numbers preceding іt. Thе 'Hermit' makes іtѕ tarot representation. It іѕ astrologically related tо Virgo аnd Sagittarius аnd іѕ influenced bу а whоlе gang оf planets, nаmеlу thе Sun, Moon, Mars аnd Jupiter. Thе number 9 people have аn aura made uр оf аll thе Fall colors. Opal іѕ а good gemstone fоr thеѕе people. Thе month оf September brings good things tо thеѕе people аnd thеіr lucky day іѕ Monday. 1, 5, 6, 9, 18 аnd 27 аrе lucky dates fоr thеѕе people.
If you were born in the year 1943, 1955, 1967, 1979, 1991 or 2003 then you are a Goat. You're elegant and creative, somewhat timid and prefer anonymity. You are most compatible with Pigs and Rabbits, but don't mix it up with the Ox. Goats tend to have a hard time with romance; anyone who couples up with a Goat must know, this Sign has a sensitive streak a mile wide and can be subject to bouts of anxiety over seemingly inconsequential things.

Goats need plenty of love, support and open reassurance from their lovers. If a relationship is marked by conflict, the Goat will often pull away — either physically or simply by retreating into the safe haven of its imagination. Sheep have a flair for the artistic. Their innate sense of drama and rhythm make them great actors and musicians. In fact, almost the entire list of "famous Sheep" is comprised of well known actors, cartoonists and musicians. These are beautiful people, who enjoy creating beautiful things.
Nurturing yet dangerous, vital and deadly, water is a ripe with contradiction. In moderate amounts it is a blessing, in over abundance, a curse. Water is the only element with the ability to put out fire and make things grow and thrive. Water is vital to our very survival. Without water crops wither and die and there is no food. The human body, and in fact, all life on Earth is dependent upon water. Yet, even for life, water has the potential to be deadly. Too much water in the body leads to water intoxication and even death. It is, however, a delicate balance.
Too little water and all life withers and dies with the effects of the hot sun. Too much water chokes out needed oxygen and drowns. It is for this very reason the element water is represented by the color black. Water rules intelligence and wisdom. People born under the element water are uncommonly intelligent and capable. For all their wisdom and reasoning ability, water people tend to have difficulty making and sticking to decisions. Diplomatic, and intuitive, water people are flexible. They have a special ability to 'go with the flow' and are usually easygoing.
The ESTJ is one of the 16 MBTI personality types. ESTJ stands for extravert (E), sensing (S), thinking (T), and judging (J). The ESTJ cognitive function stack is as follows: extraverted thinking (Te), introverted sensing (Si), extraverted intuition (Ne), and introverted feeling (Fi). The ESTJ person is a highly pragmatic and organized individual. They place greater importance on logic and reason over feelings. They are more concerned with how people might affect their plans than how their plans might affect people.

ESTJs have high regard for structure and order. They display efficiency and strong methodology in their approach to tasks. Furthermore, the ESTJ is often highly driven to rise to positions where they can exercise control and authority. Maintaining a good reputation is very important to them and they desire to garner respect and esteem from their colleagues and community. ESTJ enjoys playing management roles where they can direct and oversee the business of an organization. ESTJs are great at working out effective plans for getting things done.