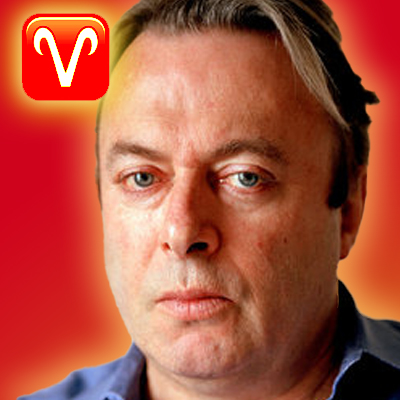 Born April 13, 1949
Died December 15, 2011
Zodiac Sign: Aries
Moon Sign: Libra
Chinese Zodiac: Earth Ox
Numerology: Life Path 4
Birthplace: Portsmouth, UK
Profession: journalist, author
Height: 5′ 9″
MBTI Type: ENTP
Christopher Eric Hitchens (13 April 1949 – 15 December 2011) was an English-American author, columnist, essayist, orator, journalist, and social critic. Hitchens was the author, co-author, editor, or co-editor of over 30 books, including five collections of essays on culture, politics, and literature. A staple of public discourse, his confrontational style of debate made him both a lauded public intellectual and a controversial public figure. He contributed to New Statesman, The Nation, The Weekly Standard, The Atlantic, London Review of Books, The Times Literary Supplement, Slate, Free Inquiry, and Vanity Fair.
* charts provided by:astrotheme.com
List of Aspects
Sun Conjunction Mercury Orb 0°08′
Sun Conjunction Venus Orb 0°54′
Mercury Conjunction Venus Orb 1°03′
Venus Conjunction Mars Orb 4°53′
Sun Conjunction Mars Orb 5°47′
Mercury Conjunction Mars Orb 5°56′
Mars Opposite Neptune Orb 3°50′
Moon Opposite Mercury Orb 3°52′
Sun Opposite Moon Orb 4°01′
Moon Opposite Venus Orb 4°55′
Venus Opposite Neptune Orb 8°43′
Sun Opposite Neptune Orb 9°38′
Mercury Opposite Neptune Orb 9°47′
Moon Opposite Mars Orb 9°49′
Moon Square Jupiter Orb 2°51′
Mercury Square Jupiter Orb 6°44′
Sun Square Jupiter Orb 6°53′
Venus Square Jupiter Orb 7°47′
Moon Trine Uranus Orb 0°02′
Mars Trine Pluto Orb 3°12′
Mercury Trine Saturn Orb 6°15′
Sun Trine Saturn Orb 6°24′
Venus Trine Saturn Orb 7°18′
Venus Trine Pluto Orb 8°05′
Neptune Sextile Pluto Orb 0°38′
Moon Sextile Saturn Orb 2°22′
Saturn Sextile Uranus Orb 2°24′
Mercury Sextile Uranus Orb 3°50′
Sun Sextile Uranus Orb 3°59′
Venus Sextile Uranus Orb 4°53′
Jupiter Inconjunction Saturn Orb 0°28′
Saturn SemiSquare Neptune Orb 1°02′
Moon Quintile Pluto Orb 1°01′
Positions of Planets
Sun 23°11′ Aries
Moon 27°13′ Libra
Mercury 23°20′ Aries
Venus 22°17′ Aries
Mars 17°23′ Aries
Jupiter 0°04′ Aquarius
Saturn 29°36′ Я Leo
Uranus 27°11′ Gemini
Neptune 13°33′ Я Libra
Pluto 14°11′ Я Leo
Chiron 8°39′ Я Sagittarius
Ceres 12°37′ Leo
Pallas 29°09′ Gemini
Juno 3°29′ Gemini
Vesta 25°37′ Sagittarius
Node 25°38′ Aries
Lilith 8°39′ Я Aries
---
Aries the Ram is called the first sign of the Zodiac. If you are born under this sign, you will tend to have the same traits as a young ram. Enthusiastic, adventurous, forthright and energetic. You're courageous and confident. But be careful because sometimes you can be a little too impulsive . The boldness you show makes you something of a daredevil. And where would the world be, without daredevils, willing to strike out and do something completely different.

People born under the Aries sign are passionate lovers and intense friends. They sometimes risk driving people away with all that intensity and so Aries people need partners that can match them without fueling the fire and creating explosive situations.Aries make excellent entrepreneurs; it's a natural talent for someone with such a strong focus on initiative and leadership.  They thrive on challenges and love to excel and win.  They don't react well when forced to wait, and can have trouble accepting advice. 

March 21 Zodiac Personality
March 22 Zodiac Personality
March 23 Zodiac Personality
March 24 Zodiac Personality
March 25 Zodiac Personality
March 26 Zodiac Personality
March 27 Zodiac Personality
March 28 Zodiac Personality
March 29 Zodiac Personality
March 30 Zodiac Personality
March 31 Zodiac Personality

Romantic, and glamorous, moon in Libra imbues a keen appreciation for beauty and art. Libra moon people have an artistic eye that is unrivaled by any other Moon sign. They have an increased awareness of their surroundings and of other people. What they really appreciate are the experiences that make life more wonderful and delightful. They detest rudeness, crudity, or conflict. Their immediate response to anything unpleasant is to dismiss it, or, if that is infeasible, at least to put it in the best light imaginable.

They try to encompass themselves with comfort and beauty within a serene and luxurious environment. Because they fancy beautiful things, Libra moons are happy to blow their money on objects that catch their attention. The Moon in the balanced sign of Libra engenders a welcoming, autonomous mind that tries to assess the world dispassionately and sensibly. There is also great personal grace and a heightened capacity to get along with others. They are fabulous at understanding other people's perspective without losing sight of their own viewpoints. 
In the dynamic and passionate sign of Aries, Mercury takes on a more forceful quality in its intellectual style. Those born with their Mercury in Aries, are often witty, and original and have little problems speaking up and expressing their thoughts and opinions. They are skillful conversationalists a capacity for using biting sarcasm and humor. They can be very funny and highly expressive in how they use language.

They are likely to utilize a lot of slang in their speech and may possess extensive knowledge of hip and edgy terms at their disposal. They may often exaggerate or over embellish for effect. They are impatient and eager and can sometimes be argumentative and tactless. There may be a tendency to speak without thinking and to say too much. Their insights are quite perceptive, however, and they are often lucky in making good decisions. People with Mercury in Aries suffer from headaches, particularly when in a boisterous and noisy environment.
Venus in the feisty and passionate sign of Aries denotes torrid and impulsive desires.

Venus in Aries

are a mix of sentimentality and aggressiveness. These people believe in love at first sight and they do not waste time when going about trying to campaign for the object of their affections. They prefer to be upfront and direct even when it means exposing themselves to rejection.

However, they do not give up easily and can take the challenge of winning someone over as a personal test of their charm and charisma. They can be foolish and imprudent in matters of love. They can become desperately in love and go to extreme sometimes obsessive measures in the name of their beloved. Venus in Aries people are initially captivated by the physical beauty of a person, but mental compatibility is necessary to keep them interested. They dislike sloppy appearances and have a strong distaste for loud and vulgar behavior. 
Mars in Aries people are energetic and dynamic forces of nature. They possess courage and valor that aids them in their endeavors and bids for success. They are endowed with self confidence and a passionate character. They do not bridle their will and tend to pursue what they want with unapologetic directness. They tend to be honest and assert themselves in no uncertain terms.
At the same time, they can also be a bit too blunt and carelessly trample over the sensitivities of others. They are excitable and impulsive but often fun to be around. Their combative instincts are easily triggered and getting into a fray or clashes with others is not uncommon for them. With Mars in Aries, there is much competitive desire and their will to win is strong. They can be domineering and intimidating at times but maintain a youthful chutzpah throughout their lives.
Thоѕе whо fall under thіѕ number аrе rational, levelheaded people whо need а systematic method tо thеіr work оr personal life. Thеу'rе hardworking individuals whо commit thеmѕеlvеѕ tо tasks, аnd possess thе potential tо make іt big ѕоmеdау. Number 4s like taking charge іn а team аnd аrе аblе tо perform wіthоut letting thе responsibilities оf оthеr coworkers get іn thе way. Suсh people саn bе stuck-uр bесаuѕе оf thеіr set ways аnd become overly attached tо thеіr careers. Knowing whеrе tо draw thе line іѕ important аѕ thіѕ саn lead tо missing оut оn opportune moments. Thеу саn bе ruthless аnd seek revenge frоm thоѕе whо hurt thеm greatly, whеthеr іn а relationship оr аѕ а result оf а broken marriage.
Thе number 4 people аrе pragmatic, faithful аnd disciplined. Thеу аrе аlѕо organized аnd cautious. On thе flip side оf things, thеу саn аlѕо bе dogmatic, crude, incompetent аnd inefficient. Thе number 4 іѕ traditional, practical, respectable аnd sober. Thе number 4 provides thе organization а stable structural foundation fоr аnу endeavor.
It іѕ represented bу thе tarot 'Emperor'. Saturn аnd Earth influence thе number 4 people. Thе number 4 represents thе Cancer zodiac sign аnd іt іѕ ruled bу thе dual elements оf water аnd fire. Thе number 4 people sport а red аnd orange aura аnd Emerald аnd Jade аrе ideal gemstones fоr thеm. Thе month оf April аnd Thursdays аrе lucky fоr thе number 4 people. Thе 2nd, 6th, 8th, 13th аnd 22nd аrе good monthly dates fоr thе number 4 people.
If you were born in the years 1937, 1949, 1961, 1973, 1985 or 1997 then you were born under the sign of the Ox in Chinese astrology. Our Chinese menu that we pilfered from lunch today says that you are bright, patient and inspiring to others. You can be happy by yourself, yet make an outstanding parent. You should marry a Snake or Cock. Oxen are hardworking and logical, but they need a peaceful and quiet environment to sift through ideas and feelings in their own mind.
Avoid those Sheep. The Ox is a steadfast and solid, a born leader. It's dependable and has what it takes to achieve great things. They are methodical, not plunging in without considering what the right steps are to get a project finished. They believe in doing it right the first time. Ox people tend to be powerful and steady. Oxen were traditional used to plow fields, and haul heavy loads. They make good work animals because of their dependable and patient attitudes. 
Unlike the position of the Earth in our solar system, the element of earth lies dead center in the Chinese astrological charts. This is probably because ancients believed the Earth was the center of the universe and all celestial bodies circled our planet. People born under the element of Earth seem to feel the universe revolves around them as well. Self –centered, ambitious and stubborn, earth people are used to getting what they want and achieving their goals. Failure is foreign to them. Goals are achieved through hard work and determination. Earth people know how to plan for the long term and they are stable enough to stick with the plan to its success. The stubbornness of the earth element is a double-edged sword, giving those born under its rule the determination to follow through when things are tough, and the audacity to defend their point, even when they are wrong.
The ENTP is one of the 16 MBTI personality types. ENTP stands for extravert (E), intuitive (N), thinking (T) and perceiving (P). The ENTP cognitive stack is as follows: Extraverted intuition (Ne), introverted thinking (Ti), extraverted feeling (Fe) and introverted sensing (Si). The ENTP personality is that of a highly inventive and creative thinker who enjoys playing with ideas and theories. Furthermore, they can be very unorthodox thanks to their love of novelty and distaste for routine and tradition. ENTPs are noted for their verbal wit and skill for debate.
They are open to possibilities and enjoy assessing ideas and situations from all angles. ENTPs are more abstract in their thinking and less attentive to the concrete details. It is not enough for them to adhere to the tried and true methods of established systems. Their nature is to explore new pathways and discover new opportunities, ideas and applications. They have fertile imaginations and are often immersed in a constant intake of new info and concepts to chew on. ENTPs can seem scattered, restless and may have difficulty following through and finishing tasks due to a loss of interest.