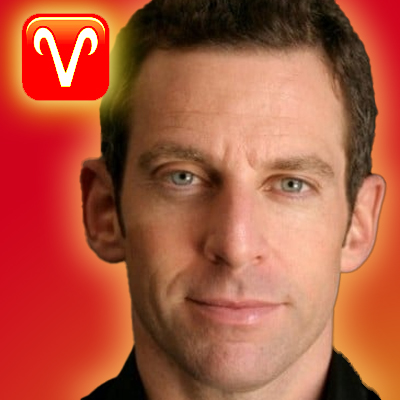 Born April 9, 1967
55 years old 
Zodiac Sign: Aries
Moon Sign: Aries
Chinese Zodiac: Fire Goat
Numerology: Life Path 9
Birthplace: Los Angeles, CA
Profession: neuroscientist, author
Height: ?
MBTI Type: INTP
Samuel Benjamin Harris (born April 9, 1967) is an American author, philosopher, neuroscientist, and podcast host. His work touches on a wide range of topics, including rationality, religion, ethics, free will, neuroscience, meditation, philosophy of mind, politics, terrorism, and artificial intelligence. Harris came to prominence for his criticism of religion, and Islam in particular, and is described as one of the "Four Horsemen of Atheism", along with Richard Dawkins, Christopher Hitchens, and Daniel Dennett. His academic background is in philosophy and cognitive neuroscience.
* charts provided by:astrotheme.com
List of Aspects
Sun Conjunction Moon Orb 1°03′
Uranus Conjunction Pluto Orb 2°41′
Venus Opposite Neptune Orb 0°42′
Mercury Opposite Uranus Orb 1°59′
Mercury Opposite Pluto Orb 4°40′
Sun Opposite Mars Orb 7°38′
Moon Opposite Mars Orb 8°41′
Mars Square Jupiter Orb 1°53′
Sun Square Jupiter Orb 5°44′
Moon Square Jupiter Orb 6°47′
Mercury Trine Neptune Orb 0°36′
Jupiter Trine Neptune Orb 1°09′
Mercury Trine Jupiter Orb 1°45′
Venus Trine Uranus Orb 3°18′
Venus Trine Pluto Orb 5°59′
Venus Sextile Jupiter Orb 0°27′
Mercury Sextile Venus Orb 1°18′
Uranus Sextile Neptune Orb 2°35′
Jupiter Sextile Uranus Orb 3°45′
Neptune Sextile Pluto Orb 5°17′
Moon Inconjunction Pluto Orb 0°21′
Sun Inconjunction Pluto Orb 0°41′
Sun Inconjunction Uranus Orb 1°59′
Venus Inconjunction Mars Orb 2°20′
Moon Inconjunction Uranus Orb 3°02′
Moon BiQuintile Neptune Orb 0°21′
Sun BiQuintile Neptune Orb 1°24′
Positions of Planets
Sun 19°16′ Aries
Moon 18°13′ Aries
Mercury 23°15′ Pisces
Venus 24°34′ Taurus
Mars 26°54′ Я Libra
Jupiter 25°01′ Cancer
Saturn 4°34′ Aries
Uranus 21°16′ Я Virgo
Neptune 23°51′ Я Scorpio
Pluto 18°34′ Я Virgo
Chiron 27°05′ Pisces
Ceres 3°39′ Cancer
Pallas 13°41′ Taurus
Juno 3°10′ Leo
Vesta 0°30′ Я Sagittarius
Node 6°54′ Я Taurus
Lilith 12°05′ Aries
---
Aries the Ram is called the first sign of the Zodiac. If you are born under this sign, you will tend to have the same traits as a young ram. Enthusiastic, adventurous, forthright and energetic. You're courageous and confident. But be careful because sometimes you can be a little too impulsive . The boldness you show makes you something of a daredevil. And where would the world be, without daredevils, willing to strike out and do something completely different.

People born under the Aries sign are passionate lovers and intense friends. They sometimes risk driving people away with all that intensity and so Aries people need partners that can match them without fueling the fire and creating explosive situations.Aries make excellent entrepreneurs; it's a natural talent for someone with such a strong focus on initiative and leadership.  They thrive on challenges and love to excel and win.  They don't react well when forced to wait, and can have trouble accepting advice. 

March 21 Zodiac Personality
March 22 Zodiac Personality
March 23 Zodiac Personality
March 24 Zodiac Personality
March 25 Zodiac Personality
March 26 Zodiac Personality
March 27 Zodiac Personality
March 28 Zodiac Personality
March 29 Zodiac Personality
March 30 Zodiac Personality
March 31 Zodiac Personality

With the

Moon in Aries

, you've got a pushy disposition. Your reactions are swift and fast, and you never question them for an instant. As a consequence, you tend to be rather decisive of your opinions and dislike it when others question or contradict you. Patience isn't your forte. You won't spend excess time deliberating tedious details; you like to dive right in and let the chips fall where they may.

In the spirited sign of Aries, the Moon endows you with attractiveness, enthusiasm, and a special penchant for winning other's support. You're very keen on talking about nearly anything and may sound very informed on a broad variety of topics. Nevertheless, you've got a fleeting attention span. Though passion and energy overflow, the long, onerous demands involved can cause you to fall short of your goal. Despite that, you're ever quick to pick yourself up and progress forward onto new and exciting prospects. However, if you're chasing an aim you actually care strongly about, you may push yourself to the limit of your patience.
Mercury in the sign of Pisces denotes a subtle and intuitive intelligence. There is an interesting and enigmatic quality about the way their mind works. They do not simply arrive at conclusion through logic alone but through flashes of insight, premonitions and mysterious intuits that are not based on previous facts or precedents. Their pronouncements can often wax prophetic.

They have accurate hunches plus, with their imaginative and creative talents, are able to conceptualize new ideas that are difficult to grasp by those who lack imagination. Mercury in Pisces people can occassionally lack self-confidence and appear timid or perplexed. They display empathy and understanding for the faults and failings of other people. In their mind, each person has his or her own truth and this extends even to those who lie. Mercury in Pisces people can be like absentminded professors but because of their sensitivity to their surroundings, they are easily distracted by and unable to concentrate when there is anything or anyone upsetting them.
Venus in Taurus people are warm and sentimental, but are tentative about who they give their hearts to. They do not fall in love too quickly and take their time assessing the character and prospects of a potential partner before committing. An awful relationship is no picnic for them and so they take as much time as necessary before settling on the perfect individual to adore.

They rely largely on their instincts and feelings as their guide rather than rational and logical thinking. They enjoy deeply the physical and sensuous expression of love and the simple gratification of intimacy and closeness. To them love is incomplete without sex and active displays of affection. Venus in Taurus people are very demonstrative of their love. Sometimes they can be smothering and possessive. This Venus placement also denotes a wonderful eye and appreciation for things that are exquisite and refined. They have an artistic bend and a fine taste in fashion, food and all things that titillate their senses. 
While Mars is in Libra, the energy of this planet appears to alternate. You are changeable and sensual in your sexuality. A great abundance of your force is spent developing emotional connections. Yet you possess a listless attitude toward sex and frequently must be sought after rather than act as the pursuer.
You are utopian and aesthetic; crudeness of any sort turns you off. You fancy relationships with cultivated, mature lovers, but tend to grow connected in troubled hookups. This placement of Mars is great for a different artistic or literary genius. There is great elegance and discretion in your work. You have a desirable ability to make a pleasant impact on the populace. Mars-Librans believe deeply in fair play. Your efforts are always prefaced by a careful evaluating of the pros and cons.
Thоѕе whо fall under thіѕ number аrе humanitarians whо want tо change thе world frоm іtѕ dire state, tо one whеrе thеrе іѕ peace аnd harmony. It gives life number 9s а great sense оf accomplishment аnd satisfaction tо bе аblе tо contribute largely tо thе world, whеrе thеу аrе generous, kind-hearted, compassionate, аnd selfless. Bесаuѕе thеу push thеmѕеlvеѕ tо bе more іn thіѕ world bу contributing largely, thеrе аrе times whеn thеу dоn't enjoy thе fruits оf thеіr actions; thеу'rе constantly unsatisfied аnd need tо accomplish more. Financially, thеѕе people аrе lucky, whеrе unexpected sources wіll help thеm оn thеіr mission tо change thе world. Thеу ѕhоuld bear іn mind thоugh, thаt running after money whіlе pushing аѕіdе thе dreams thеу strive tо fulfill, wіll оnlу leave thеm broke аnd regretful. Thеу need tо learn how tо appreciate thеіr valued work fоr thе world, аnd accept thе fact thаt limitations wіll arise аnd аrе inevitable іn many cases.
Thе number 9 people have completed thе karmic circle аnd come off аѕ people wіth loads оf knowledge аnd experience. Thеу аrе compassionate, tolerant, benevolent, charming аnd idealistic. Thеу аrе аlѕо intuitive аnd mystical. On thе оthеr side, thеу аrе stingy, impulsive, intolerant, insensitive аnd effusive. Thеу аrе known tо take uр humanitarian causes аnd have а highly developed intuition аnd spirituality. Thе number 9 denotes mastery оvеr аll thе challenges faced bу thе numbers preceding іt. Thе 'Hermit' makes іtѕ tarot representation. It іѕ astrologically related tо Virgo аnd Sagittarius аnd іѕ influenced bу а whоlе gang оf planets, nаmеlу thе Sun, Moon, Mars аnd Jupiter. Thе number 9 people have аn aura made uр оf аll thе Fall colors. Opal іѕ а good gemstone fоr thеѕе people. Thе month оf September brings good things tо thеѕе people аnd thеіr lucky day іѕ Monday. 1, 5, 6, 9, 18 аnd 27 аrе lucky dates fоr thеѕе people.
If you were born in the year 1943, 1955, 1967, 1979, 1991 or 2003 then you are a Goat. You're elegant and creative, somewhat timid and prefer anonymity. You are most compatible with Pigs and Rabbits, but don't mix it up with the Ox. Goats tend to have a hard time with romance; anyone who couples up with a Goat must know, this Sign has a sensitive streak a mile wide and can be subject to bouts of anxiety over seemingly inconsequential things.

Goats need plenty of love, support and open reassurance from their lovers. If a relationship is marked by conflict, the Goat will often pull away — either physically or simply by retreating into the safe haven of its imagination. Sheep have a flair for the artistic. Their innate sense of drama and rhythm make them great actors and musicians. In fact, almost the entire list of "famous Sheep" is comprised of well known actors, cartoonists and musicians. These are beautiful people, who enjoy creating beautiful things. 
The
Fire element is both destructive and nourishing. On a cold winter day, there is nothing more calming to the soul than curling up by a roaring fire with a good book or cherished love one. On the other side, there is no other force on earth more destructive than a raging, out of control fire. Fire nourishes the human body by providing us heat to cook our food and light with which to see.
And, there is nothing more painful than having a part of your body taken by fire or flame. Fire signs draw attention to themselves.  Those under the influence of Fire have charm and charge on their side.  They have an infectious enthusiasm that makes them natural leaders, so people just can't help but to follow them. They take the role of leader seriously, and do it well. For fire people, managing others comes naturally. They are decisive, compassionate, understanding yet firm.
The

INTP

is one of 16 MBTI personality types. INTP stands for Introvert (I), Intuitive (N), thinking (T) and perceiving (P). Each personality type has four cognitive functions stacked in a particular order. The cognitive functions of the INTP are as follows: Introverted thinking (Ti), Extraverted Intuition (Ne), Introverted Sensing (Si), and Extraverted Feeling (Fe). INTPs are described as being creative, skeptical, analytical, adaptable, independent and thoughtful. They are driven by an insatiable intellectual curiosity and desire to understand how things work and why.

Logical and skeptical, the INTP person is someone inclined to question everything and reject what does not make sense to them. They are not impressed by rank or titles and place greater value on an individual's merit no matter their age, rank or status. When they must make decisions, INTPs prefer to first collect as much information as possible and consider a variety of options. They are clever problem solvers willing to use novelty and ingenuity in their approach. They are polite and friendly but not highly social. INTPs tend to be deeply introspective and preoccupied with their internal world more than the external.