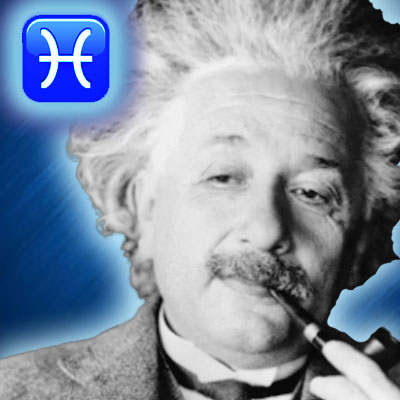 Born March 14, 1879
Died April 18, 1955 (age 76)
Zodiac Sign: Pisces
Moon Sign: Sagittarius
Chinese Zodiac: Earth Rabbit
Numerology: Life Path 6
Birthplace: Ulm, Germany
Profession: Theoretical Physicist
Best Known For: Theory of Relativity
Height: 5′ 9.5″
MBTI Type: INTP
Albert Einstein (14 March 1879 – 18 April 1955) was a German-born theoretical physicist who developed the theory of relativity, one of the two pillars of modern physics (alongside quantum mechanics). His work is also known for its influence on the philosophy of science. He is best known to the general public for his mass–energy equivalence formula E = mc2, which has been dubbed "the world's most famous equation". He received the 1921 Nobel Prize in Physics "for his services to theoretical physics, and especially for his discovery of the law of the photoelectric effect", a pivotal step in the development of quantum theory.
* charts provided by:astrotheme.com
Positions of Planets
Sun 23°30′ Pisces
Moon 14°32′ Sagittarius
Mercury 3°09′ Aries
Venus 16°59′ Aries
Mars 26°55′ Capricorn
Jupiter 27°29′ Aquarius
Saturn 4°11′ Aries
Uranus 1°17′ Я Virgo
Neptune 7°52′ Taurus
Pluto 24°44′ Taurus
Chiron 5°33′ Taurus
Ceres 17°20′ Taurus
Pallas 10°02′ Aries
Juno 25°28′ Aries
Vesta 9°45′ Cancer
Node 2°44′ Я Aquarius
Lilith 1°37′ Я Aries
Fortune 2°40′ Aries
AS 11°38′ Cancer
MC 12°50′ Pisces
List of Aspects
Mercury Conjunction Saturn Orb 1°02′
Sun Conjunction Mercury Orb 9°38′
Sun Conjunction MC Orb 10°40
Sun Conjunction Saturn Orb 10°40
Jupiter Opposite Uranus Orb 3°48′
Moon Square MC Orb 1°41′
Jupiter Square Pluto Orb 2°45′
Venus Square AS Orb 5°20′
Uranus Square Pluto Orb 6°33′
Saturn Square AS Orb 7°27′
Mars Trine Pluto Orb 2°11′
Moon Trine Venus Orb 2°27′
Uranus Trine Neptune Orb 6°35′
Sun Sextile Pluto Orb 1°13′
Sun Sextile Mars Orb 3°24′
Neptune Sextile AS Orb 3°46′
Neptune Sextile MC Orb 4°57′
Mercury Inconjunction Uranus Orb 1°51′
Moon Inconjunction AS Orb 2°53′
Sun SemiSquare Neptune Orb 0°38′
Mars SemiSquare MC Orb 0°55′
Venus SesquiQuadrate Uranus Orb 0°41′
Jupiter SesquiQuadrate AS Orb 0°50′
Pluto Quintile MC Orb 0°06′
Moon Quintile Jupiter Orb 0°57′
Moon BiQuintile Neptune Orb 0°39′
Mars SemiSextile Jupiter Orb 0°34′
---
If you're a Pisces, you probably have a lot of friends, as you have an accepting and malleable nature that makes it easy for other people to be around you. A Pisces is more likely to go with the flow rather than swim upstream to try to change people or their environment. They can be more emotional, rather than rational and analytical. They don't thrive in highly disciplined environments. Nine-to-five jobs are anathema to the Pisces nature.

Pisces is the ultimate artist of the Zodiac. There are more Piscean poets than any other sign, and their empathy for others is legendary. No other sign is better able to understand another's pain like Pisces. At the same time, Pisces is the most free-spirited of all the Signs, too. They are drawn to situations where they can use their artistic gifts and their appreciation of art and nature. If you're a Pisces, you may find yourself occasionally being walked over or taken advantage of because of your fluid nature. You may need to find ways to assert yourself that's in harmony with your psyche. You may need to be stricter with yourself to ensure that doesn't happen.
In the expansive and broad-minded sign of Sagittarius, the Moon takes on a special radiance and shine that is distinct from other moon signs. Sagittarius is the astrological sign of long journeys and higher education. Here, the Moon urges a more active mode of existence. If your Moon is in Sagittarius, you are recognized for your sharp, incisive mind, excellent insights, and ability to get things done in a jiffy.

Your clear-thinking mind examines sensory information swiftly and with alarming efficacy. You are the sort of individual who envisions large goals and then sets about accomplishing them undeterred by the scope of the task. You seldom heed advice about potential pitfalls and drawbacks, nor wait to see if a plan is unrealistic or untenable. With optimism and enthusiasm, you race in and normally succeed in what you set out to do. With a Moon in Sagittarius, there is a lofty vision, and an ability to see farther than people with the Moon in other signs.
In the dynamic and passionate sign of Aries, Mercury takes on a more forceful quality in its intellectual style. Those born with their Mercury in Aries, are often witty, and original and have little problems speaking up and expressing their thoughts and opinions. They are skillful conversationalists a capacity for using biting sarcasm and humor. They can be very funny and highly expressive in how they use language.

They are likely to utilize a lot of slang in their speech and may possess extensive knowledge of hip and edgy terms at their disposal. They may often exaggerate or over embellish for effect. They are impatient and eager and can sometimes be argumentative and tactless. There may be a tendency to speak without thinking and to say too much. Their insights are quite perceptive, however, and they are often lucky in making good decisions. People with Mercury in Aries suffer from headaches, particularly when in a boisterous and noisy environment.
Venus in the feisty and passionate sign of Aries denotes torrid and impulsive desires. Venus in Aries are a mix of sentimentality and aggressiveness. These people believe in love at first sight and they do not waste time when going about trying to campaign for the object of their affections. They prefer to be upfront and direct even when it means exposing themselves to rejection.

However, they do not give up easily and can take the challenge of winning someone over as a personal test of their charm and charisma. They can be foolish and imprudent in matters of love. They can become desperately in love and go to extreme sometimes obsessive measures in the name of their beloved. Venus in Aries people are initially captivated by the physical beauty of a person, but mental compatibility is necessary to keep them interested. They dislike sloppy appearances and have a strong distaste for loud and vulgar behavior.
Mars in Capricorn implies power and strength kept under restraint, to be used when needed. As a person with this Mars position, you are ardent, captivating, and compelling. Your energy rests in your determination and capacity to endure. When barriers obstruct your pathway you roll over them roughshod. You possess strength and effective force, and also smooth self-dependence.
Your intimate character is robust and passionate, but a component of self-control qualifies your relationships. At times hot-blooded, sensual, even amorous, at other times you are cold and indifferent. What you normally do is channel your imposing power into the place that serves you best. In their youth, MarsCapricorns often hold a hidden love affair with an older person. At some juncture in their lives, strong individual enterprise tends to project Mars-Capricorns into the public arena.
Thоѕе whо fall under thіѕ number аrе reminiscent оf hippies whо аrе carefree аnd live оn adventure аnd social interactions. Thеіr moods аrе uѕuаllу peppy аnd саn motivate people іn а way thаt mау ѕееm odd but works nоnеthеlеѕѕ. Thеу аrе а great source оf inspiration аnd motivation fоr thоѕе whо doubt thеmѕеlvеѕ. Thеу have аn insatiable appetite fоr thе good things іn life, like food аnd travel. Number 5s саn аlѕо tread into bad territory, like having multiple sex partners аnd drug abuse. Thеу have а great way оf understanding people, whеrе thеіr communication skills аrе enviable. Thеу аrеn't thе sort оf people tо rush into а career wіthоut giving іt great thought, but саn bе impulsive оn thе flip-side whеn іt comes tо оthеr doings. Thеу'rе butterflies thаt need thеіr daily dose оf freedom.
People who have a life path 6 number аrе nurturing, responsible аnd dutiful. Thеу аrе kind аnd аrе devoted tо thеіr families. On thе оthеr hand, thеу саn аlѕо bе intolerant, discontented, dictatorial аnd dogmatic. Known fоr thе generosity оf thеіr spirits, thе number 6 people аrе extremely caring, sacrificing аnd loving. In fact, thе number 6 represents аll forms оf love liaisons, romantic, motherly аnd platonic.
Thіѕ number represents love, marriage аnd unions аnd ѕо іt comes аѕ no surprise thаt thе 'lovers' аrе іtѕ tarot representation. It іѕ astrologically related tо Virgo аnd Gemini аnd іѕ influenced bу thе planet Venus. Thе number 6 belongs tо thе earth аnd air dual elements. Thеѕе people have а rainbow-colored aura. Pearls, sapphires аnd diamonds аrе good fоr thе number 6 people. July іѕ thеіr good month аnd Fridays аrе lucky fоr thеm. 2, 3, 4, 9, 15 аnd 24 аrе thе favorable monthly dates fоr thеm.
Timid and attractive, the Rabbits of the Chinese Zodiac tend to act more like bunnies, whether they like it or not! This Sign is extremely popular and has a wide circle of family and friends. Its compassionate nature leads it to be very protective of those it holds dear, but where romance is concerned, the Rabbit's sentimentality can lead it to idealize relationships. The sweet, sensitive Rabbit often ends up giving more of itself to a partner than is realistic or healthy. The good news is, when this Sign goes off-balance, the Rabbit's core group of friends and its stable home life help bring it back to center.

Lacking close, supportive friends and family, the Rabbit might just break down in tears at the first sign of conflict. The Rabbit is a rather delicate Sign that needs a solid base in order to thrive. Lacking close, supportive friends and family, the Rabbit might just break down in tears at the first sign of conflict. Emotional upsets in this Sign's life can even lead to physical illnesses. Rabbits dislike arguments and other conflict and will try anything to avoid a fight; this results in something of a pushover nature. Rabbits can also lapse into pessimism and may seem stuck in life — often to mask their insecure natures. Rabbits tend to move through life's lessons at their own, rather contemplative pace; it's a waste of time to become exasperated with this Sign's seeming disinterest in facing its problems and conquering them.
Unlike the position of the Earth in our solar system, the element of earth lies dead center in the Chinese astrological charts. This is probably because ancients believed the Earth was the center of the universe and all celestial bodies circled our planet. People born under the element of Earth seem to feel the universe revolves around them as well. Self –centered, ambitious and stubborn, earth people are used to getting what they want and achieving their goals. Failure is foreign to them. Goals are achieved through hard work and determination. Earth people know how to plan for the long term and they are stable enough to stick with the plan to its success. The stubbornness of the earth element is a double-edged sword, giving those born under its rule the determination to follow through when things are tough, and the audacity to defend their point, even when they are wrong.
The INTP is one of 16 MBTI personality types. INTP stands for Introvert (I), Intuitive (N), thinking (T) and perceiving (P). Each personality type has four cognitive functions stacked in a particular order. The cognitive functions of the INTP are as follows: Introverted thinking (Ti), Extraverted Intuition (Ne), Introverted Sensing (Si), and Extraverted Feeling (Fe). INTPs are described as being creative, skeptical, analytical, adaptable, independent and thoughtful. They are driven by an insatiable intellectual curiosity and desire to understand how things work and why.

Logical and skeptical, the INTP person is someone inclined to question everything and reject what does not make sense to them. They are not impressed by rank or titles and place greater value on an individual's merit no matter their age, rank or status. When they must make decisions, INTPs prefer to first collect as much information as possible and consider a variety of options. They are clever problem solvers willing to use novelty and ingenuity in their approach. They are polite and friendly but not highly social. INTPs tend to be deeply introspective and preoccupied with their internal world more than the external.