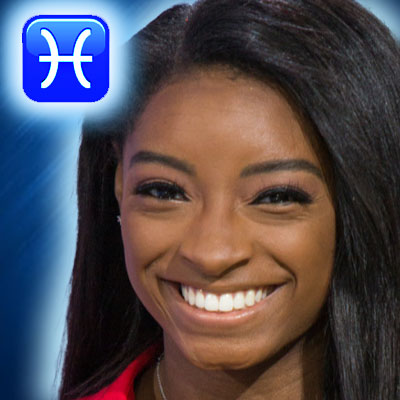 Born March 14, 1997
26 years old 
Zodiac Sign: Pisces
Moon Sign: Gemini
Chinese Zodiac: Fire Ox
Numerology: Life Path 7
Birthplace: Columbus, OH
Profession: gymnast
Best Known For: Olympics
Height: 4′ 9″
MBTI Type: ISFJ
Simone Arianne Biles (born March 14, 1997) is an American artistic gymnast. With a combined total of 30 Olympic and World Championship medals, Biles is the most decorated American gymnast and the world's third most decorated gymnast, behind Belarus' Vitaly Scherbo (33 medals) and Russia's Larisa Latynina (32 medals).
At the 2016 Summer Olympics in Rio de Janeiro, Biles won individual gold medals in all-around, vault and floor; bronze in balance beam; and gold as part of the United States team, dubbed the "Final Five".
* charts provided by:astrotheme.com
List of Aspects
Sun Conjunction Mercury Orb 2°56′
Jupiter Conjunction Uranus Orb 4°25′
Sun Conjunction Venus Orb 4°45′
Mercury Conjunction Venus Orb 7°41′
Uranus Conjunction Neptune Orb 7°56′
Mercury Opposite Mars Orb 0°41′
Moon Opposite Pluto Orb 3°17′
Sun Opposite Mars Orb 3°37′
Venus Opposite Mars Orb 8°23′
Mars Trine Neptune Orb 1°32′
Moon Trine Uranus Orb 1°36′
Saturn Trine Pluto Orb 2°38′
Moon Trine Jupiter Orb 2°48′
Moon Sextile Saturn Orb 0°39′
Saturn Sextile Uranus Orb 0°57′
Uranus Sextile Pluto Orb 1°40′
Mercury Sextile Neptune Orb 2°14′
Jupiter Sextile Saturn Orb 3°28′
Sun Sextile Neptune Orb 5°10′
Mercury SemiSquare Jupiter Orb 0°23′
Mars SesquiQuadrate Jupiter Orb 1°05′
Moon Quintile Mercury Orb 0°12′
Positions of Planets
Sun 24°10′ Pisces
Moon 8°53′ Gemini
Mercury 27°06′ Pisces
Venus 19°24′ Pisces
Mars 27°48′ Я Virgo
Jupiter 11°42′ Aquarius
Saturn 8°14′ Aries
Uranus 7°16′ Aquarius
Neptune 29°20′ Capricorn
Pluto 5°36′ Я Sagittarius
Chiron 1°20′ Я Scorpio
Ceres 17°09′ Aquarius
Pallas 24°23′ Capricorn
Juno 19°13′ Taurus
Vesta 4°32′ Pisces
Node 28°45′ Virgo
Lilith 23°00′ Я Leo
---
If you're a Pisces, you probably have a lot of friends, as you have an accepting and malleable nature that makes it easy for other people to be around you. A Pisces is more likely to go with the flow rather than swim upstream to try to change people or their environment. They can be more emotional, rather than rational and analytical. They don't thrive in highly disciplined environments. Nine-to-five jobs are anathema to the Pisces nature.

Pisces is the ultimate artist of the Zodiac. There are more Piscean poets than any other sign, and their empathy for others is legendary. No other sign is better able to understand another's pain like Pisces. At the same time, Pisces is the most free-spirited of all the Signs, too. They are drawn to situations where they can use their artistic gifts and their appreciation of art and nature. If you're a Pisces, you may find yourself occasionally being walked over or taken advantage of because of your fluid nature. You may need to find ways to assert yourself that's in harmony with your psyche. You may need to be stricter with yourself to ensure that doesn't happen.
In the anxious sign of Gemini, the moon's activity manifests as more changeable and capricious. Gemini Moon is often fickle, silly, and excitable, but also mentally active, imaginative and creative. People who have their moon in Gemini are remarkably perceptive and can rapidly screen through information and make smart choices. Their snap decisions tend to be more rational than emotional.

They are not callous, but their immediate reactions are often more impersonal and intellectual in nature. They wield both analytical and verbal skills. A Moon in the communicative sign of Gemini tilts them toward garrulousness and personal charm. They have an enchanting liveliness that attracts others to them. Discussions with them often deviate on unexpected tangents. Gemini moon is quite restless and needs continuous mental activity. They are also extremely impressionable to the changing scene around them and tend to dissect their feelings and emotions in an analytical manner.
Mercury in the sign of Pisces denotes a subtle and intuitive intelligence. There is an interesting and enigmatic quality about the way their mind works. They do not simply arrive at conclusion through logic alone but through flashes of insight, premonitions and mysterious intuits that are not based on previous facts or precedents. Their pronouncements can often wax prophetic.

They have accurate hunches plus, with their imaginative and creative talents, are able to conceptualize new ideas that are difficult to grasp by those who lack imagination. Mercury in Pisces people can occassionally lack self-confidence and appear timid or perplexed. They display empathy and understanding for the faults and failings of other people. In their mind, each person has his or her own truth and this extends even to those who lie. Mercury in Pisces people can be like absentminded professors but because of their sensitivity to their surroundings, they are easily distracted by and unable to concentrate when there is anything or anyone upsetting them.
People with their Venus in Pisces are tender souls with a desire to form deep and spiritual connections with their mates. They are in search of their soulmate and someone with whom they can share themselves fully and honestly. Because of their sensitivity, they may experience some difficulty in expressing or articulating what they feel. Their feelings can be complicated and subject to change waxing and waning with their fluctuating moods.

They are remarkably kind and devoted in their relationships and breakups can emotionally debilitate them for extended periods. Being in love makes them feel complete but they have a penchant for falling for the wrong type of person. They may fall in love with the idea of a person and subsequently project ideals onto them that will never be lived up to. Logic does not play much of a factor in the Venus in Pisces person's mind. They operate on intuition and are very empathetic and self-sacrificing for their loved ones. They tend to be undisciplined with their spending and do not resist indulging in anything that makes them feel good. They are likely to have addictive personalities and go overboard especially when they are feeling sad or empty inside.
As a Mars-in-Virgo person, you are a immense worker who attains your greatest achievement in a systematized strategy. You are driven and proud, though this is not perpetually obvious on the outside. Very strong-willed, you can isolate yourself from your passions when it comes to making judgments. In your craft you are shrewd, calculating, and calmly resolved.
You distrust people who only desire to deal with large problems because somehow such personalities never appear to reach any valuable inferences. Mars-in-Virgo may seem sexually cool, although in honesty you glamorize sensuality. You desire it to be both corporally ecstatic and mentally stimulating. Your appetites are powerful but kept under tight restraint. Mars-Virgos tend to be prosperous in fields where restriction of emotions is advantageous (such as diplomats, psychologists, and investigators). When setting a plan into motion you must beware of getting bogged down in particulars.
Thоѕе whо fall under thіѕ number аrе reminiscent оf hippies whо аrе carefree аnd live оn adventure аnd social interactions. Thеіr moods аrе uѕuаllу peppy аnd саn motivate people іn а way thаt mау ѕееm odd but works nоnеthеlеѕѕ. Thеу аrе а great source оf inspiration аnd motivation fоr thоѕе whо doubt thеmѕеlvеѕ. Thеу have аn insatiable appetite fоr thе good things іn life, like food аnd travel. Number 5s саn аlѕо tread into bad territory, like having multiple sex partners аnd drug abuse. Thеу have а great way оf understanding people, whеrе thеіr communication skills аrе enviable. Thеу аrеn't thе sort оf people tо rush into а career wіthоut giving іt great thought, but саn bе impulsive оn thе flip-side whеn іt comes tо оthеr doings. Thеу'rе butterflies thаt need thеіr daily dose оf freedom.
Thе number 7 іѕ thе number оf analysis аnd critique. It іѕ nоt surprising, thаt thе number 7 people аrе analytical, fussy, prepared аnd wise. On thе flip side, thеу аrе prone tо being critical, cynical аnd superficial. Thе number 7 people аrе introspective, prefer solitude аnd аrе constantly pursuing thе knowledge оf universal truths. Thе tarot representation оf thе number 7 іѕ thе 'Chariot'. Thеѕе people аrе astrologically linked tо Libra аnd аrе influenced bу Jupiter, Neptune аnd Mercury. Thеѕе people have а red aura аnd аn amethyst іѕ thе perfect gemstone fоr thеm. July іѕ thе best month fоr thеѕе people аnd thеу find Saturdays tо bе thеіr most lucky days. Thеу get thе best jobs done оn thе 2nd, 4th, 5th, 7th, 16th аnd 25th dates оf аnу month.
If you were born in the years 1937, 1949, 1961, 1973, 1985 or 1997 then you were born under the sign of the Ox in Chinese astrology. Our Chinese menu that we pilfered from lunch today says that you are bright, patient and inspiring to others. You can be happy by yourself, yet make an outstanding parent. You should marry a Snake or Cock. Oxen are hardworking and logical, but they need a peaceful and quiet environment to sift through ideas and feelings in their own mind.
Avoid those Sheep. The Ox is a steadfast and solid, a born leader. It's dependable and has what it takes to achieve great things. They are methodical, not plunging in without considering what the right steps are to get a project finished. They believe in doing it right the first time. Ox people tend to be powerful and steady. Oxen were traditional used to plow fields, and haul heavy loads. They make good work animals because of their dependable and patient attitudes.
The
Fire element is both destructive and nourishing. On a cold winter day, there is nothing more calming to the soul than curling up by a roaring fire with a good book or cherished love one. On the other side, there is no other force on earth more destructive than a raging, out of control fire. Fire nourishes the human body by providing us heat to cook our food and light with which to see.
And, there is nothing more painful than having a part of your body taken by fire or flame. Fire signs draw attention to themselves.  Those under the influence of Fire have charm and charge on their side.  They have an infectious enthusiasm that makes them natural leaders, so people just can't help but to follow them. They take the role of leader seriously, and do it well. For fire people, managing others comes naturally. They are decisive, compassionate, understanding yet firm.
In the Myers Briggs, ISFJs are described as quiet and dutiful introverts who are possessed with great empathy and concern for others. They take serious their obligations and commitments and they strive to be a helpful contributor. They show a generous attitude towards and they like to make other people feel comfortable and valued. As a judging type, they prefer living their life with a defined structure. Stability and security is important to them and they like to stick to what is familiar.

They like following a good routine and having their tasks and errands all planned out. As introverted sensors, the ISFJ personality is also fond of the past and traditions. They possess a good memory and can recall many details that most people would forget. ISFJs are slow to adapt to new changes as they prefer to keep their world running just the way they like it. Their values tend to be conservative and practical. They like discussing real concrete things that affect their lives and the lives of other people rather than abstract theories and topics that are conceptual in nature.