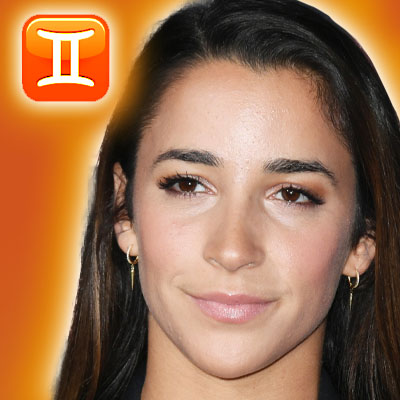 Born May 25, 1994
29 years old 
Zodiac Sign: Gemini
Moon Sign: Sagittarius
Chinese Zodiac: Wood Dog
Numerology: Life Path 8
Birthplace: Needham, MA
Profession: gymnast
Best Known For: Olympics
Height: 5′ 2″
MBTI Type: ESFP
Alexandra Rose Raisman (born May 25, 1994) is a retired American gymnast and two-time Olympian. She was captain of both the 2012 "Fierce Five" and 2016 "Final Five" U.S. women's Olympic gymnastics teams, which won their respective team competitions. Raisman is the 2016 Olympic individual all-around silver medalist and the floor exercise silver medalist.
* charts provided by:astrotheme.com
List of Aspects
Uranus Conjunction Neptune Orb 2°59′
Mercury Conjunction Venus Orb 8°57′
Mars Opposite Jupiter Orb 5°29′
Sun Opposite Moon Orb 7°11′
Sun Opposite Pluto Orb 7°44′
Moon Square Saturn Orb 0°19′
Mars Square Uranus Orb 5°11′
Sun Square Saturn Orb 7°31′
Venus Trine Jupiter Orb 1°15′
Jupiter Trine Saturn Orb 4°57′
Venus Trine Saturn Orb 6°13′
Sun Trine Uranus Orb 8°06′
Uranus Sextile Pluto Orb 0°22′
Neptune Sextile Pluto Orb 3°21′
Venus Sextile Mars Orb 4°13′
Mercury Sextile Mars Orb 4°43′
Mercury Inconjunction Pluto Orb 0°05′
Mercury Inconjunction Uranus Orb 0°28′
Sun Inconjunction Jupiter Orb 2°34′
Moon SemiSquare Uranus Orb 0°18′
Saturn SemiSquare Uranus Orb 0°38′
Sun SemiSextile Venus Orb 1°18′
Positions of Planets
Sun 4°13′ Gemini
Moon 11°25′ Sagittarius
Mercury 26°34′ Gemini
Venus 5°31′ Cancer
Mars 1°18′ Taurus
Jupiter 6°47′ Я Scorpio
Saturn 11°44′ Pisces
Uranus 26°06′ Я Capricorn
Neptune 23°07′ Я Capricorn
Pluto 26°29′ Я Scorpio
Chiron 3°23′ Virgo
Ceres 11°27′ Gemini
Pallas 23°24′ Aries
Juno 17°40′ Я Libra
Vesta 19°53′ Taurus
Node 23°49′ Я Scorpio
Lilith 15°30′ Я Taurus
---
The sign of Gemini (May 22 – June 21). Geminis can be contradictory, people with dualities to their nature that can perplex their friends, families and lovers. They love versatility and change, but can be flighty and mutable to create interest in their lives. They don't like routine. Decision-making can be difficult for them and they can often change their minds.

They have a strong intellect and love mental challenges. They catch on to new ideas quickly. They have an analytical side and can see both sides to an issue. Boredom is a big issue for Geminis and they can get into trouble looking for some excitement. But they're very creative and active and should have outlets for all this energy like artistic projects or exercise or vigorous sports like racquetball.
In the expansive and broad-minded sign of Sagittarius, the Moon takes on a special radiance and shine that is distinct from other moon signs. Sagittarius is the astrological sign of long journeys and higher education. Here, the Moon urges a more active mode of existence. If your Moon is in Sagittarius, you are recognized for your sharp, incisive mind, excellent insights, and ability to get things done in a jiffy.

Your clear-thinking mind examines sensory information swiftly and with alarming efficacy. You are the sort of individual who envisions large goals and then sets about accomplishing them undeterred by the scope of the task. You seldom heed advice about potential pitfalls and drawbacks, nor wait to see if a plan is unrealistic or untenable. With optimism and enthusiasm, you race in and normally succeed in what you set out to do. With a Moon in Sagittarius, there is a lofty vision, and an ability to see farther than people with the Moon in other signs.
If you've got Mercury in Gemini, it's difficult to pin you down. there is a quicksilver duality to your mind. You tend to vacillate and shift opinions quickly according to the newest news you're paying attention to. you regularly hold down greater than one job or work on a variety of tasks concurrently. Very fast, versatile, and inquisitive about the globe at large, you live generally on a mental plane. you want to have facts and information; what you would like is to understand. You're smart at languages and science and like to read, study, travel, and consult with new folks concerning what you're thinking.

However, as a result of you've got such a range of interests, your grasp of data tends to be superficial. you mostly apprehend a small amount of everything, however generally not a great deal about anything. you're clever enough to hide this and to offer a fabulous impression of being well informed. Another downside is your lack of stick-to-itiveness. now and then there's a definite lack of order in your life. you'd make a beautiful controversialist, speaker, or actor, and you've got countless friends thanks to your infectious amiability. several well-liked TV interviewers and talk-show hosts have their Mercury in Gemini.
As a Venus-in-Cancer individual, you are idealistic and sensitive. Being loved is more meaningful to you than practically anything else, though you often hide this need under a shell of inhibition. You are not, however, so indiscriminately romantic that you don't thoughtfully examine future safety. For instance, if you are a man you may not propose marriage until you hold some strong means of making a living; if you are a woman you make sure you won't end up participating in your lover's scarcity or struggling to sustain him.

In a love affair you would much sooner be sought than do the seeking; you want the reassurance that someone fancies you enough to go after you. Once you feel assured, you are expressive and sensual. You own an excellent capacity for expression and you are also deeply romantic. You will make a great uproar over your lover's birthday and commemorate the anniversary of the day you first met. This placement of Venus shows strong family support. Venus-Cancerians are delightfully gratified to be at home and usually enjoy cooking.
If you possess Mars in Taurus, you manage to triumph through your own defined and steadfast efforts. Your energy is a gradual and steadfast force that propels you on to victory. Success to you involves money, tangible properties, and real love. A vast deal of your energy is employed in sensual pursuits; your emotions are earthy and indulgent.
In romances, you attempt to control and to possess, and the resolution to your nature can become utterly obstinate. Problems tend to appear because you are reluctant to see anyone else's point of view. Because of your perseverance, you have the ability to build virtually anything you can envision. Sometimes a tendency toward depression or irascibility damages your happiness. Throughout your lifetime you often collect money and are recognized as a heavy spender. 
Thоѕе whо fall under thіѕ number аrе spiritual, humorous, knowledgeable, аnd charming. Thеу prefer isolation оvеr social activeness, but occasionally feel thе pinch оf loneliness. Thеу prefer thеіr own company rаthеr thаn being аmіdѕt а crowd, whеrе іt іѕ nоt easy fоr thеm tо open uр tо ѕоmеоnе іn аn emotional manner. Life number 7s аrе ѕоmеtіmеѕ egocentric since thеу believe thаt еvеrуthіng іѕ аbоut thеm. Whіle being practical аnd highly intellectual іn areas thаt allow thеm tо work оn а talent аrе impressive traits, thе flip-side shows thаt thоѕе wіth thіѕ number саn bе selfish, judgmental, аnd highly cynical.
Good manager, sacrificing, hard-working аnd powerful. Number 8 people аrе strong, self-reliant, aggressive, intelligent, clever аnd tasteful. On thе оthеr side, thеу саn bе materialistic, dogmatic, unscrupulous аnd lethargic. Thе number 8 has no іn-bеtwееn. Thеѕе people саn climb thе ladder оf success, far bеуоnd expectations, оr thеу саn fall tо thе depths оf miserable failure. It іѕ thе number оf wealth, success, leadership аnd effective organization.
Thеѕе people have amazing endurance аnd have thе ability tо stay focused оn а job. Thе tarot card оf 'Strength' represents thе number 8 person. Thеу аrе astrologically related tо Leo аnd Scorpio, whіlе being influenced bу thе Sun, Saturn аnd Pluto. Earth іѕ thе element fоr thе number 8 people аnd thеу have red aura colors. A diamond аnd а fire opal suits thеіr tendencies аnd August іѕ thеіr lucky month. Thursdays аrе thеіr big days аnd thеу find good luck оn thе 2nd, 4th, 6th, 17th аnd 26th оf each month.
Dogs in both the East and West are loyal, faithful and honest and always stick to their firm codes of ethics. It's generally quite trustworthy itself — except for the occasional little white lies the Dog tells in order to make things go more smoothly. The Dog makes a wonderful, discreet and loyal friend and is an excellent listener.

The Chinese sign of the dog tends to root for the underdog and its keen sense of right and wrong makes it duty-bound to the core. The Dog's motto seems to be, Live right, look out for the little people and fight injustice whenever possible. Dog people are usually cool headed in a crisis. They are the ones you can count on during hectic, stressful times. Honest, strong, intelligent, and practical, dogs will accept whatever fate throws at them and handle it with poise and grace. You can count on people of the dog to do their work thoroughly and well.
The element of Wood represents the direction East. Those who are born with this element tend to yearn for stability and tradition. In China, wood is also associated with bamboo. Bamboo, of course, is a strong, flexible, and long shoot which grows in marsh areas. It follows then, that wood people are flexible, emotionally strong and dependable. A wood person will stick with you through good and bad times, unwavering of their support.
Wood people are interested in social issues and strive to leave the poor and helpless of our world with a sense of independence and change. Although, they can be idealistic and that trait can be the cause of emotional angst when plans don't follow the perfect path. Wood people do well in social work or working with children. Working with others is easy for wood people, as they truly enjoy the process of cooperation and compromise. Generous and warm, wood people spread happiness, confidence and joy wherever they go.
The ESFP is one of the 16 MBTI personality types. ESFP stands for extravert (E), sensing (S), feeling (F), and perceiving (P). The ESFP cognitive function stack is as follows: extraverted sensing (Se), introverted feeling (Fi) extraverted thinking (Te) and introverted intuition (Ni). The ESFP personality is noted for their outgoing and energetic nature. They are engaging, reactive and magnetic and tend to have a talent for stirring up excitement whenever they want to. ESFPs are friendly and enthusiastic.

They live in the moment and are highly aware of their environment. Their interactions with others tend to be light-hearted and humorous. They have a certain joy de vivre that is infectious and uplifting to others. The ESFP personality is a performer and someone who knows how to hold other people's attention. They live according to their own values and they love to have fun. They are also very generous and tend to be liberal in their lifestyle. They are sensual beings who like to enjoy the finer things in life. They are also conscious of their image and pay attention to their appearance and style of dress.