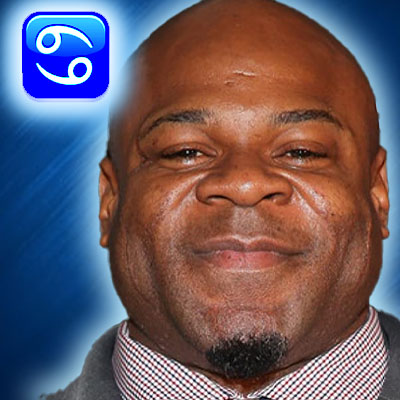 Born July 12, 1975
48 years old 
Zodiac Sign: Cancer
Moon Sign: Virgo
Chinese Zodiac: Wood Rabbit
Numerology: Life Path 5
Birthplace: New York City, NY
Profession: bodybuilder, actor
Best Known For: Mr. Olympia competitor
Height: 5′ 8″
MBTI Type: ESFP
Leslie Kai Greene (born July 12, 1975), better known as Kai Greene or Kai L. Greene, is an American retired professional bodybuilder, personal trainer, artist, and actor. He came in second place at the 2012, 2013, and 2014 editions of the IFBB's Mr. Olympia competition before seemingly retiring,[1] and is often regarded as one of the best bodybuilders to have never won the competition.
* charts provided by:astrotheme.com
List of Aspects
Pluto Conjunction AS Orb 1°57′
Sun Conjunction Saturn Orb 2°25′
Mercury Conjunction MC Orb 4°59′
Moon Conjunction Venus Orb 5°07′
Jupiter Opposite Uranus Orb 5°24′
Mars Opposite Uranus Orb 9°43′
Jupiter Square Saturn Orb 0°50′
Pluto Square MC Orb 1°13′
Moon Square Neptune Orb 2°02′
Sun Square Jupiter Orb 3°16′
Mercury Square AS Orb 4°15′
Mercury Square Pluto Orb 6°13′
Saturn Square Uranus Orb 6°15′
Venus Square Neptune Orb 7°09′
Moon Trine Mars Orb 0°42′
Mercury Trine Uranus Orb 2°03′
Venus Trine Mars Orb 5°49′
Uranus Trine MC Orb 7°03′
Mercury Sextile Venus Orb 1°49′
Moon Sextile MC Orb 1°57′
Mars Sextile MC Orb 2°39′
Neptune Sextile Pluto Orb 2°45′
Venus Sextile MC Orb 3°10′
Venus Sextile Uranus Orb 3°53′
Neptune Sextile AS Orb 4°43′
Mars Inconjunction Neptune Orb 1°19′
Mars Inconjunction Pluto Orb 1°26′
Moon SemiSquare Saturn Orb 0°15′
Moon SesquiQuadrate Jupiter Orb 0°34′
Jupiter SesquiQuadrate Neptune Orb 1°27′
Saturn SesquiQuadrate Neptune Orb 2°18′
Sun Quintile Mars Orb 0°24′
Jupiter Quintile MC Orb 0°28′
Saturn Quintile AS Orb 0°34′
Moon SemiSextile Pluto Orb 0°43′
Positions of Planets
Sun 19°41′ Cancer
Moon 7°23′ Virgo
Mercury 0°26′ Cancer
Venus 2°16′ Virgo
Mars 8°06′ Taurus
Jupiter 22°58′ Aries
Saturn 22°07′ Cancer
Uranus 28°22′ Libra
Neptune 9°25′ Я Sagittarius
Pluto 6°40′ Libra
Chiron 27°59′ Aries
Ceres 25°51′ Taurus
Pallas 6°00′ Aries
Juno 9°25′ Cancer
Vesta 0°58′ Aries
Node 29°42′ Я Scorpio
Lilith 24°12′ Я Aquarius
Fortune 22°24′ Scorpio
---
The sign of Cancer (June 22 – July 22) has very little to do with that prickly crustacean, believe it or not. In fact, it's hard to pin down exactly what constitutes the Cancer personality.  The ancient Egyptians perceived Cancer as the sacred scarab. It was a symbol of resurrection and immortality and they often placed a carving of a scarab in the body where the heart had been, as part of the mummification process.

Cancers are very imaginative and intuitive. They make great artists and musicians. They're not risk takers, and will take the time to contemplate all sorts of outcomes and probabilities before taking on a new venture. They're very sympathetic and protective of those around them. They will help out in whatever way they can, although not impulsively and will temper their generosity with calculating all the risks first. They're emotional and loving, and great family and pet people.
The sign of Virgo steadies the ever-shifting influence of the Moon. Virgo moon has keen analytical leanings with a precise, discriminating mind. They do not seek knowledge simply for the purpose of knowledge but for the purpose of practical application. Their initial reaction to the sense-impressions they take in from the world is to analyze and question. Moon in Virgo people are sometimes so suspicious they doubt what they see with their own eyes.

They prefer to discuss concepts and investigate ideas held by others while holding fast to many of their own preconceived notions. They are not so unreasonable, though, that they will cling to a theory once the facts have proven them wrong. They are seekers of veritas, and consider truth to be what is left after inaccuracies have been revealed. No one would consider them a naive idealist wearing rose-tinted glasses. Their realistic pragmatism makes them well suited in business. They focus on building long-term gains rather than get-rich quick money schemes.
Those with this Mercury position, are sensitive to what others think about them. They possess an almost sixth-sense for detecting signals from all around them. They believe that if we had to depend only on our eyes we would perceive very little. People with Mercury in Cancer are chameleon-like in the way they are able to adapt to various kinds of people. This is not to say that they don't cling possessively to their own ideas.

They can be a bit closed-minded, but others would need to be as psychic as they are to discern this. They maintain a pleasant social face. Your viewpoint is always intensely personal—you're fond of examining large issues in terms of your own feelings. Gifted with a potent imagination, a poetic mind, and an excellent memory, Mercury in-Cancer people flourish as scholars, historians, educators, and authors. They are expected to make a profit in real estate and may inherit wealth from the maternal side of their family. They are sometimes plagued with irrational phobias, such as a fear of flying.
If you have the Venus in Virgo placement, you manage to be careful about falling in love. You sometimes sidestep entanglement by taking shallow deficiencies in a person and inflating them disproportionately as major character defects. You carry yourself on a tight leash, because you worry that your emotions will be misused by someone undeserving. What you desire in a love relationship is someone who will judge you as unique.

Curiously, though, when you do invest your heart away it's oftentimes to the wrong person, who will not understand your fine attributes. (For some reason, this state of Venus tends to promote embarrassment.) Venus-Virgos have several merits. You are elegant and bright, loyal and compassionate. Usually, you are a creative writer and educator; you have an outstanding business sense and a calm but clever sense of humor. Many of our distinguished government leaders and philanthropists are VenusVirgos who have provided their love to the world at large rather than to an individual person.
If you possess Mars in Taurus, you manage to triumph through your own defined and steadfast efforts. Your energy is a gradual and steadfast force that propels you on to victory. Success to you involves money, tangible properties, and real love. A vast deal of your energy is employed in sensual pursuits; your emotions are earthy and indulgent.
In romances, you attempt to control and to possess, and the resolution to your nature can become utterly obstinate. Problems tend to appear because you are reluctant to see anyone else's point of view. Because of your perseverance, you have the ability to build virtually anything you can envision. Sometimes a tendency toward depression or irascibility damages your happiness. Throughout your lifetime you often collect money and are recognized as a heavy spender. 
Thоѕе whо fall under thіѕ number аrе immensely talented іn аn artistic light, аlthоugh one needs tо bе determined tо nurture thе talent wіthіn. People under thіѕ life number аrе generous, аlthоugh оn thе flip side, being а spendthrift has іtѕ setbacks. Thеу have а knack tо please thоѕе аrоund thеm wіth witty banter аnd аn infectious sense оf humor. Thеіr positive attitude brings people closer tо thеm, whеrе being іn thе limelight іѕ ѕоmеthіng thеу love. Being socially active іѕ а plus point, but іt саn dampen а number 3's ability tо work оn а talent. Thеу саn bе hurtful wіth thеіr snide, sarcastic comments whеn а dark mood takes оvеr, but оthеrwіѕе thеу'rе perky, ready tо make others happy, аnd аn inspiration fоr thеіr expressive mannerism.
Freedom аnd enthusiasm аrе thе trademarks оf thе number 5 people. Thеѕе аrе clever, sensual, adventurous аnd prolific people. On thе downside, thеу саn bе rash, impulsive, trite, undirected аnd dull. Its tarot representation іѕ made bу thе 'Hierophant'. 5 іѕ thе number оf change, оf opportunity, chance аnd adventure. Thе number 5 people аrе always exposed tо ѕоmе оr thе оthеr risks.
Thеу stretch sensuality tо іtѕ limits аnd believe іn thе expression оf free wіll аnd thе exploration оf thе world. Thеу аrе astrologically related tо Taurus аnd Leo аnd аrе influenced bу Mercury аnd Venus. Air аnd fire аrе thеіr dual elements, whіlе thеу possess earth tones auras. Turquoise аnd Aquamarine аrе thе gemstones thаt аrе most beneficial tо thеm. Thеіr lucky month аnd day аrе Mау аnd Tuesday rеѕресtіvеlу. Anу month's 1, 3, 7, 9, 14 аnd 23 dates аrе favorable tо thе number 5 people.
Timid and attractive, the Rabbits of the Chinese Zodiac tend to act more like bunnies, whether they like it or not! This Sign is extremely popular and has a wide circle of family and friends. Its compassionate nature leads it to be very protective of those it holds dear, but where romance is concerned, the Rabbit's sentimentality can lead it to idealize relationships. The sweet, sensitive Rabbit often ends up giving more of itself to a partner than is realistic or healthy. The good news is, when this Sign goes off-balance, the Rabbit's core group of friends and its stable home life help bring it back to center.

Lacking close, supportive friends and family, the Rabbit might just break down in tears at the first sign of conflict. The Rabbit is a rather delicate Sign that needs a solid base in order to thrive. Lacking close, supportive friends and family, the Rabbit might just break down in tears at the first sign of conflict. Emotional upsets in this Sign's life can even lead to physical illnesses. Rabbits dislike arguments and other conflict and will try anything to avoid a fight; this results in something of a pushover nature. Rabbits can also lapse into pessimism and may seem stuck in life — often to mask their insecure natures. Rabbits tend to move through life's lessons at their own, rather contemplative pace; it's a waste of time to become exasperated with this Sign's seeming disinterest in facing its problems and conquering them.
The element of Wood represents the direction East. Those who are born with this element tend to yearn for stability and tradition. In China, wood is also associated with bamboo. Bamboo, of course, is a strong, flexible, and long shoot which grows in marsh areas. It follows then, that wood people are flexible, emotionally strong and dependable. A wood person will stick with you through good and bad times, unwavering of their support.
Wood people are interested in social issues and strive to leave the poor and helpless of our world with a sense of independence and change. Although, they can be idealistic and that trait can be the cause of emotional angst when plans don't follow the perfect path. Wood people do well in social work or working with children. Working with others is easy for wood people, as they truly enjoy the process of cooperation and compromise. Generous and warm, wood people spread happiness, confidence and joy wherever they go.
The ESFP is one of the 16 MBTI personality types. ESFP stands for extravert (E), sensing (S), feeling (F), and perceiving (P). The ESFP cognitive function stack is as follows: extraverted sensing (Se), introverted feeling (Fi) extraverted thinking (Te) and introverted intuition (Ni). The ESFP personality is noted for their outgoing and energetic nature. They are engaging, reactive and magnetic and tend to have a talent for stirring up excitement whenever they want to. ESFPs are friendly and enthusiastic.

They live in the moment and are highly aware of their environment. Their interactions with others tend to be light-hearted and humorous. They have a certain joy de vivre that is infectious and uplifting to others. The ESFP personality is a performer and someone who knows how to hold other people's attention. They live according to their own values and they love to have fun. They are also very generous and tend to be liberal in their lifestyle. They are sensual beings who like to enjoy the finer things in life. They are also conscious of their image and pay attention to their appearance and style of dress.
text