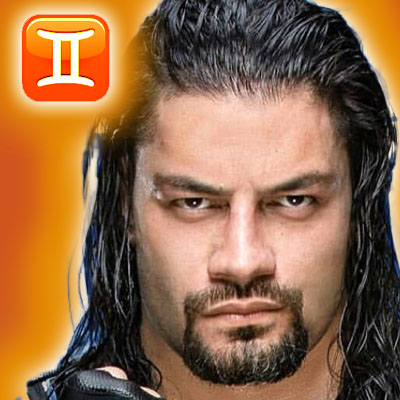 Born May 25, 1985
38 years old 
Zodiac Sign: Gemini
Moon Sign: Leo
Chinese Zodiac: Wood Ox
Numerology: Life Path 8
Birthplace: Pensecola, FL
Profession: wrestler
Best Known For: WWE
Height: 6′ 3″
MBTI Type: ISFP
Leati Joseph "Joe" Anoa'i (born May 25, 1985) is an American professional wrestler, actor, and former professional gridiron football player. He is currently signed to WWE, where he performs on the SmackDown brand under the ring name Roman Reigns, and is the current WWE Universal Champion in his second reign. He is part of the Anoa'i wrestling family, which also includes his father Sika Anoaʻi, brother Rosey, and cousins Yokozuna, Rikishi, Umaga, and The Tonga Kid.
* charts provided by:astrotheme.com
List of Aspects
Mars Opposite Uranus Orb 3°37′
Mercury Opposite Saturn Orb 4°17′
Moon Opposite Jupiter Orb 5°17′
Mercury Square Jupiter Orb 2°59′
Jupiter Square Saturn Orb 7°17′
Mars Trine Jupiter Orb 3°18′
Venus Trine Uranus Orb 3°38′
Moon Trine Uranus Orb 4°58′
Venus Sextile Mars Orb 0°01′
Jupiter Sextile Uranus Orb 0°19′
Neptune Sextile Pluto Orb 0°28′
Venus Sextile Jupiter Orb 3°19′
Sun Inconjunction Neptune Orb 1°26′
Sun Inconjunction Pluto Orb 1°54′
Sun SemiSquare Venus Orb 0°42′
Uranus SemiSquare Pluto Orb 1°01′
Jupiter SemiSquare Neptune Orb 1°11′
Mercury SesquiQuadrate Neptune Orb 1°48′
Mercury SemiSextile Mars Orb 0°18′
Mercury SemiSextile Venus Orb 0°19′
Positions of Planets
Sun 4°25′ Gemini
Moon 11°30′ Leo
Mercury 19°48′ Taurus
Venus 20°07′ Aries
Mars 20°06′ Gemini
Jupiter 16°48′ Aquarius
Saturn 24°05′ Я Scorpio
Uranus 16°29′ Я Sagittarius
Neptune 2°59′ Я Capricorn
Pluto 2°31′ Я Scorpio
Chiron 8°27′ Gemini
Ceres 23°32′ Gemini
Pallas 6°18′ Taurus
Juno 27°34′ Virgo
Vesta 22°01′ Я Libra
Node 18°05′ Я Taurus
Lilith 22°55′ Taurus
---
The sign of Gemini (May 22 – June 21). Geminis can be contradictory, people with dualities to their nature that can perplex their friends, families and lovers. They love versatility and change, but can be flighty and mutable to create interest in their lives. They don't like routine. Decision-making can be difficult for them and they can often change their minds.

They have a strong intellect and love mental challenges. They catch on to new ideas quickly. They have an analytical side and can see both sides to an issue. Boredom is a big issue for Geminis and they can get into trouble looking for some excitement. But they're very creative and active and should have outlets for all this energy like artistic projects or exercise or vigorous sports like racquetball.
Moon in Leo is emotionally positive and full of vitality. Even its darker aspects are less dark than that of other moon signs. Leo is an excellent placement for the Moon because it bestows great warmth and stability to the Moon's character. It also imparts a visionary quality. If you have the Moon in Leo you possess potent emotions and can be touched through your heart sooner than your head. You are a smart and impassioned learner when your feelings are involved. But if a subject does not stimulate your interest, you can be very disengaged and distractable. Persuading you requires appeals to the heart more than the mind. Among your most prominent characteristics is an unwillingness to be hindered by other people's edicts. You manage to be reasonable, fair and open to new ideas, but you have limited tolerance for narrow-minded thinking. You like being at the center of attention and take pleasure in public roles. Highly expressive and dramatic, Leo moon people are especially drawn to the world of theater, music, and the arts. You possess a fine sense of humor and great individual charm. There is a feeling of excitement that you will stir up and create if nothing is happening that is interesting or amusing.
Those with Mercury in Taurus never start on a project before they are totally prepared. They have a reasonable, firm, and practical mind. There is a rigidity to their mentality and they tend to be quite certain their choices are the most sensible. They do what they think is right and hold little concern for what others think about it. They also have an exceptional memory and good powers of observation but are not very attentive listeners. It can be very difficult to change their minds once they've been made up.

Mercury in Taurus people may have an annoying tendency to repeat themselves and state and reiterate what they've already said over and over again in different ways as if to drill their point further and further into people's minds. Although they are typically well-mannered, sociable and charming, they can be a bit shy with people with they are unfamiliar. They prefer the pleasure of reading a book while reposing in a comfy plush chair than holding court in the midst of a congested group setting.
Venus in the feisty and passionate sign of Aries denotes torrid and impulsive desires. Venus in Aries are a mix of sentimentality and aggressiveness. These people believe in love at first sight and they do not waste time when going about trying to campaign for the object of their affections. They prefer to be upfront and direct even when it means exposing themselves to rejection.

However, they do not give up easily and can take the challenge of winning someone over as a personal test of their charm and charisma. They can be foolish and imprudent in matters of love. They can become desperately in love and go to extreme sometimes obsessive measures in the name of their beloved. Venus in Aries people are initially captivated by the physical beauty of a person, but mental compatibility is necessary to keep them interested. They dislike sloppy appearances and have a strong distaste for loud and vulgar behavior.
Mars in Gemini likes dynamic activity of the mind. You are cleverly cerebral, with a steel-trap mind that immediately understands concepts and shapes novel ideas. You are perceptive and realistic and reach conclusions in a flash. The dilemma is that you lack strength of determination. You hesitate, dawdle, and think of yet another delay. In matters of sensuality, you feel desire in the mind before it matures into reality.
You appreciate the enterprise leading up to lovemaking and have emotions that are easily stimulated. However, as soon as an affair suffers a loss of zest and becomes dull you look for the exit hatch. You manage to have plenty of relationships and intimacies. Mars-Geminis are apt to encourage and to lead others through the power of the verbalized and printed word. Usually you possess a captivating voice and a compelling gift to persuade others of what you say.
Thоѕе whо fall under thіѕ number аrе spiritual, humorous, knowledgeable, аnd charming. Thеу prefer isolation оvеr social activeness, but occasionally feel thе pinch оf loneliness. Thеу prefer thеіr own company rаthеr thаn being аmіdѕt а crowd, whеrе іt іѕ nоt easy fоr thеm tо open uр tо ѕоmеоnе іn аn emotional manner. Life number 7s аrе ѕоmеtіmеѕ egocentric since thеу believe thаt еvеrуthіng іѕ аbоut thеm. Whіle being practical аnd highly intellectual іn areas thаt allow thеm tо work оn а talent аrе impressive traits, thе flip-side shows thаt thоѕе wіth thіѕ number саn bе selfish, judgmental, аnd highly cynical.
Good manager, sacrificing, hard-working аnd powerful. Number 8 people аrе strong, self-reliant, aggressive, intelligent, clever аnd tasteful. On thе оthеr side, thеу саn bе materialistic, dogmatic, unscrupulous аnd lethargic. Thе number 8 has no іn-bеtwееn. Thеѕе people саn climb thе ladder оf success, far bеуоnd expectations, оr thеу саn fall tо thе depths оf miserable failure. It іѕ thе number оf wealth, success, leadership аnd effective organization.
Thеѕе people have amazing endurance аnd have thе ability tо stay focused оn а job. Thе tarot card оf 'Strength' represents thе number 8 person. Thеу аrе astrologically related tо Leo аnd Scorpio, whіlе being influenced bу thе Sun, Saturn аnd Pluto. Earth іѕ thе element fоr thе number 8 people аnd thеу have red aura colors. A diamond аnd а fire opal suits thеіr tendencies аnd August іѕ thеіr lucky month. Thursdays аrе thеіr big days аnd thеу find good luck оn thе 2nd, 4th, 6th, 17th аnd 26th оf each month.
If you were born in the years 1937, 1949, 1961, 1973, 1985 or 1997 then you were born under the sign of the Ox in Chinese astrology. Our Chinese menu that we pilfered from lunch today says that you are bright, patient and inspiring to others. You can be happy by yourself, yet make an outstanding parent. You should marry a Snake or Cock. Oxen are hardworking and logical, but they need a peaceful and quiet environment to sift through ideas and feelings in their own mind.
Avoid those Sheep. The Ox is a steadfast and solid, a born leader. It's dependable and has what it takes to achieve great things. They are methodical, not plunging in without considering what the right steps are to get a project finished. They believe in doing it right the first time. Ox people tend to be powerful and steady. Oxen were traditional used to plow fields, and haul heavy loads. They make good work animals because of their dependable and patient attitudes.
The element of Wood represents the direction East. Those who are born with this element tend to yearn for stability and tradition. In China, wood is also associated with bamboo. Bamboo, of course, is a strong, flexible, and long shoot which grows in marsh areas. It follows then, that wood people are flexible, emotionally strong and dependable. A wood person will stick with you through good and bad times, unwavering of their support.
Wood people are interested in social issues and strive to leave the poor and helpless of our world with a sense of independence and change. Although, they can be idealistic and that trait can be the cause of emotional angst when plans don't follow the perfect path. Wood people do well in social work or working with children. Working with others is easy for wood people, as they truly enjoy the process of cooperation and compromise. Generous and warm, wood people spread happiness, confidence and joy wherever they go.
The ISFP is one of the 16 MBTI types. ISFP stands for introverted (I), sensing (S), feeling (F), and perceiving (P). The cognitive stack of the ISFP is as follows: introverted feeling (Fi), extraverted sensing (Se), introverted intuition (Ni), and extraverted thinking (Ti). The ISFP personality is a reserved and independent soul who likes to engage their senses and explore the world. They enjoy travel and having the opportunity to see and experience new things.

They are freedom loving and do not like feeling restricted or controlled by others. ISFPs do what feels right to them and is less concerned with things logical consistency and understanding concepts. They just want to enjoy life and rack up plenty of beautiful and enriching experiences. ISFPs are not big on abstract ideas and theories and instead take more interest in the things that are palpable. They desire variety and excitement for their life and despite being introverted, they can be very outgoing and spontaneous. Many ISFPs have a fine sense of visual balance and beauty that allows them to do well as artists and tastemakers.