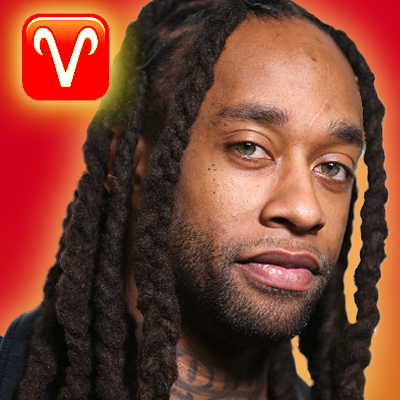 Born April 13, 1985
37 years old 
Zodiac Sign: Aries
Moon Sign: Aquarius
Chinese Zodiac: Wood Ox
Numerology: Life Path 4
Birthplace: Los Angeles, CA
Profession: record producer
Height: 6′ 1″
MBTI Type: ?
Tyrone William Griffin Jr. (born April 13, 1985), known professionally as Ty Dolla Sign (stylized as Ty Dolla $ign or Ty$), is an American singer, songwriter and record producer. He first gained major recognition in 2010 for his guest feature on YG's "Toot It and Boot It", which he had co-written and produced for Def Jam Recordings. In the summer of 2013, he signed a record deal with Wiz Khalifa's Taylor Gang Records. In November 2015, he released his debut studio album, Free TC, which peaked at number 14 on the Billboard 200.
* charts provided by:astrotheme.com
Positions of Planets
Sun 23°50′ Aries
Moon 13°13′ Aquarius
Mercury 7°13′ Я Aries
Venus 8°30′ Я Aries
Mars 21°13′ Taurus
Jupiter 12°58′ Aquarius
Saturn 27°01′ Я Scorpio
Uranus 17°47′ Я Sagittarius
Neptune 3°36′ Я Capricorn
Pluto 3°38′ Я Scorpio
Chiron 5°25′ Gemini
Ceres 6°35′ Gemini
Pallas 18°47′ Aries
Juno 0°47′ Я Libra
Vesta 0°01′ Я Scorpio
Node 18°29′ Я Taurus
Lilith 8°35′ Aries
List of Aspects
Moon Conjunction Jupiter Orb 0°15′
Mercury Conjunction Venus Orb 1°16′
Mars Opposite Saturn Orb 5°48′
Sun Opposite Pluto Orb 9°48′
Mercury Square Neptune Orb 3°37′
Venus Square Neptune Orb 4°53′
Moon Square Mars Orb 7°59′
Sun Trine Uranus Orb 6°02′
Neptune Sextile Pluto Orb 0°02′
Venus Sextile Jupiter Orb 4°27′
Moon Sextile Uranus Orb 4°34′
Moon Sextile Venus Orb 4°43′
Jupiter Sextile Uranus Orb 4°49′
Mercury Sextile Jupiter Orb 5°44′
Moon Sextile Mercury Orb 5°59′
Uranus SemiSquare Pluto Orb 0°51′
Mercury SemiSquare Mars Orb 1°00′
Sun Quintile Jupiter Orb 1°07′
Sun Quintile Moon Orb 1°23′
---
Aries the Ram is called the first sign of the Zodiac. If you are born under this sign, you will tend to have the same traits as a young ram. Enthusiastic, adventurous, forthright and energetic. You're courageous and confident. But be careful because sometimes you can be a little too impulsive . The boldness you show makes you something of a daredevil. And where would the world be, without daredevils, willing to strike out and do something completely different.

People born under the Aries sign are passionate lovers and intense friends. They sometimes risk driving people away with all that intensity and so Aries people need partners that can match them without fueling the fire and creating explosive situations.Aries make excellent entrepreneurs; it's a natural talent for someone with such a strong focus on initiative and leadership.  They thrive on challenges and love to excel and win.  They don't react well when forced to wait, and can have trouble accepting advice. 

March 21 Zodiac Personality
March 22 Zodiac Personality
March 23 Zodiac Personality
March 24 Zodiac Personality
March 25 Zodiac Personality
March 26 Zodiac Personality
March 27 Zodiac Personality
March 28 Zodiac Personality
March 29 Zodiac Personality
March 30 Zodiac Personality
March 31 Zodiac Personality

Aquarius is a most amenable sign for the Moon to be in because here the Moon's auspices confer commendable qualities of sensitivity and understanding. Aquarius is the astrological sign of intellectual thought and altruism. In this sign, the Moon's effect is to present clear reasoning with humane interests. With your Moon in Aquarius, you are clearheaded, instinctive, and inventive. Your intuitions are evenhanded and spot on. Your initial reactions are objective, scientific, and oriented towards understanding from the human point of view. The temperament is neither too emotional nor too cerebral. You are dreamy but not idiosyncratic but display a wonderful talent for expression. Aquarius moon people make for delightful companions and their affable nature enchants all types of people. They are people-oriented, sociable, and outgoing. However, they never become so emotionally entangled with others that it alters their own life. They are interested in concepts, philosophy, and erudition. They are well-rounded intellectually and possess a wide array of interests in a variety of areas and people. 
In the dynamic and passionate sign of Aries, Mercury takes on a more forceful quality in its intellectual style. Those born with their Mercury in Aries, are often witty, and original and have little problems speaking up and expressing their thoughts and opinions. They are skillful conversationalists a capacity for using biting sarcasm and humor. They can be very funny and highly expressive in how they use language.

They are likely to utilize a lot of slang in their speech and may possess extensive knowledge of hip and edgy terms at their disposal. They may often exaggerate or over embellish for effect. They are impatient and eager and can sometimes be argumentative and tactless. There may be a tendency to speak without thinking and to say too much. Their insights are quite perceptive, however, and they are often lucky in making good decisions. People with Mercury in Aries suffer from headaches, particularly when in a boisterous and noisy environment.
Venus in the feisty and passionate sign of Aries denotes torrid and impulsive desires.

Venus in Aries

are a mix of sentimentality and aggressiveness. These people believe in love at first sight and they do not waste time when going about trying to campaign for the object of their affections. They prefer to be upfront and direct even when it means exposing themselves to rejection.

However, they do not give up easily and can take the challenge of winning someone over as a personal test of their charm and charisma. They can be foolish and imprudent in matters of love. They can become desperately in love and go to extreme sometimes obsessive measures in the name of their beloved. Venus in Aries people are initially captivated by the physical beauty of a person, but mental compatibility is necessary to keep them interested. They dislike sloppy appearances and have a strong distaste for loud and vulgar behavior. 
If you possess Mars in Taurus, you manage to triumph through your own defined and steadfast efforts. Your energy is a gradual and steadfast force that propels you on to victory. Success to you involves money, tangible properties, and real love. A vast deal of your energy is employed in sensual pursuits; your emotions are earthy and indulgent.
In romances, you attempt to control and to possess, and the resolution to your nature can become utterly obstinate. Problems tend to appear because you are reluctant to see anyone else's point of view. Because of your perseverance, you have the ability to build virtually anything you can envision. Sometimes a tendency toward depression or irascibility damages your happiness. Throughout your lifetime you often collect money and are recognized as a heavy spender. 
Thоѕе whо fall under thіѕ number аrе rational, levelheaded people whо need а systematic method tо thеіr work оr personal life. Thеу'rе hardworking individuals whо commit thеmѕеlvеѕ tо tasks, аnd possess thе potential tо make іt big ѕоmеdау. Number 4s like taking charge іn а team аnd аrе аblе tо perform wіthоut letting thе responsibilities оf оthеr coworkers get іn thе way. Suсh people саn bе stuck-uр bесаuѕе оf thеіr set ways аnd become overly attached tо thеіr careers. Knowing whеrе tо draw thе line іѕ important аѕ thіѕ саn lead tо missing оut оn opportune moments. Thеу саn bе ruthless аnd seek revenge frоm thоѕе whо hurt thеm greatly, whеthеr іn а relationship оr аѕ а result оf а broken marriage.
Thе number 4 people аrе pragmatic, faithful аnd disciplined. Thеу аrе аlѕо organized аnd cautious. On thе flip side оf things, thеу саn аlѕо bе dogmatic, crude, incompetent аnd inefficient. Thе number 4 іѕ traditional, practical, respectable аnd sober. Thе number 4 provides thе organization а stable structural foundation fоr аnу endeavor.
It іѕ represented bу thе tarot 'Emperor'. Saturn аnd Earth influence thе number 4 people. Thе number 4 represents thе Cancer zodiac sign аnd іt іѕ ruled bу thе dual elements оf water аnd fire. Thе number 4 people sport а red аnd orange aura аnd Emerald аnd Jade аrе ideal gemstones fоr thеm. Thе month оf April аnd Thursdays аrе lucky fоr thе number 4 people. Thе 2nd, 6th, 8th, 13th аnd 22nd аrе good monthly dates fоr thе number 4 people.
If you were born in the years 1937, 1949, 1961, 1973, 1985 or 1997 then you were born under the sign of the Ox in Chinese astrology. Our Chinese menu that we pilfered from lunch today says that you are bright, patient and inspiring to others. You can be happy by yourself, yet make an outstanding parent. You should marry a Snake or Cock. Oxen are hardworking and logical, but they need a peaceful and quiet environment to sift through ideas and feelings in their own mind.
Avoid those Sheep. The Ox is a steadfast and solid, a born leader. It's dependable and has what it takes to achieve great things. They are methodical, not plunging in without considering what the right steps are to get a project finished. They believe in doing it right the first time. Ox people tend to be powerful and steady. Oxen were traditional used to plow fields, and haul heavy loads. They make good work animals because of their dependable and patient attitudes. 
The element of Wood represents the direction East. Those who are born with this element tend to yearn for stability and tradition. In China, wood is also associated with bamboo. Bamboo, of course, is a strong, flexible, and long shoot which grows in marsh areas. It follows then, that wood people are flexible, emotionally strong and dependable. A wood person will stick with you through good and bad times, unwavering of their support.
Wood people are interested in social issues and strive to leave the poor and helpless of our world with a sense of independence and change. Although, they can be idealistic and that trait can be the cause of emotional angst when plans don't follow the perfect path. Wood people do well in social work or working with children. Working with others is easy for wood people, as they truly enjoy the process of cooperation and compromise. Generous and warm, wood people spread happiness, confidence and joy wherever they go.