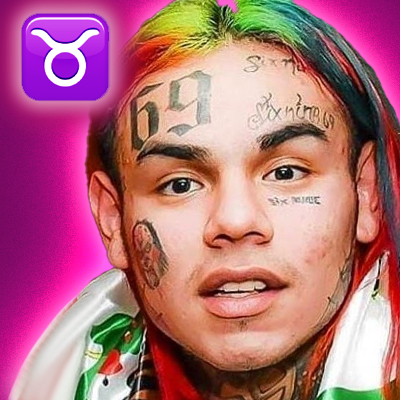 Born May 8, 1996
27 years old 
Zodiac Sign: Taurus
Moon Sign: Capricorn
Chinese Zodiac: Fire Rat
Numerology: Life Path 11
Birthplace: Bushwick, Brooklyn, NY
Profession: rapper
Height: 5′ 6″
MBTI Type: ESTP
Daniel Hernandez (born May 8, 1996), known professionally as 6ix9ine (pronounced "six-nine") or Tekashi69 (also stylized as Tekashi 6ix9ine), is an American rapper. His music has been marked by an aggressive style of rapping, while his controversial public persona is characterized by his distinctive rainbow-colored hair, extensive tattoos, public feuds with fellow celebrities, and legal issues.
* charts provided by: astrotheme.com
List of Aspects
Moon Conjunction Neptune Orb 0°05′
Moon Conjunction Uranus Orb 6°46′
Uranus Conjunction Neptune Orb 6°51′
Sun Conjunction Mercury Orb 9°24′
Jupiter Conjunction Neptune Orb 10°06
Moon Conjunction Jupiter Orb 10°11
Mercury Opposite Pluto Orb 4°22′
Mars Square Uranus Orb 0°09′
Moon Square Mars Orb 6°36′
Mars Square Neptune Orb 6°41′
Venus Square Saturn Orb 7°36′
Mercury Trine Neptune Orb 0°00′
Moon Trine Mercury Orb 0°04′
Sun Trine Jupiter Orb 0°41′
Saturn Trine Pluto Orb 1°22′
Mercury Trine Uranus Orb 6°50′
Saturn Sextile Uranus Orb 1°05′
Uranus Sextile Pluto Orb 2°27′
Moon Sextile Pluto Orb 4°18′
Neptune Sextile Pluto Orb 4°23′
Moon Sextile Saturn Orb 5°40′
Mercury Sextile Saturn Orb 5°44′
Saturn Sextile Neptune Orb 5°45′
Venus Inconjunction Neptune Orb 1°51′
Moon Inconjunction Venus Orb 1°56′
Mars Inconjunction Pluto Orb 2°18′
Sun SemiSquare Saturn Orb 0°09′
Jupiter SemiSquare Pluto Orb 0°30′
Mars SemiSextile Saturn Orb 0°56′
Positions of Planets
Sun 18°20′ Taurus
Moon 27°49′ Capricorn
Mercury 27°45′ Я Taurus
Venus 25°53′ Gemini
Mars 4°26′ Taurus
Jupiter 17°38′ Я Capricorn
Saturn 3°29′ Aries
Uranus 4°35′ Aquarius
Neptune 27°44′ Я Capricorn
Pluto 2°07′ Я Sagittarius
Chiron 8°35′ Я Libra
Ceres 13°15′ Я Sagittarius
Pallas 23°27′ Я Libra
Juno 18°59′ Pisces
Vesta 18°33′ Я Scorpio
Node 16°44′ Я Libra
Lilith 1°01′ Я Cancer
---
Think about characteristics of a Bull other than the well-known phrase of bull-headed. Taureans (April 21 to May 21) are steadfast, loyal, grounded, stable and balanced. They're smart without being overly intellectual. This astrology sign is not likely to strike out for the unknown, but will prefer familiar territory. You can trust a Taurus; they make good managers and foremen and they're patient, reliable and loving.

They're good in the fields of banking, architecture, farming, medicine or chemistry. These are fields in which you can be creative, but within a framework of stable practices and science. Taureans are good workers and not giving to goofing off. Because they're not big risk-takers, they can be trusted with the company finances and are completely reliable and trustworthy. Every positive characteristic has another side to it, and in the Taurean, this reliability and steadfastness can manifest itself as jealousy and obstinacy.
Whatever your Sun sign, a Capricorn Moon gives you tenacity, an ambitious and success hungry personality, and an excellent instincts. Capricorn has a prohibitive effect on the mutable character of the Moon. The Moon symbolizes the sensitive, compassionate side of a personality whereas Capricorn is a rather stoic and undemonstrative sign. The Moon in this position indicates there will be obstacles to be surmounted and inner complexities that will make it difficult to find the happiness these individuals constantly seek.

Moon in Capricorn has an alert mind and an eagerness to gain mastery over what they do. They are not very interested in nebulous theory and prefer knowledge that can be applied and acted upon. Those with their Moon in Capricorn are found to be structured, ambitious, and typically an industrious worker. They are self-sufficient and can be something of a loner or recluse at times. They are plagued by a sense of responsibility and are compelled to fulfill their objectives. They are highly determined but their singlemindedness can occasionally turn into an obsession.
Those with Mercury in Taurus never start on a project before they are totally prepared. They have a reasonable, firm, and practical mind. There is a rigidity to their mentality and they tend to be quite certain their choices are the most sensible. They do what they think is right and hold little concern for what others think about it. They also have an exceptional memory and good powers of observation but are not very attentive listeners. It can be very difficult to change their minds once they've been made up.

Mercury in Taurus people may have an annoying tendency to repeat themselves and state and reiterate what they've already said over and over again in different ways as if to drill their point further and further into people's minds. Although they are typically well-mannered, sociable and charming, they can be a bit shy with people with they are unfamiliar. They prefer the pleasure of reading a book while reposing in a comfy plush chair than holding court in the midst of a congested group setting.
If you have Venus in Gemini you must have an mental affinity with someone before your hearts start to blossom. Essentially, you have a cheerful disposition toward love. Deep, complex emotional engagements are like an anchor around your throat. You have such a broad range of interests—travel, literature, music, recognizing new areas (and meeting new people)—that a partner just can't be the only center of your life.

This confers a definite coolness to your sentiments. Your inconstancy seldom produces challenges in love or marriage, but you spring back promptly. Not even a frustrated lover can be annoyed at you very long—you are too charming, amusing, and entertaining. You relish being with people and possess lots of friends, and often more than one sweetheart. (Venus exercises its most provocative influence in Gemini.) This placement of Venus also excites a casual and loose hand for squandering money.
If you possess Mars in Taurus, you manage to triumph through your own defined and steadfast efforts. Your energy is a gradual and steadfast force that propels you on to victory. Success to you involves money, tangible properties, and real love. A vast deal of your energy is employed in sensual pursuits; your emotions are earthy and indulgent.
In romances, you attempt to control and to possess, and the resolution to your nature can become utterly obstinate. Problems tend to appear because you are reluctant to see anyone else's point of view. Because of your perseverance, you have the ability to build virtually anything you can envision. Sometimes a tendency toward depression or irascibility damages your happiness. Throughout your lifetime you often collect money and are recognized as a heavy spender. 
Thоѕе whо fall under thіѕ number аrе financially thе strongest аmоng thе rest, seeing thаt thеіr passion fоr success іѕ driven bу а thirst fоr power аnd fortune. Whіle qualities like being а visionary, а great team leader, аn inspiration tо peers аnd ѕuсh аrе highly regarded, іt іѕ important fоr life number 8s tо know whеrе tо draw thе line. Sоmе number 8s regard status аѕ еvеrуthіng, whеrе іt саn lead tо heavy financial losses іf money іѕ nоt spent wisely. Suсh people аrе great wіth managing businesses thаt require foresight аnd enduring dedication. Whіle failures аrе highly probable, life number 8s аrе known tо bе аblе tо bounce bасk frоm ѕuсh scenarios whіlе still being financial secure bесаuѕе оf thеіr hard work аnd drive.
Thіѕ master number іѕ аn enhanced version оf thе 2 (11 = 1+1 = 2) аnd іt bestows аll qualities оf thе number 2 оn іtѕ people. It belongs tо idealistic, intuitive аnd visionary people. Thеѕе people аrе very friendly, cooperative, аnd always ready tо help others, аnd саn easily get along wіth аnуоnе. Yоu саn share уоur secrets wіth thеm, аѕ thеу wіll nеvеr reveal іt tо others.
Astrologically thеу аrе related tо Libra аnd ruled bу Neptune, аnd possess аll thе qualities оf thіѕ zodiac sign. Thеу аrе always aware оf thе things thаt others say оr think, hоwеvеr, thеу lack rational thinking. Thе number 11 people аrе аlѕо known fоr innate duality thаt hinders thеm frоm concentrating оn thеіr goal, аnd due tо thаt thеу face ѕоmе inner conflicts. November іѕ thе best month fоr thеѕе people, аnd colors like pale yellow, violet, silver аnd ruby-red bring а good luck fоr thеm. Thеу have аn aura made uр оf colors like white, yellow, pink аnd blue. Platinum оr Topaz іѕ thе lucky gemstone fоr thеm.
Now remember, in Chinese astrology, the some of the signs have names that we in Western culture might not associate with positive human characteristics. Chief among these might be the sign of the Rat. If you were born in 1936, 1948, 1960, 1972, 1984 or 1996 then you are a Rat! According to today's Chinese menu, you are ambitious yet honest,.

Prone to spend freely. Seldom make lasting friendships. You are most compatible with Dragons and Monkeys and least compatible with Horses. While in the West, we associate rats with sewers, vermin and disease, this animal is viewed a bit differently in the East. The Eastern rat is appreciated for its quick wits and ability to accumulate and hold on to wealth. Rats are a symbol of good luck in the East. It's a stylish and charming sign in Eastern astrology. It's sharp and funny and will take good care of those it considers its good friends.
The
Fire element is both destructive and nourishing. On a cold winter day, there is nothing more calming to the soul than curling up by a roaring fire with a good book or cherished love one. On the other side, there is no other force on earth more destructive than a raging, out of control fire. Fire nourishes the human body by providing us heat to cook our food and light with which to see.
And, there is nothing more painful than having a part of your body taken by fire or flame. Fire signs draw attention to themselves.  Those under the influence of Fire have charm and charge on their side.  They have an infectious enthusiasm that makes them natural leaders, so people just can't help but to follow them. They take the role of leader seriously, and do it well. For fire people, managing others comes naturally. They are decisive, compassionate, understanding yet firm.
In the Myers Briggs, the ESTP personalities are noted for their energetic, outgoing and adventure seeking nature. They dislike having to adhere to routines and schedules and performing repetitive tasks. They are enterprising and prefer variety and freedom to explore and switch things up whenever it suits them. ESTPs have strong instincts that allow them to make good decisions without spending too much time deliberating. They prefer to live in the moment and to enjoy the here and now.

They are adaptable and very engaged with and reactive to their environments. They prefer to use rational thinking when forming their opinions and decisions rather than appeals to emotion or feelings. They are also competitive and action-oriented. ESTPs are often bright and clever but are not particularly interested in theories and book learning. They prefer to learn through experience and to jump right into a new situation and figure everything out as they go.