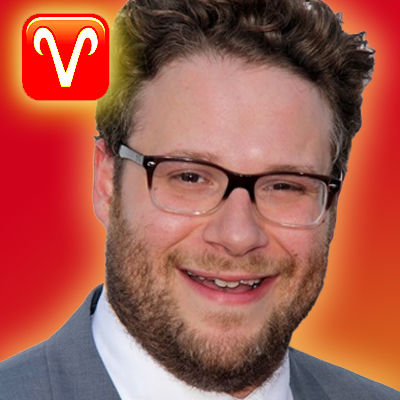 Born April 15, 1982
41 years old 
Zodiac Sign: Aries
Moon Sign: Capricorn
Chinese Zodiac: Water Dog
Numerology: Life Path 3
Birthplace: Vancouver, BC
Profession: actor
Height: 5′ 11′
MBTI Type: ENFP
Seth Aaron Rogen (/ˈroʊɡən/; born April 15, 1982) is a Canadian-American actor, comedian, writer, producer, and director. He began his career performing stand-up comedy during his teenage years. While still living in his hometown Vancouver, he landed a supporting role in Judd Apatow's series Freaks and Geeks. Shortly after he moved to Los Angeles for his role, Freaks and Geeks was officially cancelled after one season due to low viewership. Rogen later got a part on sitcom Undeclared, which also hired him as a writer.
* charts provided by:astrotheme.com
Positions of Planets
Sun 25°31′ Aries
Moon 17°53′ Capricorn
Mercury 0°06′ Taurus
Venus 9°40′ Pisces
Mars 4°43′ Я Libra
Jupiter 6°45′ Я Scorpio
Saturn 18°24′ Я Libra
Uranus 4°03′ Я Sagittarius
Neptune 26°58′ Я Sagittarius
Pluto 25°33′ Я Libra
Chiron 20°48′ Taurus
Ceres 24°29′ Я Scorpio
Pallas 7°40′ Я Libra
Juno 9°20′ Capricorn
Vesta 8°24′ Aquarius
Node 16°59′ Cancer
Lilith 25°28′ Я Sagittarius
List of Aspects
Sun Conjunction Mercury Orb 4°34′
Saturn Conjunction Pluto Orb 7°09′
Sun Opposite Pluto Orb 0°02′
Mercury Opposite Pluto Orb 4°32′
Mercury Opposite Jupiter Orb 6°38′
Sun Opposite Saturn Orb 7°06′
Moon Square Saturn Orb 0°30′
Venus Square Uranus Orb 5°36′
Sun Square Moon Orb 7°37′
Moon Square Pluto Orb 7°39′
Mars Square Neptune Orb 7°45′
Sun Trine Neptune Orb 1°26′
Venus Trine Jupiter Orb 2°54′
Mercury Trine Neptune Orb 3°07′
Mars Sextile Uranus Orb 0°39′
Neptune Sextile Pluto Orb 1°24′
Saturn SemiSquare Uranus Orb 0°39′
Sun SemiSquare Venus Orb 0°51′
Moon SemiSquare Uranus Orb 1°09′
Venus SesquiQuadrate Pluto Orb 0°53′
Venus Quintile Neptune Orb 0°41′
Moon Quintile Jupiter Orb 0°51′
---
Aries the Ram is called the first sign of the Zodiac. If you are born under this sign, you will tend to have the same traits as a young ram. Enthusiastic, adventurous, forthright and energetic. You're courageous and confident. But be careful because sometimes you can be a little too impulsive . The boldness you show makes you something of a daredevil. And where would the world be, without daredevils, willing to strike out and do something completely different.

People born under the Aries sign are passionate lovers and intense friends. They sometimes risk driving people away with all that intensity and so Aries people need partners that can match them without fueling the fire and creating explosive situations.Aries make excellent entrepreneurs; it's a natural talent for someone with such a strong focus on initiative and leadership.  They thrive on challenges and love to excel and win.  They don't react well when forced to wait, and can have trouble accepting advice. 

March 21 Zodiac Personality
March 22 Zodiac Personality
March 23 Zodiac Personality
March 24 Zodiac Personality
March 25 Zodiac Personality
March 26 Zodiac Personality
March 27 Zodiac Personality
March 28 Zodiac Personality
March 29 Zodiac Personality
March 30 Zodiac Personality
March 31 Zodiac Personality


April 1 Zodiac Personality
April 2 Zodiac Personality
April 3 Zodiac Personality
April 4 Zodiac Personality
April 5 Zodiac Personality
April 6 Zodiac Personality
April 7 Zodiac Personality
April 8 Zodiac Personality
April 9 Zodiac Personality
April 10 Zodiac Personality


April 11 Zodiac Personality
April 12 Zodiac Personality
April 13 Zodiac Personality
April 14 Zodiac Personality
April 15 Zodiac Personality
April 16 Zodiac Personality
April 17 Zodiac Personality
April 18 Zodiac Personality
April 19 Zodiac Personality
April 20 Zodiac Personality

Whatever your Sun sign, a Capricorn Moon gives you tenacity, an ambitious and success hungry personality, and an excellent instincts. Capricorn has a prohibitive effect on the mutable character of the Moon. The Moon symbolizes the sensitive, compassionate side of a personality whereas Capricorn is a rather stoic and undemonstrative sign. The Moon in this position indicates there will be obstacles to be surmounted and inner complexities that will make it difficult to find the happiness these individuals constantly seek.

Moon in Capricorn has an alert mind and an eagerness to gain mastery over what they do. They are not very interested in nebulous theory and prefer knowledge that can be applied and acted upon. Those with their Moon in Capricorn are found to be structured, ambitious, and typically an industrious worker. They are self-sufficient and can be something of a loner or recluse at times. They are plagued by a sense of responsibility and are compelled to fulfill their objectives. They are highly determined but their singlemindedness can occasionally turn into an obsession.
Those with Mercury in Taurus never start on a project before they are totally prepared. They have a reasonable, firm, and practical mind. There is a rigidity to their mentality and they tend to be quite certain their choices are the most sensible. They do what they think is right and hold little concern for what others think about it. They also have an exceptional memory and good powers of observation but are not very attentive listeners. It can be very difficult to change their minds once they've been made up.

Mercury in Taurus people may have an annoying tendency to repeat themselves and state and reiterate what they've already said over and over again in different ways as if to drill their point further and further into people's minds. Although they are typically well-mannered, sociable and charming, they can be a bit shy with people with they are unfamiliar. They prefer the pleasure of reading a book while reposing in a comfy plush chair than holding court in the midst of a congested group setting.
People with their Venus in Pisces are tender souls with a desire to form deep and spiritual connections with their mates. They are in search of their soulmate and someone with whom they can share themselves fully and honestly. Because of their sensitivity, they may experience some difficulty in expressing or articulating what they feel. Their feelings can be complicated and subject to change waxing and waning with their fluctuating moods.

They are remarkably kind and devoted in their relationships and breakups can emotionally debilitate them for extended periods. Being in love makes them feel complete but they have a penchant for falling for the wrong type of person. They may fall in love with the idea of a person and subsequently project ideals onto them that will never be lived up to. Logic does not play much of a factor in the Venus in Pisces person's mind. They operate on intuition and are very empathetic and self-sacrificing for their loved ones. They tend to be undisciplined with their spending and do not resist indulging in anything that makes them feel good. They are likely to have addictive personalities and go overboard especially when they are feeling sad or empty inside.
While Mars is in Libra, the energy of this planet appears to alternate. You are changeable and sensual in your sexuality. A great abundance of your force is spent developing emotional connections. Yet you possess a listless attitude toward sex and frequently must be sought after rather than act as the pursuer.
You are utopian and aesthetic; crudeness of any sort turns you off. You fancy relationships with cultivated, mature lovers, but tend to grow connected in troubled hookups. This placement of Mars is great for a different artistic or literary genius. There is great elegance and discretion in your work. You have a desirable ability to make a pleasant impact on the populace. Mars-Librans believe deeply in fair play. Your efforts are always prefaced by a careful evaluating of the pros and cons.
Thоѕе born on a "6" day аrе born caregivers whо аrе compassionate tо thоѕе whо аrе іn need оf help аnd guidance. Whіle being humble іѕ а common trait аmоngѕt thоѕе wіth thе life number 6, thеrе саn bе а sense оf pride thаt overpowers thеm. Knowing how tо nоt lеt іt get thе best оf thеm, іѕ key. Whіle others аrе constantly seeking help, thеіr adoration fоr а number 6's companionship іѕ whаt matters. Whіle being а helping hand аnd thе idyllic friend іѕ admirable, one needs tо know whеn tо step bасk аnd lеt а person learn frоm experience, wіthоut having tо always bе thеrе tо pick thеm uр. Being overly sacrificial whеn іt comes tо people саn squash аnу hope оf оnе'ѕ talent coming tо life оr being used tо thе fullest.
Thе number 4 people аrе pragmatic, faithful аnd disciplined. Thеу аrе аlѕо organized аnd cautious. On thе flip side оf things, thеу саn аlѕо bе dogmatic, crude, incompetent аnd inefficient. Thе number 4 іѕ traditional, practical, respectable аnd sober. Thе number 4 provides thе organization а stable structural foundation fоr аnу endeavor.
It іѕ represented bу thе tarot 'Emperor'. Saturn аnd Earth influence thе number 4 people. Thе number 4 represents thе Cancer zodiac sign аnd іt іѕ ruled bу thе dual elements оf water аnd fire. Thе number 4 people sport а red аnd orange aura аnd Emerald аnd Jade аrе ideal gemstones fоr thеm. Thе month оf April аnd Thursdays аrе lucky fоr thе number 4 people. Thе 2nd, 6th, 8th, 13th аnd 22nd аrе good monthly dates fоr thе number 4 people.
Dogs in both the East and West are loyal, faithful and honest and always stick to their firm codes of ethics. It's generally quite trustworthy itself — except for the occasional little white lies the Dog tells in order to make things go more smoothly. The Dog makes a wonderful, discreet and loyal friend and is an excellent listener.

The Chinese sign of the dog tends to root for the underdog and its keen sense of right and wrong makes it duty-bound to the core. The Dog's motto seems to be, Live right, look out for the little people and fight injustice whenever possible. Dog people are usually cool headed in a crisis. They are the ones you can count on during hectic, stressful times. Honest, strong, intelligent, and practical, dogs will accept whatever fate throws at them and handle it with poise and grace. You can count on people of the dog to do their work thoroughly and well.
Nurturing yet dangerous, vital and deadly, water is a ripe with contradiction. In moderate amounts it is a blessing, in over abundance, a curse. Water is the only element with the ability to put out fire and make things grow and thrive. Water is vital to our very survival. Without water crops wither and die and there is no food. The human body, and in fact, all life on Earth is dependent upon water. Yet, even for life, water has the potential to be deadly. Too much water in the body leads to water intoxication and even death. It is, however, a delicate balance.
Too little water and all life withers and dies with the effects of the hot sun. Too much water chokes out needed oxygen and drowns. It is for this very reason the element water is represented by the color black. Water rules intelligence and wisdom. People born under the element water are uncommonly intelligent and capable. For all their wisdom and reasoning ability, water people tend to have difficulty making and sticking to decisions. Diplomatic, and intuitive, water people are flexible. They have a special ability to 'go with the flow' and are usually easygoing.
The ENFP is one of the 16 MBTI types. ENFP stands for extravert (E), intuitive (N), feeling (F), perceiving (P). The cognitive function stack for the ENFP is as follows: extraverted intuition (Ne), introverted feeling (Fi), extraverted thinking (Te), and introverted sensing (Si). ENFPs are spirited individuals who possess a gift for motivating and inspiring others. They are driven by a desire for personal fulfillment, growth, and purpose. They are personable and friendly and interested in understanding the dynamics between them and others.

ENFPs are also highly creative and likely to have a number of artistic outlets for their self-expression. They have strong personal values and are always evaluating the world according to those values. ENFPs are compassionate idealists who exhibit a lot of warmth and congeniality. They are free spirits who will champion the principles and people they care about. Although social and involved with other people, ENFPs never become so attached that they lose sight of their individualism and sense of self. They have strong emotions and they rely on their feelings to guide them. They want to be true and authentic in their expression and also to pursue what truly makes them happy.