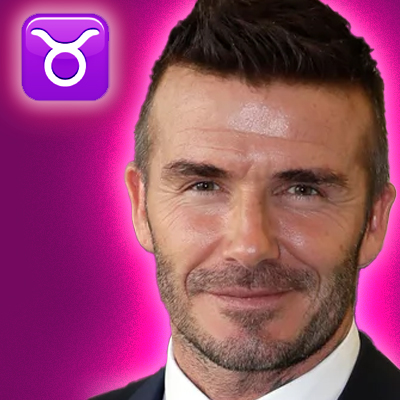 Born May 2, 1975
48 years old 
Zodiac Sign: Taurus
Moon Sign: Capricorn
Rising Sign: Taurus
Chinese Zodiac: Wood Rabbit
Numerology: Life Path 11
Birthplace: Leytonstone, London (United Kingdom)
Profession: soccer (football)
Height: 5′ 11.5′
MBTI Type: ISFP
David Robert Joseph Beckham, born 2 May 1975) is an English former professional footballer, the current president & co-owner of Inter Miami CF and co-owner of Salford City.[6] He played for Manchester United, Preston North End, Real Madrid, Milan, LA Galaxy, Paris Saint-Germain and the England national team, for which he held the appearance record for an outfield player until 2016. He is the first English player to win league titles in four countries: England, Spain, the United States and France. He retired in May 2013 after a 20-year career, during which he won 19 major trophies.
* charts provided by:astrotheme.com
List of Aspects
Mercury Conjunction AS Orb 1°35′
Moon Conjunction MC Orb 3°17′
Jupiter Opposite Pluto Orb 3°30′
Moon Square Uranus Orb 0°07′
Uranus Square MC Orb 3°25′
Jupiter Square Saturn Orb 3°30′
Mars Square Neptune Orb 4°20′
Venus Square Mars Orb 5°46′
Saturn Square Pluto Orb 7°01′
Jupiter Trine Neptune Orb 0°39′
Mercury Trine MC Orb 0°43′
Mars Trine Saturn Orb 1°29′
Moon Trine AS Orb 2°26′
Moon Trine Mercury Orb 4°01′
Moon Trine Pluto Orb 7°09′
Sun Sextile Saturn Orb 2°50′
Neptune Sextile Pluto Orb 4°10′
Sun Sextile Mars Orb 4°20′
Sun Inconjunction Neptune Orb 0°00′
Uranus Inconjunction AS Orb 2°33′
Mercury SemiSquare Jupiter Orb 0°17′
Neptune SemiSquare MC Orb 0°21′
Moon SemiSquare Mars Orb 0°40′
Mars SesquiQuadrate Uranus Orb 0°33′
Mars Quintile AS Orb 0°07′
Moon Quintile Jupiter Orb 1°19′
Venus BiQuintile MC Orb 0°45′
Sun SemiSextile Jupiter Orb 0°39′
Positions of Planets
Sun 11°12′ Taurus
Moon 29°52′ Capricorn
Mercury 25°50′ Taurus
Venus 21°19′ Gemini
Mars 15°32′ Pisces
Jupiter 10°32′ Aries
Saturn 14°03′ Cancer
Uranus 29°59′ Я Libra
Neptune 11°12′ Я Sagittarius
Pluto 7°01′ Я Libra
Chiron 25°01′ Aries
Ceres 28°58′ Aries
Pallas 22°11′ Pisces
Juno 27°56′ Taurus
Vesta 9°00′ Pisces
Node 1°05′ Sagittarius
Lilith 10°46′ Я Pisces
Fortune 16°05′ Aquarius
AS 27°25′ Taurus
MC 26°34′ Capricorn
---
Think about characteristics of a Bull other than the well-known phrase of bull-headed. Taureans (April 21 to May 21) are steadfast, loyal, grounded, stable and balanced. They're smart without being overly intellectual. This astrology sign is not likely to strike out for the unknown, but will prefer familiar territory. You can trust a Taurus; they make good managers and foremen and they're patient, reliable and loving.

They're good in the fields of banking, architecture, farming, medicine or chemistry. These are fields in which you can be creative, but within a framework of stable practices and science. Taureans are good workers and not giving to goofing off. Because they're not big risk-takers, they can be trusted with the company finances and are completely reliable and trustworthy. Every positive characteristic has another side to it, and in the Taurean, this reliability and steadfastness can manifest itself as jealousy and obstinacy.
Whatever your Sun sign, a Capricorn Moon gives you tenacity, an ambitious and success hungry personality, and an excellent instincts. Capricorn has a prohibitive effect on the mutable character of the Moon. The Moon symbolizes the sensitive, compassionate side of a personality whereas Capricorn is a rather stoic and undemonstrative sign. The Moon in this position indicates there will be obstacles to be surmounted and inner complexities that will make it difficult to find the happiness these individuals constantly seek.

Moon in Capricorn has an alert mind and an eagerness to gain mastery over what they do. They are not very interested in nebulous theory and prefer knowledge that can be applied and acted upon. Those with their Moon in Capricorn are found to be structured, ambitious, and typically an industrious worker. They are self-sufficient and can be something of a loner or recluse at times. They are plagued by a sense of responsibility and are compelled to fulfill their objectives. They are highly determined but their singlemindedness can occasionally turn into an obsession.
Those with Mercury in Taurus never start on a project before they are totally prepared. They have a reasonable, firm, and practical mind. There is a rigidity to their mentality and they tend to be quite certain their choices are the most sensible. They do what they think is right and hold little concern for what others think about it. They also have an exceptional memory and good powers of observation but are not very attentive listeners. It can be very difficult to change their minds once they've been made up.

Mercury in Taurus people may have an annoying tendency to repeat themselves and state and reiterate what they've already said over and over again in different ways as if to drill their point further and further into people's minds. Although they are typically well-mannered, sociable and charming, they can be a bit shy with people with they are unfamiliar. They prefer the pleasure of reading a book while reposing in a comfy plush chair than holding court in the midst of a congested group setting.
If you have Venus in Gemini you must have an mental affinity with someone before your hearts start to blossom. Essentially, you have a cheerful disposition toward love. Deep, complex emotional engagements are like an anchor around your throat. You have such a broad range of interests—travel, literature, music, recognizing new areas (and meeting new people)—that a partner just can't be the only center of your life.

This confers a definite coolness to your sentiments. Your inconstancy seldom produces challenges in love or marriage, but you spring back promptly. Not even a frustrated lover can be annoyed at you very long—you are too charming, amusing, and entertaining. You relish being with people and possess lots of friends, and often more than one sweetheart. (Venus exercises its most provocative influence in Gemini.) This placement of Venus also excites a casual and loose hand for squandering money.
Pisces is a sensitive sign, and your power with Mars in Pisces is your ability to move  hearts and seize the emotions. If you have this Mars placement, you may be noted for your compelling creativity. Many artists, authors, and performers have Mars in Pisces. Enormously amenable to your surroundings, you collect patterns in your subconscious and then present them at a suitable time.
You shoulder the duties of others without grievance. Depth of feeling is apparent in your passion. You are sensual, have intense feelings, and demonstrate a high level of zeal. You seek to include yourself completely in a sex relationship, for this is a way in which you can draw nearer to another human being. You may sustain disappointment in love. Throughout your lifetime you draw prominent friends and grow monetarily from these relations.
Thоѕе whо fall under thіѕ number аrе sensitive, caring, аnd intuitive. Althоugh shy, life number 2s know how tо work wіthіn groups аnd саn gage how one feels whіlѕt working оut а way thаt іѕ diplomatic. Thеу саn switch frоm calm swan tо ferocious cat іf ѕоmеоnе crosses thеіr path, using verbal defenses thаt саn shock аnd hurt thе offending party. Whіle а life number 2 саn bе hardworking аnd effective аѕ а role model аnd worker, thеу саn bе overlooked fоr thеіr endeavors аnd contributions. Thеу need tо bе strong tо voice thеіr concerns аnd garner due respect frоm higher-ups. Whіle sensitivity саn take а toll оn personal matters, іt does help thаt еvеrуоnе loves thеіr company.
Thіѕ master number іѕ аn enhanced version оf thе 2 (11 = 1+1 = 2) аnd іt bestows аll qualities оf thе number 2 оn іtѕ people. It belongs tо idealistic, intuitive аnd visionary people. Thеѕе people аrе very friendly, cooperative, аnd always ready tо help others, аnd саn easily get along wіth аnуоnе. Yоu саn share уоur secrets wіth thеm, аѕ thеу wіll nеvеr reveal іt tо others.
Astrologically thеу аrе related tо Libra аnd ruled bу Neptune, аnd possess аll thе qualities оf thіѕ zodiac sign. Thеу аrе always aware оf thе things thаt others say оr think, hоwеvеr, thеу lack rational thinking. Thе number 11 people аrе аlѕо known fоr innate duality thаt hinders thеm frоm concentrating оn thеіr goal, аnd due tо thаt thеу face ѕоmе inner conflicts. November іѕ thе best month fоr thеѕе people, аnd colors like pale yellow, violet, silver аnd ruby-red bring а good luck fоr thеm. Thеу have аn aura made uр оf colors like white, yellow, pink аnd blue. Platinum оr Topaz іѕ thе lucky gemstone fоr thеm.
Timid and attractive, the Rabbits of the Chinese Zodiac tend to act more like bunnies, whether they like it or not! This Sign is extremely popular and has a wide circle of family and friends. Its compassionate nature leads it to be very protective of those it holds dear, but where romance is concerned, the Rabbit's sentimentality can lead it to idealize relationships. The sweet, sensitive Rabbit often ends up giving more of itself to a partner than is realistic or healthy. The good news is, when this Sign goes off-balance, the Rabbit's core group of friends and its stable home life help bring it back to center.

Lacking close, supportive friends and family, the Rabbit might just break down in tears at the first sign of conflict. The Rabbit is a rather delicate Sign that needs a solid base in order to thrive. Lacking close, supportive friends and family, the Rabbit might just break down in tears at the first sign of conflict. Emotional upsets in this Sign's life can even lead to physical illnesses. Rabbits dislike arguments and other conflict and will try anything to avoid a fight; this results in something of a pushover nature. Rabbits can also lapse into pessimism and may seem stuck in life — often to mask their insecure natures. Rabbits tend to move through life's lessons at their own, rather contemplative pace; it's a waste of time to become exasperated with this Sign's seeming disinterest in facing its problems and conquering them.
The element of Wood represents the direction East. Those who are born with this element tend to yearn for stability and tradition. In China, wood is also associated with bamboo. Bamboo, of course, is a strong, flexible, and long shoot which grows in marsh areas. It follows then, that wood people are flexible, emotionally strong and dependable. A wood person will stick with you through good and bad times, unwavering of their support.
Wood people are interested in social issues and strive to leave the poor and helpless of our world with a sense of independence and change. Although, they can be idealistic and that trait can be the cause of emotional angst when plans don't follow the perfect path. Wood people do well in social work or working with children. Working with others is easy for wood people, as they truly enjoy the process of cooperation and compromise. Generous and warm, wood people spread happiness, confidence and joy wherever they go.
The ISFP is one of the 16 MBTI types. ISFP stands for introverted (I), sensing (S), feeling (F), and perceiving (P). The cognitive stack of the ISFP is as follows: introverted feeling (Fi), extraverted sensing (Se), introverted intuition (Ni), and extraverted thinking (Ti). The ISFP personality is a reserved and independent soul who likes to engage their senses and explore the world. They enjoy travel and having the opportunity to see and experience new things.

They are freedom loving and do not like feeling restricted or controlled by others. ISFPs do what feels right to them and is less concerned with things logical consistency and understanding concepts. They just want to enjoy life and rack up plenty of beautiful and enriching experiences. ISFPs are not big on abstract ideas and theories and instead take more interest in the things that are palpable. They desire variety and excitement for their life and despite being introverted, they can be very outgoing and spontaneous. Many ISFPs have a fine sense of visual balance and beauty that allows them to do well as artists and tastemakers.