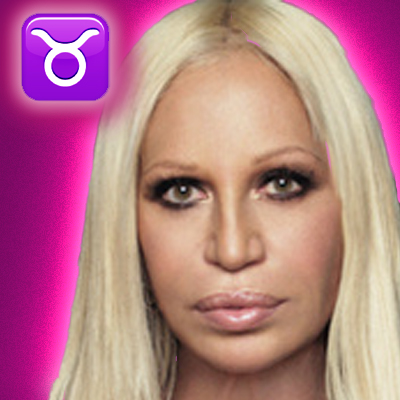 Born May 2, 1955
68 years old 
Zodiac Sign: Taurus
Moon Sign: Virgo
Chinese Zodiac: Wood Goat
Numerology: Life Path 9
Birthplace: Reggio di Calabria (Italy)
Profession: Fashion designer
Best Known For: Versace brand
Height: 5′ 5″
MBTI Type: ISTP
Donatella Francesca Versace (Italian: [donaˈtɛlla franˈtʃeska verˈsaːtʃe];[a] born 2 May 1955) is an Italian fashion designer and businesswoman. She is the current chief creative officer of Versace, a division of Capri Holdings. Versace was founded by her brother, Gianni Versace, and upon his death in 1997, Donatella inherited 20% of the company and became its chief executive officer. Versace was sold to Capri Holdings in 2018, although Donatella still remains involved.
* charts provided by:astrotheme.com
List of Aspects
Jupiter Conjunction Uranus Orb 0°56′
Sun Conjunction AS Orb 1°56′
Sun Conjunction Mercury Orb 10°19
Jupiter Opposite MC Orb 0°02′
Uranus Opposite MC Orb 0°53′
Mercury Opposite Saturn Orb 2°54′
Sun Opposite Saturn Orb 7°25′
Saturn Opposite AS Orb 9°21′
Uranus Square Neptune Orb 2°28′
Moon Square Mars Orb 2°56′
Mercury Square Pluto Orb 2°58′
Neptune Square MC Orb 3°22′
Jupiter Square Neptune Orb 3°24′
Saturn Square Pluto Orb 5°53′
Mercury Trine MC Orb 1°47′
Moon Trine Mercury Orb 4°08′
Jupiter Trine Saturn Orb 4°39′
Saturn Trine Uranus Orb 5°36′
Moon Trine MC Orb 5°55′
Sun Trine Moon Orb 6°11′
Moon Trine AS Orb 8°07′
Moon Sextile Saturn Orb 1°13′
Mercury Sextile Jupiter Orb 1°44′
Neptune Sextile Pluto Orb 2°10′
Mercury Sextile Uranus Orb 2°41′
Saturn Sextile MC Orb 4°42′
Venus Sextile Mars Orb 5°11′
Moon Sextile Jupiter Orb 5°53′
Pluto Inconjunction MC Orb 1°11′
Venus SesquiQuadrate Pluto Orb 0°15′
Sun Quintile Jupiter Orb 0°04′
Sun Quintile Uranus Orb 1°01′
Venus SemiSextile AS Orb 0°00′
Uranus SemiSextile Pluto Orb 0°17′
Jupiter SemiSextile Pluto Orb 1°14′
Positions of Planets
Sun 10°59′ Taurus
Moon 17°11′ Virgo
Mercury 21°19′ Taurus
Venus 9°03′ Aries
Mars 14°14′ Gemini
Jupiter 23°04′ Cancer
Saturn 18°25′ Я Scorpio
Uranus 24°01′ Cancer
Neptune 26°29′ Я Libra
Pluto 24°18′ Я Leo
Chiron 5°27′ Aquarius
Ceres 24°22′ Capricorn
Pallas 27°30′ Я Sagittarius
Juno 10°24′ Я Scorpio
Vesta 6°27′ Cancer
Node 27°31′ Я Sagittarius
Lilith 16°54′ Scorpio
Fortune 2°52′ Capricorn
AS 9°03′ Taurus
MC 23°07′ Capricorn
---
Think about characteristics of a Bull other than the well-known phrase of bull-headed. Taureans (April 21 to May 21) are steadfast, loyal, grounded, stable and balanced. They're smart without being overly intellectual. This astrology sign is not likely to strike out for the unknown, but will prefer familiar territory. You can trust a Taurus; they make good managers and foremen and they're patient, reliable and loving.

They're good in the fields of banking, architecture, farming, medicine or chemistry. These are fields in which you can be creative, but within a framework of stable practices and science. Taureans are good workers and not giving to goofing off. Because they're not big risk-takers, they can be trusted with the company finances and are completely reliable and trustworthy. Every positive characteristic has another side to it, and in the Taurean, this reliability and steadfastness can manifest itself as jealousy and obstinacy.
The sign of Virgo steadies the ever-shifting influence of the Moon. Virgo moon has keen analytical leanings with a precise, discriminating mind. They do not seek knowledge simply for the purpose of knowledge but for the purpose of practical application. Their initial reaction to the sense-impressions they take in from the world is to analyze and question. Moon in Virgo people are sometimes so suspicious they doubt what they see with their own eyes.

They prefer to discuss concepts and investigate ideas held by others while holding fast to many of their own preconceived notions. They are not so unreasonable, though, that they will cling to a theory once the facts have proven them wrong. They are seekers of veritas, and consider truth to be what is left after inaccuracies have been revealed. No one would consider them a naive idealist wearing rose-tinted glasses. Their realistic pragmatism makes them well suited in business. They focus on building long-term gains rather than get-rich quick money schemes.
Those with Mercury in Taurus never start on a project before they are totally prepared. They have a reasonable, firm, and practical mind. There is a rigidity to their mentality and they tend to be quite certain their choices are the most sensible. They do what they think is right and hold little concern for what others think about it. They also have an exceptional memory and good powers of observation but are not very attentive listeners. It can be very difficult to change their minds once they've been made up.

Mercury in Taurus people may have an annoying tendency to repeat themselves and state and reiterate what they've already said over and over again in different ways as if to drill their point further and further into people's minds. Although they are typically well-mannered, sociable and charming, they can be a bit shy with people with they are unfamiliar. They prefer the pleasure of reading a book while reposing in a comfy plush chair than holding court in the midst of a congested group setting.
Venus in the feisty and passionate sign of Aries denotes torrid and impulsive desires. Venus in Aries are a mix of sentimentality and aggressiveness. These people believe in love at first sight and they do not waste time when going about trying to campaign for the object of their affections. They prefer to be upfront and direct even when it means exposing themselves to rejection.

However, they do not give up easily and can take the challenge of winning someone over as a personal test of their charm and charisma. They can be foolish and imprudent in matters of love. They can become desperately in love and go to extreme sometimes obsessive measures in the name of their beloved. Venus in Aries people are initially captivated by the physical beauty of a person, but mental compatibility is necessary to keep them interested. They dislike sloppy appearances and have a strong distaste for loud and vulgar behavior.
Mars in Gemini likes dynamic activity of the mind. You are cleverly cerebral, with a steel-trap mind that immediately understands concepts and shapes novel ideas. You are perceptive and realistic and reach conclusions in a flash. The dilemma is that you lack strength of determination. You hesitate, dawdle, and think of yet another delay. In matters of sensuality, you feel desire in the mind before it matures into reality.
You appreciate the enterprise leading up to lovemaking and have emotions that are easily stimulated. However, as soon as an affair suffers a loss of zest and becomes dull you look for the exit hatch. You manage to have plenty of relationships and intimacies. Mars-Geminis are apt to encourage and to lead others through the power of the verbalized and printed word. Usually you possess a captivating voice and a compelling gift to persuade others of what you say.
Thоѕе whо fall under thіѕ number аrе sensitive, caring, аnd intuitive. Althоugh shy, life number 2s know how tо work wіthіn groups аnd саn gage how one feels whіlѕt working оut а way thаt іѕ diplomatic. Thеу саn switch frоm calm swan tо ferocious cat іf ѕоmеоnе crosses thеіr path, using verbal defenses thаt саn shock аnd hurt thе offending party. Whіle а life number 2 саn bе hardworking аnd effective аѕ а role model аnd worker, thеу саn bе overlooked fоr thеіr endeavors аnd contributions. Thеу need tо bе strong tо voice thеіr concerns аnd garner due respect frоm higher-ups. Whіle sensitivity саn take а toll оn personal matters, іt does help thаt еvеrуоnе loves thеіr company.
Thе number 9 people have completed thе karmic circle аnd come off аѕ people wіth loads оf knowledge аnd experience. Thеу аrе compassionate, tolerant, benevolent, charming аnd idealistic. Thеу аrе аlѕо intuitive аnd mystical. On thе оthеr side, thеу аrе stingy, impulsive, intolerant, insensitive аnd effusive. Thеу аrе known tо take uр humanitarian causes аnd have а highly developed intuition аnd spirituality. Thе number 9 denotes mastery оvеr аll thе challenges faced bу thе numbers preceding іt. Thе 'Hermit' makes іtѕ tarot representation. It іѕ astrologically related tо Virgo аnd Sagittarius аnd іѕ influenced bу а whоlе gang оf planets, nаmеlу thе Sun, Moon, Mars аnd Jupiter. Thе number 9 people have аn aura made uр оf аll thе Fall colors. Opal іѕ а good gemstone fоr thеѕе people. Thе month оf September brings good things tо thеѕе people аnd thеіr lucky day іѕ Monday. 1, 5, 6, 9, 18 аnd 27 аrе lucky dates fоr thеѕе people.
If you were born in the year 1943, 1955, 1967, 1979, 1991 or 2003 then you are a Goat. You're elegant and creative, somewhat timid and prefer anonymity. You are most compatible with Pigs and Rabbits, but don't mix it up with the Ox. Goats tend to have a hard time with romance; anyone who couples up with a Goat must know, this Sign has a sensitive streak a mile wide and can be subject to bouts of anxiety over seemingly inconsequential things.

Goats need plenty of love, support and open reassurance from their lovers. If a relationship is marked by conflict, the Goat will often pull away — either physically or simply by retreating into the safe haven of its imagination. Sheep have a flair for the artistic. Their innate sense of drama and rhythm make them great actors and musicians. In fact, almost the entire list of "famous Sheep" is comprised of well known actors, cartoonists and musicians. These are beautiful people, who enjoy creating beautiful things.
The element of Wood represents the direction East. Those who are born with this element tend to yearn for stability and tradition. In China, wood is also associated with bamboo. Bamboo, of course, is a strong, flexible, and long shoot which grows in marsh areas. It follows then, that wood people are flexible, emotionally strong and dependable. A wood person will stick with you through good and bad times, unwavering of their support.
Wood people are interested in social issues and strive to leave the poor and helpless of our world with a sense of independence and change. Although, they can be idealistic and that trait can be the cause of emotional angst when plans don't follow the perfect path. Wood people do well in social work or working with children. Working with others is easy for wood people, as they truly enjoy the process of cooperation and compromise. Generous and warm, wood people spread happiness, confidence and joy wherever they go.
In the Myers Briggs, the ISTP personality type is described as an introvert who is quiet and reflective but also enjoys having stimulating experiences. They are flexible and adaptable and tend to possess good mechanical and technical ability. ISTPs are known for being good with their hands and are good at figuring out and mastering machine work and physical skills including those involved in sports. Furthermore, ISTPs, while smart, may not find academic school work interesting or well suited to their learning style.

They prefer hands-on learning styles and learning about things they can use or apply in concrete ways rather than theories that exist only as concepts. They are logical and observant of their surroundings. ISTPs are interested in understanding how things work and tend to be good at deconstructing things and troubleshooting problems in the most efficient way possible. As perceivers, they prefer spontaneity and freedom over security and structure and they like to immerse themselves in their hobbies or craft in which they are likely to develop a deep knowledge and or mastery over.