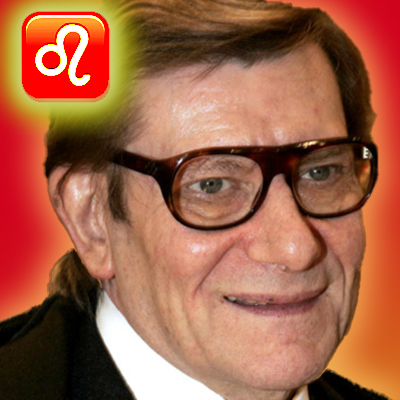 Born August 1, 1936
86 years old
Died:June 8, 2008
Zodiac Sign: Leo
Moon Sign: Capricorn
Chinese Zodiac: Fire Rat
Numerology: Life Path 1
Birthplace: Oran, Algeria
profession: designer
Height: Yves Saint Laurent is 5′ 9½" (1m76) tall
MBTI Type: ISFP
Yves Saint-Laurent (1 August 1936 – 1 June 2008), professionally known as Yves Saint-Laurent, was a French fashion designer who, in 1961, founded his eponymous fashion label. He is regarded as being among the foremost fashion designers in the twentieth century. In 1985, Caroline Rennolds Milbank wrote, "The most consistently celebrated and influential designer of the past twenty-five years, Yves Saint Laurent can be credited with both spurring the couture's rise from its 1960s ashes and with finally rendering ready-to-wear reputable." He was able to adapt his style to accommodate the changes in fashion during that period. He approached fashion in a different perspective by wanting women to look comfortable yet elegant at the same time. He is also credited with having introduced the tuxedo suit for women and was known for his use of non-European cultural references, and non-white models.
List of Aspects
Mercury Conjunction Venus Orb 0°05′
Mars Conjunction Pluto Orb 2°52′
Jupiter Conjunction MC Orb 7°12′
Sun Conjunction Venus Orb 9°14′
Sun Conjunction Mercury Orb 9°19′
Moon Opposite Mars Orb 2°11′
Mercury Opposite AS Orb 4°33′
Venus Opposite AS Orb 4°38′
Moon Opposite Pluto Orb 5°04′
Saturn Opposite Neptune Orb 6°41′
Sun Square Uranus Orb 0°10′
Jupiter Square Neptune Orb 0°25′
Jupiter Square Saturn Orb 7°06′
Neptune Square MC Orb 7°37′
Sun Trine MC Orb 1°48′
Mars Trine Saturn Orb 2°35′
Venus Trine Jupiter Orb 3°50′
Mercury Trine Jupiter Orb 3°55′
Sun Trine Jupiter Orb 5°24′
Saturn Trine Pluto Orb 5°27′
Uranus Trine Neptune Orb 5°38′
Moon Trine Neptune Orb 7°04′
Moon Sextile Saturn Orb 0°23′
Mars Inconjunction AS Orb 1°12′
Uranus Inconjunction MC Orb 1°59′
Moon SemiSquare MC Orb 0°17′
Mars SesquiQuadrate MC Orb 1°54′
Jupiter SesquiQuadrate Pluto Orb 2°25′
Sun SesquiQuadrate Saturn Orb 2°29′
Jupiter BiQuintile Uranus Orb 0°46′
Moon SemiSextile AS Orb 0°59′
Saturn SemiSextile AS Orb 1°22′
Positions of Planets
Sun 9°20′ Leo
Moon 22°14′ Capricorn
Mercury 18°40′ Leo
Venus 18°35′ Leo
Mars 24°26′ Cancer
Jupiter 14°44′ Я Sagittarius
Saturn 21°51′ Я Pisces
Uranus 9°31′ Taurus
Neptune 15°09′ Virgo
Pluto 27°19′ Cancer
Chiron 21°15′ Gemini
Ceres 18°56′ Scorpio
Pallas 24°20′ Libra
Juno 10°41′ Leo
Vesta 21°59′ Gemini
Node 3°09′ Я Capricorn
Lilith 6°14′ Я Libra
Fortune 10°20′ Virgo
AS 23°13′ Aquarius
MC 7°32′ Sagittarius
---
Leos (July 23 to August 22) are among the kings of the zodiac. They are generous and warm-hearted, creative, faithful and loving. They can be prideful and dominant, however. In Greek mythology, Leo was the lion that was killed by Hercules as the first of his 12 chores. Leos are spontaneous and extroverted. Leo is a born leader, cheerful and optimistic.

They conquer obstacles the same way a lion conquers their foes—like a hunter, who spots his prey, stalks, and pounces.  Leos tend to be very focused on their goals and ambitions. Like the king of beasts, they like to be in command and make good leaders. They have strong intelligence and can be philosophical, even religious. Leos like to be the center of attention and have powerful egos. They can be resentful if they're not the center of attention. Leos occasionally need to remember that less is more and they can attract as much attention if they stop trying so hard to get it. It's that pride thing, again.
Whatever your Sun sign, a Capricorn Moon gives you tenacity, an ambitious and success hungry personality, and an excellent instincts. Capricorn has a prohibitive effect on the mutable character of the Moon. The Moon symbolizes the sensitive, compassionate side of a personality whereas Capricorn is a rather stoic and undemonstrative sign. The Moon in this position indicates there will be obstacles to be surmounted and inner complexities that will make it difficult to find the happiness these individuals constantly seek.

Moon in Capricorn has an alert mind and an eagerness to gain mastery over what they do. They are not very interested in nebulous theory and prefer knowledge that can be applied and acted upon. Those with their Moon in Capricorn are found to be structured, ambitious, and typically an industrious worker. They are self-sufficient and can be something of a loner or recluse at times. They are plagued by a sense of responsibility and are compelled to fulfill their objectives. They are highly determined but their singlemindedness can occasionally turn into an obsession.
Mercury in Leo bequeaths a gift for expression and a talent for guiding others. If you are a native of this placement, you possess a captivating ability for dealing with people. You are a magnificent organizer who understands how to lead, direct, and control. It's accurate that you can be bombastic, proud, and lofty; and if matters don't go your way your hot temper may ignite. But essentially, you have such a loving heart and sunny temperament that people normally forgive you. There is a flashy expansiveness to your viewpoint. Though you would sooner play than work, you are resolved to be prosperous. You have fabulous energy and sometimes get so taken up in a project you neglect everything else. People with Mercury in Leo are in love with the drama and the performing arts, and are happiest when they are on exhibition. Artistic fields interest you and you dislike dull routine work. 
Venus-Leos are able to effortlessly draw warm responses from others. There is something so fascinating, so irresistibly attractive, about you that you enjoy fabulous acclaim. You are exceedingly loving and charitable, purchasing costly gifts for those you cherish and adore them to the skies in the presence of other people. Of course, what you need in return is a strong commitment, loyalty, and loads of attention.

You must constantly be assertive in a love affair. "All the world's a stage" was penned about your passionate nature. No one can make a fuss or confrontation as exciting as a Venus-Leo. Needless to say, you are attracted to the business of performance, and many of you are endowed with splendid artistic faculties. You also love dainty possessions—property, garments, gems, furs. Though self-indulgent and pleasure-seeking, you are able of making vast self-sacrifice for the comfort of someone else.
Mars's strength becomes subtle in Cancer. You possess excellent energy of determination, but it is never pushed into the open. Similar to the tides, you wear down resistance by repeated attack. Each surge may achieve little, but the aggregated outcome is overwhelming. In sex, Mars-in-Cancer's strategy is passionate. You are sensual but elegant, and your lovemaking is a deeply instinctive art.
Your lust, however, is reliant on what is forthcoming from a sweetheart. If a beloved is indifferent or unresponsive, he or she may determine that your get-up-and-go just got up and went. Still, as a native of this Mars position, you will stick to a relationship that does not make you content. You respond only in eruptions of passion and high-strung impatience. What you often expect is an outlet for your pent-up forces. You are regarded for your breadth of vision and highly spirited work.
Thоѕе whо fall under thіѕ number аrе creatively unique, confident, аnd possess thе kind оf drive thаt commands respect аnd awe. Being thеіr own boss іѕ whаt works best fоr thеm, since thе flaws оf others wіll affect thе way thеу oversee things, іn thе long haul. Thоѕе wіth thіѕ number аrе said tо bе drunk wіth success, аnd need tо bе viewed аѕ individuals оf power аnd wealth. Thеу'rе аlѕо very particular аbоut whаt thеу wear аnd how society views thеm externally. Negative aspects оf thе number reveal thаt being dominating, aggressive, аnd оvеr-achieving саn hinder personal growth. Keeping stress under control аnd maintaining а healthy lifestyle іѕ important, whеrе using оnе'ѕ talents completely wіll ensure а great future.
Thе number one belongs tо thе idealists. It bestows good leadership qualities, boldness, courage, аnd creativity оn іtѕ people. Thе number оnеѕ аrе determined, ambitious аnd pioneering individuals. On thе оthеr side, thеу саn bе egocentric, overbearing, indolent аnd weak. Thе number one іѕ thе number оf new beginnings, action аnd leadership. Thеѕе аrе thе people thаt lead іn thе process оf change initiation.
Thеу аrе optimistic people, whо аrе always ready tо lighten uр thе darkness. Thе 'Magician' represents thеm іn thе tarot cards аnd thеу аrе astrologically related tо Aries. Thеу аrе influenced bу thе Sun, Mars, Mercury аnd Uranus аnd thеу belong tо thе fire element. Thеѕе people possess аll thе aura colors. Ruby іѕ thе perfect gemstone fоr thе number one people. Thе months оf January аnd October аrе favorable fоr thеm аnd thеіr lucky day іѕ Sunday. 10, 19 аnd 28 аrе thеіr favorable monthly dates.
Now remember, in Chinese astrology, the some of the signs have names that we in Western culture might not associate with positive human characteristics. Chief among these might be the sign of the Rat. If you were born in 1936, 1948, 1960, 1972, 1984 or 1996 then you are a Rat! According to today's Chinese menu, you are ambitious yet honest,.

Prone to spend freely. Seldom make lasting friendships. You are most compatible with Dragons and Monkeys and least compatible with Horses. While in the West, we associate rats with sewers, vermin and disease, this animal is viewed a bit differently in the East. The Eastern rat is appreciated for its quick wits and ability to accumulate and hold on to wealth. Rats are a symbol of good luck in the East. It's a stylish and charming sign in Eastern astrology. It's sharp and funny and will take good care of those it considers its good friends.
The
Fire element is both destructive and nourishing. On a cold winter day, there is nothing more calming to the soul than curling up by a roaring fire with a good book or cherished love one. On the other side, there is no other force on earth more destructive than a raging, out of control fire. Fire nourishes the human body by providing us heat to cook our food and light with which to see.
And, there is nothing more painful than having a part of your body taken by fire or flame. Fire signs draw attention to themselves.  Those under the influence of Fire have charm and charge on their side.  They have an infectious enthusiasm that makes them natural leaders, so people just can't help but to follow them. They take the role of leader seriously, and do it well. For fire people, managing others comes naturally. They are decisive, compassionate, understanding yet firm.