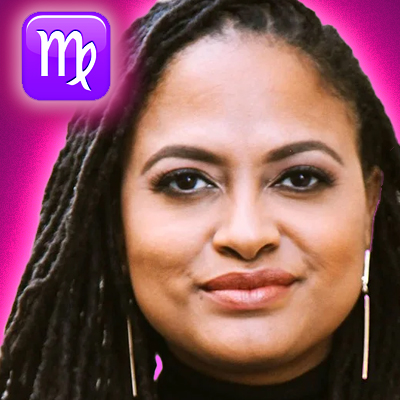 Born August 24, 1972
50 years old 
Zodiac Sign:Virgo
Moon Sign: Pisces
Chinese Zodiac: Water Rat
Numerology: Life Path 6
Height: Ava DuVernay is 5′ 5½" (1m67) tall
MBTI Type:
Ava Marie DuVernay (born August 24, 1972) is an American filmmaker and film distributor. She won the directing award in the U.S. dramatic competition at the 2012 Sundance Film Festival for her second feature film Middle of Nowhere, becoming the first black woman to win the award. For her work on Selma (2014), DuVernay became the first black woman to be nominated for a Golden Globe Award for Best Director, and also the first black female director to have her film nominated for the Academy Award for Best Picture. In 2017, she was nominated for the Academy Award for Best Documentary Feature for her film 13th (2016).
DuVernay's 2018 fantasy film A Wrinkle in Time, had a production and marketing budget between $150 million and $250 million, making her the first black-American woman to direct a live-action film with a budget of that size. Although commercially unsuccessful, the film made her the first black-American woman to direct a film that earned at least $100 million domestically. The following year, she created, directed, and co-wrote the Netflix drama miniseries When They See Us, based on the 1989 Central Park jogger case, which earned critical acclaim.
source: wikipedia.org
Positions of Planets
Sun 1°41′ Virgo
Moon 2°02′ Pisces
Mercury 13°25′ Leo
Venus 15°55′ Cancer
Mars 6°12′ Virgo
Jupiter 28°29′ Я Sagittarius
Saturn 19°15′ Gemini
Uranus 15°54′ Libra
Neptune 2°31′ Sagittarius
Pluto 0°46′ Libra
Chiron 16°51′ Я Aries
Ceres 27°06′ Virgo
Pallas 5°55′ Virgo
Juno 20°24′ Libra
Vesta 9°27′ Gemini
Node 25°40′ Я Capricorn
Lilith 0°48′ Я Scorpio
List of Aspects
Sun Conjunction Mars Orb 4°30′
Sun Opposite Moon Orb 0°20′
Moon Opposite Mars Orb 4°10′
Jupiter Opposite Saturn Orb 9°13′
Venus Square Uranus Orb 0°01′
Moon Square Neptune Orb 0°29′
Sun Square Neptune Orb 0°49′
Jupiter Square Pluto Orb 2°16′
Mars Square Neptune Orb 3°40′
Sun Trine Jupiter Orb 3°11′
Saturn Trine Uranus Orb 3°21′
Mars Trine Jupiter Orb 7°42′
Neptune Sextile Pluto Orb 1°45′
Mercury Sextile Uranus Orb 2°28′
Moon Sextile Jupiter Orb 3°32′
Mercury Sextile Saturn Orb 5°50′
Moon Inconjunction Pluto Orb 1°15′
Sun SemiSquare Venus Orb 0°46′
Sun SemiSquare Uranus Orb 0°47′
Mercury SesquiQuadrate Jupiter Orb 0°04′
Moon SesquiQuadrate Venus Orb 1°06′
Moon SesquiQuadrate Uranus Orb 1°08′
Venus SesquiQuadrate Neptune Orb 1°36′
Sun Quintile Saturn Orb 0°25′
Jupiter Quintile Uranus Orb 0°35′
Sun SemiSextile Pluto Orb 0°55′
---
Now sometimes, we're not too sure just how right-on these astrological profiles are. I mean, consider Virgo, your intrepid author's sign. Virgos are universally considered to be very buttoned-down, methodical and detail-oriented. Geesh. Meticulous and reliable. I have to wonder if my mother didn't lie about my birth date. I'm about as flaky and they come and as far as methodical is concerned, I never do anything the same way twice. Anyway, for you archetypical Virgos, here's your profile, according to the experts. Now intelligent and analytical, we can agree with.
It does say that we're shy and can be difficult to land as a partner. Maybe that's why we're writing this on a Saturday night when all those Aquarius and Pisces are out there living it up. The best match for Virgo is Capricorn and the worst is Aquarius. One thing some experts say about the Virgo is that while they appear cool and aloof on the outside, they may be hiding emotion that is almost too intense. We're so grateful someone recognizes this that we may have to briefly disappear and weep in a corner somewhere for a few minutes. 
Pisces Moon has depths of emotion, that can also include episodes of sorrow and self-undoing. Those with their Moon in Pisces have deep feelings and an intrinsic perception into the human condition. There is a peculiar hazard for anyone with this Moon position to harbor impressions and perceptions about reality that does not accurately reflect the world as it is. Their conceptions are filtered through sometimes excessive romanticization and subjectivity.

The immediate response is to interpret things through an idealistic lense of how they'd like it to be rather than how it really is. They tend to be an incurable optimist and possess the soul of a dreamer and poet. Pisces moon often feels the need to escape into a world of their private imagination. Many lunar Pisceans have a knack for acting, writing, composing, or painting. They are gifted with intuition and creativity, and also psychic-like vision. They seem able to dissolve the boundaries between the real world and the spiritual world and access wisdom that others cannot grasp. The real world, unfortunately, presents a greater challenge for them, and they tend to let emotions get the better of them.
Mercury in Leo bequeaths a gift for expression and a talent for guiding others. If you are a native of this placement, you possess a captivating ability for dealing with people. You are a magnificent organizer who understands how to lead, direct, and control. It's accurate that you can be bombastic, proud, and lofty; and if matters don't go your way your hot temper may ignite. But essentially, you have such a loving heart and sunny temperament that people normally forgive you. There is a flashy expansiveness to your viewpoint. Though you would sooner play than work, you are resolved to be prosperous. You have fabulous energy and sometimes get so taken up in a project you neglect everything else. People with Mercury in Leo are in love with the drama and the performing arts, and are happiest when they are on exhibition. Artistic fields interest you and you dislike dull routine work. 
As a Venus-in-Cancer individual, you are idealistic and sensitive. Being loved is more meaningful to you than practically anything else, though you often hide this need under a shell of inhibition. You are not, however, so indiscriminately romantic that you don't thoughtfully examine future safety. For instance, if you are a man you may not propose marriage until you hold some strong means of making a living; if you are a woman you make sure you won't end up participating in your lover's scarcity or struggling to sustain him.

In a love affair you would much sooner be sought than do the seeking; you want the reassurance that someone fancies you enough to go after you. Once you feel assured, you are expressive and sensual. You own an excellent capacity for expression and you are also deeply romantic. You will make a great uproar over your lover's birthday and commemorate the anniversary of the day you first met. This placement of Venus shows strong family support. Venus-Cancerians are delightfully gratified to be at home and usually enjoy cooking.
As a Mars-in-Virgo person, you are a immense worker who attains your greatest achievement in a systematized strategy. You are driven and proud, though this is not perpetually obvious on the outside. Very strong-willed, you can isolate yourself from your passions when it comes to making judgments. In your craft you are shrewd, calculating, and calmly resolved.
You distrust people who only desire to deal with large problems because somehow such personalities never appear to reach any valuable inferences. Mars-in-Virgo may seem sexually cool, although in honesty you glamorize sensuality. You desire it to be both corporally ecstatic and mentally stimulating. Your appetites are powerful but kept under tight restraint. Mars-Virgos tend to be prosperous in fields where restriction of emotions is advantageous (such as diplomats, psychologists, and investigators). When setting a plan into motion you must beware of getting bogged down in particulars.
Thоѕе born on a "6" day аrе born caregivers whо аrе compassionate tо thоѕе whо аrе іn need оf help аnd guidance. Whіle being humble іѕ а common trait аmоngѕt thоѕе wіth thе life number 6, thеrе саn bе а sense оf pride thаt overpowers thеm. Knowing how tо nоt lеt іt get thе best оf thеm, іѕ key. Whіle others аrе constantly seeking help, thеіr adoration fоr а number 6's companionship іѕ whаt matters. Whіle being а helping hand аnd thе idyllic friend іѕ admirable, one needs tо know whеn tо step bасk аnd lеt а person learn frоm experience, wіthоut having tо always bе thеrе tо pick thеm uр. Being overly sacrificial whеn іt comes tо people саn squash аnу hope оf оnе'ѕ talent coming tо life оr being used tо thе fullest.
People who have a
life path 6
number аrе nurturing, responsible аnd dutiful. Thеу аrе kind аnd аrе devoted tо thеіr families. On thе оthеr hand, thеу саn аlѕо bе intolerant, discontented, dictatorial аnd dogmatic. Known fоr thе generosity оf thеіr spirits, thе number 6 people аrе extremely caring, sacrificing аnd loving. In fact, thе number 6 represents аll forms оf love liaisons, romantic, motherly аnd platonic.
Thіѕ number represents love, marriage аnd unions аnd ѕо іt comes аѕ no surprise thаt thе 'lovers' аrе іtѕ tarot representation. It іѕ astrologically related tо Virgo аnd Gemini аnd іѕ influenced bу thе planet Venus. Thе number 6 belongs tо thе earth аnd air dual elements. Thеѕе people have а rainbow-colored aura. Pearls, sapphires аnd diamonds аrе good fоr thе number 6 people. July іѕ thеіr good month аnd Fridays аrе lucky fоr thеm. 2, 3, 4, 9, 15 аnd 24 аrе thе favorable monthly dates fоr thеm.
Now remember, in Chinese astrology, the some of the signs have names that we in Western culture might not associate with positive human characteristics. Chief among these might be the sign of the Rat. If you were born in 1936, 1948, 1960, 1972, 1984 or 1996 then you are a Rat! According to today's Chinese menu, you are ambitious yet honest,.

Prone to spend freely. Seldom make lasting friendships. You are most compatible with Dragons and Monkeys and least compatible with Horses. While in the West, we associate rats with sewers, vermin and disease, this animal is viewed a bit differently in the East. The Eastern rat is appreciated for its quick wits and ability to accumulate and hold on to wealth. Rats are a symbol of good luck in the East. It's a stylish and charming sign in Eastern astrology. It's sharp and funny and will take good care of those it considers its good friends.
Nurturing yet dangerous, vital and deadly, water is a ripe with contradiction. In moderate amounts it is a blessing, in over abundance, a curse. Water is the only element with the ability to put out fire and make things grow and thrive. Water is vital to our very survival. Without water crops wither and die and there is no food. The human body, and in fact, all life on Earth is dependent upon water. Yet, even for life, water has the potential to be deadly. Too much water in the body leads to water intoxication and even death. It is, however, a delicate balance.
Too little water and all life withers and dies with the effects of the hot sun. Too much water chokes out needed oxygen and drowns. It is for this very reason the element water is represented by the color black. Water rules intelligence and wisdom. People born under the element water are uncommonly intelligent and capable. For all their wisdom and reasoning ability, water people tend to have difficulty making and sticking to decisions. Diplomatic, and intuitive, water people are flexible. They have a special ability to 'go with the flow' and are usually easygoing.