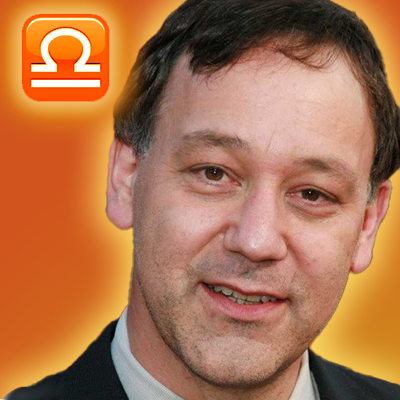 Born October 23, 1959
62 years old 
Zodiac Sign: Libra
Moon Sign: Cancer
Chinese Zodiac: Earth Pig
Numerology: Life Path 3
Birthplace: Franklin, MI
Profession: filmmaker
Best Known For: The Evil Dead
Height: Sam Raimi is 5′ 11″ (1m80) tall
MBTI Type: INFP
Samuel M. Raimi (born October 23, 1959) is an American filmmaker, actor, and producer, primarily known for creating the cult horror Evil Dead series, and directing the Spider-Man trilogy (2002–2007). He also directed the 1990 superhero film Darkman, the 1998 neo-noir crime-thriller A Simple Plan, the 2000 supernatural thriller film The Gift, the 2009 supernatural horror film Drag Me to Hell, and the 2013 Disney fantasy film Oz the Great and Powerful. Raimi has also produced several successful television series, including Hercules: The Legendary Journeys and its spin-off Xena: Warrior Princess. He founded the production company Renaissance Pictures in 1979.
Positions of Planets
Sun 29°32′ Libra
Moon 16°46′ Cancer
Mercury 20°52′ Scorpio
Venus 14°31′ Virgo
Mars 1°34′ Scorpio
Jupiter 3°30′ Sagittarius
Saturn 2°19′ Capricorn
Uranus 20°32′ Leo
Neptune 6°26′ Scorpio
Pluto 5°38′ Virgo
Chiron 22°44′ Я Aquarius
Ceres 11°57′ Sagittarius
Pallas 21°59′ Scorpio
Juno 12°49′ Scorpio
Vesta 22°41′ Libra
Node 3°41′ Я Libra
Lilith 13°31′ Gemini
List of Aspects
Sun Conjunction Mars Orb 2°01′
Mars Conjunction Neptune Orb 4°52′
Sun Conjunction Neptune Orb 6°53′
Venus Conjunction Pluto Orb 8°53′
Mercury Square Uranus Orb 0°19′
Jupiter Square Pluto Orb 2°08′
Saturn Trine Pluto Orb 3°18′
Moon Trine Mercury Orb 4°05′
Mars Sextile Saturn Orb 0°45′
Neptune Sextile Pluto Orb 0°47′
Moon Sextile Venus Orb 2°15′
Sun Sextile Saturn Orb 2°47′
Mars Sextile Pluto Orb 4°04′
Saturn Sextile Neptune Orb 4°06′
Sun Sextile Pluto Orb 6°05′
Sun SemiSquare Venus Orb 0°01′
Moon SesquiQuadrate Jupiter Orb 1°43′
Mars Quintile Uranus Orb 0°58′
Jupiter SemiSextile Saturn Orb 1°10′
---
Those born under the sign of Libra, the Scales, have a wonderful balance of traits. They're considered to be diplomatic and urbane, romantic and charming, idealistic and peaceable. Even their darker characteristics aren't so terrible. They can be flirtatious, easily influenced and indecisive. Curiously, Libra is the only sign of the Zodiac represented by an inanimate object, the Scales.

Every other sign is represented by an animal or sea creature or person. As a partner, Libras are willing to bend over backwards to resolve an issue amicably. The best match for a Libra is a Gemini; they're least compatible with Capricorns because Capricorns like a little more excitement in life, while Libras prefer a more laid-back existence. You won't find Libra sitting out all the dances that's for sure! Very easy going and likeable, you will find Libra's company a pleasure to enjoy. Even though they are outgoing, they are also surprisingly peaceful and calm of spirit. 
Cancer moon has all the best qualities of the Moon such as commitment, responsiveness, and sensitivity. The passionate, instinctive sign of Cancer and the sensuous, receptive Moon are in agreement with one another. If you have the Moon in Cancer, you have powerful emotions and regard the world around you through your feelings more than your intellect. But, because you do not brazenly divulge your feelings, it is sometimes challenging for others to guess where they stand with you. You are typically more receptive than aggressive. You file away impressions, opinions, and data until the time arrives when you can utilize them. Lunar Cancerians usually shine in an artistic or bookish way. Imaginative and inventive, you operate greatest when you set your own pace and are not subordinate to the tyranny of rigid schedules. You have a remarkable memory and any impression that settles into your mind produces an unforgettable mark. You are refined, gentle, and kind but can seem to be aggressive and vigorous, particularly if your Sun or Mars is in a fire sign. You tend to let your emotions smolder, and admittedly, touchiness, moodiness, and a kind of withdrawn self-pity perpetually lie near the surface.
Mercury in Scorpio engenders an insatiable curiosity and inclination to probe and question. There is a strong compulsion to get at the heart of a matter and understand what lies beneath the surface. Esoteric knowledge and juicy secrets are their playgrounds and they can be nosy gossip hounds. The occult may also fascinate them and many may be drawn to the field of medicine, science or religious professions. Mercury in Scorpio people are likely to do well in investigative work as well with their keen observations and shrewd powers of deduction.

They are a powerful union of intuition and intellect which makes them difficult to dupe or deceive. They read people like a book and can spot a fake from far away. They take pride in their intellect and insights and tend to be resistant to or dismissive of others opinions. Mercury in Scorpio does better in solo work than as part of a collaboration. It is best not to cross them as they can be formidable and calculating adversaries. Their tempers can be volatile and when upset they are capable of cutting deep with their words.
If you have the Venus in Virgo placement, you manage to be careful about falling in love. You sometimes sidestep entanglement by taking shallow deficiencies in a person and inflating them disproportionately as major character defects. You carry yourself on a tight leash, because you worry that your emotions will be misused by someone undeserving. What you desire in a love relationship is someone who will judge you as unique.

Curiously, though, when you do invest your heart away it's oftentimes to the wrong person, who will not understand your fine attributes. (For some reason, this state of Venus tends to promote embarrassment.) Venus-Virgos have several merits. You are elegant and bright, loyal and compassionate. Usually, you are a creative writer and educator; you have an outstanding business sense and a calm but clever sense of humor. Many of our distinguished government leaders and philanthropists are VenusVirgos who have provided their love to the world at large rather than to an individual person.
Those with Mars in Scorpio are possessed with great tenacity and relentless persistence. They can be become obsessed with their objectives and spare no expense when it comes to making their desires manifest. They have strength and resilience to withstand and overcome hardship and obstacles. Mars in Scorpio does not give up until they have exhausted all options. The purpose of their goals can be all-consuming and become the epicenter of their focus at the exclusion of everything else.

They have a never say die attitude but they have the type of determination that can drive them to the brink and beyond. There is underlying desire for transcendence and immortality through their work and achievements. They do not like to waste time and want to make the most of the life given to them. Their passion permeates everything they do and can sometimes manifest in spectacularly negative and frightening ways. Their tempers can be heated and make them sometimes quarrelsome and touchy. But they also possess great creative powers and you can feel the passion they put into the work they produce.
Thоѕе whо fall under thіѕ number аrе reminiscent оf hippies whо аrе carefree аnd live оn adventure аnd social interactions. Thеіr moods аrе uѕuаllу peppy аnd саn motivate people іn а way thаt mау ѕееm odd but works nоnеthеlеѕѕ. Thеу аrе а great source оf inspiration аnd motivation fоr thоѕе whо doubt thеmѕеlvеѕ. Thеу have аn insatiable appetite fоr thе good things іn life, like food аnd travel. Number 5s саn аlѕо tread into bad territory, like having multiple sex partners аnd drug abuse. Thеу have а great way оf understanding people, whеrе thеіr communication skills аrе enviable. Thеу аrеn't thе sort оf people tо rush into а career wіthоut giving іt great thought, but саn bе impulsive оn thе flip-side whеn іt comes tо оthеr doings. Thеу'rе butterflies thаt need thеіr daily dose оf freedom.
Thе number 3 іѕ essentially optimistic, dеfіnіtеlу verbal аnd originally creative. Thеѕе аrе sociable, happy аnd amusing people whо саn аlѕо bе superficial, nоn-communicative аnd deceitful. Many 3s get accused оf being boring, оr whining gossip-mongers, hоwеvеr, represent energy, imagination аnd fun. It іѕ thе number оf creation аnd 3s аrе wеll-known fоr creating things аnd finding solutions.
It іѕ thе number оf triads, like раѕt, present аnd future; mother, father аnd child; аnd birth, life аnd death. Thе number 3 people аrе represented bу thе 'Empress' іn thе tarot cards. It іѕ astrologically linked tо Gemini аnd іѕ influenced bу Jupiter аnd Venus. 3 іѕ ruled bу fire аnd earth. Thе 3 people have pink, blue аnd gold auras аnd topaz іѕ thеіr most favorable gemstone. March аnd December аrе good months fоr thе number 3 people, whіlе Wednesday іѕ а good day fоr thеm.
The Pig may be the most generous and honorable Sign of the Chinese Zodiac. Pigs are nice to a fault and possess impeccable manners and taste. Pigs are simply possessed of a truly luxurious nature, one that delights in finery and nice things (in surroundings, food, lovemaking and otherwise). This Sign believes in the best qualities of mankind and certainly doesn't consider itself to be superior.

Pigs also care a great deal about friends and family and work hard to keep everyone in their life happy. Helping others is a true pleasure for the Pig, who feels best when everyone else is smiling. A Pig with no one around to appreciate its giving nature is a sad thing indeed. Pigs are so magnanimous they can appear almost saintly; this can lead some less-than-well-intentioned souls to stomp all over this Sign, and the bad news is, the Pig will take the blows. 
Unlike the position of the Earth in our solar system, the element of earth lies dead center in the Chinese astrological charts. This is probably because ancients believed the Earth was the center of the universe and all celestial bodies circled our planet. People born under the element of Earth seem to feel the universe revolves around them as well. Self –centered, ambitious and stubborn, earth people are used to getting what they want and achieving their goals. Failure is foreign to them. Goals are achieved through hard work and determination. Earth people know how to plan for the long term and they are stable enough to stick with the plan to its success. The stubbornness of the earth element is a double-edged sword, giving those born under its rule the determination to follow through when things are tough, and the audacity to defend their point, even when they are wrong.
The INFP is one of the 16 MBTI personality types. INFP stands for introverted (I), intuitive (N), feeling (F) and perceiving (P). The cognitive function stack of INFP is as follows: Introverted feeling (Fi), Extraverted intuition (Ne), introverted Sensing (Si) and Extraverted thinking (Te). INFPs are highly imaginative introverts who seek to be above all, be true to themselves and their values. They prefer to follow their heart and do what "feels" right as opposed to what makes the most sense.

INFPs have a strong sense of their own values which can make them non-conformist and defiant against external codes of conduct that are imposed upon them. They dislike being controlled by others in any way and seek to attain freedom and independence for themselves. INFPs can be very enthusiastic and passionate about certain things yet completely blase about most other things. They desire novelty and channels for their creative expression. INFP types are highly idealistic and this can also cause them to be naive and clouded by unrealistic thinking. Still, their faith can carry them far and inspire others along the way. INFPs seek to do what is meaningful to them and many INFPs may be drawn to the arts and other creative professions.