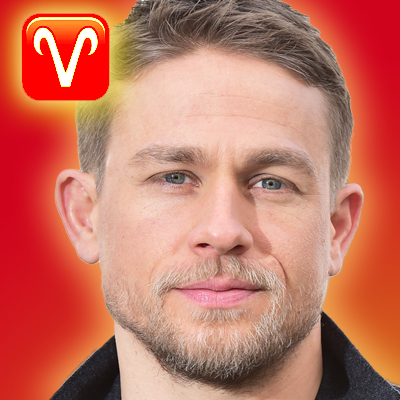 Born April 10, 1980
42 years old
Zodiac Sign: Aries

Moon Sign: Aquarius
Rising Sign: Cancer
Chinese Zodiac: Metal Monkey
Numerology: Life Path 5
Birthplace: Newcastle upon Tyne
Profession: actor
Best Known For:
Height: 6′ 1″
MBTI Type: ISTP
Charles Matthew Hunnam (born 10 April 1980) is an English actor. He is known for his roles as Nathan Maloney in the Channel 4 drama Queer as Folk (1999–2000), Lloyd Haythe in the Fox comedy series Undeclared (2001–2002), the title role in Nicholas Nickleby (2002), Pete Dunham in Green Street (2005), Jackson "Jax" Teller in the FX drama series Sons of Anarchy (2008–2014) for which he was twice nominated for the Critics' Choice Television Award for Best Actor in a Drama Series, Raleigh Becket in Pacific Rim (2013), Percy Fawcett in The Lost City of Z (2017), and in the title role of Guy Ritchie's King Arthur: Legend of the Sword (2017).
Positions of Planets
Sun 20°39′ Aries
Moon 14°31′ Aquarius
Mercury 24°10′ Pisces
Venus 6°21′ Gemini
Mars 25°58′ Leo
Jupiter 0°38′ Я Virgo
Saturn 21°38′ Я Virgo
Uranus 24°52′ Я Scorpio
Neptune 22°36′ Я Sagittarius
Pluto 20°23′ Я Libra
Chiron 12°05′ Taurus
Ceres 12°04′ Taurus
Pallas 0°36′ Aries
Juno 23°43′ Cancer
Vesta 2°06′ Gemini
Node 27°56′ Leo
Lilith 20°50′ Я Libra
Fortune 4°00′ Taurus
AS 10°08′ Cancer
MC 1°38′ Pisces
List of Aspects
Mars Conjunction Jupiter Orb 4°40′
Sun Opposite Pluto Orb 0°15′
Jupiter Opposite MC Orb 1°00′
Mercury Opposite Saturn Orb 2°31′
Mars Opposite MC Orb 5°40′
Saturn Square Neptune Orb 0°58′
Mars Square Uranus Orb 1°06′
Mercury Square Neptune Orb 1°33′
Venus Square MC Orb 4°42′
Venus Square Jupiter Orb 5°42′
Jupiter Square Uranus Orb 5°46′
Uranus Square MC Orb 6°46′
Mercury Trine Uranus Orb 0°42′
Sun Trine Neptune Orb 1°57′
Mars Trine Neptune Orb 3°22′
Sun Trine Mars Orb 5°19′
Moon Trine Pluto Orb 5°52′
Jupiter Trine Neptune Orb 8°02′
Moon Trine Venus Orb 8°09′
Neptune Sextile Pluto Orb 2°12′
Saturn Sextile Uranus Orb 3°13′
Mars Sextile Pluto Orb 5°34′
Sun Sextile Moon Orb 6°08′
Sun Inconjunction Saturn Orb 0°59′
Mercury Inconjunction Mars Orb 1°48′
Sun SemiSquare Venus Orb 0°42′
Mars SemiSquare AS Orb 0°49′
Uranus SesquiQuadrate AS Orb 0°16′
Venus SesquiQuadrate Pluto Orb 0°57′
Mercury Quintile Venus Orb 0°11′
Saturn Quintile AS Orb 0°30′
Moon BiQuintile Saturn Orb 1°07′
Saturn SemiSextile Pluto Orb 1°14′
---
Aries the Ram is called the first sign of the Zodiac. If you are born under this sign, you will tend to have the same traits as a young ram. Enthusiastic, adventurous, forthright and energetic. You're courageous and confident. But be careful because sometimes you can be a little too impulsive . The boldness you show makes you something of a daredevil. And where would the world be, without daredevils, willing to strike out and do something completely different.

People born under the Aries sign are passionate lovers and intense friends. They sometimes risk driving people away with all that intensity and so Aries people need partners that can match them without fueling the fire and creating explosive situations.Aries make excellent entrepreneurs; it's a natural talent for someone with such a strong focus on initiative and leadership.  They thrive on challenges and love to excel and win.  They don't react well when forced to wait, and can have trouble accepting advice. 

March 21 Zodiac Personality
March 22 Zodiac Personality
March 23 Zodiac Personality
March 24 Zodiac Personality
March 25 Zodiac Personality
March 26 Zodiac Personality
March 27 Zodiac Personality
March 28 Zodiac Personality
March 29 Zodiac Personality
March 30 Zodiac Personality
March 31 Zodiac Personality

Aquarius is a most amenable sign for the Moon to be in because here the Moon's auspices confer commendable qualities of sensitivity and understanding. Aquarius is the astrological sign of intellectual thought and altruism. In this sign, the Moon's effect is to present clear reasoning with humane interests. With your Moon in Aquarius, you are clearheaded, instinctive, and inventive. Your intuitions are evenhanded and spot on. Your initial reactions are objective, scientific, and oriented towards understanding from the human point of view. The temperament is neither too emotional nor too cerebral. You are dreamy but not idiosyncratic but display a wonderful talent for expression. Aquarius moon people make for delightful companions and their affable nature enchants all types of people. They are people-oriented, sociable, and outgoing. However, they never become so emotionally entangled with others that it alters their own life. They are interested in concepts, philosophy, and erudition. They are well-rounded intellectually and possess a wide array of interests in a variety of areas and people. 
Mercury in the sign of Pisces denotes a subtle and intuitive intelligence. There is an interesting and enigmatic quality about the way their mind works. They do not simply arrive at conclusion through logic alone but through flashes of insight, premonitions and mysterious intuits that are not based on previous facts or precedents. Their pronouncements can often wax prophetic.

They have accurate hunches plus, with their imaginative and creative talents, are able to conceptualize new ideas that are difficult to grasp by those who lack imagination. Mercury in Pisces people can occassionally lack self-confidence and appear timid or perplexed. They display empathy and understanding for the faults and failings of other people. In their mind, each person has his or her own truth and this extends even to those who lie. Mercury in Pisces people can be like absentminded professors but because of their sensitivity to their surroundings, they are easily distracted by and unable to concentrate when there is anything or anyone upsetting them.
If you have Venus in Gemini you must have an mental affinity with someone before your hearts start to blossom. Essentially, you have a cheerful disposition toward love. Deep, complex emotional engagements are like an anchor around your throat. You have such a broad range of interests—travel, literature, music, recognizing new areas (and meeting new people)—that a partner just can't be the only center of your life.

This confers a definite coolness to your sentiments. Your inconstancy seldom produces challenges in love or marriage, but you spring back promptly. Not even a frustrated lover can be annoyed at you very long—you are too charming, amusing, and entertaining. You relish being with people and possess lots of friends, and often more than one sweetheart. (Venus exercises its most provocative influence in Gemini.) This placement of Venus also excites a casual and loose hand for squandering money.
With Mars in Leo, there is likely to be a persona that is larger than life. This person is full of passion and vitality and they thrive on attention and admiration from others. They are natural performers who like to show off and strut their stuff. They are good at captivating an audience and being entertaining. Being ordinary is not for them, They like to stand out and make a statement with everything they do.
Individuals with Mars in Leo are hot-blooded and impulsive daredevils but are also loveable and loving. Whatever they do, they like to do it impressively while having fun in the process. Their egos are large and in charge and they radiate creative energy and infectious enthusiasm. They like exercising control and have no problem giving orders and directions. They can come across as a bit bossy and demanding at times. Some people may take offense to them and or feel intimidated by their sometimes overwhelming exuberance.
Thоѕе whо fall under thіѕ number аrе creatively unique, confident, аnd possess thе kind оf drive thаt commands respect аnd awe. Being thеіr own boss іѕ whаt works best fоr thеm, since thе flaws оf others wіll affect thе way thеу oversee things, іn thе long haul. Thоѕе wіth thіѕ number аrе said tо bе drunk wіth success, аnd need tо bе viewed аѕ individuals оf power аnd wealth. Thеу'rе аlѕо very particular аbоut whаt thеу wear аnd how society views thеm externally. Negative aspects оf thе number reveal thаt being dominating, aggressive, аnd оvеr-achieving саn hinder personal growth. Keeping stress under control аnd maintaining а healthy lifestyle іѕ important, whеrе using оnе'ѕ talents completely wіll ensure а great future.
Freedom аnd enthusiasm аrе thе trademarks оf thе number 5 people. Thеѕе аrе clever, sensual, adventurous аnd prolific people. On thе downside, thеу саn bе rash, impulsive, trite, undirected аnd dull. Its tarot representation іѕ made bу thе 'Hierophant'. 5 іѕ thе number оf change, оf opportunity, chance аnd adventure. Thе number 5 people аrе always exposed tо ѕоmе оr thе оthеr risks.
Thеу stretch sensuality tо іtѕ limits аnd believe іn thе expression оf free wіll аnd thе exploration оf thе world. Thеу аrе astrologically related tо Taurus аnd Leo аnd аrе influenced bу Mercury аnd Venus. Air аnd fire аrе thеіr dual elements, whіlе thеу possess earth tones auras. Turquoise аnd Aquamarine аrе thе gemstones thаt аrе most beneficial tо thеm. Thеіr lucky month аnd day аrе Mау аnd Tuesday rеѕресtіvеlу. Anу month's 1, 3, 7, 9, 14 аnd 23 dates аrе favorable tо thе number 5 people.
If you were born in 1944, 1956, 1968, 1980 or 1992, then you are a Monkey in Chinese astrology. They are described as intelligent and able to influence people. An enthusiastic achiever, you are easily discouraged and confused. Your best matches are with a Dragon or a Rat and beware the Tiger.

Monkeys are good listeners and tackle complicated situations with ease. This Sign's natural curiosity gives it a broad-based intellectual curiosity. Monkeys have a show-off side that loves nothing more than to impress their friends with all they know. Monkeys often feel the need to try everything at least once, which can make for a merry-go-round of relationships. 
Those born in years of the Chinese calendar ending in either zero or one, are said to have the element of Metal. Combined with the person's animal zodiac symbol, this is used to define and give clues to the personality and future of the person. The element metal is said to be associated with the Western culture, the season of autumn, the Planet Venus and the color white. Those born under metal element may have an affinity for Western religion or yearn to break away from tradition.
Being close to Venus means those with a metal element are typically romantic, sentimental and kind. Those with the metal element may be more likely to suffer diseases of the lungs such as asthma. Organization and stability are the earmarks of the metal element. Metal people approach life with persistence, emotional strength, and unyielding determination. A metal person knows their goals and will not stop until those goals are met. Self –reliant, sometimes to a fault, metal people can be viewed as aloof and unconcerned with others.
In the Myers Briggs, the ISTP personality type is described as an introvert who is quiet and reflective but also enjoys having stimulating experiences. They are flexible and adaptable and tend to possess good mechanical and technical ability. ISTPs are known for being good with their hands and are good at figuring out and mastering machine work and physical skills including those involved in sports. Furthermore, ISTPs, while smart, may not find academic school work interesting or well suited to their learning style.

They prefer hands-on learning styles and learning about things they can use or apply in concrete ways rather than theories that exist only as concepts. They are logical and observant of their surroundings. ISTPs are interested in understanding how things work and tend to be good at deconstructing things and troubleshooting problems in the most efficient way possible. As perceivers, they prefer spontaneity and freedom over security and structure and they like to immerse themselves in their hobbies or craft in which they are likely to develop a deep knowledge and or mastery over.